What's the best WordPress form plugin for your blog? It's quite difficult to pick up a particular plugin from the WordPress directory/repository as ones there lack customer support.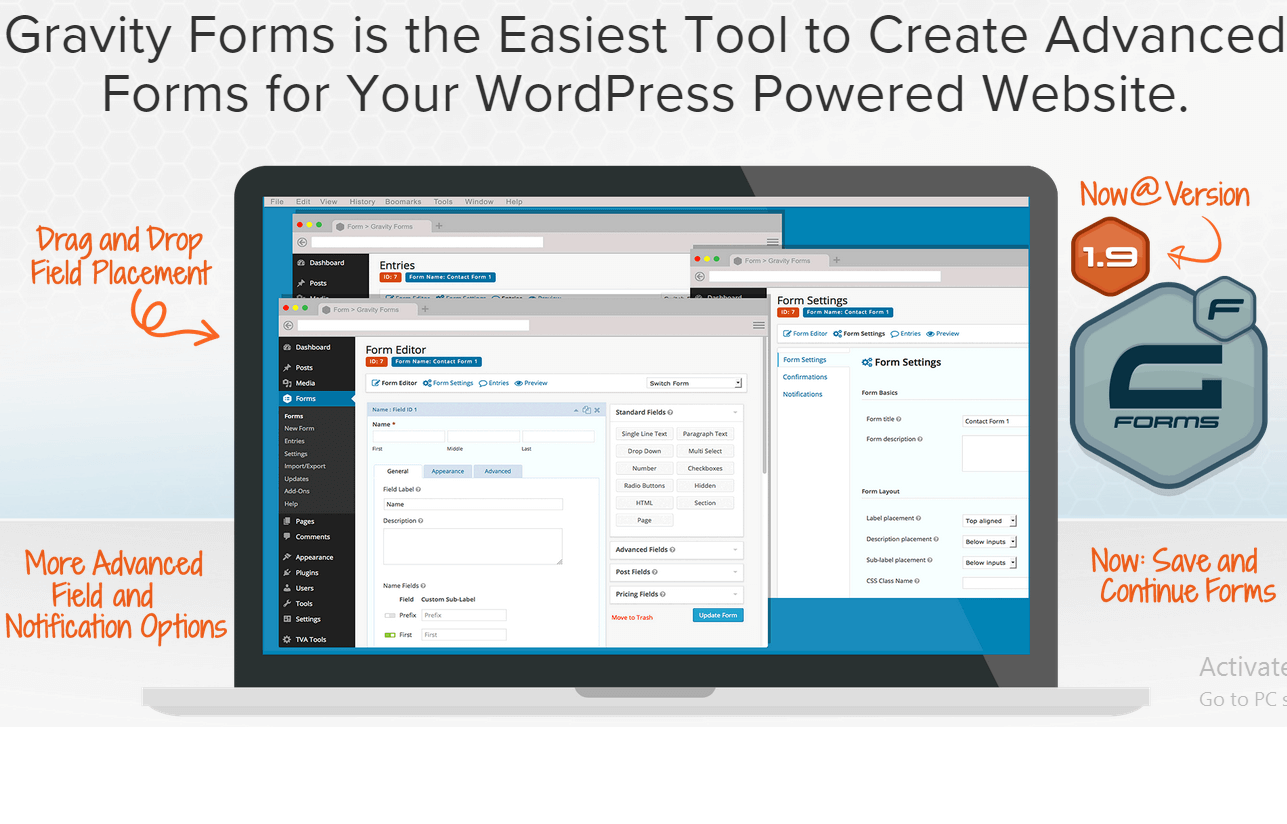 So here is an economic one called GravityForms that offers wide range of features, integration and addons for you to customize without touching the code plus an unmatched customer support.
Here we are going to talk about a must have addon for this plugin called Bulk Actions for GravityForms from JetSloth.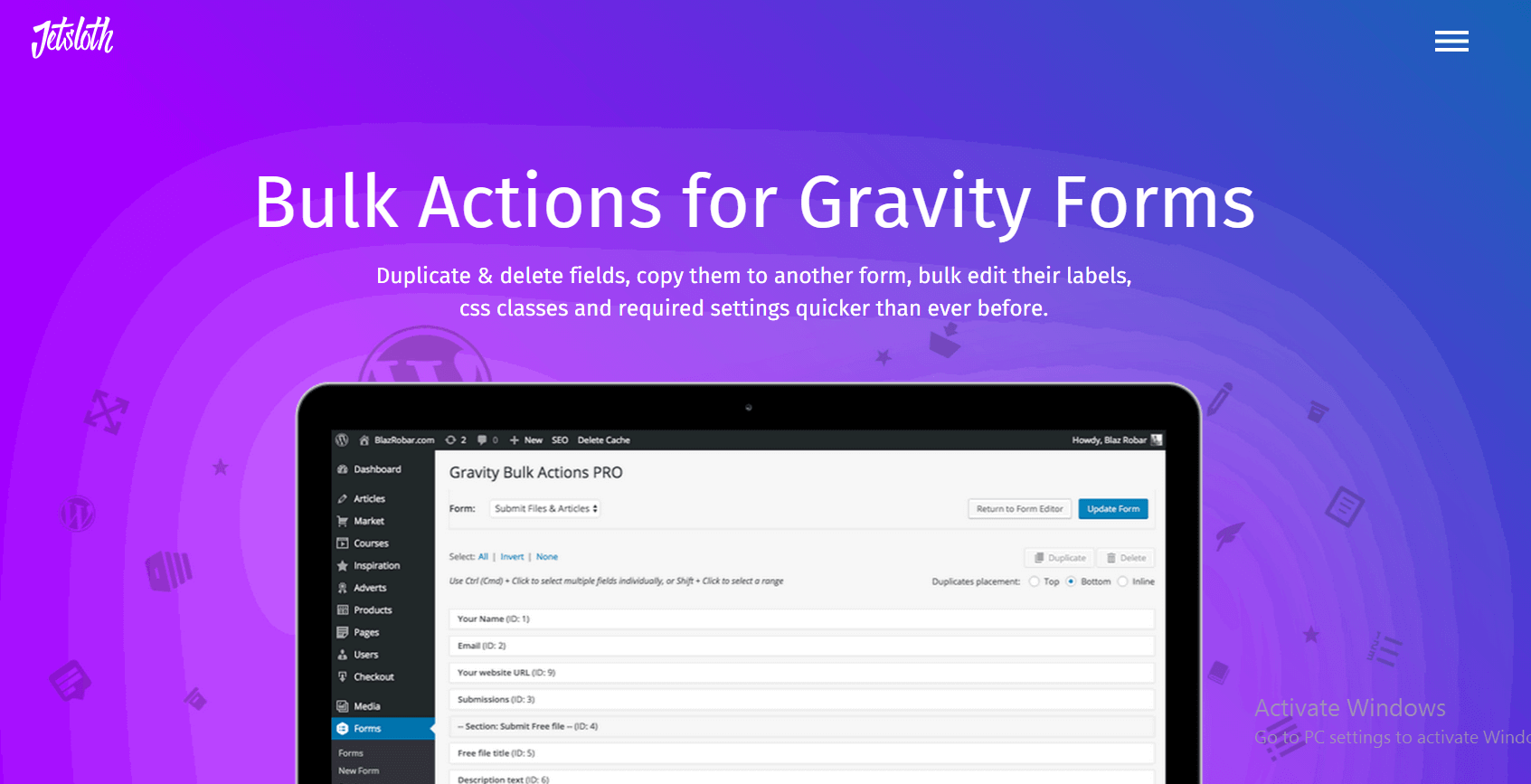 It allows you to add forms in a single click without any fuss. I want to recommend you to try it at least once and experience the difference on your own. It's very easy to use, hassle-free and responsive.
Are you ready to install Bulk Actions Gravity Forms ? Let's start
Key Features of Bulk Actions Gravity Forms
Bulk edit fields: You can see several forms (name, e-mail address, phone) etc. You can click on any fields to rename it at ease.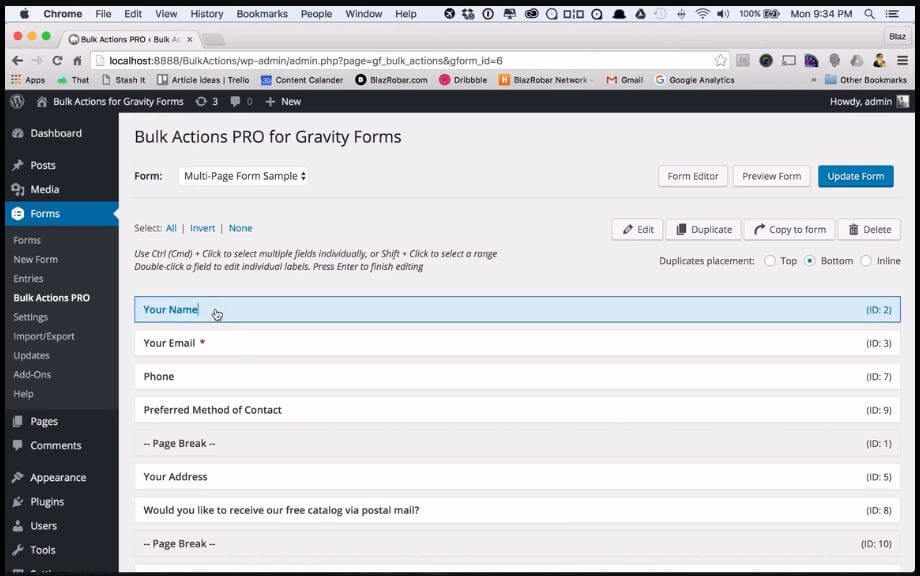 You can select multiple fields and then click on edit button to apply CSS class. Also, you can save your valuable time by using "duplicate" and "copy to form" instead of wasting time again and again, after all time is money!.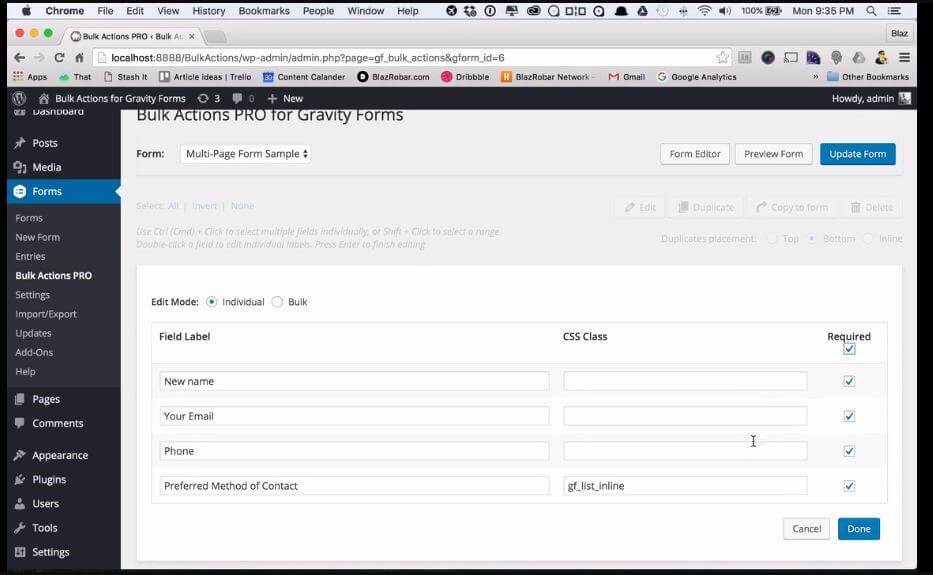 Bulk Reorder fields: You can manage Gravity Forms with drag and drop feature instantly. You can reorder within a moment whether you want to reorganize or add new fields to your forms. Click on "Bulk Actions" to reorder necessary fields at once.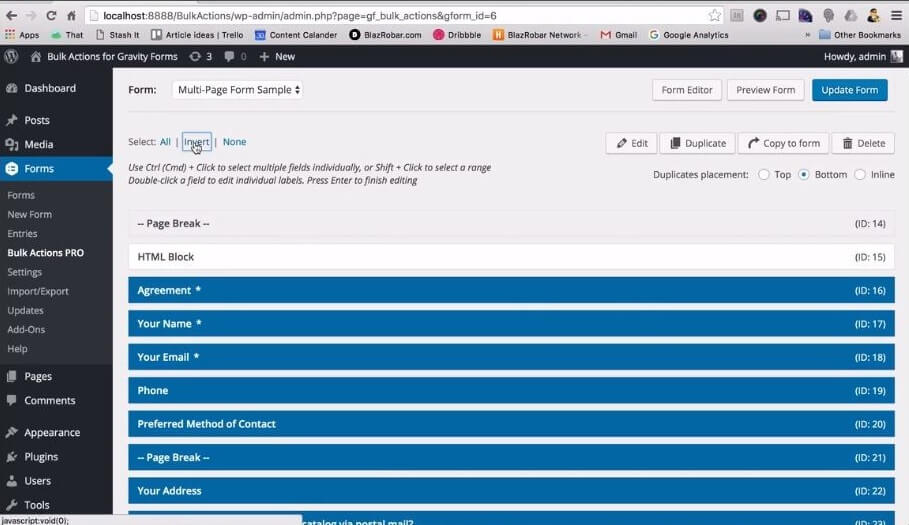 Bulk duplicate fields: You can duplicate fields or groups by using Bulk duplicating fields. You've three options (Top, Bottom and Inline) to adjust your placement.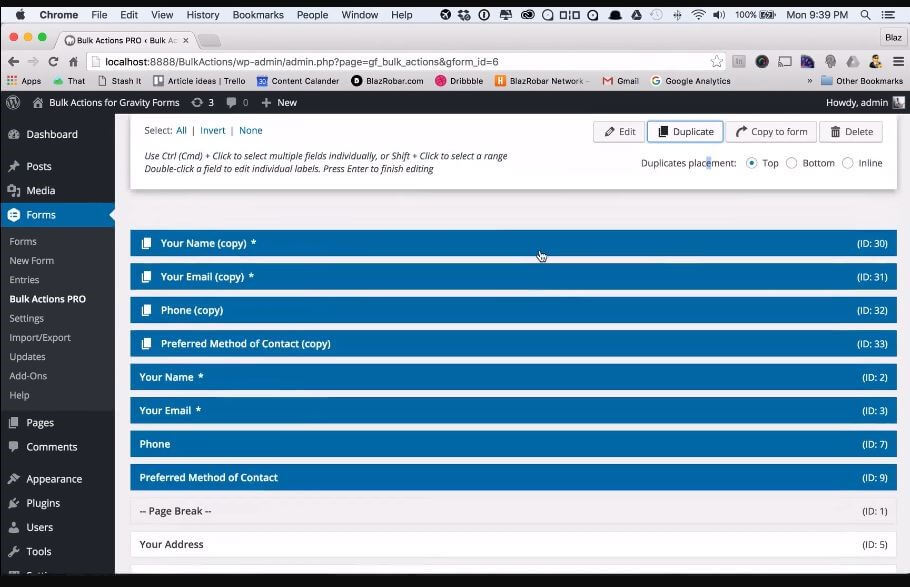 Copy fields to another form: Did you ever require adding same fields to another form (existing or new)? This is where you can utilize "Copy to form" menu in Bulk Action for Gravity Forms to make new forms from any previous form's fields. Select your preferred form from "drop down columns" and click copy to finish the process.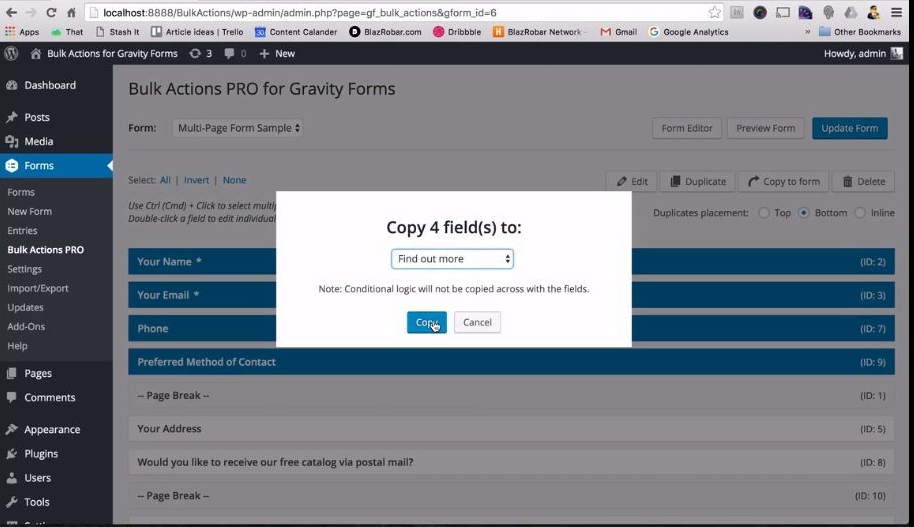 Bulk Delete Fields: It's simple. Remove numerous fields within one click by Bulk delete fields function effortlessly. Just select appropriate fields and then click the "delete" button. Now, you will see a pop up window like shown in the image. Hit "delete fields" to conclude the process.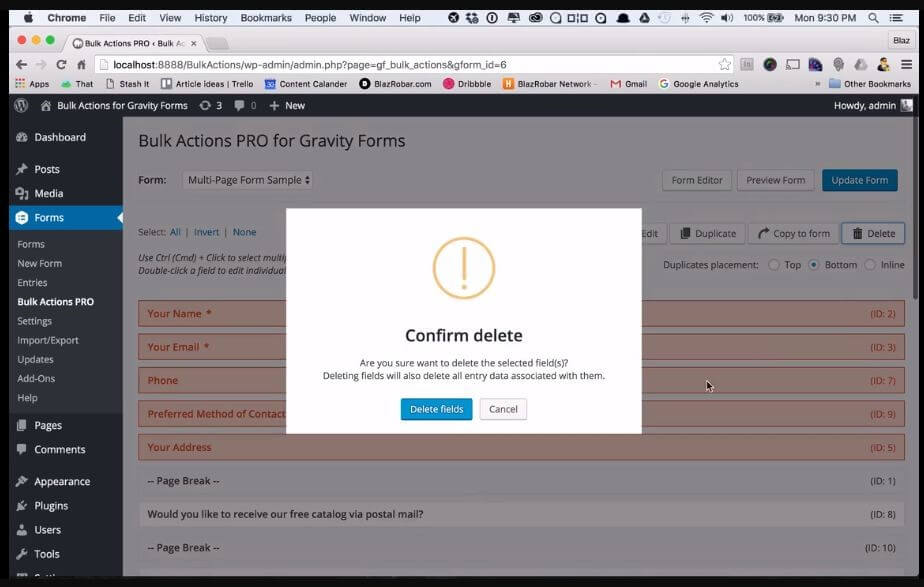 Advanced Filed Selections: Advanced filed selection gives you more access to control Gravity Forms simply.
You can see three options (all, invert and none). I'm going to tell about its function and usage.
Click on "All" to select every field and then deselect some and choose invert. If you deselect all then, click "All" and select "None".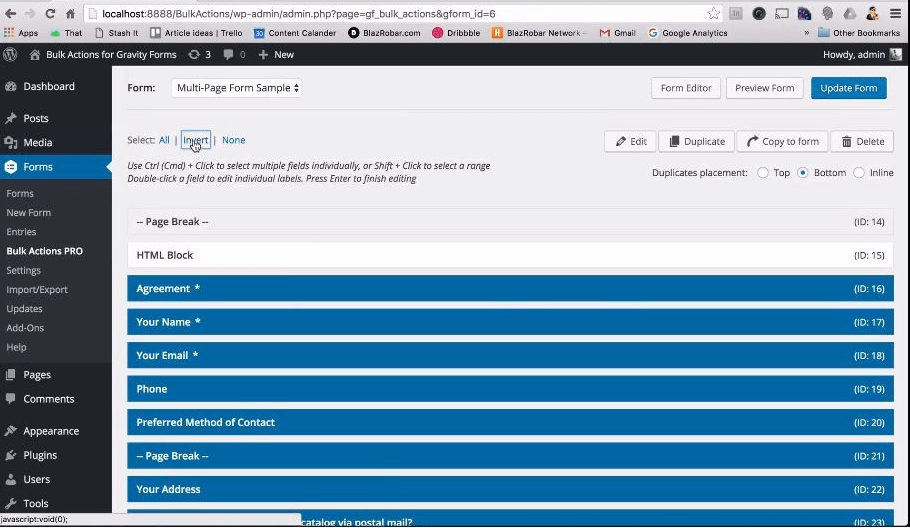 Cons
The only one we find is that free version is not yet available in the repository and you will have to manually update it when a new build is rolled out
Conclusion
What do you think about Bulk Actions for Gravity Forms? I've tried to highlight all features of this addon plugin. However, you need to consider the best form plugin for your WordPress blog. So, I leave it to you. But if you intend to make your own custom looking profession form then, it is the best plugin for you undoubtedly.
Gravity form is a premium plugin and costs 39$/year for a personal license along with support and unlimited forms and entries. You will get additional add on with business and developer license which supports GravityForms with MailChimp, PayPal, Survey and other services.
The addon, Bulk Actions for Gravity Forms is available as free and paid download.
The paid version cost only $24/Year and can be purchased here which include free support and one year of updates.