Web marketing is seeing new heights in today's competitive market. Businesses now have adopted digital marketing to generate leads. When it comes to generating leads through digital marketing, one has to utilize a set of tools.
WordPress Landing Page Plugin is a crucial plugin that helps businesses generate leads and do business over the web efficiently. To help you pick the right one, here we have prepared a list of the Best Top 5 Free WordPress Landing Page plugins. Let's collect some useful details about the plugin first.
What is WordPress Landing Page Plugin?
A WordPress landing page plugin is a standalone webpage linked to your website. This page is responsible for generating leads through a website. Every business must use a landing page plugin to customize and link a page on an existing website which can boost their business productivity and improve the number of sales.
SeedProd
SeedProd is a top-rated WordPress landing page plugin for all types of WordPress users. Professional users should convert more sales through their websites. It is used to create landing pages and 404 pages, coming soon pages, and other types of customizable pages.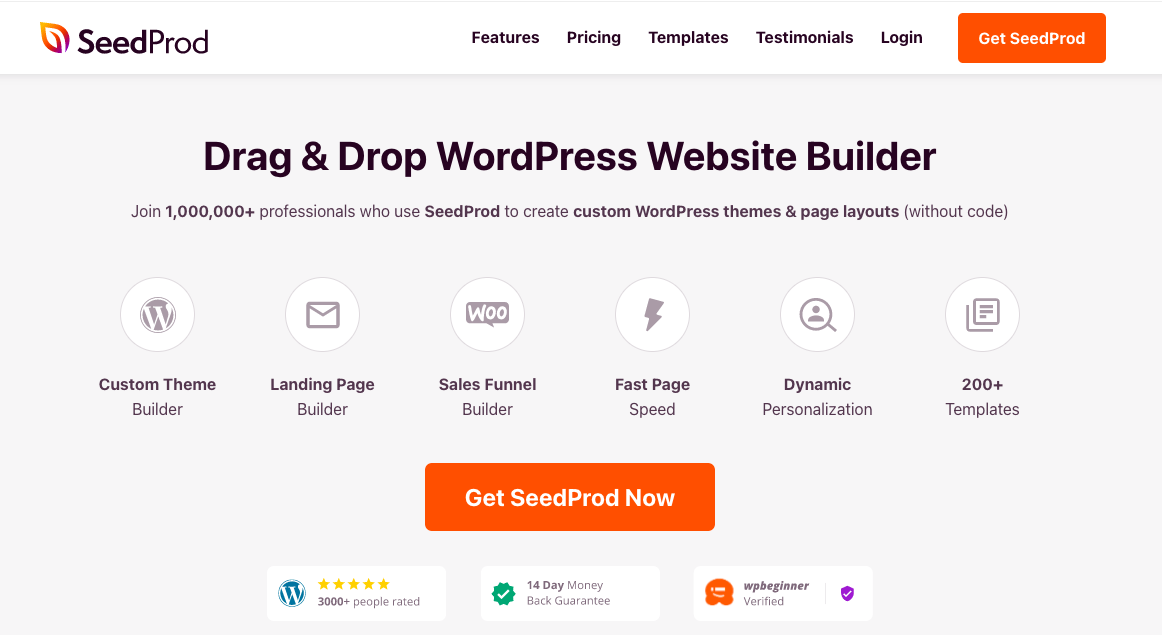 Since the plugin helps you create customizable landing pages and sales pages, it can increase your sales rate by up to 2x. It's easy to use with simple drag-and-drop functionality. It's the best landing page plugin you can try as it serves a user-friendly interface and packs all the advanced features.
SeedProd Pros:
Easy-to-use plugin
Simple drag-and-drop builder
Customizable pages
Supports custom CSS and HTML
Creates maintenance pages, 404 pages, and more
Freemium plugin with a premium subscription available
SeedProd Cons:
The free version comes with limited features and functions. To get the best out of this plugin, you must have a premium version of this plugin.
The WordPress exclusive plugin works only for WordPress and not for any other CMS.
Visit SeedPro Website
2. Brizy
Brizy is yet another top-rated and highly recommended landing page plugin for WordPress users. The plugin is known for its user-friendly interface where anyone can use it with no skills. It's a ready-to-use plugin where you will not be required to write codes.

The plugin has over 500+ blocks to create the page you want. You just need to select, drag and drop the block to the desired place within the page format. It is super easy and creates a professional landing page as per your requirements.
The plugin creates highly responsive landing pages which can increase the number of your sales. What makes this plugin so much popular among WordPress users it doesn't require any kind of skills.
Brizy Pros:
Easy user interface with quick responses
Creates highly responsible pages
Comes with a lifetime plan
Well designed templates
Great animation effects
Drag and drop page builder
Brizy Cons:
Lacks theme builder like other landing page plugins
Lacks Woocommerce builder
Visit Brizy Website
3. Instapage
With Instapage, you can create WordPress landing pages instantly. Instapage is highly recommended by professional users as it comes with integration with other marketing tools such as MailChimp, Aweber, etc. You can make use of multiple tools from a single plugin.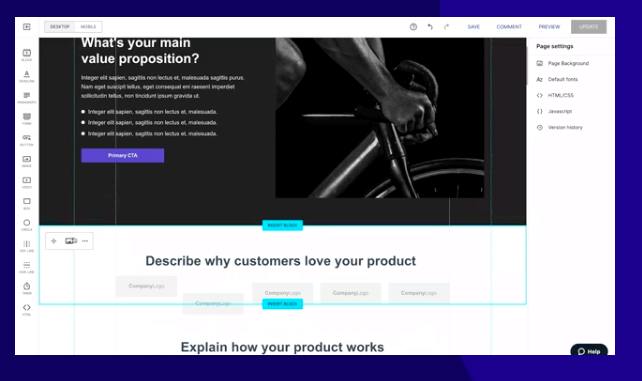 The given pages are designed for professionals who want to create effective landing pages to boost their sales. The pages are optimized for lead generation so you can save your precious time and launch your desired landing page in just a few minutes using this plugin and the given tools.
What's more interesting about this plugin is it comes with over 100 ready-to-use and highly professional landing page designs. You can select the suitable landing page design, add things and customize the page as per your requirements, and that's it!
Instapage Pros:
Comes with 100+ landing page templates
Intuitive user interface
Simple drag-and-drop functionality
Built-in support for real-time integration
Works with the team
Integration with popular email marketing tools
Instapage Cons:
The premium version of this plugin is quite expensive
The widgets list is limited
Visit Instapage Website
4. Beaver Builder
Beaver Builder comes with hundreds of ready-to-use templates to create an effective landing page for your WordPress blog. Just like the other page builders, the Beaver Builder comes with the same drag-and-drop functionality. You can simply drag and drop blocks to create your new landing page.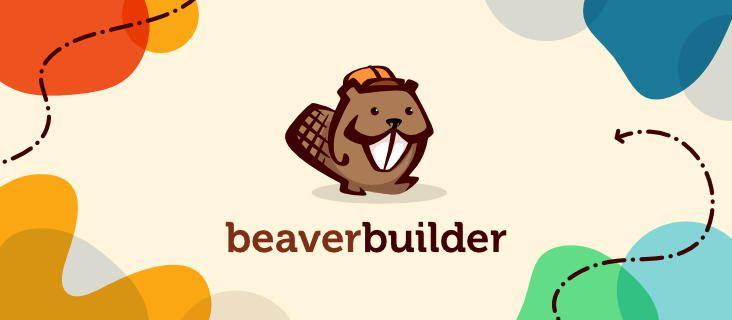 What's interesting here is the templates are highly customizable. You can customize the templates by editing them, you can drag and drop items, can move the items up and down, etc.
Moreover, Beaver Builder works with all types of WordPress themes. It is compatible with any theme you use on your WordPress website. The plugin is designed to integrate with popular plugins, forms, themes, etc.
Beaver Builder Pros:
Responsive and fast landing page builder
Simple drag-and-drop functionality
Hundreds of ready-to-use templates and blocks
Ideal page builder for all types of users
Modern designs and rich features
Beaver Builder Cons:
The page development is a bit slower compared to other page builders
You have to purchase the theme builder additionality as it is not included
Visit Beaver Builder Website
5. Elementor
Elementor is a popular WordPress page builder with an easy-to-use interface. The plugin is highly responsive and comes with a great set of tools for quick page building. The real-time editor of this plugin makes it everyone's favorite plugin who wants to create a landing page for their website.
The plugin lets you create an instant page where you can add buttons, sliders, images, headings, and more. You can also use readymade widgets while creating a landing page. Moreover, you can utilize widgets of other plugins installed on your website with this plugin.
There is a special template that lets you create a landing page from scratch. If you are a web builder and want to design your landing page, you can select this template which makes it easier for you to create a landing page.
Elementor Pros:
Easy-to-use plugin with simple drag-and-drop functionality
Budget-friendly plugin with premium features
Ready-to-use templates
Supports live previews with real-time editing
Highly customizable plugin
No coding knowledge required
Elementor Cons:
Customer support is poor
Reduces the site speed as many users have reported so.
Visit Elementor Website
Conclusion:
A landing page is crucial for every business that focuses on sales. If you have a website selling services, software, or anything else, a well-designed landing page is crucial for the users to know whether your products are worth their time and money.
The above list is enough for you to choose a reliable landing page builder for your WordPress website. Explore the list, gain knowledge, compare their features and tools, and go with the one that suits your requirements!