The auto-blogging concept is being around in the blogging industry for a long time. Top-tier bloggers have been engaging in auto-blogging practices to eliminate human involvement in the work. Many utilize this technique to create Private Blog networks or powerful blogs to generate income. Newsomatic WordPress plugin has come around to ice up the cake.
What is Newsomatic?
Newsomatic is a WordPress plugin, which allows users to generate content on automation, and no one has to worry about writing an article from scratch. The plugin is an API-based content importer that fetches content from popular sources. The plugin eliminates manual work and human involvement in the process, so you can publish new content frequently.
What is Newsomatic capable of? Allow me to show you how you can import content from sources. Setting up a source and fetching content will give further information on features and how it works.
How to add custom news posts?
We want to give you a quick setup, so you can take a look at the dashboard and how it works. Of course, you cannot use it without activation, so make sure to purchase the license to give this plugin a try.
Step 1: Log in to the WP site and then choose "Newsomatic Post Generator."
Step 2: Choose "Top News To Posts" to begin the process.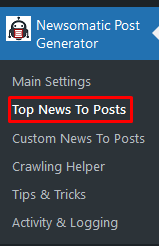 Step 3: Choose a category.

There is a list of general categories you can choose from it.
You can choose sources from the list and if you cannot find the source that you are looking for, then you can contact the administrator. You can send an email or contact them through the support team to add newer sources.
Step 4: You can schedule the post updates and let them fetch the updates within a time range.

We chose 12 hours, and you can choose from one hour to twenty hours.
Step 5: Choose how many posts you want to publish on the site.
Step 5: You can let the plugin publish the article or draft it for moderation.

Step 7: Let the plugin know the item type.

Step 8: You can post the articles under a specific author name, and this is useful if you are running a news website.

Step 9: Click on the "Settings" and make advanced changes to the custom news post.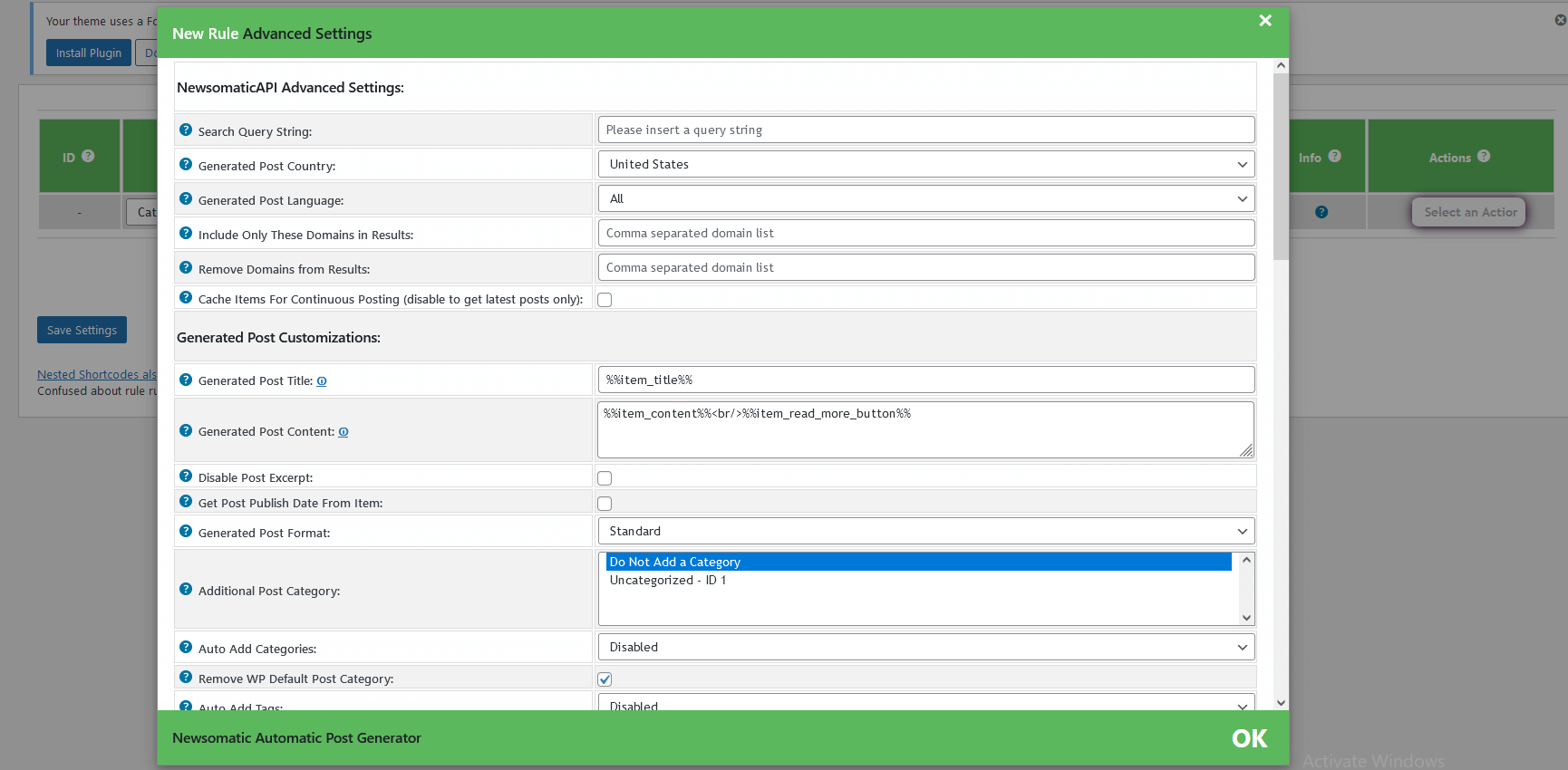 Step 10: Click on "Select on Action" and then choose "Run This Rule now" or you can select others as well.

Step 11: The page will update the status, and it will start the custom news post.

Wasn't that easy? Newsomatic WordPress plugin doesn't require human involvement and works on automation. You can play around with the advanced options, and find out how you can make the most of it.
In the "Settings", you got advanced options, where you can customize the news articles relevant to the industry.
NewsomaticAPI Advanced Settings
Generated Post Customizations
Full Article Content Importing Options
Post Content Options
Featured Image Options
Translation Options
Miscellaneous Options
You can insert keywords to fetch articles related to the query, and that's a powerful option for an automated news site.
Add Custom Code
Many site developers add custom codes to the site to perform specific actions. You can add custom HTML code in the plugin, and you have a dedicated field to add it.

The official developers have offered two empty fields at the end of the dashboard, where you can add custom HTML codes.
URL Shortener
Articles URL are going to be longer, since you are going to be less involved in the project.
How about creating short URL for outgoing links?
Yes, you can do it with Bit.ly and Shorte.st URL shortener tools. However, you don't have to additional effort to make it happen and let the plugin do the job.

All you have to do is to get API token from the respective URL shortener tool and paste it under "Post Content Options."
Post Restrictions
The main settings have plenty of options that everyone should explore because it gives the administrator the ultimate power to automate the site.
We want to give you a quick look at the post restrictions, where you can control certain things without additional effort.

For instance, you can decide how many words a title should be and how many words should be in the banner. The administrator can control small details of the post, and that makes a huge difference in the game.
Bottom Line
Newsomatic is an impressive WordPress plugin, and you are getting it on a reputed Code Canyon store for just $39. The developer is including 6 months of support in the same package, and you have an option to extend it for 12 months for $12.75 only. Let us know what do you think about Newsomatic in the comment section below.