There were times when a simple WordPress site was created taking assistance from a WordPress Developer. Things changes, technology advanced, and people became smarter.
Creating a website on WordPress is no more a pain. With the rise of WP builders such as Elementor, WP Bakery, and many others, things have become easy and doable by self.
You can create a stunning, dynamic website using Elementor without writing a single line of code. Most importantly, you can do it for free. Elementor is a simple, drag & drop builder empowering web creator to design masterpieces without knowledge of coding. It offers innumerable design options with hundreds of pre-built widgets, buttons, sliders, forms, pricing table, and more.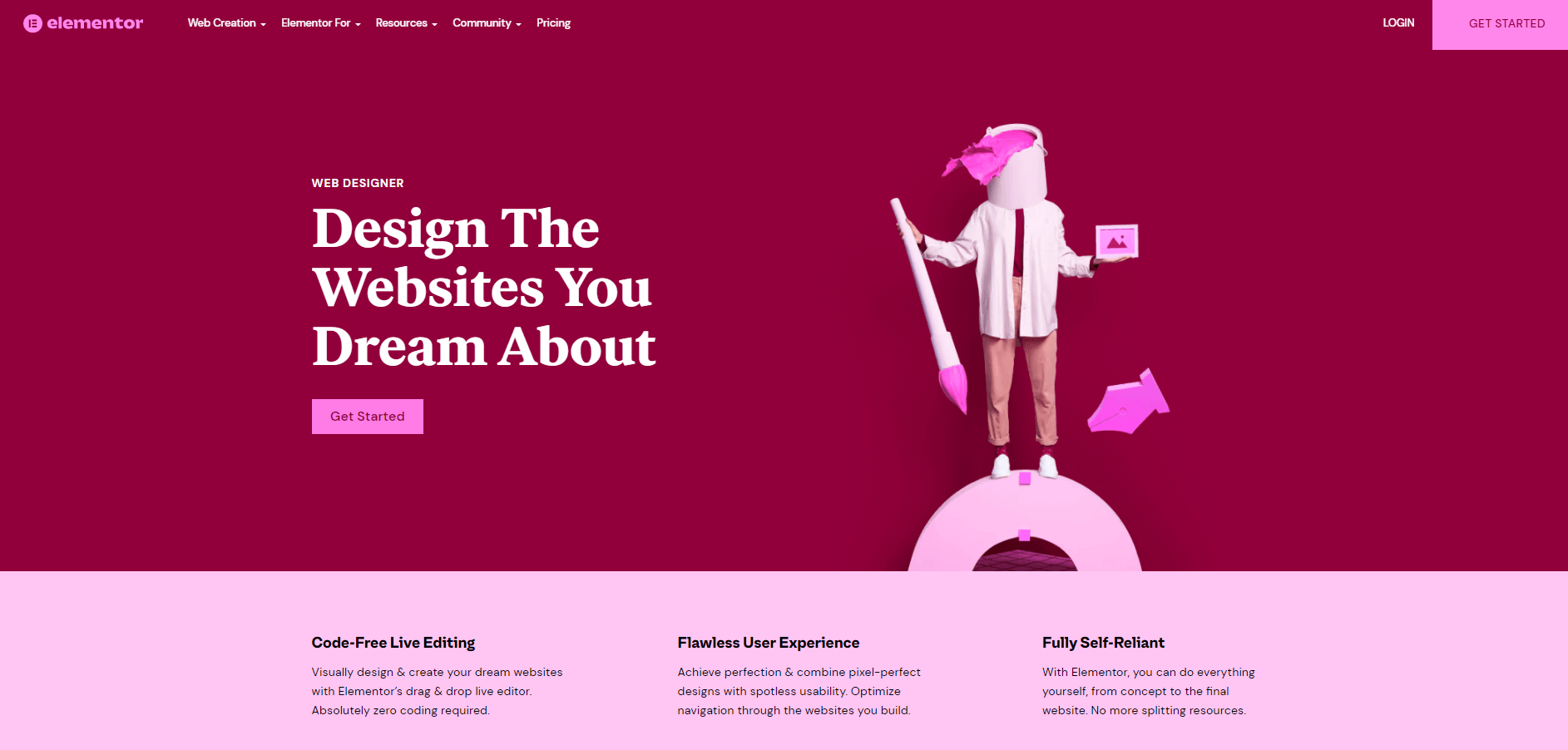 Let's explore some of the core features of Elementor website builder.
Drag & Drop Builder
Elementor empowers users with an intuitive dashboard. Users can choose from 300+ templates, 90 dynamic widgets, different form styles, typography, colors, and nearly everything to creating a stunning webpage.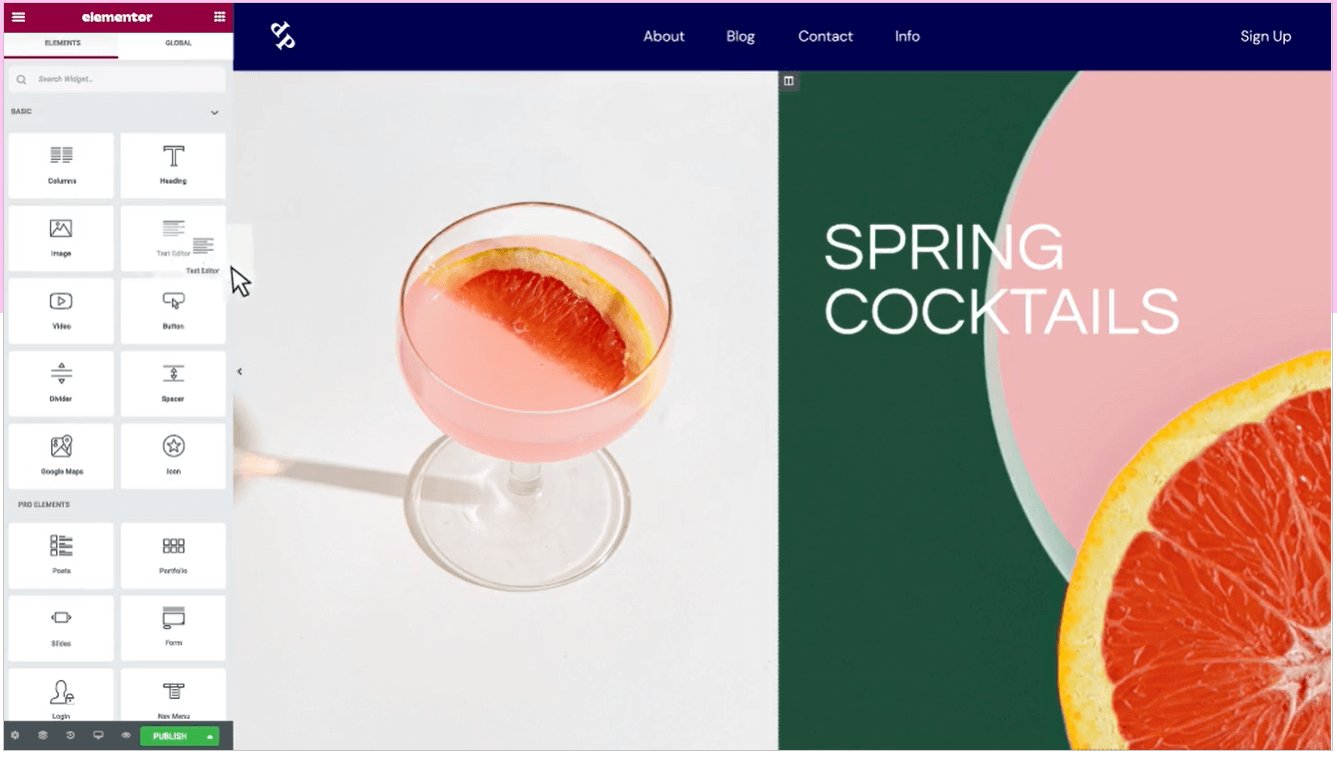 Workflow Optimization
You can create and manage your website's design using Global Settings in Elementor Pro. Whenever you create a new design, Global Settings are inherited to it. If you change something in the Global Settings, it will be updated everywhere.
Lead Capturing
Elementor has just everything to allow you capture website visitors through forms embedded in the aesthetic design of your website. There is a reason why marketers like to spend money on Elementor Pro. Some of its powerful features include:
Customizable Forms and Smart Popups
Customizable Templates
Trigger Settings to target visitor at the right time
Elementor is capable of integrating with other powerful marketing tools so that you can engage with your targeted personas.
Kits Library
Elementor's Kits Library is the complete web kit for designers that include attributes and elements a website will need on a single kit. Kits eliminate the need of tackling each page element individually. The true power lies in the replicability.
The templates, site settings, content, 404 page, header, footer, color schemes, fonts, popups, themes etc. are website attribute packages under one kit. Here are a few tips to user Elementor Kits Library.
ECommerce
Those who are looking to build their eCommerce store powered by WooCommerce, Elementor is the ideal solution. WooCommerce is used by thousands of websites to create online stores. Leverage Elementor's drag and drop feature to create stunning eCommerce websites with WooCommerce plugin.
Elementor Free vs Elementor Pro
With Elementor's free version, you get access to visual composer, drag & drop builder, widgets, and style options to design a webpage. If you want basic design, you will be totally fine with its free version.
However, if you need to design full website, you might need more powerful features that you can find in Elementor Pro that lets you create a webpage with more features and functionality. You will be able to design entire theme using Elementor Pro interface by shuffling around the design elements and blocks. Designers know the worth of its Pro version.
Pricing
As discussed earlier, Elementor is available in both free and paid version. If you are looking to add more features to your website, Pro is always the option. It costs you mere $49 for a single website. The paid options come with more templates and detailed functionality across several different plans.
The Essential package costing $49 can be used on a single website. It includes 300+ templates, 90 widgets, and 10 website template kits. The Advanced packages costs $99/year and can be installed in three websites. The Expert plan comes at $199 and can be installed in 25 websites.
There are big businesses and agencies that eye at bigger plans such as Studio package that comes with $499 and can be installed on 100 websites and Agency package that comes at $999 and can be installed on 1000 websites. These plans include VIP live chat support.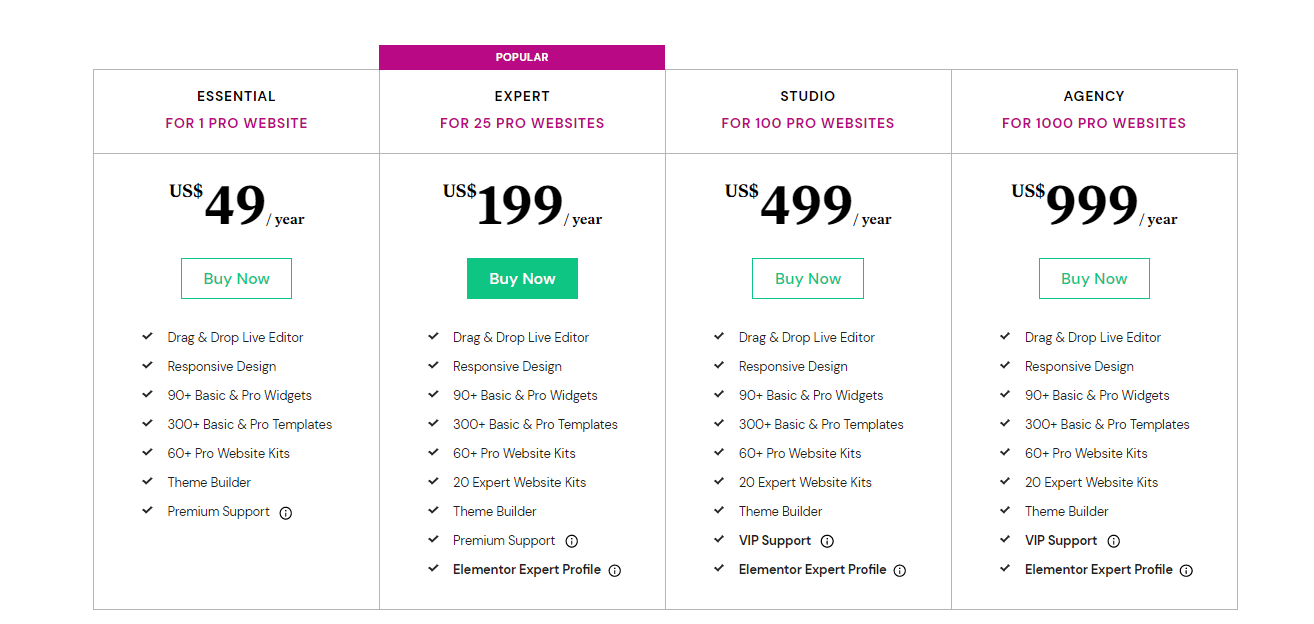 The Bottom Line
Design Lovers don't have to compromise with their dream of creating a professional looking WordPress website. Elementor allows fellow designers to create stunning website designs by just leveraging Elementor's drag and drop functionality. The toughest functionalities can be implemented easily without writing a single line of code. Sound's interesting? Try Elementor today!