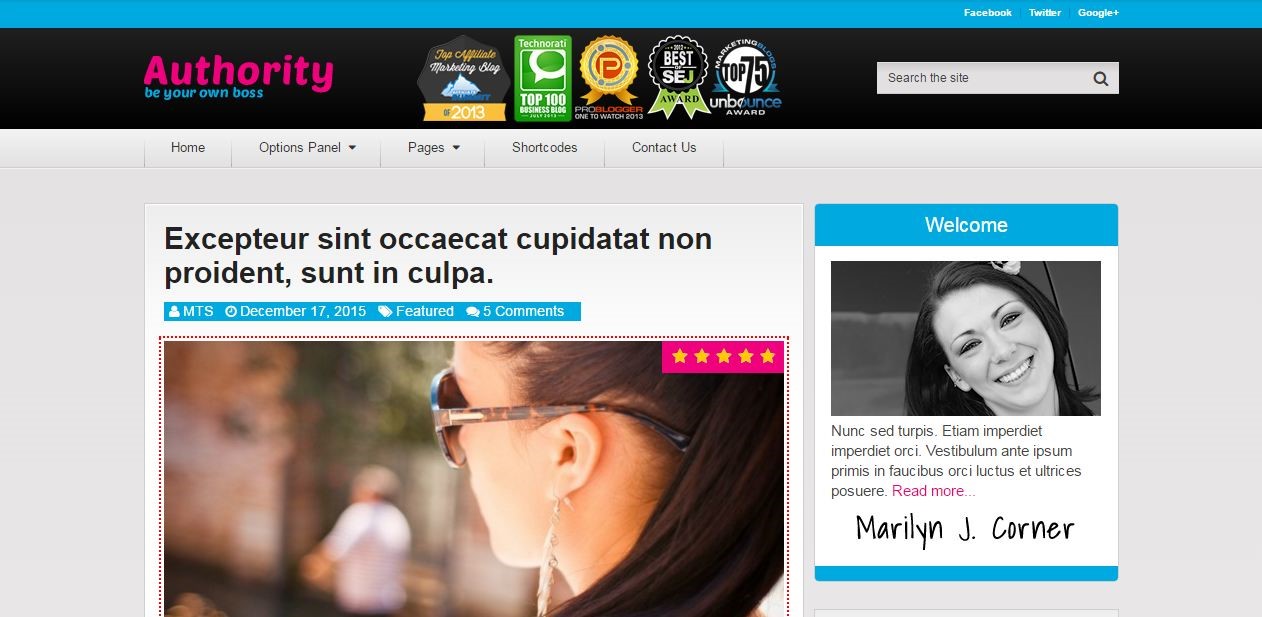 Authority theme is developed by Mythemeshop, best WordPress theme provider at present. It delivers perfect design for professional blogs to gain trust and influence in any niche. It is visualized from Mathew Woodward's six figure blog with his full acknowledgement. It has so many astonishing features to make a professional blog.
Mythemeshop Authority WordPress theme review:
It is conceptualized from Matthew Woodward's blog to shift your blog upward with its impressive style and customization feature. It offers six types of designs such as – Default, Review, Travel, Tech, Squeeze Page and Shop.
Authority theme has given a tagline – Perfect Theme for a Pro Blogger. Is it really worth the tagline? You need to continue this article until the end to seek your answer. So, let's jump into the mainstream. Shall we?
Let's take a look at the key features of Mythemeshop Authority theme:-
Authority has a long list of features so, be ready to explore the awesomeness of this theme. Are you ready?
Inspired by Matthew Woodward website:
I've told you already that it is endorsed by the well-known (Professional award winning) blogger Matthew Woodward and if you don't know about him yet then just head over to his blog and read few articles right now. There will be a hardly any blogger who doesn't know him in the blogosphere. Also, you can read his monthly six figure income reports as well.
SEO enhanced:
Your blog's template should be SEO friendly along with beautiful design. Otherwise, you won't be able to make an authority blog. Duh!! Tell me something new which I don't know. Yep. It's SEO friendly so you will show the positive effect on SERP as soon as you add high-quality contents on your blog.
Homepage layouts:
It comes with four unique homepage layouts. Every layout is designed very well to increase your blog's outcome. Try to figure which design is most suitable for your blog an install it then.
Responsiveness: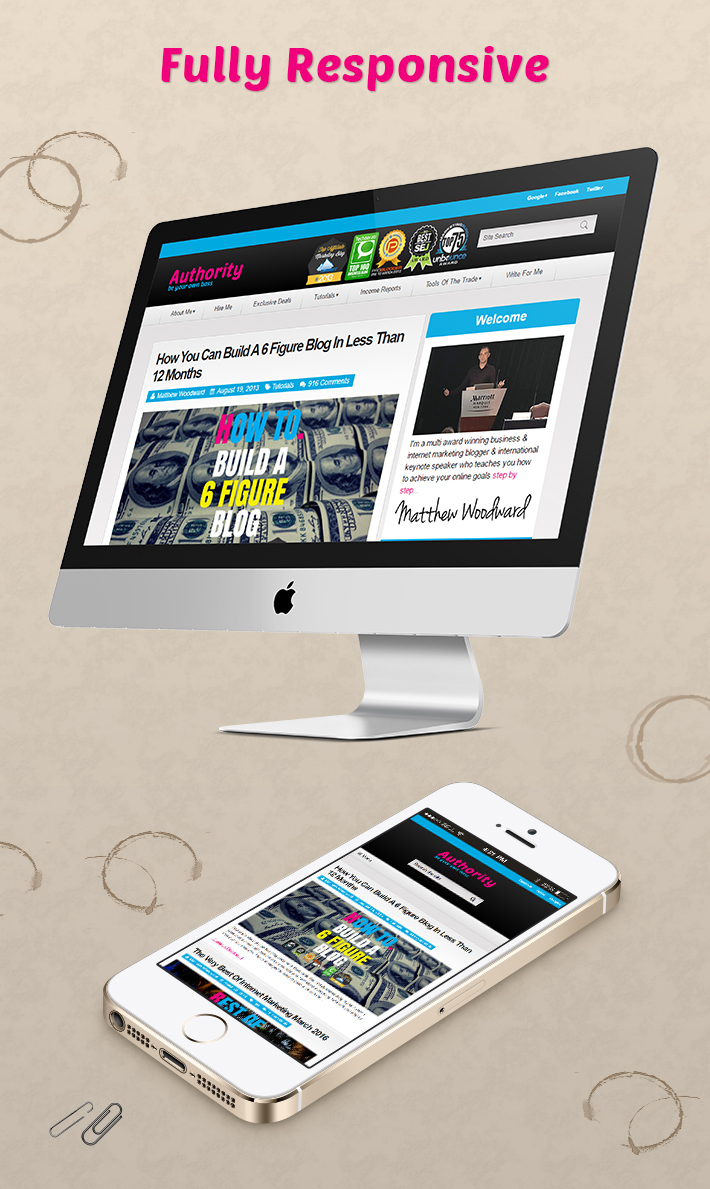 It has the fluid responsiveness and so it can adjust according to the device size. Therefore, it suits mobiles perfectly. Also, you will score high for mobile-friendly test from Google for sure.
Fast loading: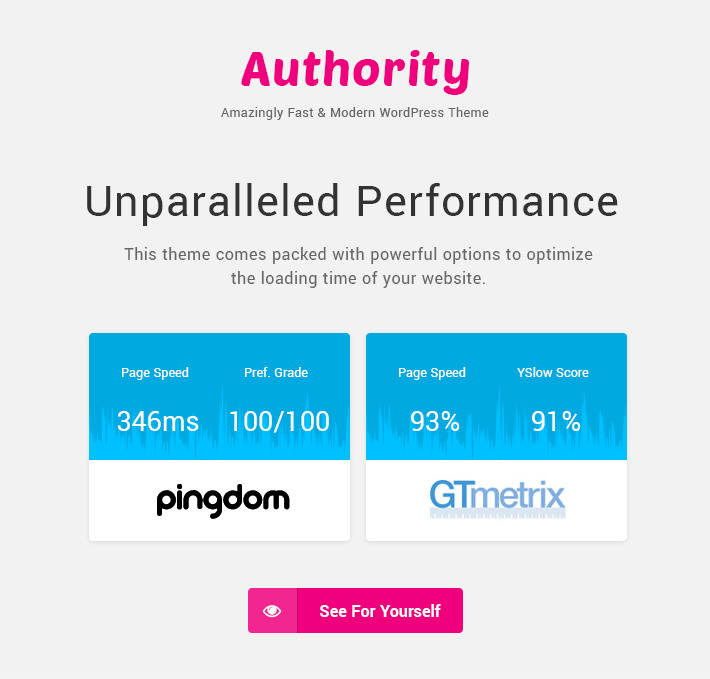 Loading time is a very important aspect for all bloggers. Basically, you have few seconds only to convince your readers or else they will click the back button immediately which leads to the worst case scenario (low conversion, bounce rate).
But Authority theme loads lighting fast to avoid (deadly) bounce rate and increase readers' timing on your blog. Isn't it fantastic? Fast loading time is a key factor to contain your readers consistently for long time.
Schema integration:
Did you notice stars for your desired keywords in the search results? Oh! Yes. You should've. You recognize that it's schema. Aren't you? Authority has integrated schema and it add rich snippets to obtain best possible outcome from Google.
Social Media Integration:
Social Media is an immense source to build traffic. It's very true indeed. But the problem begins when you try to find a suitable social media plugins (free/paid).
I know how pathetic it is. It is going to eat a lot of time from your schedule and it is very disgusting for sure.
But Authority has taken care of it. You have got social media integration already with it. So, you can install this theme and avoid wasting valuable time.
Adsense Ready:
What do you mean Adsense ready? You can test the ad units in several places to figure out the best ad placement to increase your revenue. It's very easy to tweak your ads to discover higher CTR and better ad placement according to your visitors.
Powerful options panel and one click control:
It's easy to get lost when you have so many features to handle. Yep. It seems natural. That's why it comes with a powerful options panel to manage everything flawlessly. Besides, you can install this theme with just one click. That's all you need to after you purchasing this theme. As you can see that it's easy to set up and manage along with the vast features.
You may have noticed that few themes don't look exactly similar to demo after you install. But that's not the case with Authority; you will notice get design right after you install it on your blog.
Also, it presents better readability, clean commented code, 590 amazing icons, Parallax scrolling template, Author Box, Related posts, 4 Pagination Style, Lightbox, an so on. Just go the official theme page to see all of its features.
What you will get after buying Mythemeshop themes?
• Unlimited domain accessibility
• One clicks installation
• One clicks updates
• Support and updates for a year
• Narrated video tutorials
• Options Panel
Final words
I've reviewed almost all features of Mythemeshop Authority WordPress theme for you. Now, it is time to dig out the answer. Is it a perfect theme for a Professional blogger? Is the tagline completely worthy?
My answer is yes by looking at the list of features so far. Authority is an impressive theme and an excellent choice for any niche blogger. It comes from six-figure award blogger's blog after all. Huh! No kidding. If you want to be a professional blogger then stop thinking and buy this awesome Mythemeshop theme without wasting a moment.