WordPress is a powerful content management system, and we cannot benefit from WP until there is a WordPress theme. Millions of WP themes are available online for a price, and free version is out there as well. Among those, Apollo13Themes is a WordPress themes developers offering Rife Free template for the masses.
Rife Best WordPress Theme For Photoproof, Dance School, Business, Landing Page, Portfolio / Photography, Personal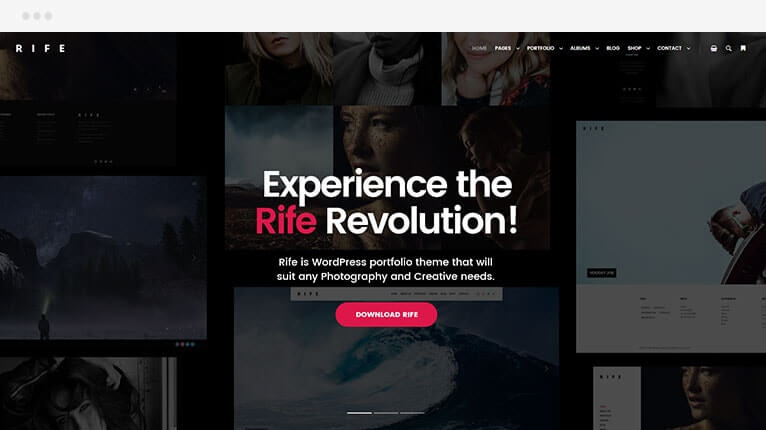 Rife is a WordPress premium theme available without spending a single penny, and anyone can download the multi-purpose theme for projects. The developer added different types of creative features so that the administrators can craft it for a business.
Rife Free version is enough to satisfy the website administrator needs? It is an important aspect of every administrator to seek an absolute solution for the business.
1. Loading Speed & Server Response Time
In my frank opinion, the site design + features land in the second spot and nowadays website loading speed is an important aspect. Search Engines are no longer ranking slow loading sites on the first page, and no one is willing to try their luck. Big time sites have lost millions of traffic in a few days, and they are working on the speed.
TEST ONE:
I have used Unicorn edition to run a speed test because Apollo13Themes site is running on Managed WP hosting, Kinsta.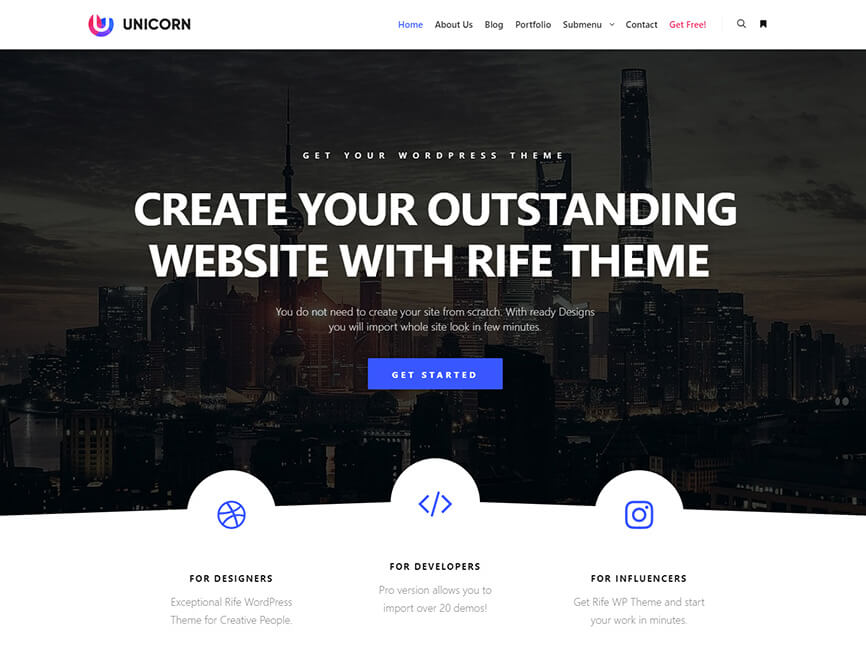 Mobile version test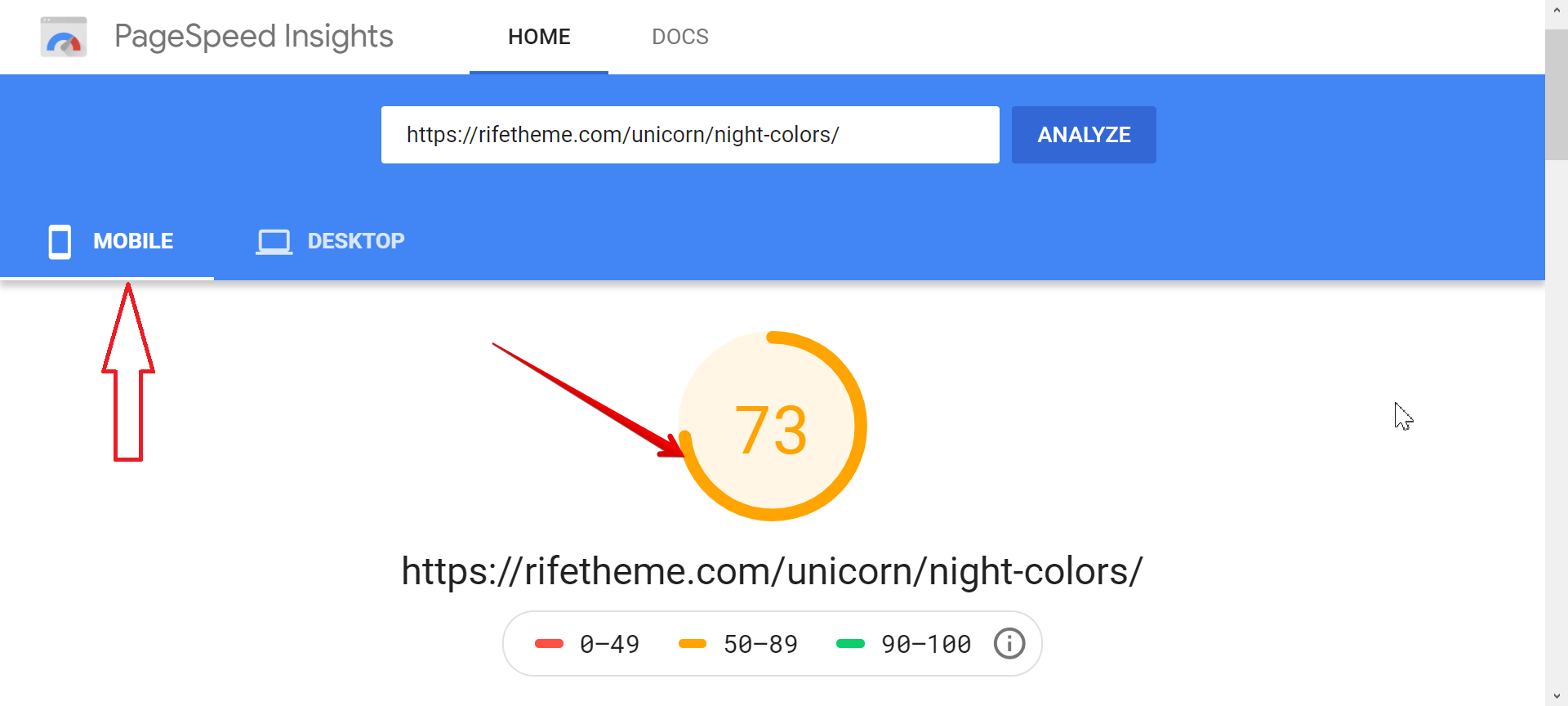 Desktop Test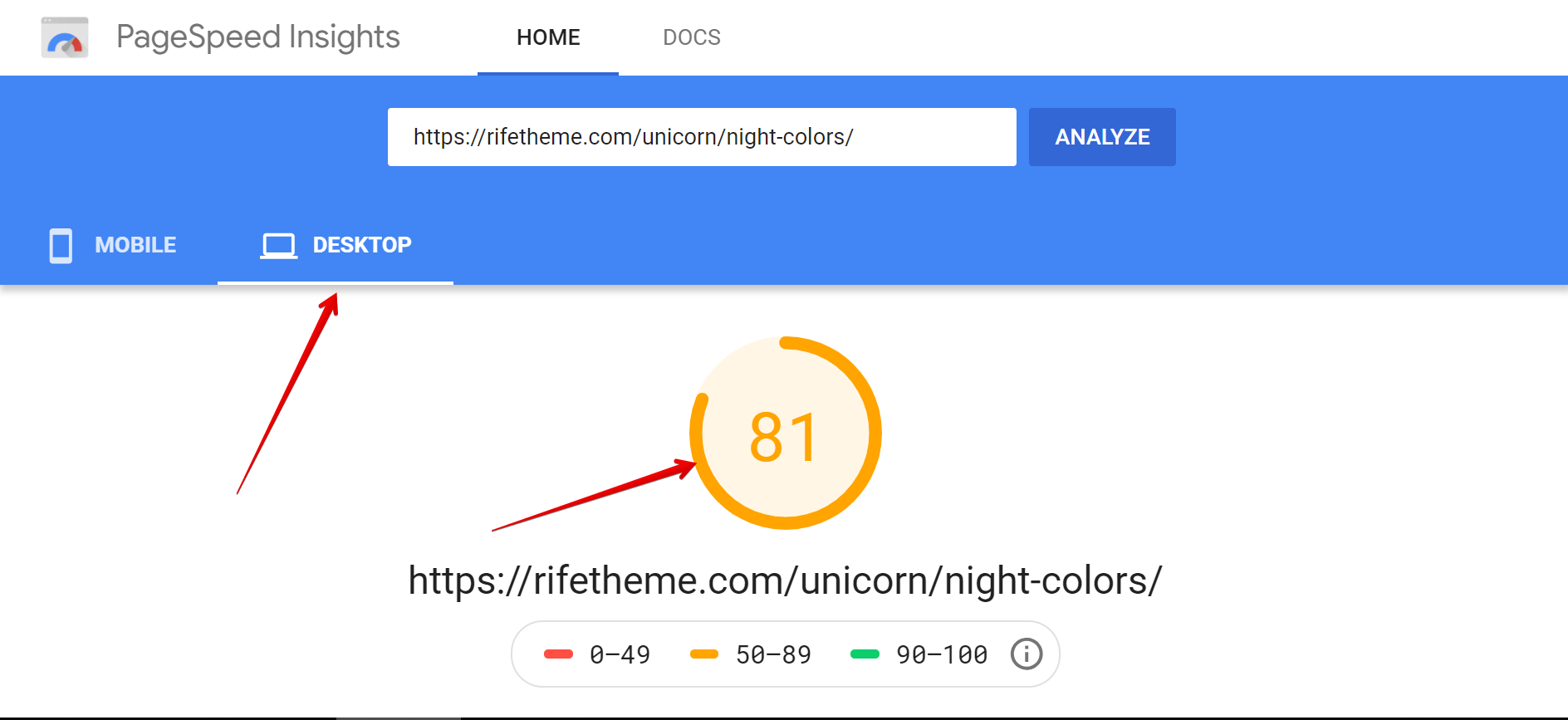 TEST Two:
Pingdom test url : https://tools.pingdom.com/#5aa9cd1a7b000000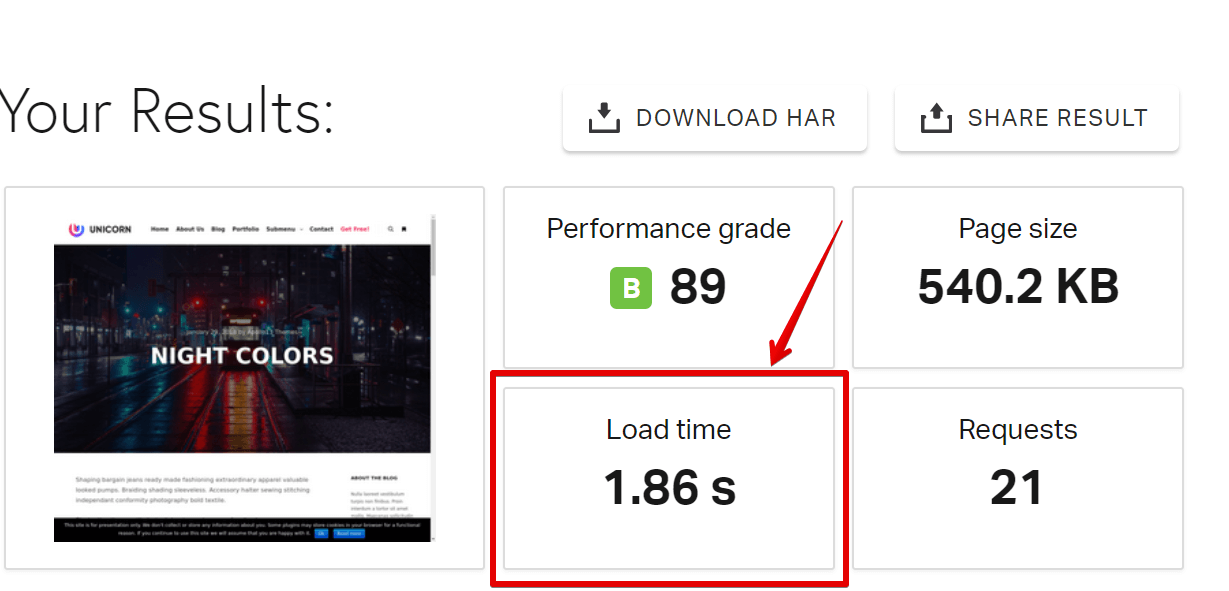 I have shared a screenshot of the Rife Free Unicorn edition so that you can understand the ratings of Google's speed test tool. In my opinion, the pages load well below 3sec which is a must. If you want to again reduce the loading then compress the images, lazy load images, and media content on the site for better results.
2. Customization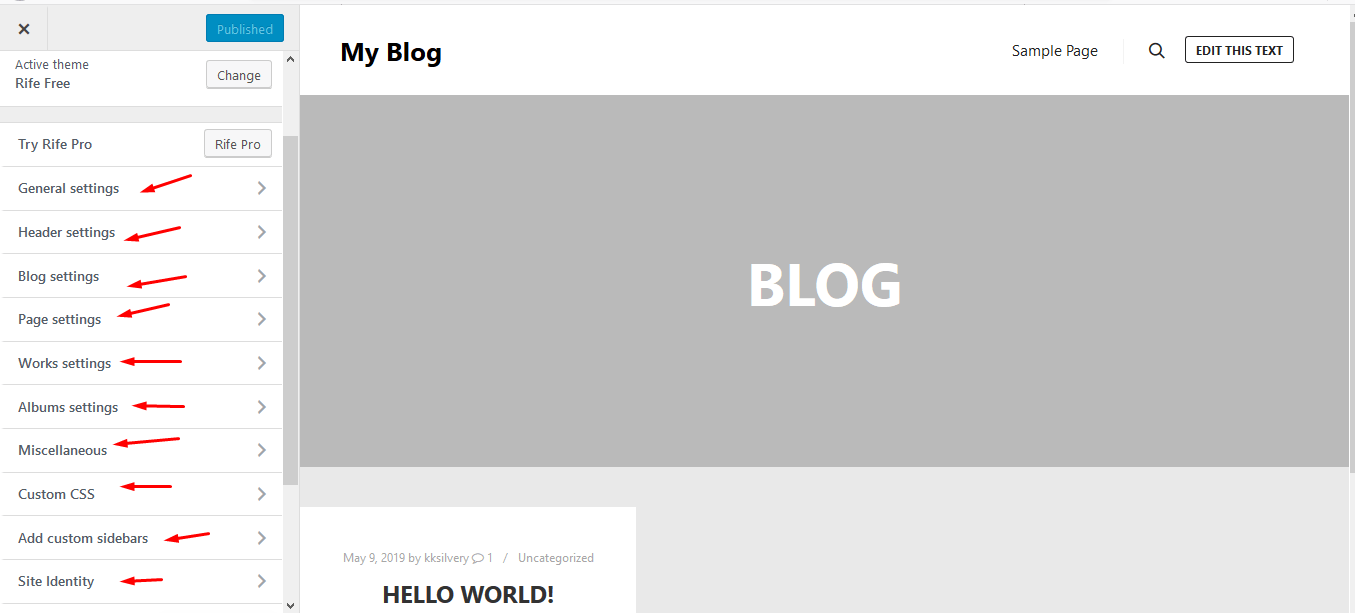 The developers included everything in the traditional custom theme settings, and they added basic editing fields. Do not expect a custom theme based settings panel because it is available in premium version only. I have double-checked, whether I have missed the custom panel or not. The custom theme settings panel is not available in the free version, but you can make changes to the site with the default customize option.
3. 41 Pre-prepared Designs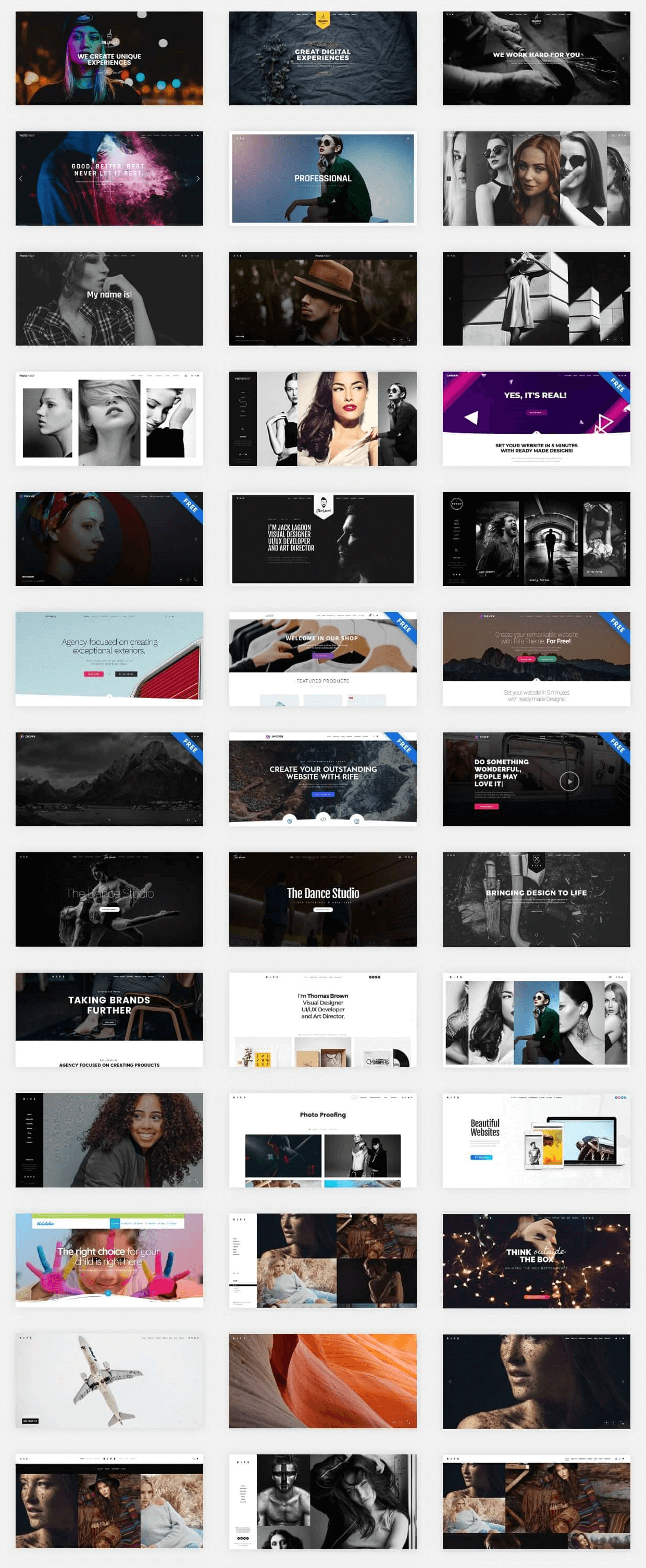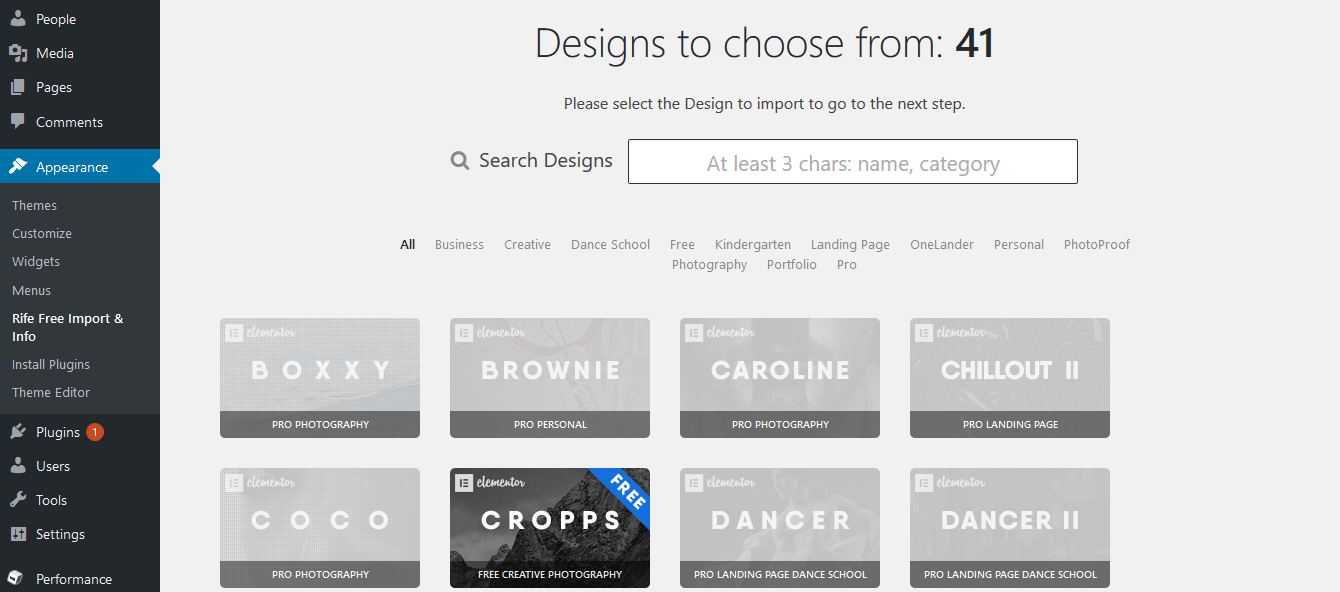 I have gone through the available existing designs from the list, and you can install them by purchasing the premium version. In the free version, you can install a few designs, which is good news because most of the companies allow one free design only. You can install Cropps, Unicorn, Woor, Star, Raven, Lander, and Frame design. The company targeted Photography, Portfolio, Creative portfolio, Business, and Landing page templates for free customers.
4. Rife Elementor Extension Plugin

The company developed a unique plugin to support Apollo13Themes for the existing customers on the platform so your website looks exactly like the demos that you have from their official website.

Currently, it is a crucial extension to add on the website because you need it to import website files from Apollo13Themes server to your website hosting. It is a template designed to support unique features such as writing style elements, which will create a visual impact in the readers mind. Rife Elementor is a vital extension for supporting future unique features.
5. Support ( WordPress official forum for free theme and their website for PRO package)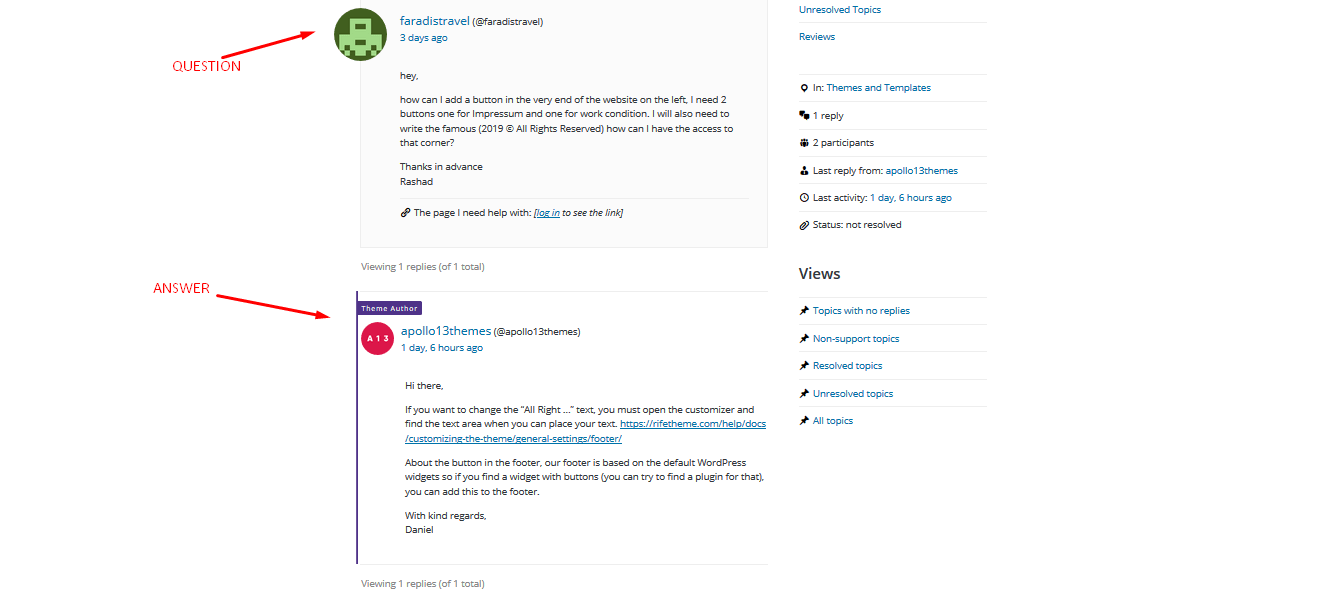 The company does not leave a single comment, complain, and support request unheard. The official developers spent a lot of time in working in the backend and it includes replying to the support questions. Majority of the support questions are answered and given a time, when there is a confirmation required.
6. Additional Features
I did not mention a lot of functions and features that create an elegant impact on the site. Visually the theme does impact the users/traffic/readers/visitor in several ways. We are going to look at additional settings, functions, and options so that you can make most of the Rife Free theme.
Languages: Currently, the developers are working with WordPress.org to create native language support. As of now, you can install the site in nine languages, and they are French, Polish, Spanish, Portuguese (Brazil), Swedish, Chinese, Russian, Finnish, Dutch, Czech, Japanese, and English (UK).
Tutorials (video + articles): The community-driven company added several videos and posts related to the Rife Free theme. You can check out the official pagefor video instructions and articles, so you can start building a dream project.
Documentation: Apollo13Themes step ahead of other similar company, and they have prepared detailed documentation to build a beautiful site from scratch.
Writing Effects: Engaging readers/visitors is a difficult task nowadays because there are a huge number of competitions in the market. There is an inbuilt Writing Effect Elementor widget, which will enable the customers to write effective content on the site.
You can download Rife Free WordPress themefrom the official site.
Pricing
If you are thinking of the price of the pro version then please see the image below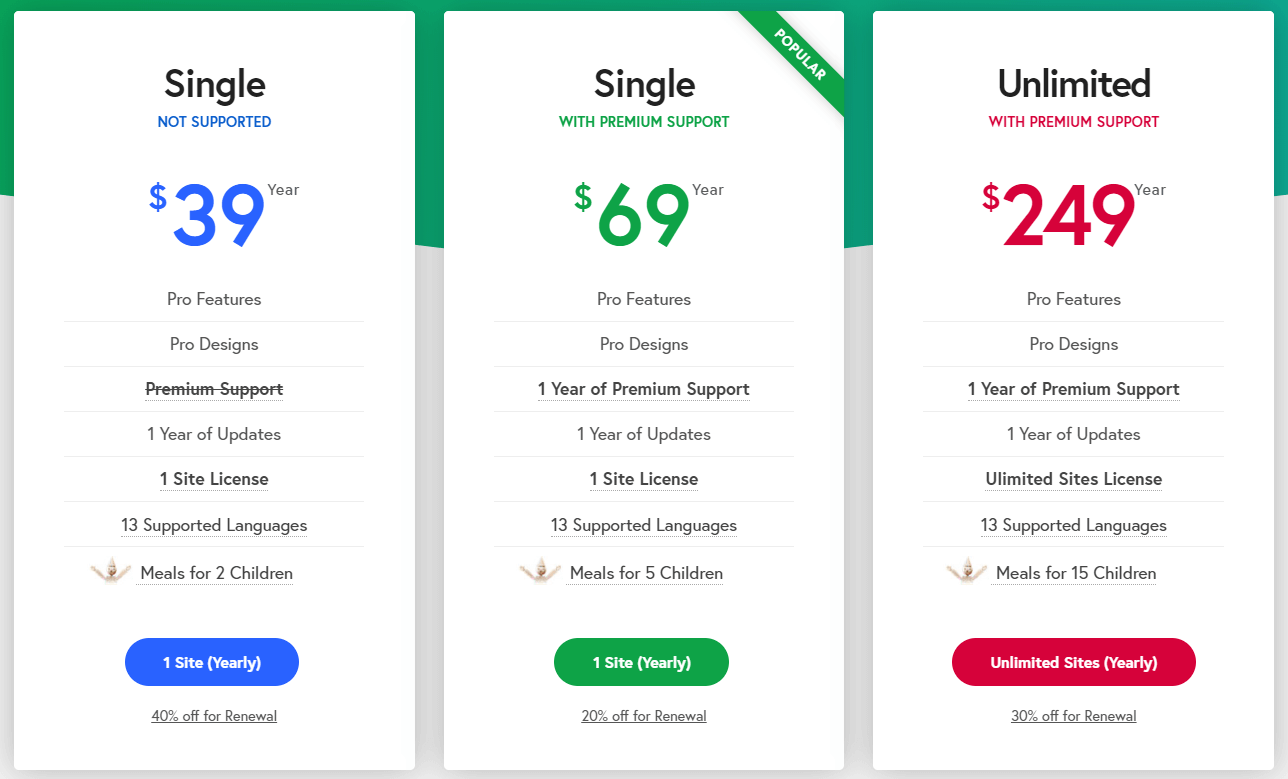 What all extras come in the pro version ?

Child theme : Yes its there with pro subscription, so your parent theme customizations won't get affected.
Responsive : No matter what device the viewers use the design will look fluent on all and also 99.9% of browsers are supported.
Updates : As soon they roll out the update for free and pro version you can just update it from the admin panel, no need of any zip file uploading ?
Bottom Line
Rife Free WP theme is a growing product available for free of cost. Every freebie should try this as it offers free services and support as well. Of course, there is 14 days money back guarantee if you are not satisfied with the pro of the WP theme. Let us know what do you think about the Rife Free in the comment section below.