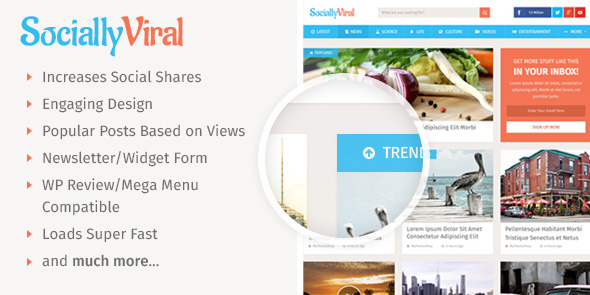 Sociallyviral a viral WordPress theme was launched a year ago with a price tag of $59 but now the scenario is changed we spotted a free version of sociallyviral theme in WordPress repository. Yes you heard it right, now you can get the package absolutely free of cost. Free doesn't mean you will get one cloaked with back links!
Get Pro Version EXCLUSIVE discount
Purchase a membership EXCLUSIVE $60 OFF
Below we will cover in detail is it really good for you?
Firstly many are concerned like do I get support since it is free version?
Yes you will get professional support for all your questions with turnaround time of 24 hours or less. For this all you have to do is explain your question in the support forum one of the support ninja will answer your question.
Speed
Speed is always you need to look in freebies luckily we have tested this one for you with Pingdom and the results were pretty good
SEO
All the themes from this developer are SEO friendly in all means. Rich snippets in addition to Schema markup can really boost your SEO score and better ranking in many search engines around the world
Ad integration
Most of us use adsense to monetize our website and for getting high CTR this package can really fetch you some extra money
Review ratings
For the commodities that you review you can easily add star ratings towards end of each single post and moreover the ratings will be picked up by Google giving you more organic traffic
Featured posts
You can add posts that you need to stick to the homepage for particular amount of time
Mega menu
Since it is compatible with mega menu wp plugin visitors can quickly navigate around your website giving you more pageviews
If you really like minimalist one we have compiled some of the best available ones and you can read here more about it.
Responsive design
Google has already made clear on this your website need to be responsive means it should fit the device no matter which device is used for viewing your website and this one follow this rule. The test result from our end is added below
Some other notable features
Inbuilt social media icons
Clean code
Inbuilt shortcodes
An update has been rolled out for the premium version and the notable ones are
Fix and improvements in v2.0.6
Performance option is now added
Now you can specify the width and height of the logo image
Broken logos issues are now solved
Structured data testing errors are no more
In short I can tell you that the premium version is better if you are serious about making your website a viral place.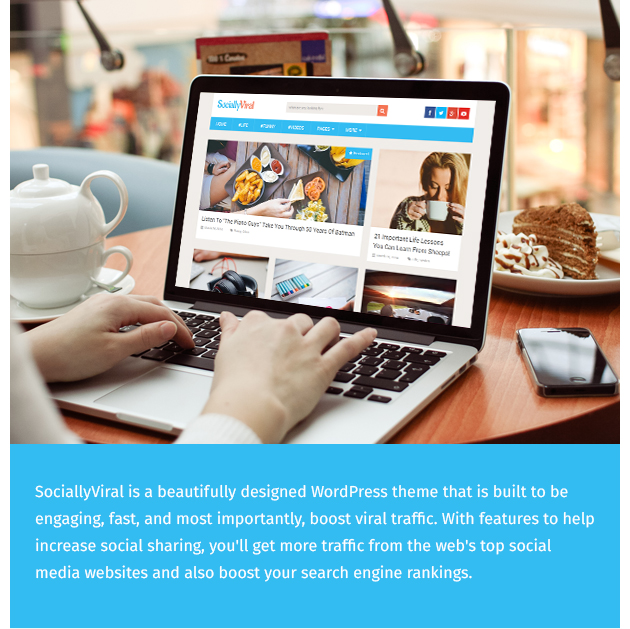 Get the premium version
UPDATES V 2.0.15
Mobile menu button is now fixed
Problem with Twitter and special character is now solved
Recommended plugins are now improved
Don't forget to share SociallyViral with your friends and colleagues