Octavia Butler once said that you can never start out by writing only good stuff. Accept it or not, you start out by writing crap and thinking it's really good material. In time, you get better at it. That's why she thinks that the most valuable trait any good writer can possess is persistence. She's right. If you want to improve your writing, you must practice, but in order to practice, you need the willpower to start working on your first draft.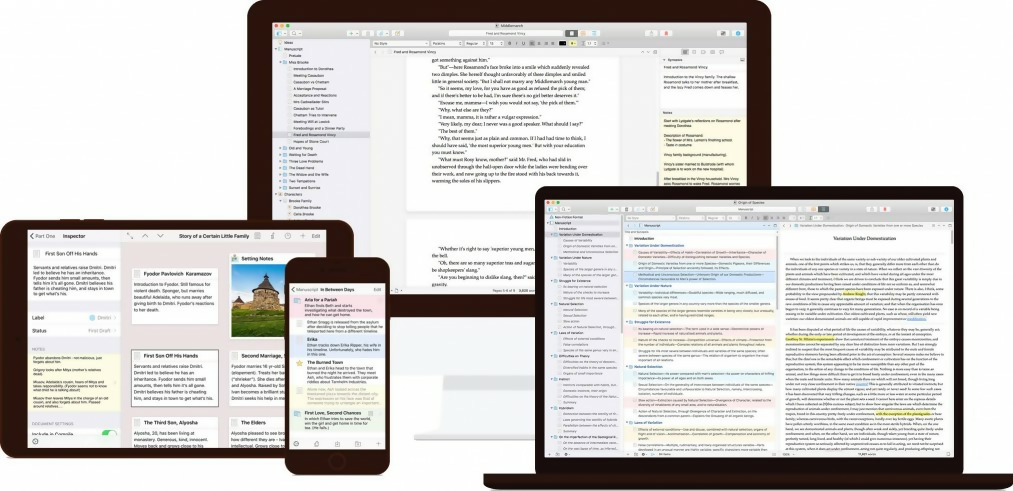 If you are new to writing, you probably don't have any clue where to start or how to plan your learning process. However, you probably don't have the money to purchase the most expensive writing software either. That being said, the least expensive writing software for macs is what fits your budget the best – am I right? If so, let's see what options you have and where to start looking.
You can write, sync, and publish your documents using Byword. This writing program helps you draft your blog post or write your story, format your text, and can even send you live updates. It will also sync your documents on all of your devices by using iCloud or Dropbox. Thus, you'll be able to edit them wherever you are.
This app was designed to make writing easier for its users, help writers use comprehensive keyboard shortcuts for convenience, export your docs to HTML or even PDF docs, and ultimately, publish your work on WordPress, Tumblr, Evernote, Blogger, or Medium.
This is probably the best word processor for mac we've came across. The program is specifically designed not to interrupt you or distract you by any means. It gives you the necessary space to write calmly and focus on your work, which is exactly what every (new) writer needs. According to various online reviews, the last version of the program has better typography and new external library locations!
This screenwriting app has cool features and easily accessible tips and tricks for writing the perfect script. You can start with a rough draft of your work and only then add the details, Slugline allows you to add new pieces of content later. You can structure your movie as you go!
Also, this app has been rebuilt for iOS, but it can also sync with the Mac version via Dropbox or iCloud. The app has a night writer (since all great writers write at night!), features an automatically-updated list of every character in your movie, a sync option – as mentioned earlier – and a screenplay look customizer. However, Slugline will not brainstorm ideas for you, so if you need help with your work, you can always reach out to any dissertation writing service and ask for a revision of your play.
Another one of the cool writing software for macs, Scrivener 2 combines all the writing tools you need into one ultimate version, perfect for crafting your first draft. Using this app, you can write a book, an article, or even write a long document (which, as we know, involves much more than just getting words onto the page). With Scrivener, you can create nicely designed manuscripts and have the ability to add new pages wherever you consider they might fit without disrupting the order of your document.
One of the coolest writing programs for macs, Storyist is designed especially for novelists and screenwriters. If you have a story to tell but don't know where to start working on it, this app sounds like to perfect fit for you. You can quickly produce manuscripts by using the rich text editors provided by Storyist, sketch out your own narrative using index cards, and keep your docs organized and easily accessible.
Conclusion
You will never be able to edit a blank page; however, you are able to edit a bad one. Don't wait longer, start your writing career now by choosing the perfect writing program for you. Make sure you don't spend too much money on your first one but do purchase a decent software which you'll be able to make use of for years to come. Have patience and trust that you will succeed – in the end, it's about persistence, not about luck!
Bio: Michael Turner has been a playwriter and comedian for 20 years of his life. He is now backpacking Europe while working as a freelancer at EduBirdie. His passion for computers led him to become an Apple representative. Right now, Michael is expanding his company's reach in South America and Mexico.