Upload, Store and Edit Your Photos With Luminar 3 Libraries
Luminar 3 with Libraries is a great photo editing software that lets you upload, store and edit your photos. There are many values we pursue while developing Luminar, and one of the main ones are the performance of the software, the comfort of usage and the enjoyment of the user. Managing your photos with Luminar 3 is something that will add comfort to your photo-editing process, making it easier and more enjoyable. Now Luminar is not only an extremely in-depth color editor, but also a tool to store and organize your photos.
Uploading photos
Luminar is the best photo editing software for uploading photos quickly. Just let Luminar know where you store your photos on your computer, and it will take it from there. There is no complicated import process, but instead your whole library will sync quickly and be available to you inside of Luminar 3. Isn't it extremely easy?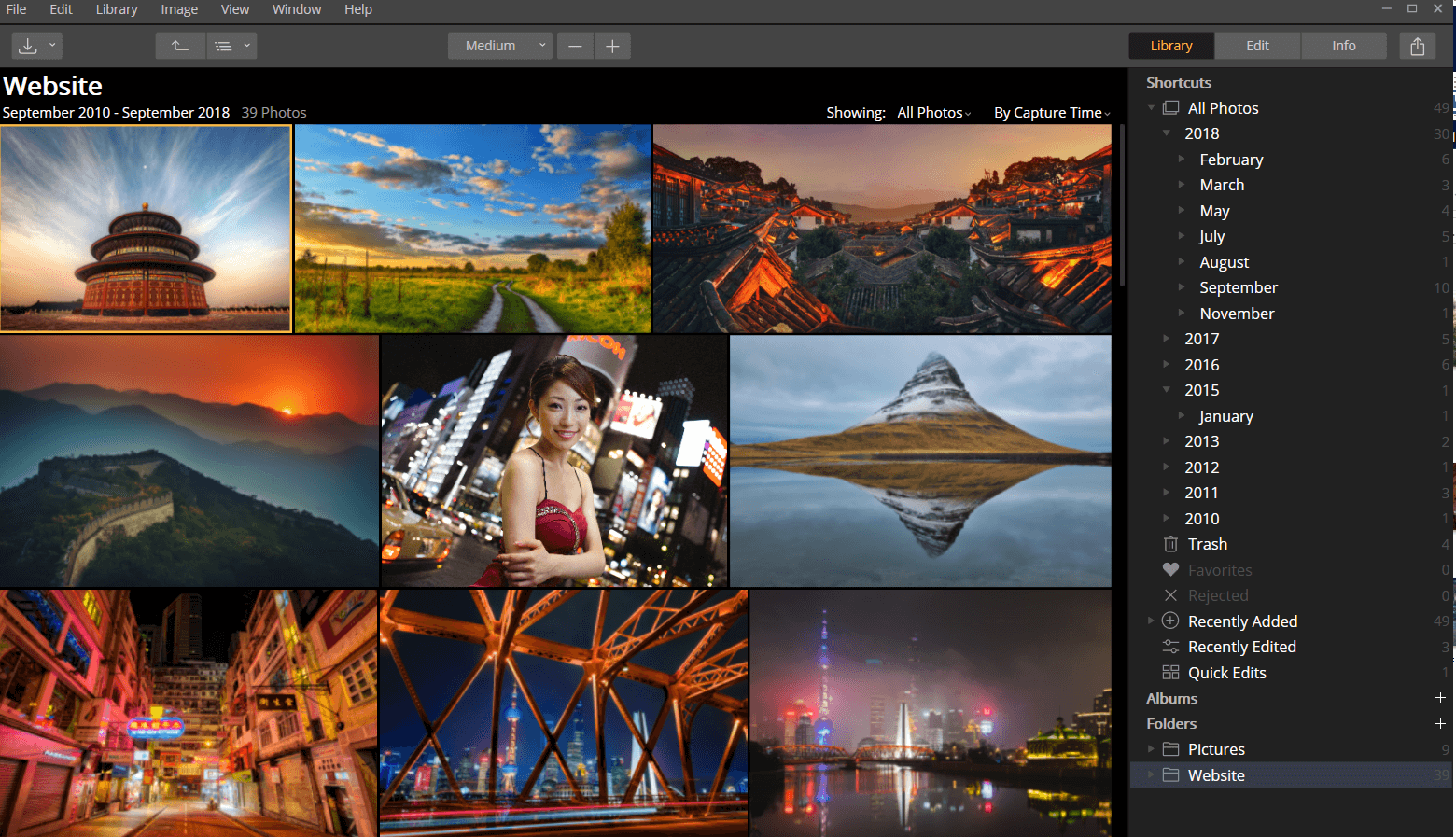 Managing photos in the library
Once the photos are in the library, you can manage them in a lot of different ways.
Syncing edits
A great feature is the ability to sync your edits and apply them to a lot of photos at once. Let's imagine that you have taken twenty identical pictures of the Great Canyon, but the sky is unsatisfactory in all of them. Quickly edit one of these pictures with the AI Sky Enhancer tool, and then with just a few clicks apply the same effect to as many other photos as you like, speeding up your editing process by twenty times. Batch editing lets you work with dozens of images at once, without the need to check back for manual adjustments after each time.
Tagging and organizing
Some photographers are very particular about organizing their photos. Indeed, if you need to select just the best photos from a photo shoot, or just the pictures of mountains, or the photos that need some further editing, you can do it all by managing your photo library. Select favorites, add color tags or a star rating to organize these photos to your liking and quickly access them. You will find out that having an organized photo gallery will let you be more organized in your daily life.
Viewing photos
Even if you don't care about organizing by colors or star ratings, Luminar 3 is a great tool just to view your photos. In the right-hand corner of the gallery you will see the calendar. Through this feature, you will easily see the date when your photos were taken, letting you quickly jump back to an important trip or a client's photo shoot. The gallery itself looks great: showcasing your photos without unnecessary details or blank spaces in between, letting your precious photos be the center of attention. Luminar 3 can become a great gift for a photographer, of any level of experience.
Quickly edit photos
Not only you can browse your library and edit whichever photo you want, but you can also quickly add a photo and edit it on the go, thanks to the Quick edit feature. If you are a pro user who is used to working in Photoshop, Luminar 2018 and Luminar 3 are also great photoshop plugins. After you edit a photo, it will be stored in a Quick edits folder for handy access.

Free updates
The best fact about Luminar 3 is that it doesn't stop at what it has achieved. Luminar 3 itself is a free upgrade to all Luminar 2018 users. There are also free much-needed amazing upgrades coming up all through 2019. Many of those will be quick and smart features powered by AI technology, that allow you to save time and resources. And all of them will be absolutely free for Luminar 2018 users! This way we're trying to show our infinite loyalty to the users that have stayed with us through the years and helped us reach unbelievable heights. Stay tuned, we will not disappoint you.