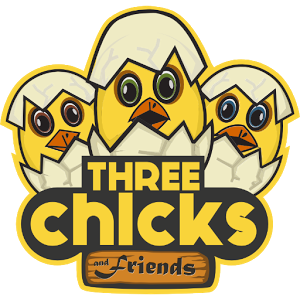 Life is a fast paced race that does not allow anyone to take rest. With the entrance of technology the pace has increased many folds causing people to work day and night to gain the lead. The tiring long hours of dedicated work leaves a person kind of brain dead, therefore a way of rejuvenation is required to keep running in the race of life. For rejuvenation of mind and body there are many things that a person does like listening to songs, playing some games. And for this mobiles now have become something that we could not live without having it.
One of the basic games that are available on the Google Play Store is Three Chicks and Friends which is a free one to download and to play. It has basic agendas like the collection of different stuff and avoiding the collection of unwanted particles. Also it revolves around a plot about three chicks and their friends, the number of chicks made available is 3 which allows you to have 3 turns before you fail a level. The introduction of the chick's friends allows you to explore new terrains and enjoy different challenging terrains. Having a variety of challenges allows you to relax your pre-occupied and tired brain.
The game has great graphics and a very relaxing music played that will definitely allow you to relax your mind. The graphics of the game makes the character of the game so cute that a person playing this game has a smile on his or her face while it's on their phone, the game also plays a big hit with the children and it allows to gain effective motor skills. All in all it can be said that the this one allows you to gain a new happier perspective towards life which allow you to gain some happy moments in your life.
Here are some screenshots while we were playing it in our device running android Marshmallow version (6.0)
Other info
APK Size : 94MB
APK Version : 1.02
Android Minimum Requirement :
Developer : Ginra Tech
Country : Israel
Current Rating  : 5.0
To wrap all things up it can be concluded that the game is a new entrance to the Google Play Store, and it should also be understood that as it a new game there are not enough reviews available on the store.