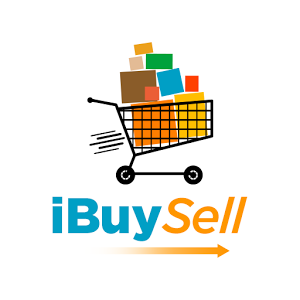 In today's world no one has time to go out for shopping, everyone wants home service and because of this E- Commerce industry is at its peak. With each day there are new entries in E-commerce market and in this post we are going to discuss iBuySell new entry in this market. We are going to review its Android app, and it is also available for web version and iOS version. Now Let us discuss more it in below part.
What is iBuySell?
It is an eCommerce platform in which users can easily sell and buy products. The concept of iBuySell is different as compared to another E-commerce site. In iBuySell auction take place but with a twist, unlike other online auction platforms in which bidding take place to increase price whereas in iBuySell the price of item keep on decreasing until someone grab it. Is it cool? How it works, let us explore more about it below part of the post.
Exploring iBuySell
As mentioned above it is an e-commerce platform in which users can buy and sell goods and price of goods falls for a short period. There is no concept of biding. The prices of goods keep on decreasing from some pre-set values just freeze the product( if the price is comfortable for you), and the product would be considered as sold. Let us explore more about iBuySell Android app.
1) Opening the application for the very first time users will get some introduction have a look.
2) Just like other platform users have to register.
3) However, easy login options are also available in the app.
4) That's it. It's all done here now you can start using the application.
5) You will get following as the home screen.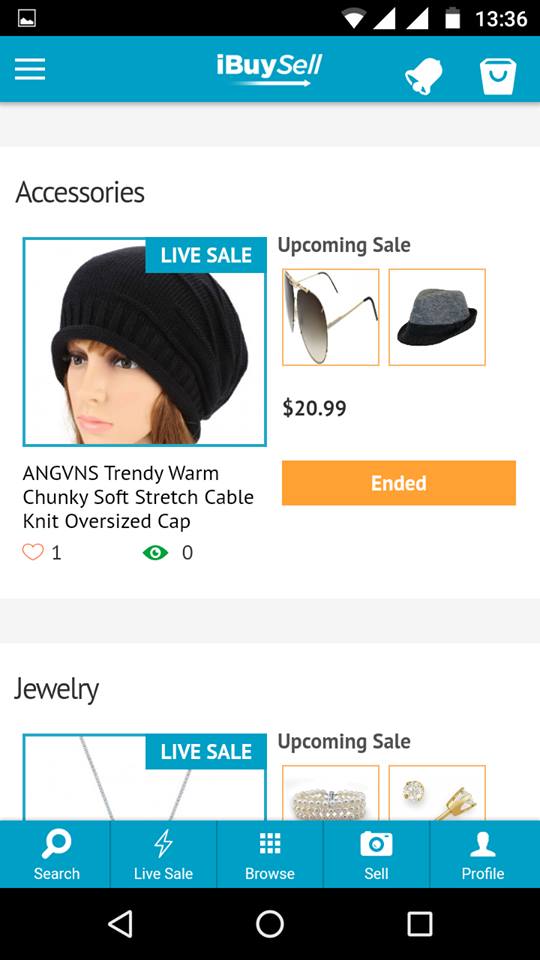 6) Users can also search products category wise.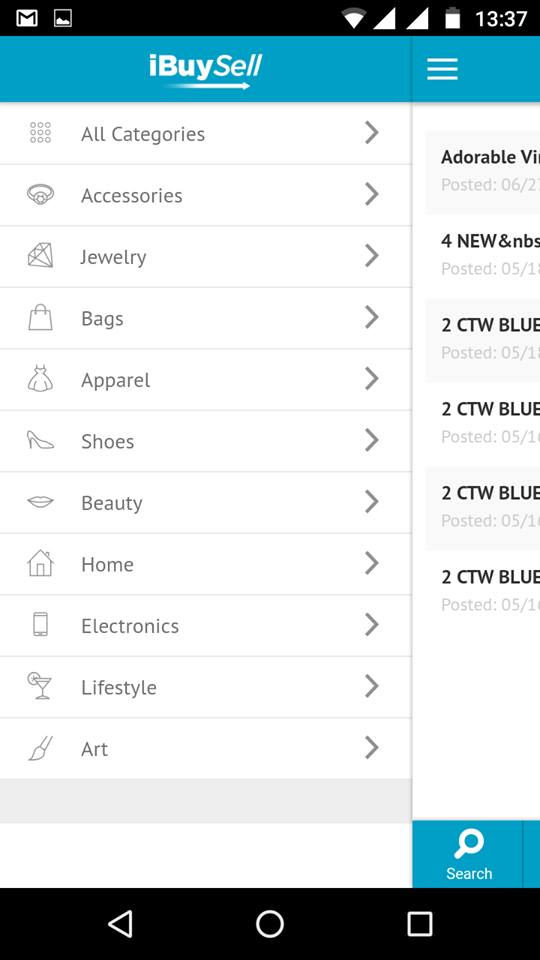 7) Users can anytime go to Live Sale (prices drop every second till the first person freezes the price. Each sale lasts for 90 secs or less, giving shoppers a sense of urgency and competition that they have never experienced before). Have a look to below snap for more idea.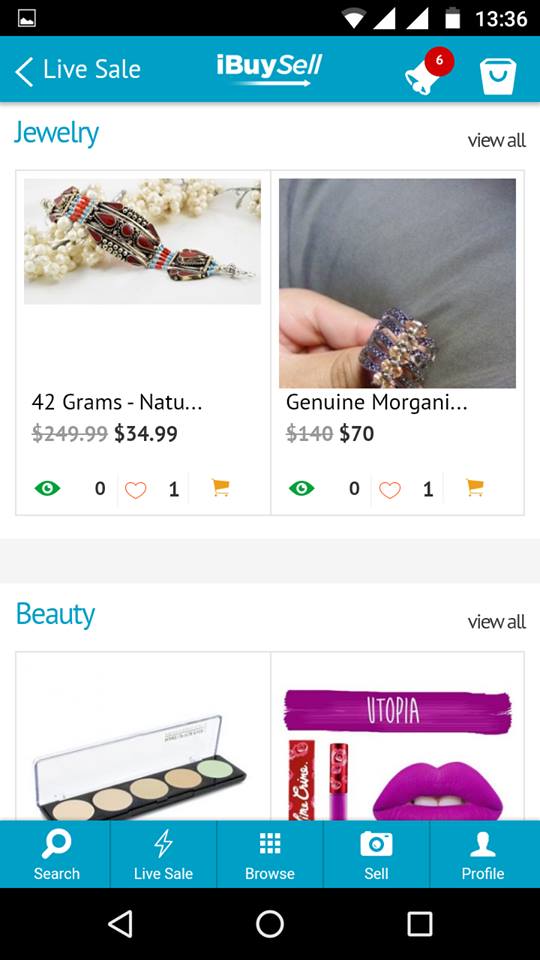 8) Anyone can become a seller through iBuySell. Just click on sell option and upload the picture and add some description that's it's your product is ready.
9) However if you are selling products for the first time you have to register as a seller.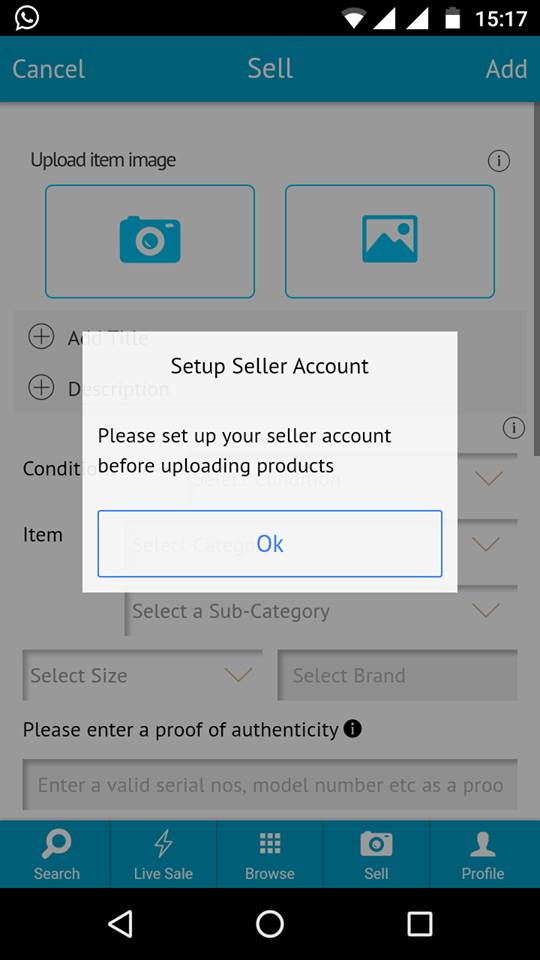 10) Users can also check notifications by clicking on bell option, have a look to below snap for more idea.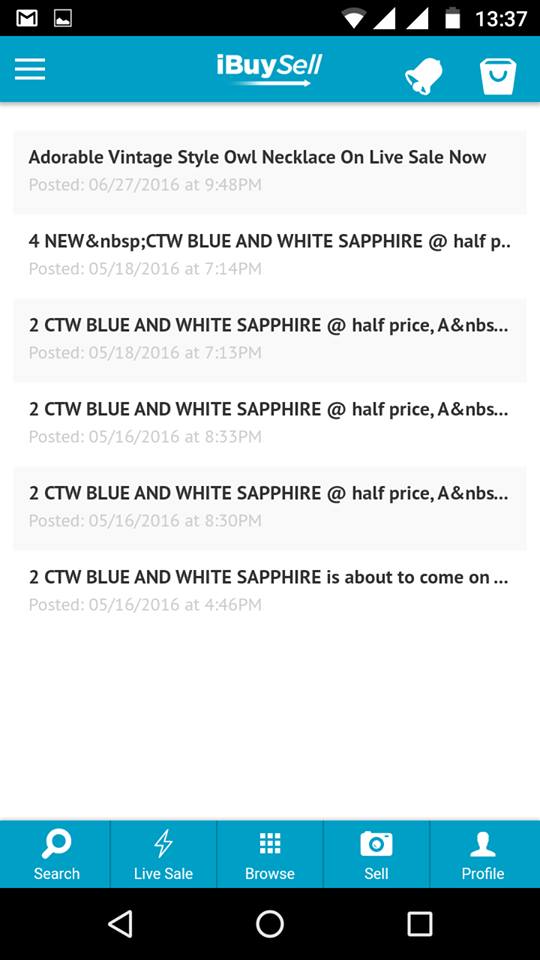 11) The easy search option is also available in the application through which users can find products easily and more efficiently.
12) In profile option, there are many options like as shown in below snap. In Account Setting users can change the name, password, etc. In profile option users can change address. Users can also check previous and pending orders details in profile option.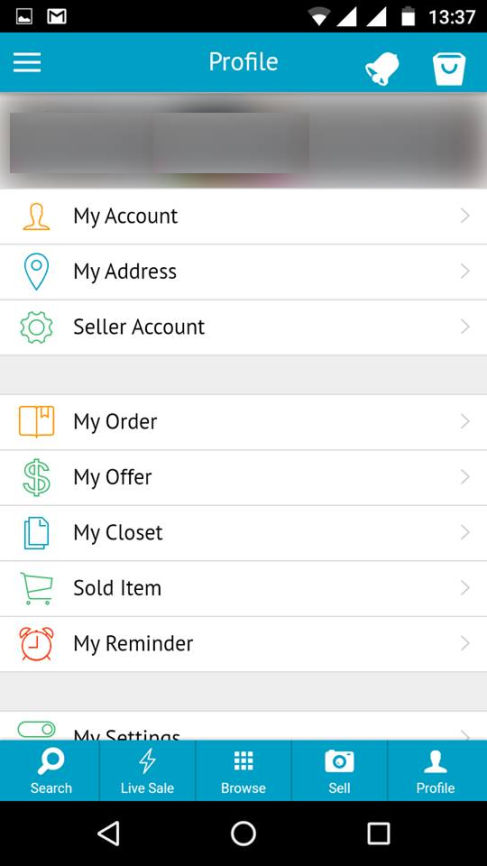 13) Profile option is also very useful for sellers as they can check sold items, or they can also check or change payment options. Here are some snaps which we took while using the app. Have a look.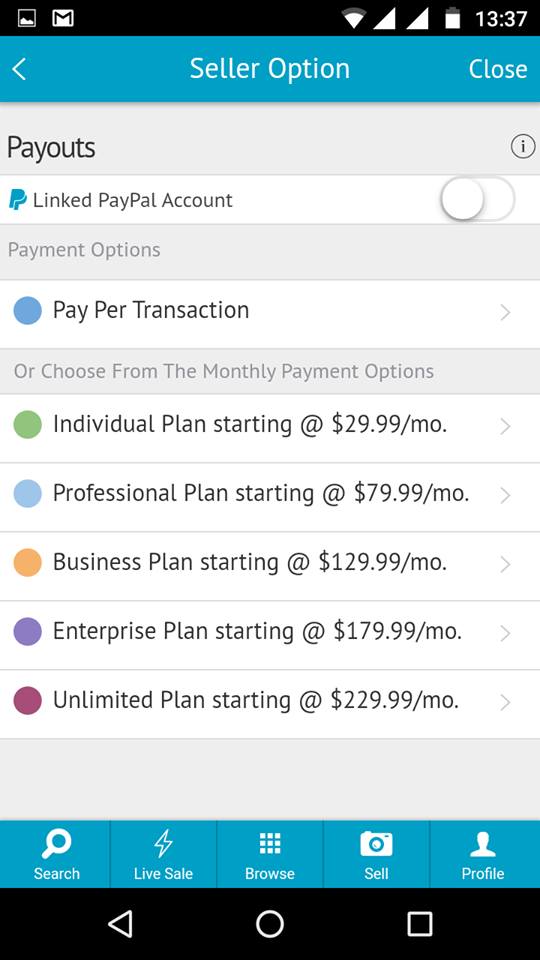 Final Words
Not making the post too long we are ending the post here with some pros and cons which we noticed while using the app on our device running android marshmallow version. Have a look to below points and take steps accordingly.
Pros
Here are some pros have a look to below points.
1) It is a free application and under special offer users will get $5 as the bonus.
2) The concept of the iBuySell is also unique and good.
3) The interface of the application is very attractive and responsive.
4) For both buyers and sellers, the app is very useful as you can purchase or sell refurbished items.
5) Users can share the products they love in social media such as Twitter, Facebook, Pinterest etc, inviting friends in their network to shop with them and earn attractive points and rewards.
6)  For sellers they can include their existing e-commerce catalog store in their profile and get more traffic to their already existing online sales channel.
Cons
There are some cons too associated with this cool app, have a look.
1) The interface of the application is good, but sometimes it takes more time to get open.
2) It is not available for windows phone which make this application out of the reach of Windows phone users.
As you can see nothing too serious associated with the app and hence you should try it once as it is a free application and for creating an account for the first time the user would get $5 as the bonus. Hope you like this review post. Try the iBuySell service once and share your experience with us through like, comments and share. And please subscribe us too.