A business needs to have its own identity over the web and for that reason, a suitable domain name is required. Every business should own a domain name to launch its own website over the web.
When it comes to registering a new domain, Cloudcone is the most trusted provider on the web market. We will walk you through the procedure of registering a new domain name with other important details in this article.
If you are wondering about the need of registering a domain name, then this guide will help you clear all your doubts regarding the domain name and its registration process.
About Cloudcone:
Cloudcone is a service provider that offers a range of cloud-based services to take your business to the next level. The company offers dedicated cloud servers, virtual private servers, domain names, private clouds, and many other services. It's a one-stop platform for all types of enterprises looking for a new path to improve their productivity.
Cloudcone offers all types of domain names for organizations, private entities, non-profit organizations, enterprises, etc. The company's promo offer for .xyz domain will be live on 11th of May. Register a new .xyz domain for just $.99 at Cloudcone now!
Before we jump on to the procedure to register a new domain on Cloudcone, let's collect some useful information about Domain Name.
What is Domain Registration?
Domain registration is a process to register a name for your enterprise or personal use. It keeps the name you choose reserved for some time. You can register a domain name for one year or multiple years with a multi-year plan. Registering a new domain name is super easy as there are numerous providers available in the market.
Thankfully, you can register a domain along with the hosting service or a dedicated server for a hassle-free launch of a new website over the web. You can get all such services under one roof. Yes, domain name providers also offer various services such as dedicated servers, cloud servers, etc to buy hosting for your domain name.
Interestingly, you can get a new .xyz domain from Cloudcone at just $0.99. Yes, you can now register a new .xyz domain through their promo offer for just $0.99 which is going to be live from 11th of May.
Why a good domain name is important?
You must have a suitable name for the domain you are going to register for your company or business. A suitable domain name gives your enterprise the required boost. The list of benefits associated with a suitable domain name is as follows:
Brand Creation
It takes a lot of effort to create a brand out of a new business. When you have a suitable domain name, the required efforts will be reduced as you are already a step ahead to create a brand for your newly started business or the business which is yet to see the digital world.
Professionalism
A domain name gives your business an identity that makes it look more professional than ordinary businesses.
SEO
When your business is on the web, it makes it easier for the users to search for it on Google. A suitable domain name helps users search your business easily as the domain name is also SEO-friendly.
Business Ownership
A registered domain name helps people know about the authenticity of the business and its ownership.
How do you register a new domain name conveniently with Cloudcone?
Cloudcone's domains page helps you register yourself to purchase a new domain name with the preferred domain names with .com, .org, .net, .info. and so on…
It's easy to register a new domain name with Cloudcone. The following steps will show you how you can register a new domain name on Cloudcone.
Step 1: Sign-up for an account
You must have an account for purchasing a new domain name at Cloudcone. Since you are new to Cloudcone, you will be asked to sign up for a new account. Click the Sign-up page to get started with it.
Step 2: Visit the Domain Registration Page
Go to the official Domain Registration Page of Cloudcone. The homepage looks like this: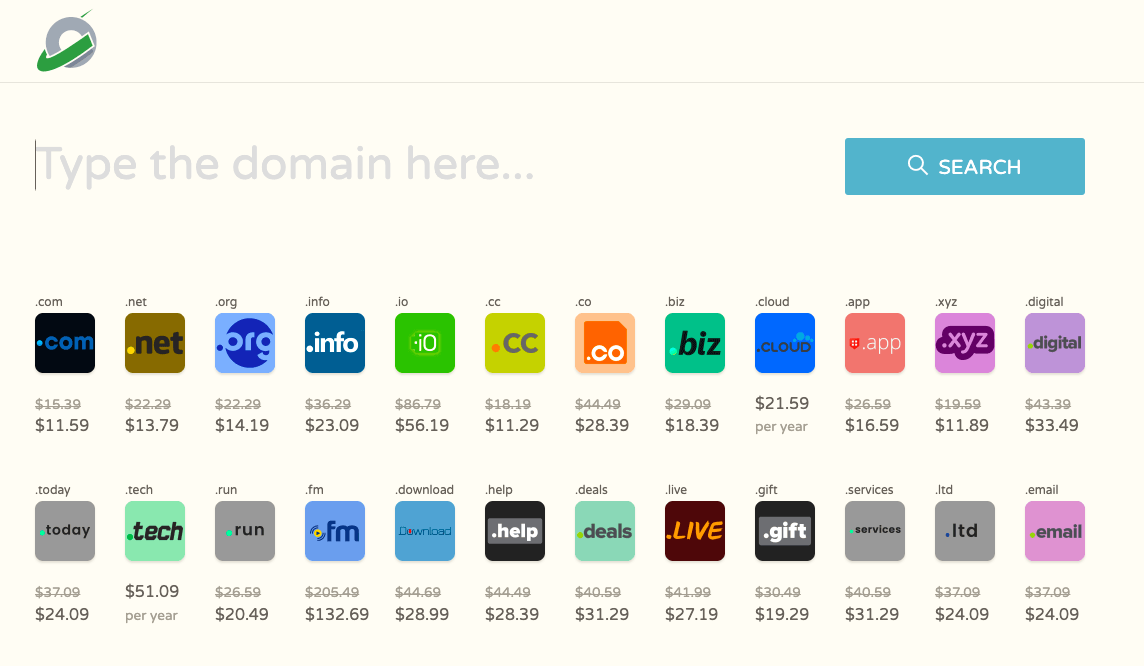 Step 3: Type in the Domain Name
Click the Search box, type in the desired domain name in the search box, and then click the enter button.

Step 4: Click the Continue button
As soon as you see the availability of your domain name on Cloudcone, click the Continue button to proceed further.
Step 4: Enter the details
After choosing the domain name, you will be asked to select the period for the domain i.e. 1 year, 2 years, etc. Fill in the registration form wisely. At last, click the Purchase Domain button.
Step 5: Payment Options
Select your preferred payment option and pay for the domain. Upon successful transaction, your domain name will be registered and you will receive a notification regarding this. You will also receive other details on a registered email ID.
This is how you can register a new domain name on Cloudcone. We hope that the above information gave you in-depth information about the need for a domain name and how Cloudcone can help you buy one easily to take your business to the next level.
Cloudcone is the top-rated platform for those searching for an all-in-one solution for their business. The platform not just offers domain names, but other services such as dedicated servers, cloud servers, and more. Follow Cloudcone on Instagram and Facebook to receive regular updates!