Sammy Precup developed a medical emergency app for the users of iOS 7.0 or later compatible devices including iPhone, iPad and iPod touch. This app covers a little of 6.2mb space in your system and provides you with the facilities of many medical emergency rooms. Exigency is basically an emergency app for everybody who needs any medical assistance on the spot. In the era of smart phones and artificial intelligence technology nothing is tough to find. You are just a click away from this app which is versatile and feasible in nature and lets you know all the details of nearby doctors and the pharmacy which is open and working that particular moment. This app keeps record of all the important information at one place so that you need not to carry it separately as a hardcopy all the time. It is helpful even if you are not carrying your documents physically, as it will always be saved in this small but convenient application. Data like Insurance information and doctor's list, nearby pharmacy and hospitals can all be found under single roof. It's not hard to understand a simple thing that Exigency application provides you with all the help you need through a direct link.
People love to travel from one place to another but what they are never aware of is the climate change. Climatic change can erupt many changes in one's body. It may cause to some kind of illness. It's always better to carry your prescriptions with you to not find any difficulty and no compromise should be taken in terms of health. But have you ever thought, what if you forgot to carry your prescription, or if you feel sick and do not know anybody in the new city. Not to worry because this is where this app Exigency comes into role, all you need is to just click on the application and find out the nearby doctors list. No matter what the time is, this one will always be working to direct you the nearby doctors and the pharmacy which would be open that time. Exigency not only gives you the information and keeps all your data but also lets you know the directions to the hospital emergency room or pharmacies which are open at that moment. Also if your insurance provider provides you nurse hotline, then that is also recorded in the application and will be ready for use anytime.
To install and use this 4+ rated emergency app you need to follow steps below:
Install Exigency App
Go to your Apple App Store(iTunes) and search for "Exigency" without quotes in the store, Download and Install the application.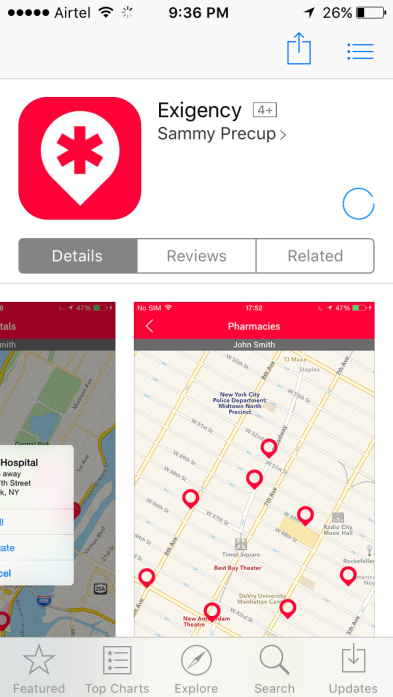 Terms of Service
Accept the terms and conditions of the app by clicking on the button "Agree"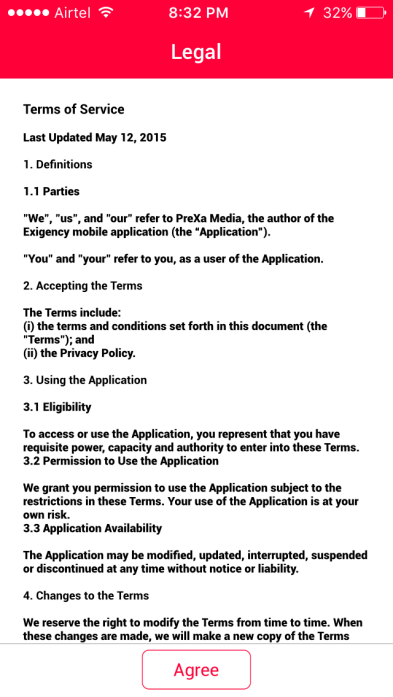 Home Page
The home page of the Exigency consists of all the record with following columns as Hospital for nearby hospital list.
Pharmacy for nearby open pharmacy stores.
Nurse Hotline which will be ready to use whenever required.
Insurance Card to keep all the record at one place safely and on the go.
My Doctors provides you the information about nearby doctors in case of emergency.
Add / Edit Profiles
You are required to sign up for the application first in order to access the benefits of this versatile emergency app. Add your details to sign up. Also you may edit the entered information any time while using the app. It will ask you some of the personal details and the information to add in the application for future use.
Info
There is a column named "info" which will provide you the brief details of app and also you may contact the support service asking them the related queries and send them the feedback as per your experience regarding the app.
Settings
In settings column you'll be asked for the Pin Code to be entered in order to make it easy to locate your location. Also it is an important point that in order to use the exigency emergency app you are required to provide the access to the app to detect your location at any time. It can be done by modifying into settings of your apple device.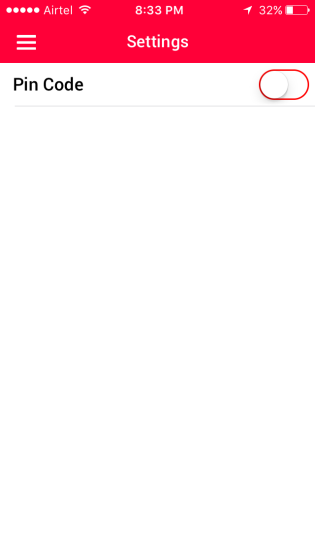 If you find any problems in using it drop your problems at support@exigencyapp dot com
Final Thought
Exigency the idea seems to be good, hope they extend to other countries also.