Written by Lauren Harrison
Crypto casinos are the hot new thing in the USA. However, like most countries, they are not specifically legal, lacking regulation and operating in the gray area outside the formal market.
In 2022, one of the biggest brands in crypto casino gaming has traversed the legal complexities in the USA and brought together two of the biggest gaming trends available right now to offer a legal form of sweepstakes crypto gambling; we are, of course, talking about Stake.US.
Let's explore the legal outlook and how they've achieved this and brought crypto gaming to the US market.
Legal US Gambling Outlook
US gambling laws are clear: each state can regulate online gambling activities independently, and in cases where there is no law permitting online gambling, the Unlawful Internet Gambling Enforcement Act (UIGEA) applies.
UIGEA was created pre-crypto in 2006, prohibiting companies from processing payments in connection with illegal gambling. It is a federal law, but it needs to be clarified if cryptocurrencies fall into the legal definition of payments under the act. UIGEA enables US regulators to prosecute gambling sites, not the player. Still, due to the nature of cryptocurrencies, it's much more challenging, if not impossible, to trace the physical location origins of these payments.
To date, online casino gaming has been regulated in six states: Delaware, New Jersey, Pennsylvania, Michigan, West Virginia, and Connecticut. Any gambling sites without a license from one of these state bodies are classed as illegal offshore sites. But, there is one exception: real money sweepstakes casinos. These gaming platforms are allowed to operate legally in most US states, bar a couple of exclusions: Washington, Idaho.
US Crypto Regulation
The US is one of the most forward-thinking geographical locations regarding cryptocurrencies, and they've already included it in the federal tax regime and securities law. Crypto exchanges in the USA must complete Know Your Customer (KYC) checks and abide by Anti Money Laundering legislation.
For taxation purposes, crypto is classed as property. It is subject to capital gains and income tax, meaning every time a consumer sells or trades crypto, they must report the transaction to the IRS. Mining, staking rewards, and NFTs are also taxable.
Crypto Casinos – What's the Hype?
Crypto casinos are popular because they offer players greater anonymity, freedom from bank fees, and instant deposits and cashouts. These gambling platforms also tend to feature impressive tech-forward features, making them some of the most exciting casinos for consumers.
However, they lack regulation and are generally legally ambiguous. There's also the issue that cryptocurrencies are volatile by nature, so they encourage even riskier gambling than with stable fiat currencies.
An example of the tech-forward approach of crypto casinos is their integration with live streaming platforms like Twitch. Although there are now rules in place to reduce streaming from unlicensed casinos (albeit easily evaded ones), according to Casino Cabbie, in 2021, 64 of the top 1,000 most-watched streamers on the site had live-streamed crypto slots or advertised deals for crypto gambling sites.
How are Sweepstakes Casinos Legal?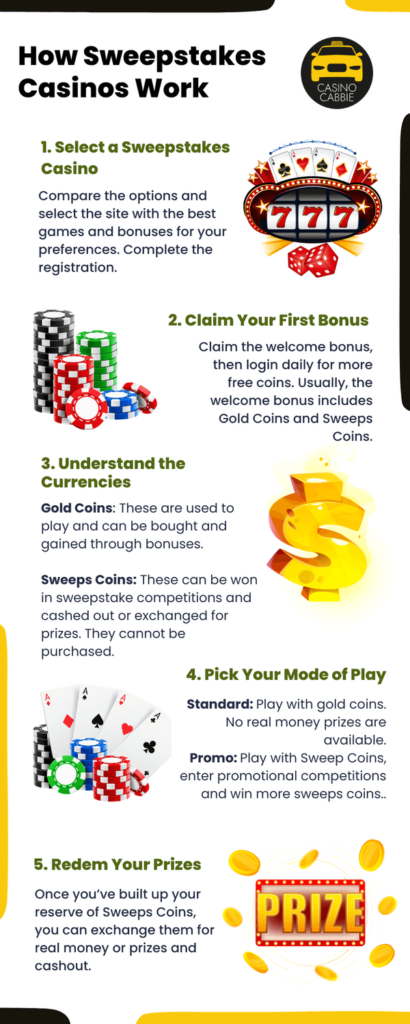 Sweepstakes casinos are legal gaming sites that offer authentic casino slots, table games, and live dealers. How is this possible, given the legal outlook we've discussed earlier? The answer is actually quite simple.
These sites usually have two virtual currencies: one that has no monetary value, which is used to play and gained through gameplay and bonuses, and another that can be collected under non-gambling circumstances (via sweepstake competitions, which are legal in the majority of US states) and exchanged prizes or cashed out. Consumers can also purchase coin bundles. As consumers are not gambling with real money, the practice doesn't fit the legal definition of online gambling in the USA.
The popularity of sweepstakes casinos has been growing across the USA for the last five years. Mainly because they are the only legal playing option in states where online casinos are not regulated. One of the most popular of these sweepstakes is Stake.US, a crypto site.
Stake.US – The Merging of Two Colossal Trends
While there are other sweepstakes casinos on the market, Stake.US is the only one that has legally navigated US laws to offer a legitimate way to play casino games in connection with cryptocurrencies. It is the first to bring crypto casino gaming to US players formally.
According to Casinocabbie.com, Stake.US opened for early access in July 2022, launching fully in August. The platform fits the legal definition of a sweepstakes as it features two currencies, Stake Coins and Gold Coins.
Gold Coins do not have any value and are used to play standard games. Consumers can collect Gold Coins through daily bonuses and promotional giveaways. They can also buy Gold Coins. Stake Cash cannot be brought; it's awarded as a bonus or for free when Gold Coins are purchased and can be used to play promotional games.
Promotional (sweepstakes) games can only be played with Stake Cash. Prizes won playing sweepstake games can be redeemed for prizes, including gift cards, cryptocurrency, or merch once certain thresholds have been met.
Since Stake.US opened in mid-2022, it's become one of the most popular sweepstakes on the US market and the only site to offer crypto prize conversions. Thus, through the avenue created by sweepstakes casinos, Stake.US has brought crypto casino gaming to US players.
Aside from Stake.US, players wishing to access a real money crypto casino must gamble at an illegal gambling site, which adds further security (untested games, no guarantees of payouts, no complaints procedures, etc).
Problems and Challenges: What's Next?
With the popularity of crypto gambling showing no slowing and with the majority of real money crypto casinos and sportsbooks operating globally, targeting players offshore, it would be sage for US state regulators and gambling operators to look at ways crypto payments can be implemented in the legal gaming market.
While this presents several difficulties, it would prevent further fueling the offshore market. According to the American Gaming Association estimations, this is worth more than $510 billion in lost wagers per year, depriving the USA of as much as $13 billion in tax revenue, as well as endangering consumers who put themselves at further risks by gambling outside of the legal pathways.