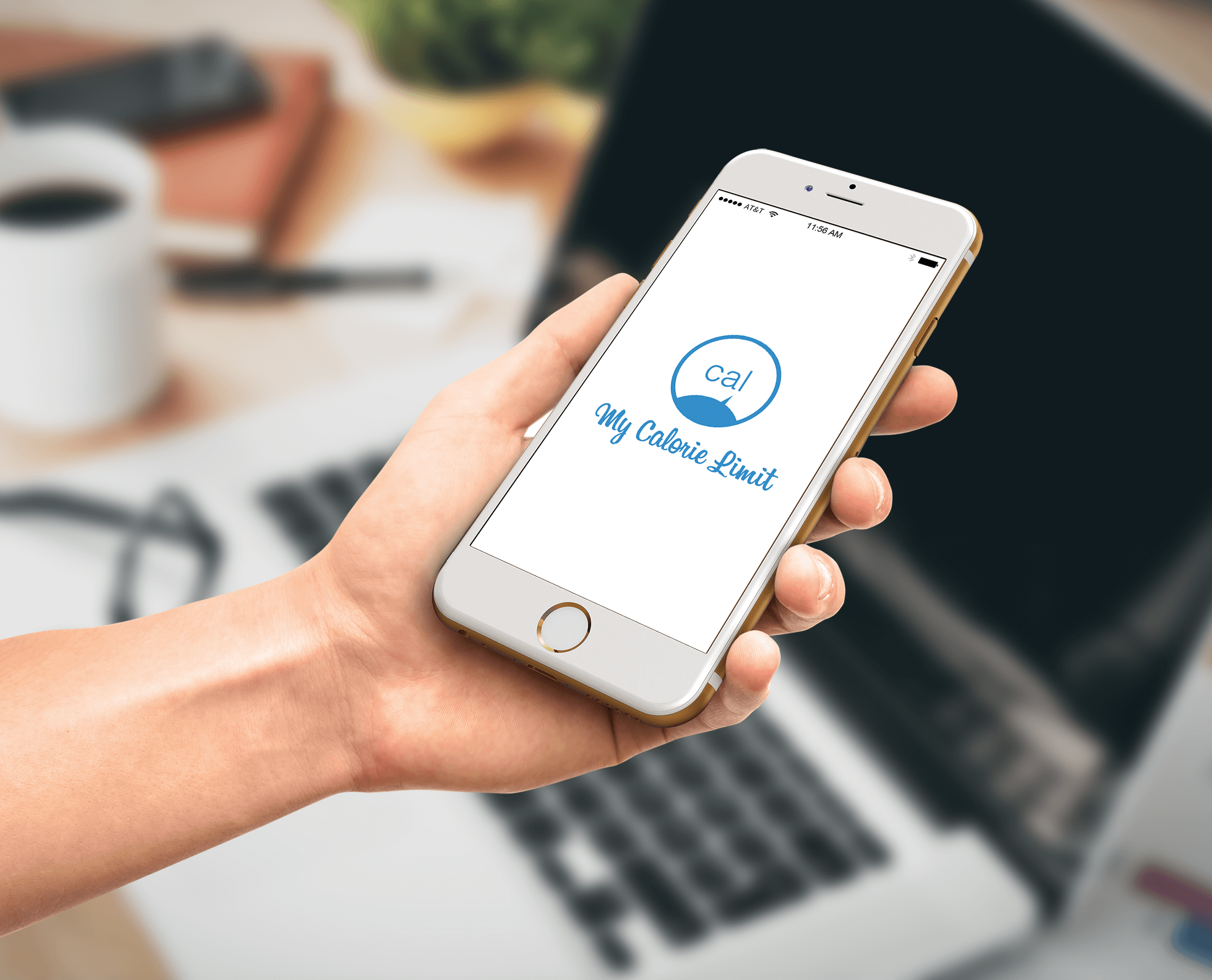 Welcome folks, to our new post in which we will review My Calorie Limit app. The application is developed to help its users to get their desired weight ( weight gain or loss). The app is currently available for iOS platform only and is developed by Ove Tammer. It is a free application with some in app purchase. Let us discuss more about it in below part of the post.
Exploring My Calorie Limit App
My Calorie Limit application is developed to help its users to achieve their desired or we can say goal weight. We can get our goal weight by monitoring our regular intake of calorie. If we consume less energy as compared to required energy it results in weight loss. Whereas, if we consume more energy as compared to required energy, it results in weight gain. It works on same principle, it helps us to monitor our regular intake of calorie to get our goal pound. Let us see how it works.
Note: We tested this one in iPad running the latest iOS version.
1) Unlike other apps of same type. This application has a limited number of features which results in high quality of results. The app has only one screen or we can say one activity as shown in below snap.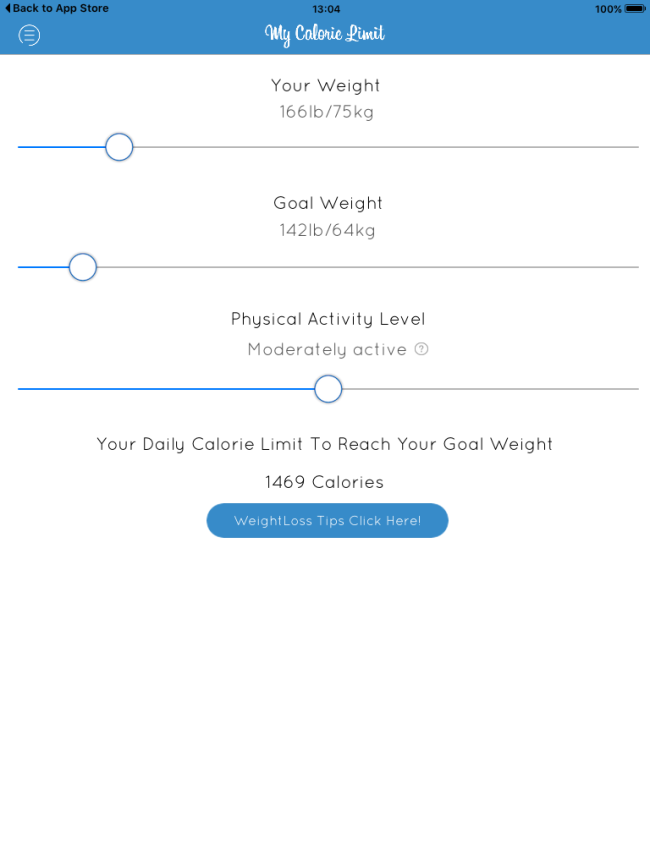 2) Also it has very neat and clean attractive user interface as you can see in the above snap. Not much options are there and it is easy to use the user will feel like a pro with first use.
3) Just choose your present weight, then choose your goal weight, which you want to achieve and then choose your physical activity level. There are many physical activity level like:
1) Extremely Inactive
2) Inactive
3) Moderately Active
4) Very Active
5) Extremely Active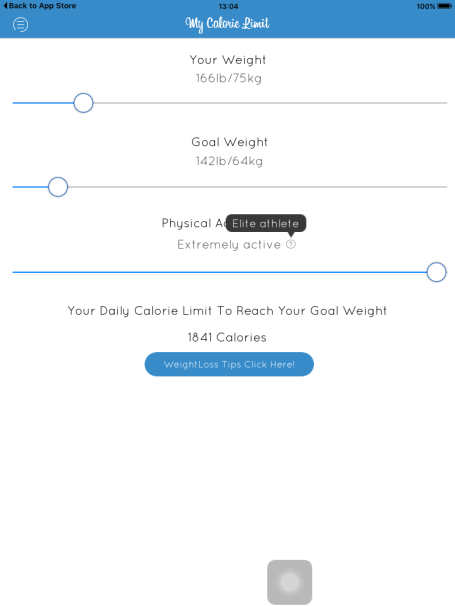 4) According to your physical activity level, your daily calorie limit will be shown.
5) You can also use My Calorie Limit to gain weight as we mentioned earlier. How this feature works? Have a look to below snaps.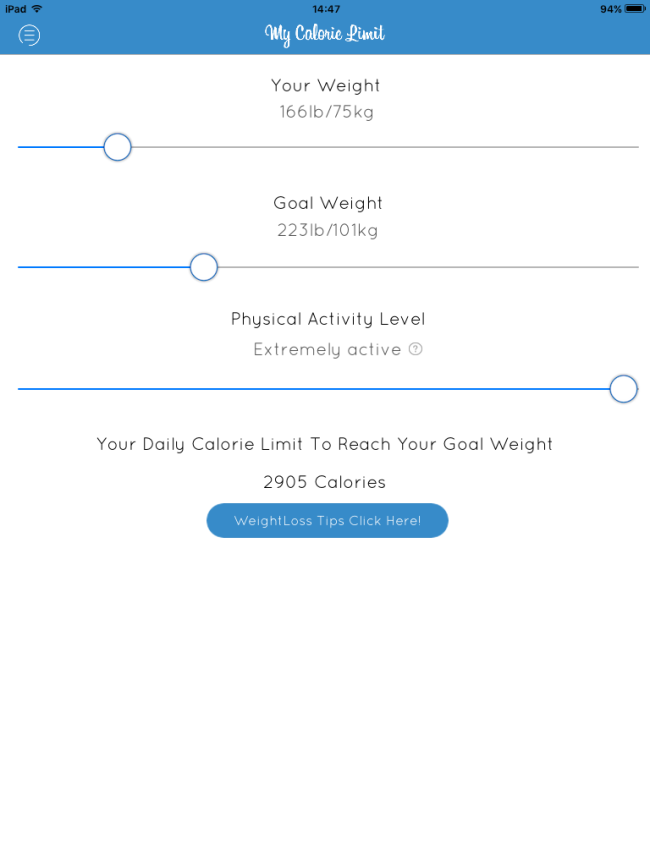 1) Enter your current weight.
2) Enter your goal or we can say desired weight (It is should be more than your current weight).
3) Select your physical activity level.
4) Now you can see that how much calorie you have to consume to gain weight.
6) You can also get some amazing tips from experts by paying a nominal fee. Like as shown below in the pic.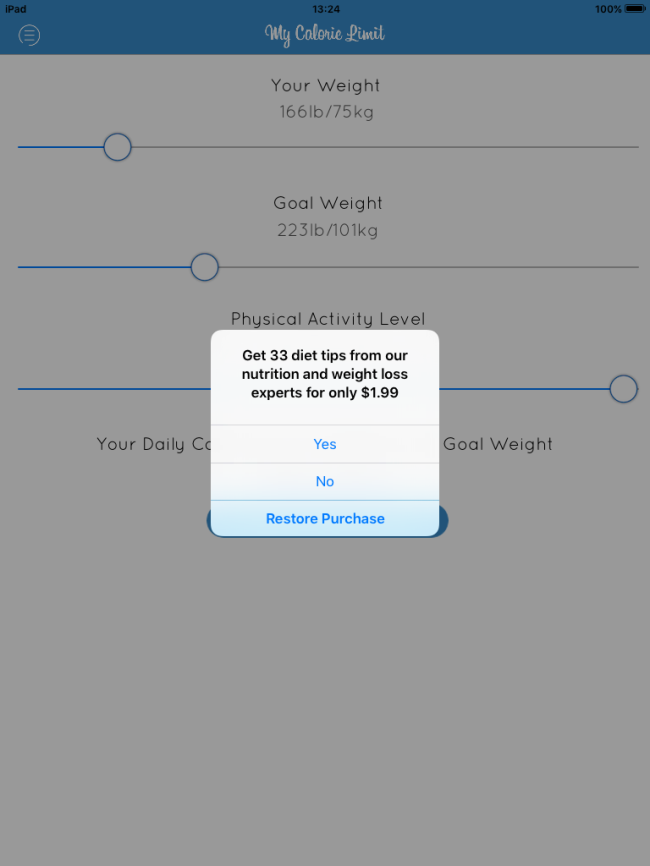 7) By clicking on the left hand side top corner user can get links to various social media accounts like Facebook, YouTube, Twitter, and official website of this application.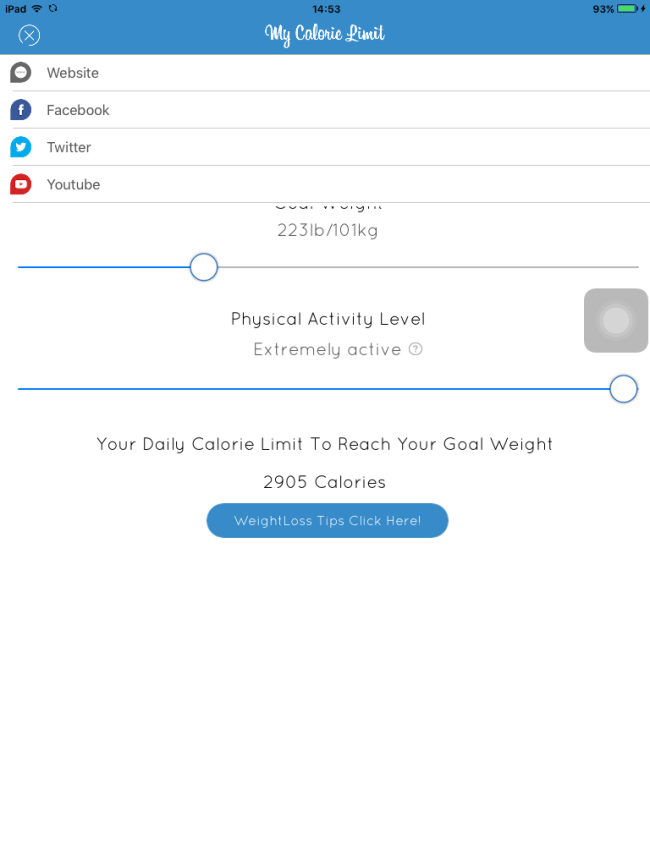 Final Words
Not making this review post very long we are wrapping up here with some pros and cons which we noticed while using the application.
Pros
Here is a list of pros associated with this application. Have a look to few of those:
1) It is a compact one as the size of the app is less than 3 MBs.
2) It is a free application with low priced in-app purchase.
3) It has a responsive and attractive user interface and we didn't notice any issue while using the app.
4) Unlike other ones of same type this one is having limited features which make it to deliver high quality services to its users.
Cons
With many pros there are some cons too associated with the application have a look few of those.
1) Some weight loss tips should be available for free.
2) Weight gain tips option should be available too.
3) Only available for iOS devices hence it is not supported by famous mobile phone platform like Windows, Android, etc.
One thing we would like to tell our users that gaining or losing of weight is not a rocket science it requires patience and yes a lot of efforts. Do exercise regularly and control your diet. We hope you read all the above points carefully and will take steps according. From our side the app is highly recommended as My Calorie Limit is a free app and it won't take much space on your device. Try it once and share your experience with us through like, share and comments.
You can also visit their official website by clicking here : Official Website