A social Networking app which is not only penny plain but also serves their user with a feasible platform to mutate their address book, unveiling the details about their contacts availability, location, status, events, time zone information, free calls, geo- triggering etc. This might seem unbelievable to have everything at one place but this is a definite application developed by "Wallrust Inc." with the size of application, not more than 13.6mb. This iOS and Android compatible app is named "CARET" and is rated 4+ by the users. Caret is the new address book of the 21st century. Caret app is a complete compact package for the people who like to stay in touch with their dear ones. It allows its users to not only stay in touch but also give updates of each others status without involvement of the user themselves, all you need is just to put your "Status Controller" on automatic mode, then it will automatically sense the need of an hour. Sounds Awesome?? But this is not it, there is much more to go. But to know more about this amazing app you'll need to login/register through your app store.
Take a tour and register
This is the first step to Caret. You can register by two ways, either by opting for a text message or via call (recommended) to only setup your phone number with the app. This is a one-go step which only requires the verification of the user's account to make it more secure and bugs free.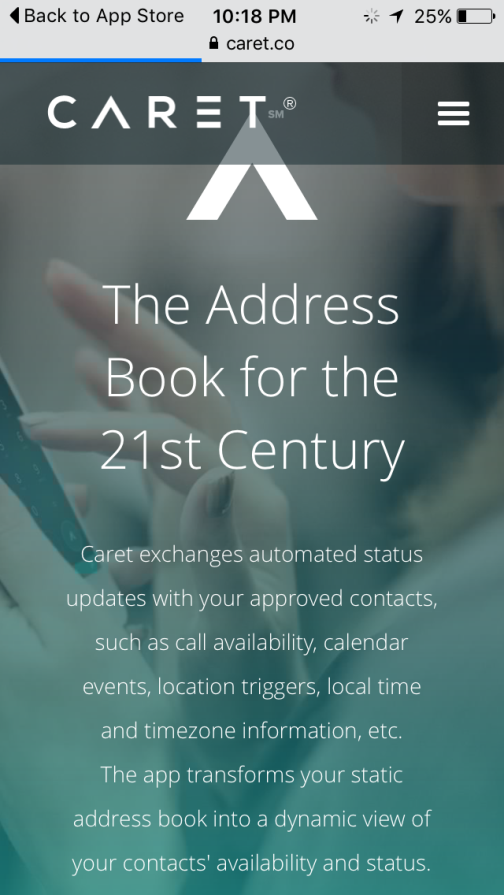 In order to find more captivating things about this app, you may take a quick tour to this application and explore more features. Caret not only intensify your phonebook and its contacts but also avail free internet calls worldwide, control one's privacy, near me alerts, prone mode, calendar sync etc.
Welcome To Caret
As now you have successfully registered yourself to the one of the most coherent application, you'll be able to access all the traits of it. And it cannot be denied that this app not only provides their users the extravagant features but also the sea blue background and the design of Wall Trust are commendable too.
Features
Free Internet Calls – Caret serves you with a very special feature of calling worldwide free of cost to your other caret contacts through internet.
Contacts- It enables you to create an address book adding more caller id's and landline numbers to your contacts.
Dialer- Apart from address book you may also call directly by dialling any caret contact to the dial keypad of the application.
Status Controller- Caret provides you with a very unique feature of status controller. I know updating your status is very common to all apps but what makes this app different is automatic status update by sensing the availability or non availability of user or whether the user is driving or sleeping etc. It can be manual too.
Geo Triggering- This feature may sound interesting to you as it enables triggering your contacts automatically once you physically reach a location that is pre-set and detects your near contacts availability.
If you think calls/VOIP is blocked by your ISP then try using a VPN here is one that we recommend NordVPN
Privacy Control- User can set his settings to as if what he wants to show and share with his contacts and assign the address book contacts into different groups. Also the user can make settings whether to control the status updates automatically or manually.
Extras- There are some more features added to increase the coherence of the app. Some of them are Prone, Tablet Support and Filters. Prone detects the facet of the phone and updates the status automatically to "Unavailable". Tablet Support makes sure that application runs on all type of devices with your regular address book. Last but not the least, Filters helps in finding the contacts of your address book so that you can make free calls to your dear ones.
CONCLUSION
Keeping all the captivating features of the app in mind there is no doubt how wonderful this app is. It is definitely time saver and a robust app to use.
Get it for free from iTunes