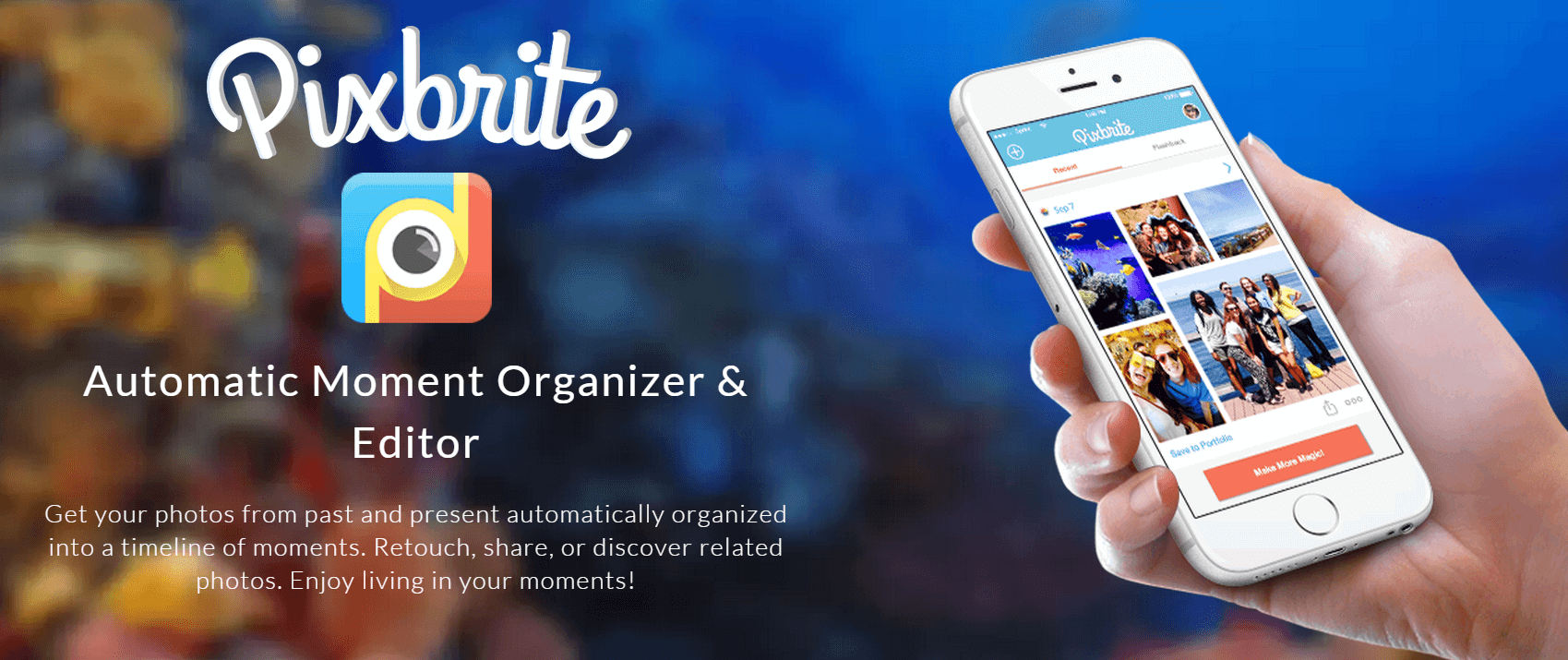 Pixbrite, if you are looking for an easy way to edit or collage your photos, or add pizzazz to your pictures, then Pixbrite Automatic Moment Organizer & Collage Editor is just for you. This beautiful app by Visbit is one of the most innovative picture editing and collage creation app available on the app store that is designed to work flawlessly on an iPhone. It's also offered to the users on an Ad-free environment.
Featured as the "Best New App" in the App Store of 36 countries
What Pixbrite does?
As your smart phone assistant this app can automatically arrange your photos from the past and present into a timeline like we see on Facebook and a lot of social media platforms nowadays. Each of the individual moments in your in app timeline is a collage that is automatically created by Pixbrite. Each of the individual photos can be retouched according to the user's personal taste or can be shared immediately to your social network accounts.
In addition you can discover your past related photos by subject, time and location. Something similar to that of the "Memories" feature of Facebook. This automated process lets the users to turn back and see their past memories and cherish them.
Pixbrite Features
Auto organization of your in-device photos into beautiful moments. When the app detects that you are taking photos, as soon as you finish clicking. The app then arranges those pictures, into beautiful collages, and notifies you about the latest Magic (The app calls the collages as Magic) it has created for you.
Without leaving, this application even lets you to change the edits according to your style with hundreds of customization options that it offers for you in-app. Your Moments are fully re-editable. Things like the collage layout, frames, backgrounds, stickers and more. This even has its own line up of filters, which is again built in-app.
Scrap Book feature lets you create freestyle collages without those layouts putting you behind. And this feature can even be used with single picture editing.
Flashback tab, lets you receive weekly flashbacks from your past through the photos on your device. This is a great way to cherish memories.
All of your created photos can be easily shared on a lot of social networking sites straight from the application, Pixbrite offers social network integration with Facebook, Twitter, Instagram, Whatsapp, Messenger, WeChat and more. This option makes it easy to share your moments with the world.
Our Experience
Editing a photo, adding multiple pictures as a collage, then flipping, rotating and resizing each of the individual pictures in your collage then adding it a fun background, putting some cool text and adding great filters and still a huge hand of options to customize. Pixbrite is cool, fun and a neat one with so much of feature at a free cost.
Pixbrite has so many features and different tools for the user to use on his/her photo ranging from editing a single picture to creating collages. With so many stuffs in it, Pixbrite might genuinely surprise you. All of those adjustments, and features you can use on your photos are really simple. Almost everyone can use it. Also "we can make or create" is the apt word for it. Using it is gonna be a fun experience for sure. All we could say is anyone can be just fun, creative and supercool with it, as it really gives the user a fantastic experience. It's compatible with the iPhone, iPad, and iPod Touch and soon with android devices also The best thing about this application is that it's ad-free and is offered at a free price in iTunes and without any in-app purchases. But definitely non iOS users are literally missing this app out. Let's hope the creators release a version for other mobile operating systems in the market.
Well Coming to the final verdict
Pixbrite just has everything someone needs to create, edit, share, save, and rediscover your photos on an all new way.