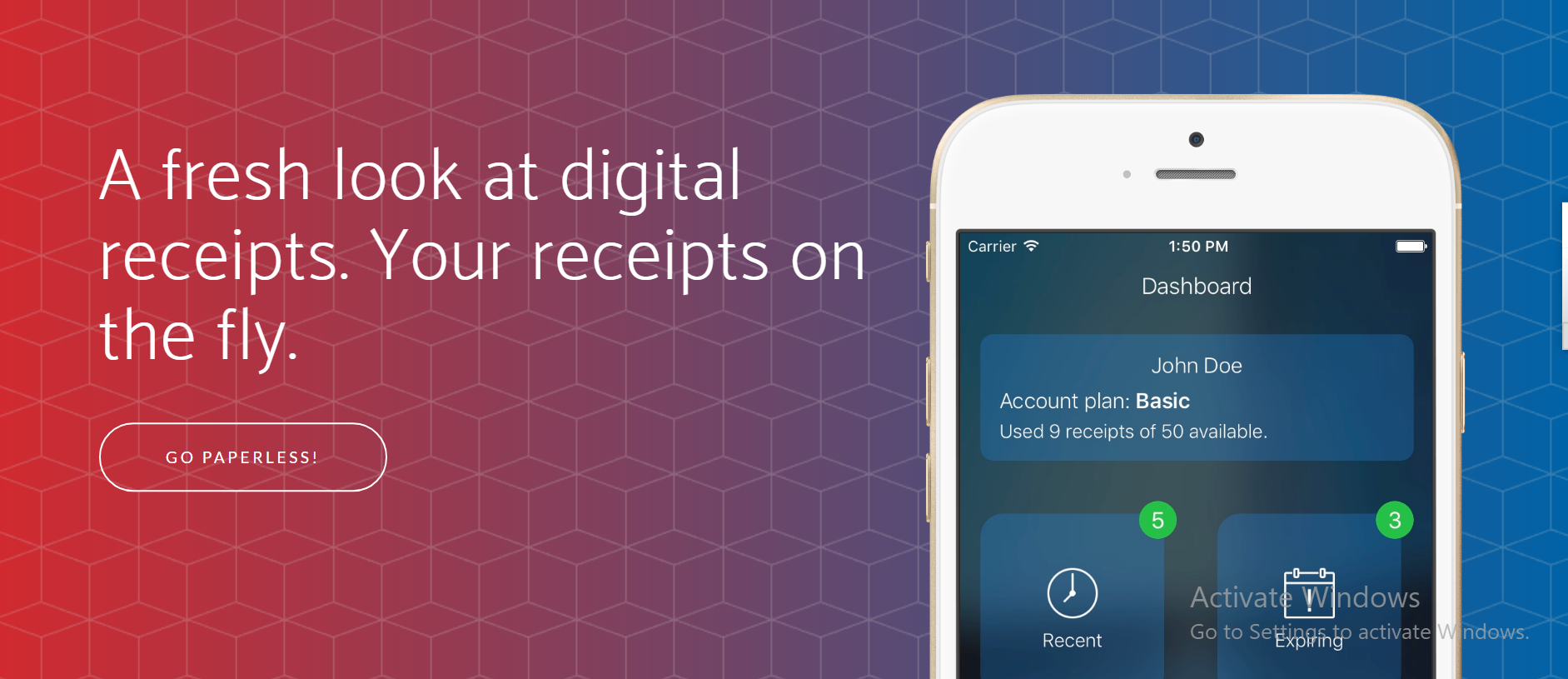 If you find it very difficult to manage all your purchase receipts, then don't worry as Flyceipts app is here for you through which you can manage all your receipts in very efficient way. You can use it to keep a scanned copy of your receipts/invoices and carry them with you in your pocket. It doesn't matter when you buy an item, or from where you buy an item Flyceipts is there to deal all these things. Now let us explore more about it in below section of the post.
Download Links
Exploring Flyceipts Using Our iPad
Flyceipts comes with some useful functions which can make its users handle all invoices/receipts easily and more efficiently. Initially there are 20 receipts support and for more support users have to buy monthly or annual pack. It comes with many features like warranty alert which can inform its users about the expiration of the warranty period and it comes with group option through which users can cluster the same type of purchased items in one group. Now let us have a quick on these kinds of features available in Flyceipts.
1)     It allows its users to carry a copy of receipts of purchased items with them self.
2)    With the support of multiple attachments, users can edit any scanned receipts.
3)    It supports multiple currencies and hence makes management of purchased items receipts an easy task while traveling all around the globe.
4)    It comes with warranty feature in which users can store purchased item warranty information while uploading the receipt.
5)    Users can group various invoices into one group like traveling expense.
6)    Password protected reports can be generated with the help of Flyceipts, and these reports are shareable. Users can easily share these reports with other.
Exploring Interface
Now let us give a quick demo of the app in this part of the post. We are also providing some snaps which we took while using the app.
1)    After creating the account, you will get the following screen. Just click on the New option, and through the main screen only you can add your purchased item's receipt/invoice.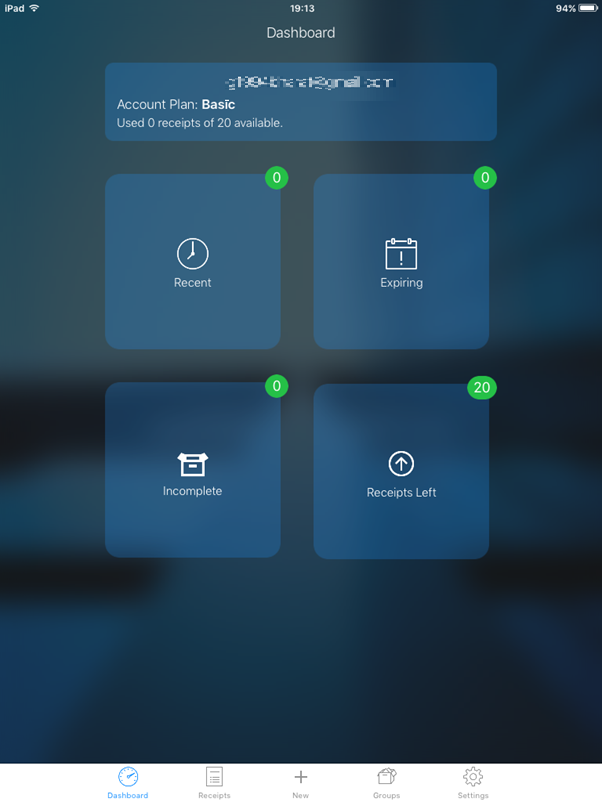 2)    As you can see, there are various options to add receipts like you can take scan it or you can use your device gallery to upload receipt image. You can also use your Google Drive account to upload the image of the receipt.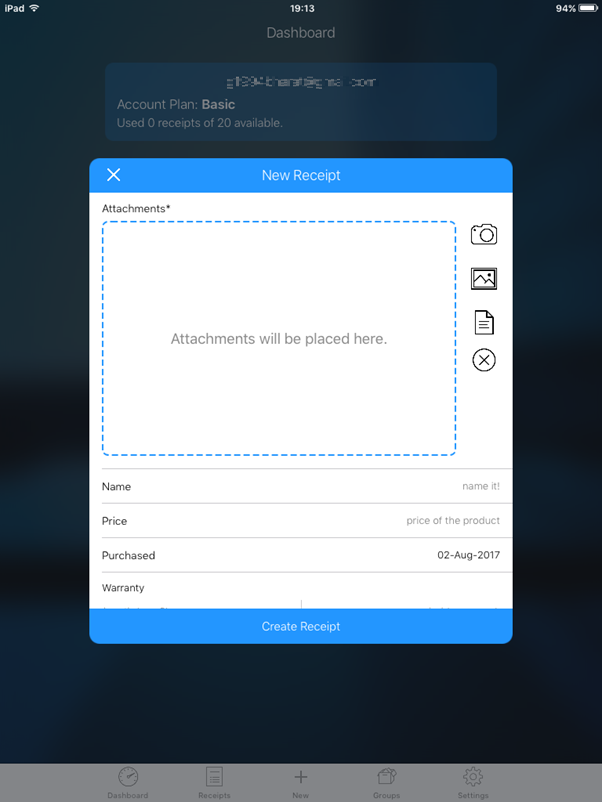 3)    After that you can add various details like Name on the receipt, warranty period, currency, category, group, price, notes, etc. have a look at below snap for more idea.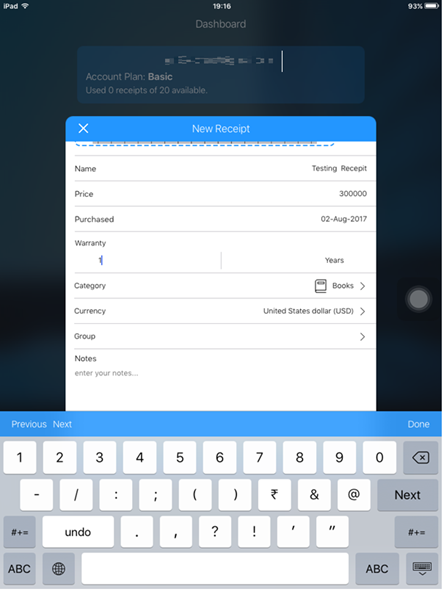 4)    You can anytime visit saved receipts through receipts options available on the home screen.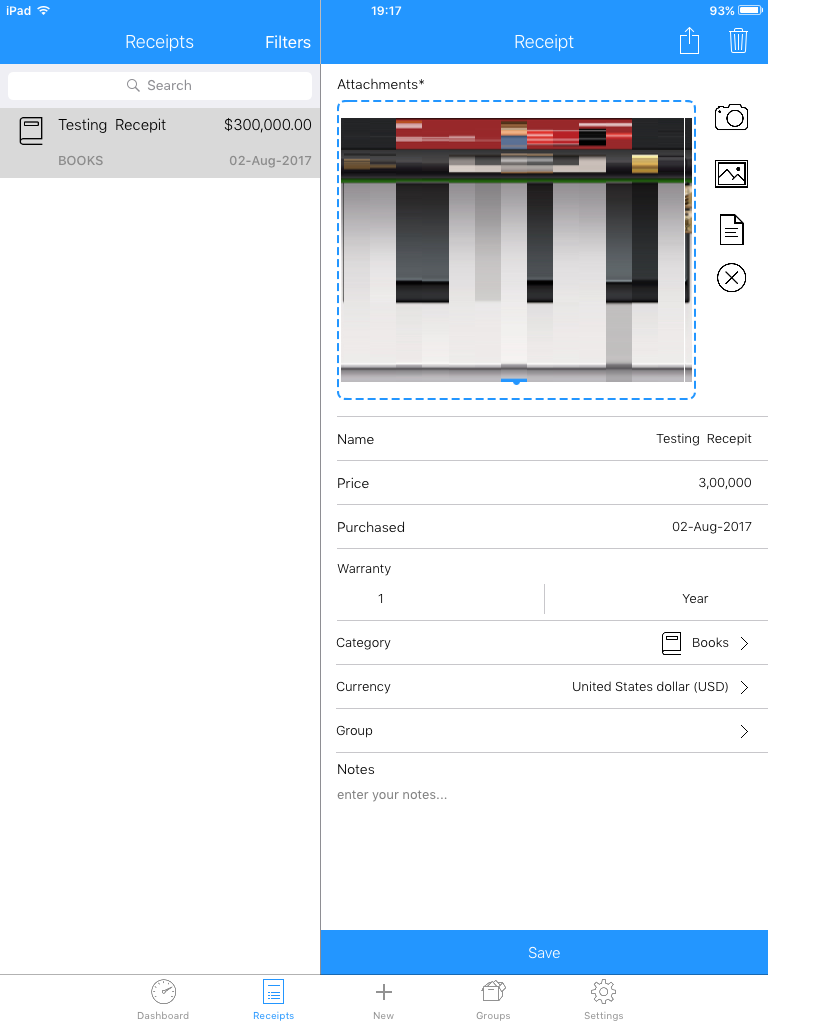 5)    The advanced search and filter options are also available through which users can search saved receipts easily have a look at below snap for more idea.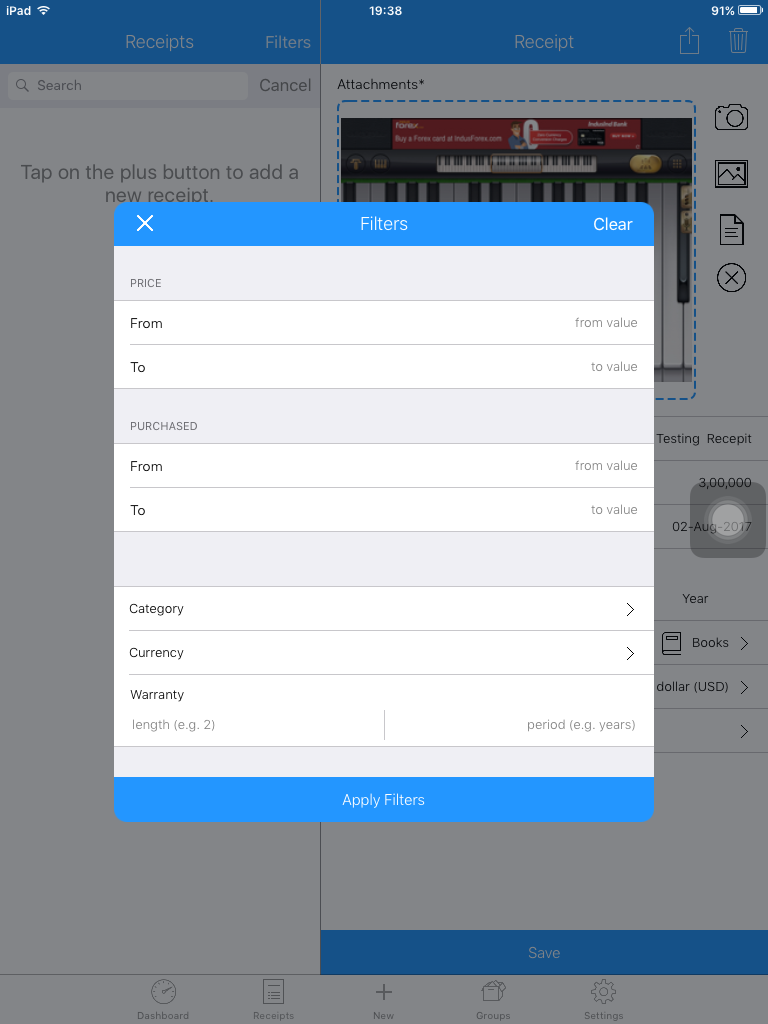 6)    Users can also share the saved invoices with friends here is the snap of available options have a look.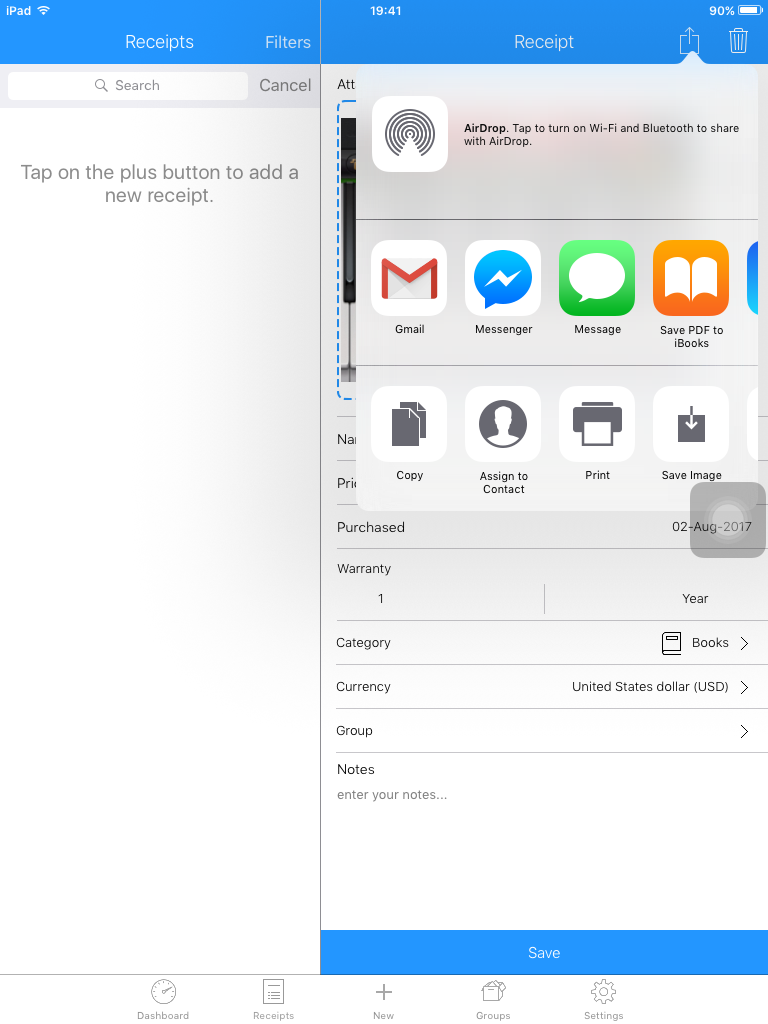 7)    Users can access default settings and other options in the setting menu have a look at below snap for more idea.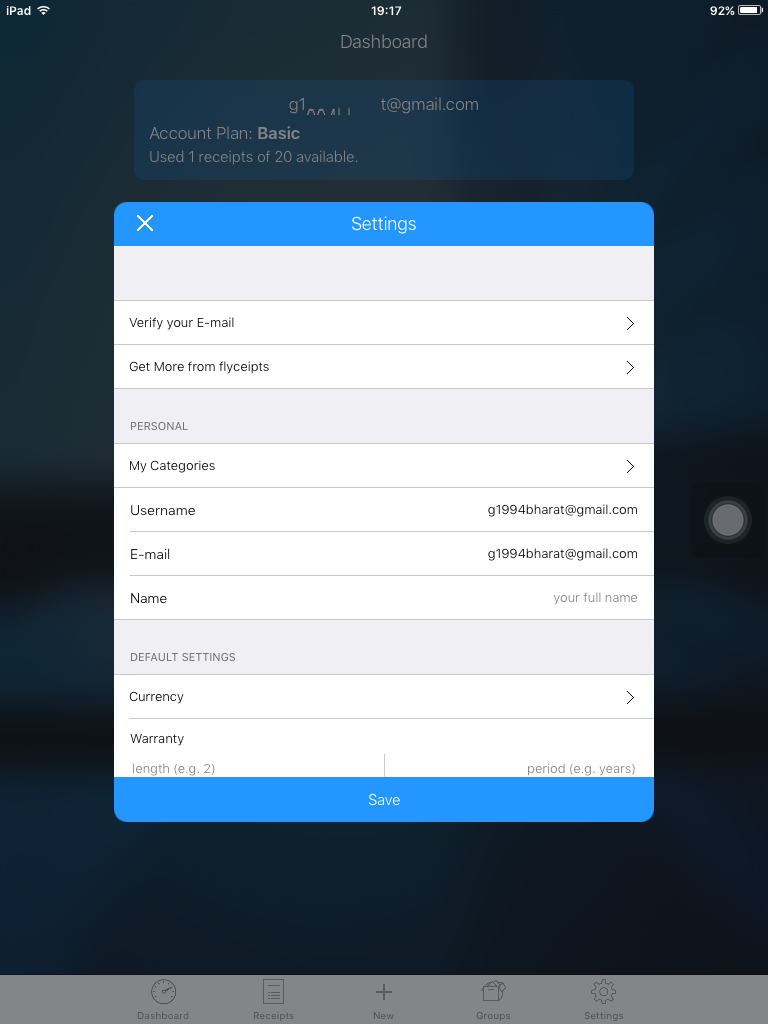 Pros and Cons
Pros:
1)    The concept of the app is new and is very effective and is very helpful for those who struggle with managing the receipts of purchased items while traveling.
2)    It doesn't matter for Flyceipts where do you travel and from where you buy products as it supports many currencies.
3)    Password protected shareable reports can be generated through it which is also a big plus point.
4)    Warranty expiry search, advanced filter, etc. options are some key highlight of the app.
Cons:
1)    It is not available for other platforms like Desktop, Android devices, etc.
Upcoming features in the update
– Automatic document processing which will read out: name, price, currency and date from receipts/invoices is going to be released in a couple weeks
– A full featured web app is coming in fall
We hope you have read all of the above pros and cons of Flyceipts carefully and will take action accordingly. As you can see the numbers of pros are too high as compare to cons and because of this you should give it a try. Flyceipts comes with super responsive customer care service which is available all the time to serve their customers. Try it once and share your experience with us through like comments and share.