Planning to setup a WooCommerce store? Confused while choosing a reliable hosting provider? No problem! We've a solution for you. WooCartis the first ever managed hosting provider exclusively launched for WooCommerce websites. It decreases the time you spend on building new stores and simplifies store management and maintenance.
Your store will be lightning-fast on dedicated Google Cloud servers with WooCommerce-specific performance optimization. WooCart sets up the servers and does speed optimizations keeping WooCommerce in mind leading to the lowest load time you can get from any host. You can also see the slowest pages on your store and resource-hogging plugins so that you can make your store blazing fast.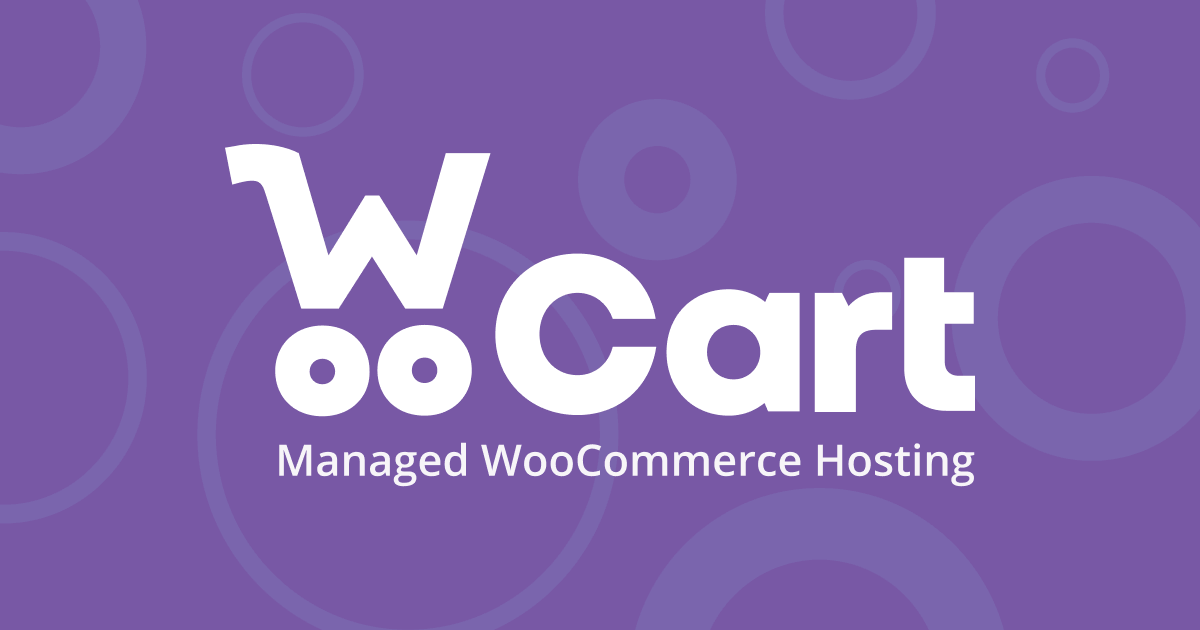 Top Features of WooCart
WooCart is exclusively built for WooCommerce store owners to host their websites on fastest Google Cloud servers. Hosting your store on just any host will do it, but you still need a specialist if you want the best. WooCart is highly optimized for WooCommerce because 100% of its customers are on WooCommerce. Let's explore some of its top features:
Blazing Fast Performance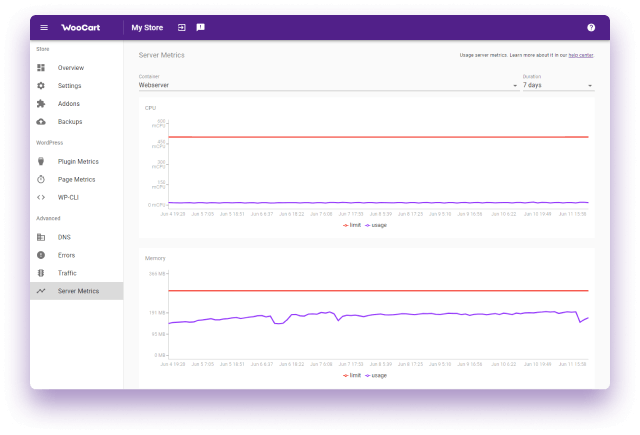 You can feel the difference while moving from a general host to WooCart. You'll be amazed to see how fast your store can be when it is hosted on servers optimized for WooCommerce powered by Google Cloud.

With WooCart, you also get CDN (Content Delivery Network) to improve your page speed. Its CDN is powered by KeyCDN. Not only this, it serves modern image formats (WebP) that are optimized for visitors' browser screen and size. This decreases the load time of images significantly. WooCart also smushes down the images on your store, decreasing the image size and optimizing the use of disk space.
Also here is a speed test of Pingdom for their own url and it seems like it took only 650 Milliseconds to load their own website when tested from US location. Pretty impressive !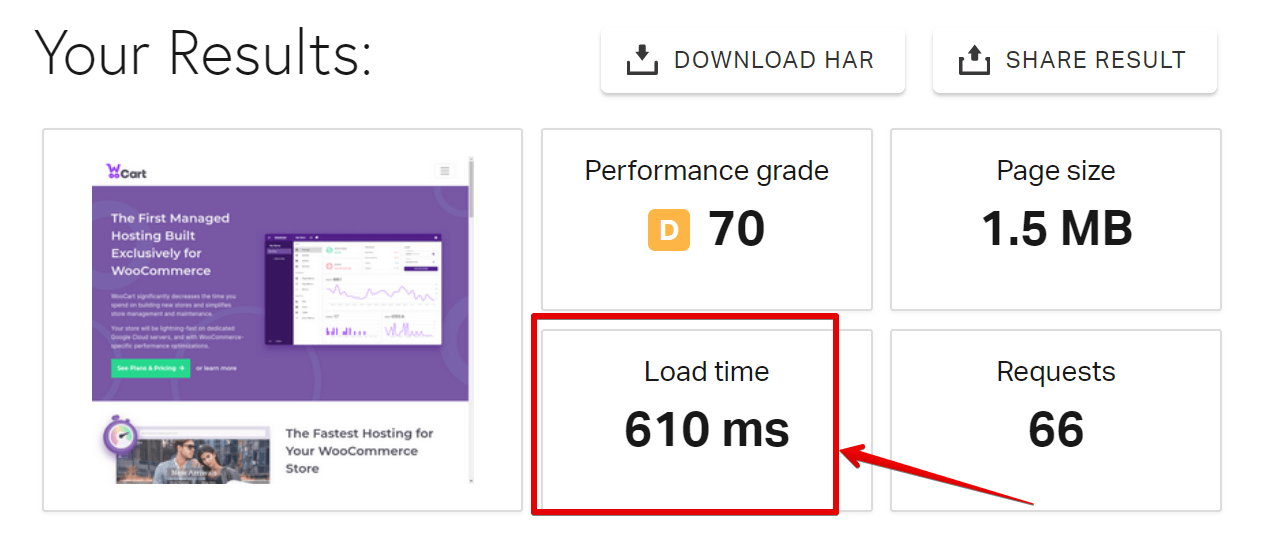 Test url : https://tools.pingdom.com/#5b2b6d9ffe000000
It lists down the plugins using most resources so that you can find better alternatives and improve your store's performance. Apart from all this, you get the list of slowest performing pages on your store to optimize them.
Lossless Staging of WooCommerce Store

A staging environment (clone of your live store) is setup to test and try things without impacting the visitors of your store. One of the common problems wit generic WordPress hosts is that you cannot publish the staging store to live because you'd lose the orders that will happen in the meantime. WooCart solves this problem by syncing the order and customer information before publishing the staging store to live.
Developer Tools

If you are a WooCommerce developer, WooCart provides you with essential tools to make work easier for you. Developers will love the detailed logs, WP-CLI and their DNS hosted on Google Cloud. You get detailed metrics to view both PHP and MySQL CPU stats.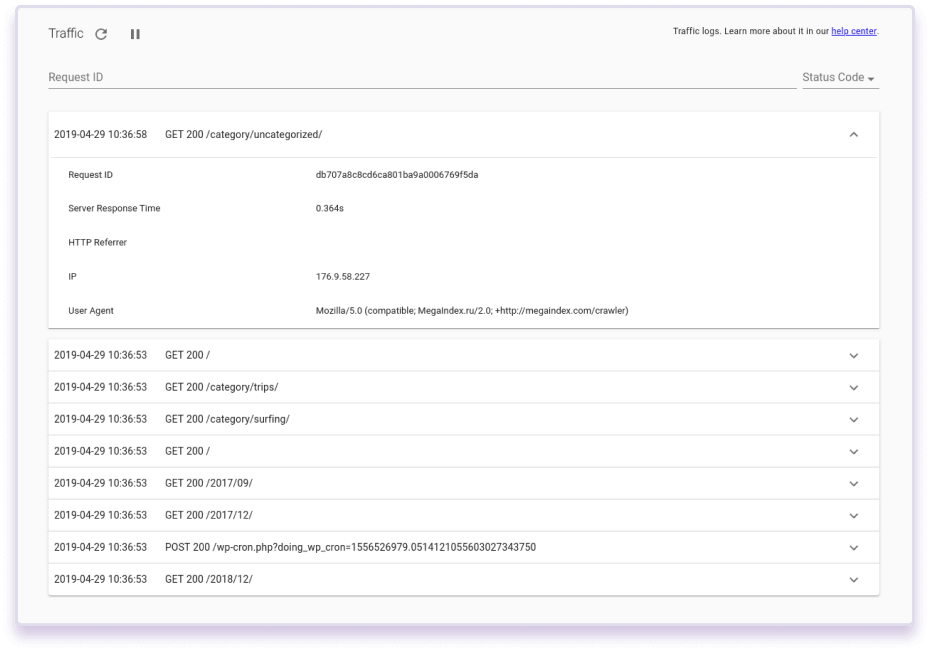 Create your Store in Just 3 Steps
WooCart offers you everything you need to get your WooCommerce store live. Stop wasting time and work on things that will bring sales. It will take care of everything else.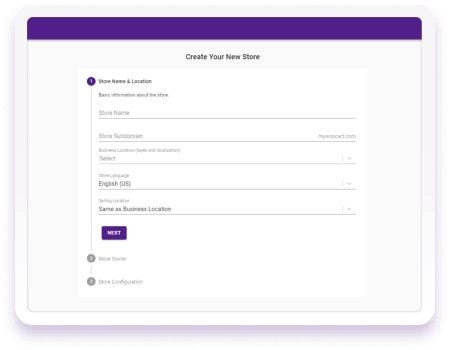 To get a fully configured store for your nation, its wizard will install WooCommerce, configure your country's tax settings and sets up the store with best eCommerce practices. It comes preconfigured with SendGrid for improved email deliverability. The stores are GDPR complaint.
Robust Security
WooCart offers no-hack guarantee. Even if by one-in-a million chance something happens, they will clean up the mess immediately. It also comes with pre-installed SSL certificate without any extra cost and daily backup is taken to avoid any data loss.
Free Transfer
WooCart also offers free migrations from your existing hosting provider, including the DNS hosting and emails. You just need to just try their free trial and submit the form.
Pricing
You can start you journey with 7-day free trial and upgrade to higher plan if you like the hosting platform. The basic 'Cart' plan starts from €5/month for 1000 visitors. But it doesn't come with staging environment. The price keeps on increasing with number of visitors. If you have high amount of visitors visiting your store, you can ask for custom plan.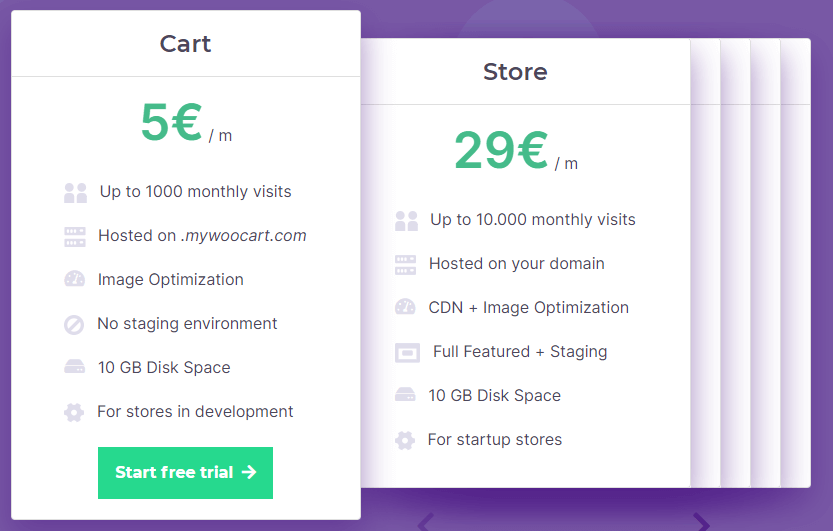 The Bottom Line
WooCart is one of the best and one of first kinds WooCommerce hosting provider that delivers optimized performance to the store owners. The servers are hosted with Google Cloud and this is why don't have to worry about the speed. Try it now and appreciate your decision later.