A business cannot utilize a regular VPN because the requirements are slightly different for a company. However, there are a very less number of providers available in the market. Small companies find it difficult to utilize a regular Virtual Private Network services as they lack a specific number of features. No one can deny that the overall process doesn't change at all, but a business requires team-oriented VPN.
What is KeepSolid VPN?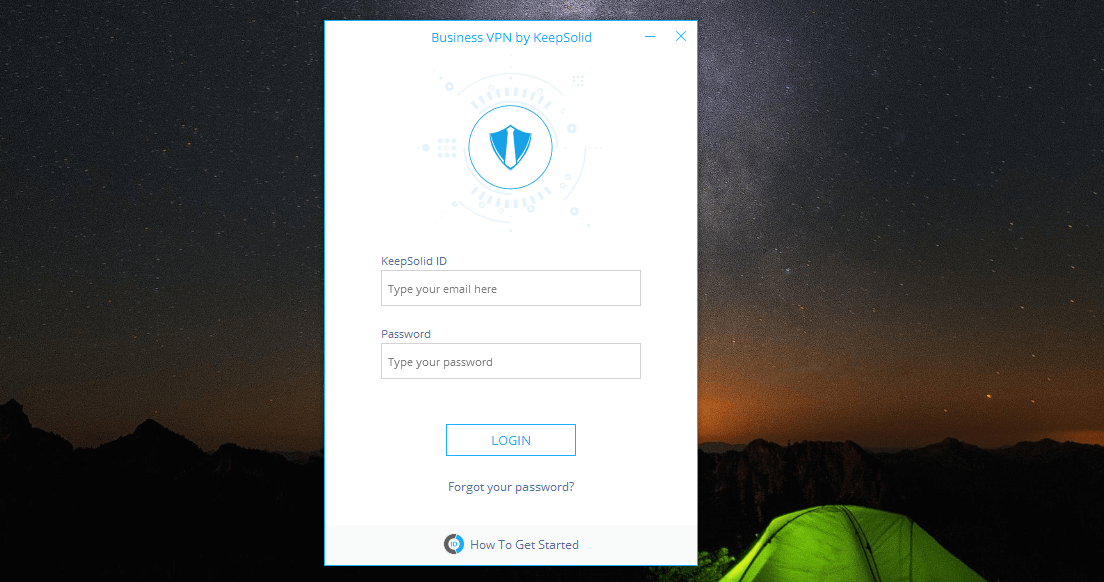 KeepSolid is a software company providing solution to the small business and reputed business worldwide. Business VPN is a team-oriented service provided by the reputed software company. You can start adding members of a team and provide Virtual Private Network services to the team members. The the Business VPN package offers a number of features to the customers that carry out regular task smoothly.
Features of Business VPN by KeepSolid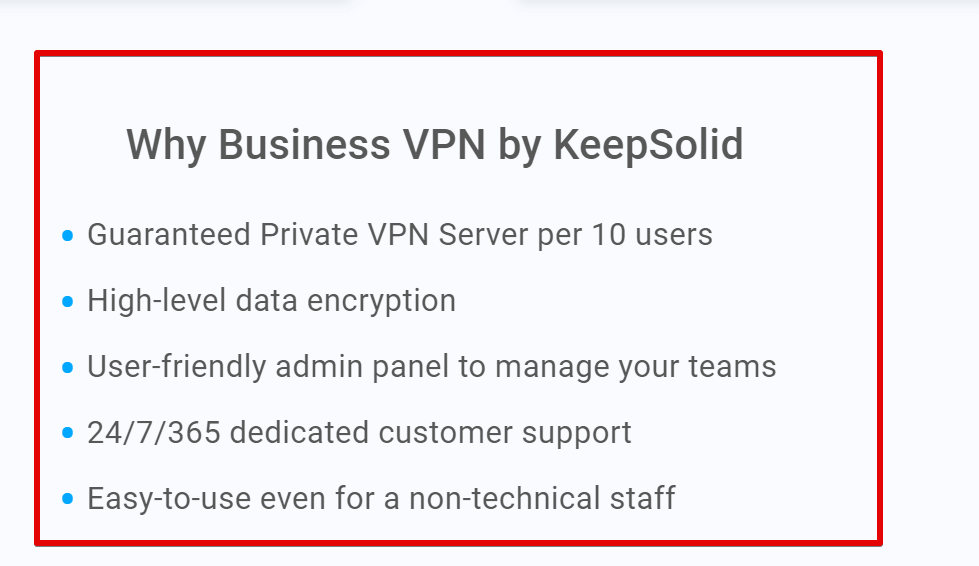 A quick look at the professional Virtual Private Network services would give the readers an in-depth idea on it.
Encryption: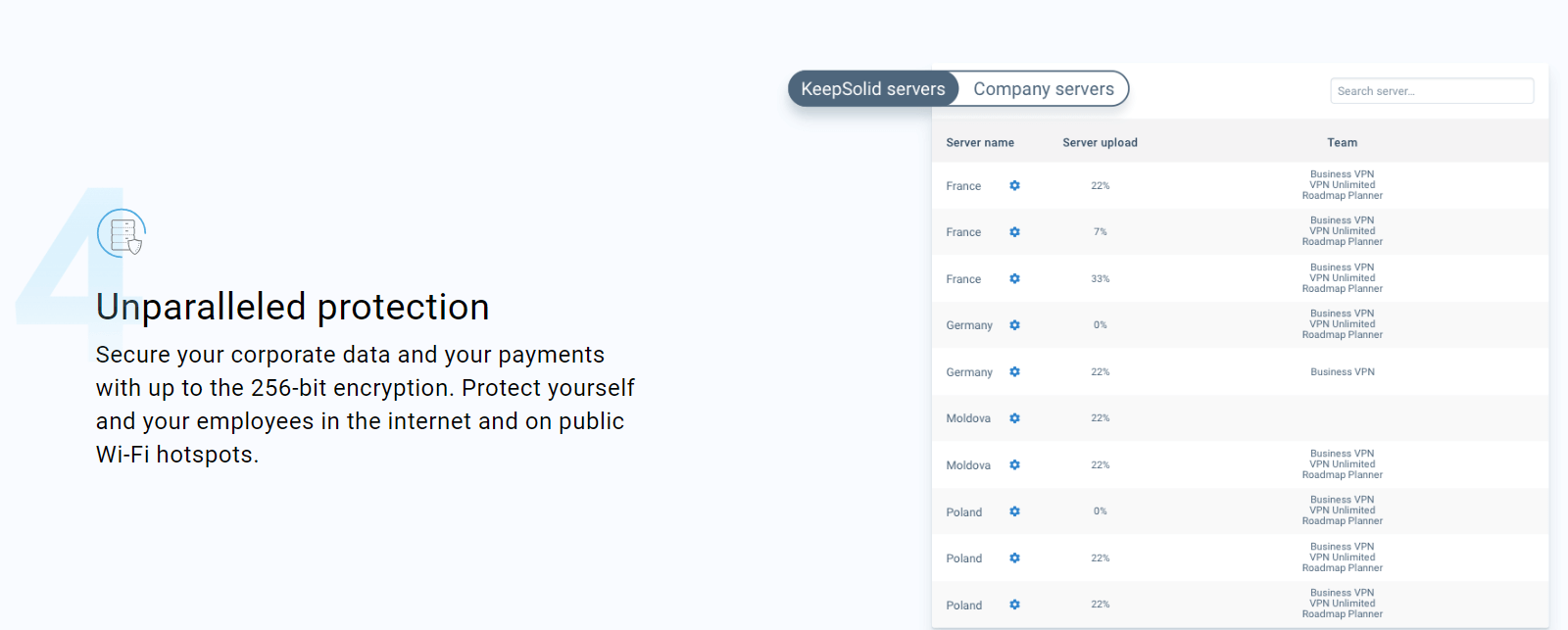 I wouldn't get convinced without learning about the encryption because it is the core of the Virtual Private Network. In this case, KeepSolid has nailed it because customers are going to get military-grade encryption. The new customer pleased to know that AES-128 and AES-256 protocols are used in the process.
Cross-Platform Compatibility: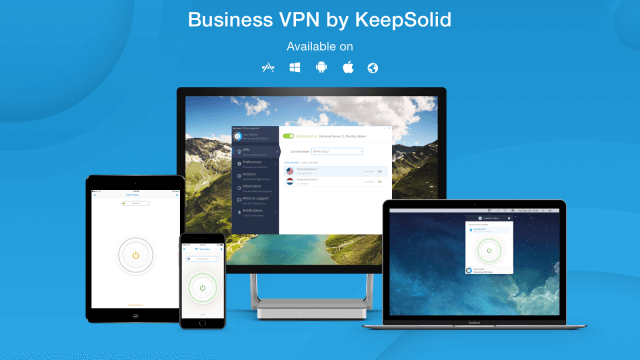 The flexibility to utilize a product or a service does matter in this Business VPN case. The company worked around the compatibility and now, you can access Virtual Private Network on Windows PC, macOS, iOS and Android environment.
Private VPN Server:
Here's how the entire Virtual Private Network works for a company, where KeepSolid allows a small business or a big business to have private servers available to them. Let us assume that you have a team of 30, and then you can subscribe to "Big Team" package. The entire Private Server occupied by your team and company, and no one can meddle into it. The data is secured until or unless, there is a security breach from your employees end.
Accessibility: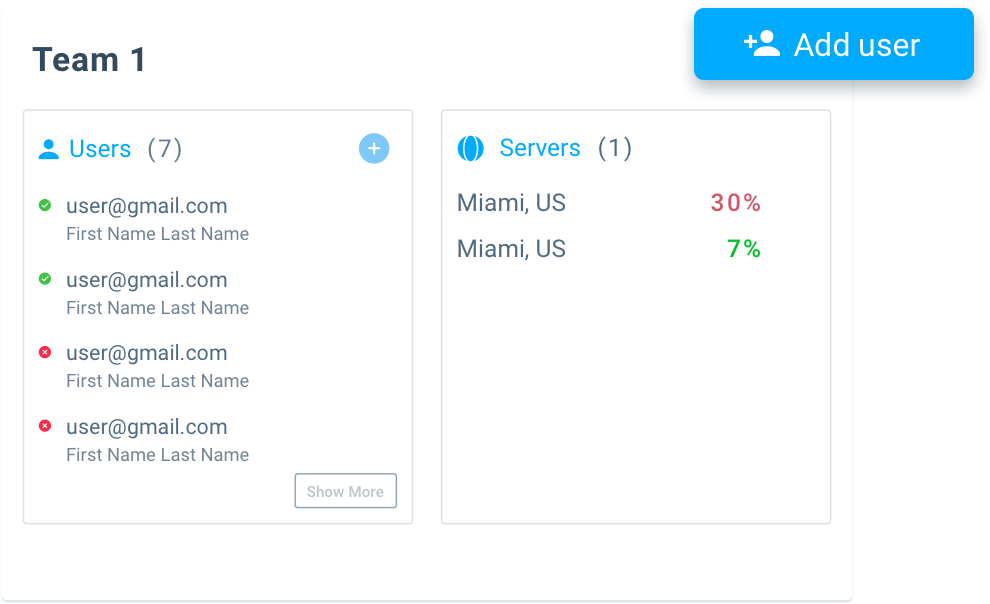 The private network allows the new users to sign-in to Google mail, Yahoo mail, and blocked websites in a specific country. The restrictions will be removed from the charts because the access location does th job for you.
Secure Business Trips: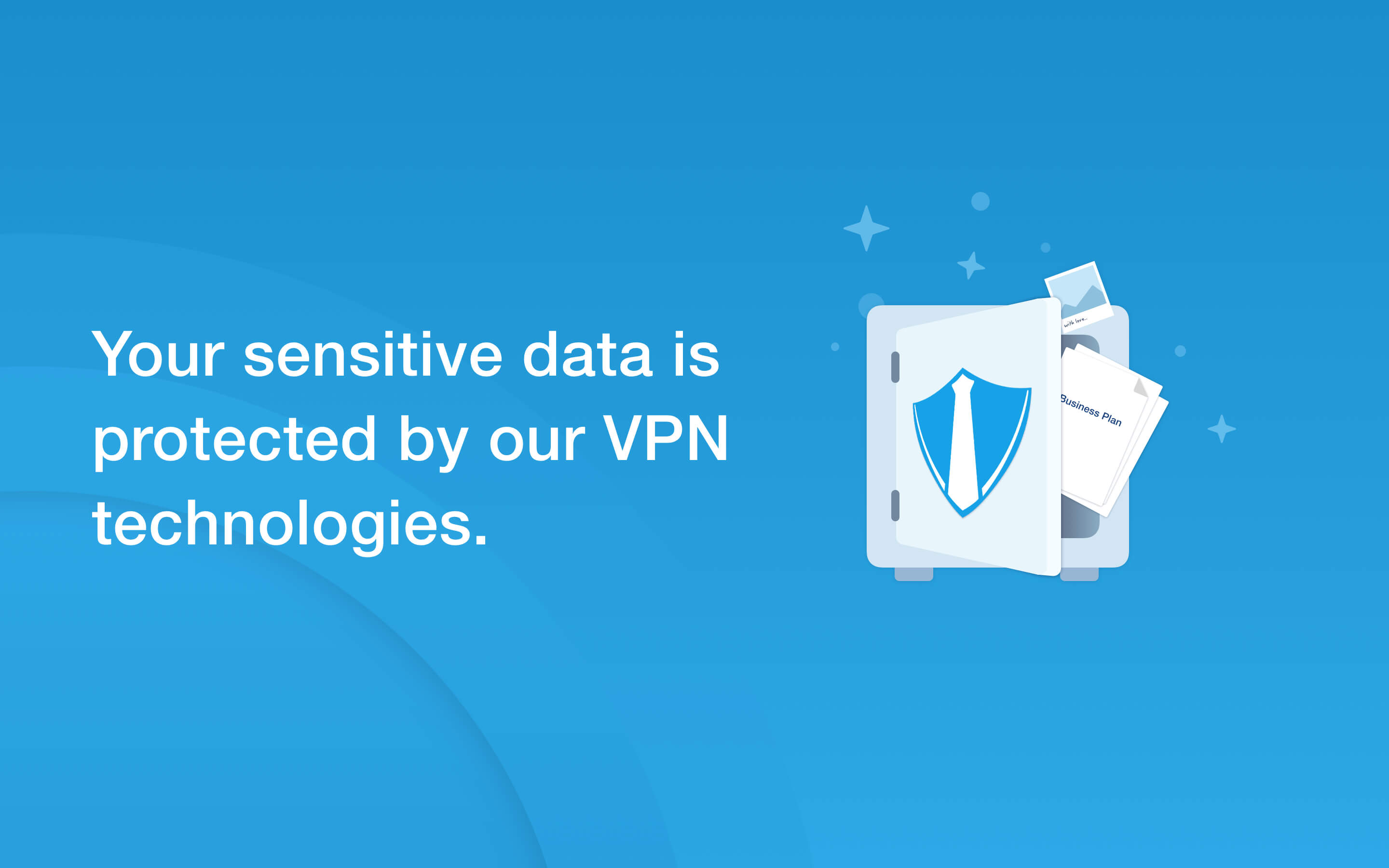 Several business people travel from one place to another, and it is a common factor in business industry. Internet is a vital source of communication via email, social media networks, and forums. We cannot have secure Internet connection everywhere in the world. In such cases, we have to opt-in public Wi-Fi, and some of them are available for free. The public Wi-Fi known for causing a lot of security problems and escaping from privacy intrusion is not an easy task. Secure Business Trips enables the customer's to utilize Private Network and avoid privacy invasion.
Easy Set-up:
Nobody wants to spend a lot of time in complicated set-ups and installations. KeepSolid maintained industry common Wizard procedure, where a few clicks are enough to install it. The device environment doesn't matter and the installation and set-up process follows traditional procedure.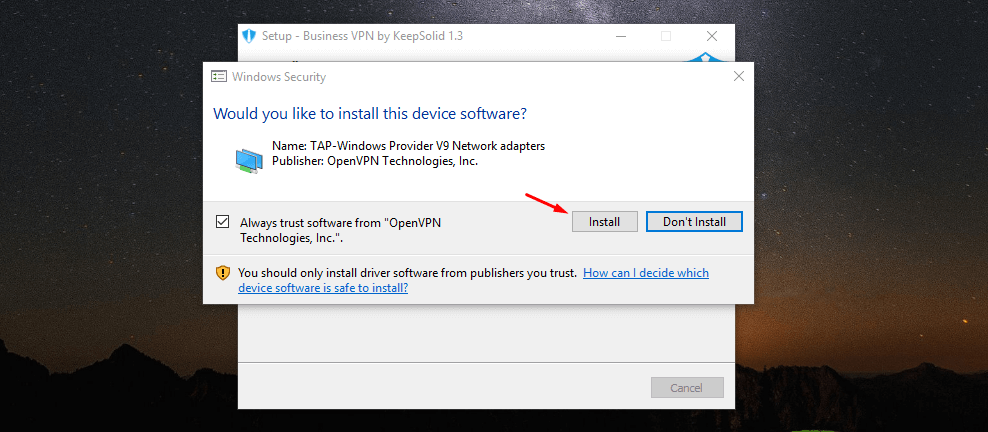 However, you have to allow installation of OpenVPN driver in Windows PC and macOS PC. You don't have to worry about the OpenVPN driver because it is a industry standard & reputed network adapter. Of course, KeepSolid & OpenVPN are registered software, so there is nothing to worry about anonymity.
VPN Servers + Unlimited Bandwidth:
Number of private servers and bandwidth to transfer data matters a lot.
KeepSolid has several private server at disposal and then you have unlimited bandwidth for remote assistance & file transfer.
The premium service comes with three main packages and that is all. The first one can accommodate ten users, the second package offers thirty users in total, and the third one allows customization for "N" numbers of team members.
How to sign up for 7 days trial version?
Unlike other Virtual Private Network providers, KeepSolid doesn't provide trial versions to anonymous users. No one can sign up for a new account and start using the services for 7 days. You have to enter legit information about the company name, your name, and phone numbers. Remember, it should match with public company information data or else, the trial version request will be rejected.
Step 1: Go to the official page of Business VPN by KeepSolid.

Step 2: Enter the credentials such as first name, last name, company name (valid name), company size, email address, and phone number. The credentials must match with public company data and you should have access to it.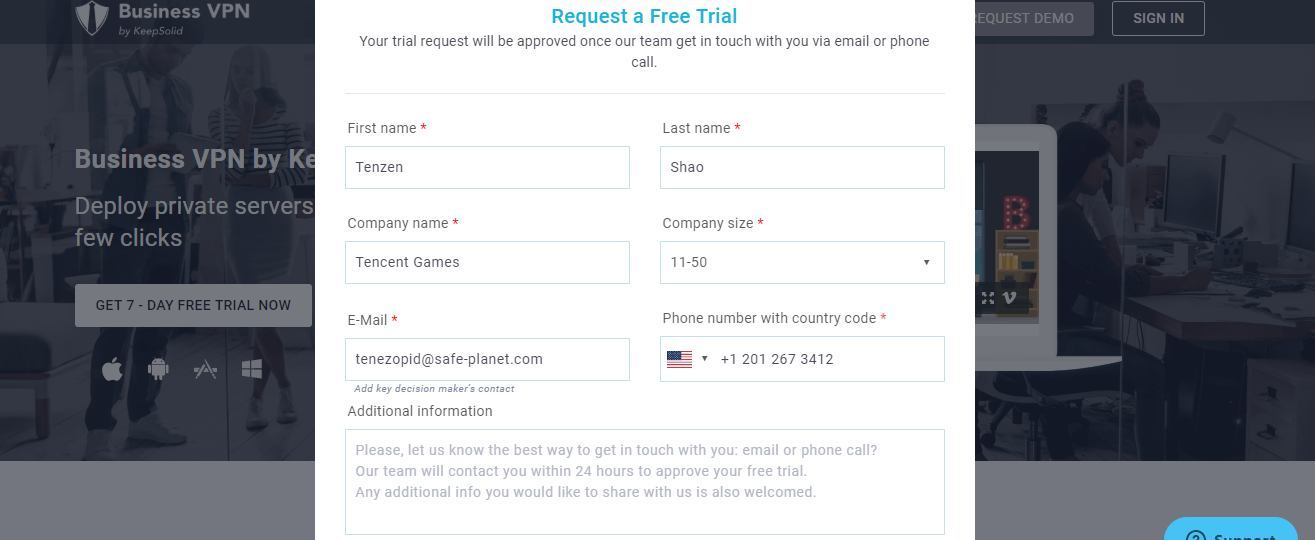 Step 3: KeepSolid sales team will get back in a few hours or within 24-hours of period.

Using legit credentials will get you somewhere because the application is reviewed by a human.
Bottom Line
KeepSolid Business VPN comes at an affordable price and by spending $1200 annually, you can get one Dedicated Server for 10 users. The second package comes at $3400 annually with three Dedicated Servers for 30 users. Let us know what do you think about Business Virtual Private Network in the comment section below.