A website is really important for your online presence. A number of companies and individuals working as freelancers have realized the fact. This has brought them online owning their own website. Still, finding a reliable web hosting partner is what troubles them the most. Especially when you are not tech savvy, you cannot rely on just any web hosting provider. You need a managed service that can look after your site and keep it running 24X7, delivering seamless speed. HostiServer VPS hosting can be a great managed hosting solution for your website. Let us learn more about it.

About HostiServer.com
HostiServer is an emerging provider of VPS hosting Europe and USA that is providing the unmatched managed hosting services with a lot of add-ons to its customers. It is the ultimate solution for high-load, media-rich, e-commerce, gaming, and tube-type websites. The companies like Intel, Samsung, Dell, Huawei, Western Digital, and few others are its partners. This hosting provider is among the top choices of people who are looking for a completely managed web hosting solution.
HostiServer.com VPS Plans
The company ensures that a value is added to your infrastructure powering your business potential through its managed SSD VPS plans starting from $19.95/month. It manages your servers so that you can look for more business opportunities. You will get as much resources as needed. The company staff will upgrade/downgrade your server to optimize the speed of the website. It guarantees highest level of server performance as your website is monitored in real time.
Every Virtual Private Server includes free migration, initial setup, 10Mbps CDN, Unlimited backup storage, True KVM virtualization, 2IPv4 & unlimited IPv6, and upgrade/downgrade anytime according to resources needed.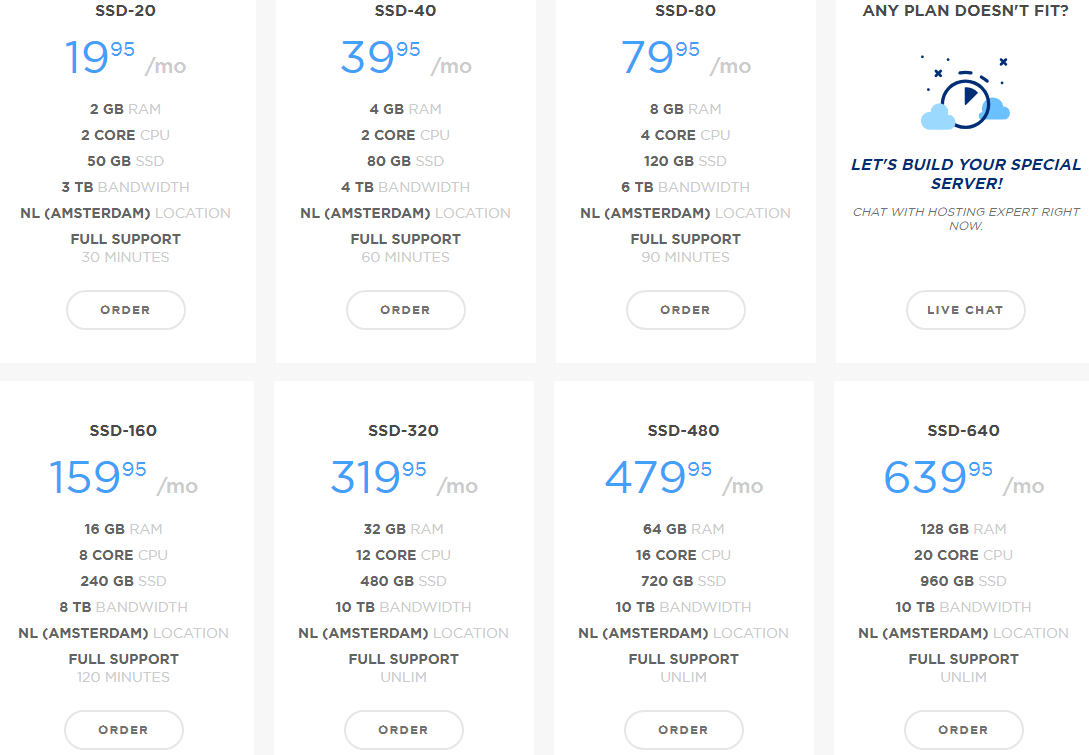 www.HostiServer.com Dedicated Servers
The managed dedicated servers offered by this hosting company are best suited for online business having high workloads to deliver optimal user experience. They monitor daily operations and optimize the hosting environment to ensure a better performance. You can always feel safe and protected with enhanced server security.
Each dedicated server includes 20Mbps CDN, 2 hours full support, free migration, 250GB backup storage, 2IPv4 & unlimited IPv6, and 1Gbps port speed. The plan starts from $130/month. You can choose the best-fit plan according to your need.

Why choose www.HostiServer.com when you need Managed Hosting?
The first and most obvious reason to go with this hosting provider is the quality of service it offers at an affordable price. The other reasons are as follows:
Right-Fit Configuration: If you have a doubt while choosing the best plan for your project, the support team will help you in choosing the best one according to your needs.
Assisted Migration: You can always enjoy easy, fast, and worry free migration of your site until it works better compared to the previous server.
Server Setup: They will prepare server for your project, install the software stack, backup important data, and will make sure that the server is secured.
Fine Tuning: HostiServer's team of developers can optimize the server even for the most demanding workload.
Real Time Monitoring: Your system's health monitoring is equally important. This hosting provider keeps all its eyes on the server to deliver uninterrupted performance.
Easy Scaling: You can easily switch between different plans or customize the current server according to your needs.
Excellent Support: You will never have to wait long for support. Their experienced tech staff will help you in difficult times. They will ensure that your website(s) are up and running.
What else?
In-House Hardware: To ensure user security and deliver quality, the company houses its hardware at Serverius- Tier-3 DC in Netherlands, Amsterdam connected to the largest internet exchange point in Europe – AMS-IX. You will definitely impress your site's visitors with its speed.
Anycast CDN: You can host your videos, photos, and media content on Anycast CDN and see the difference. Start a free 30-days trial to feel the difference it makes.
Online Server Backup: All its backup-servers are equipped with enterprise grade drives in RAID. They will configure servers to store backup and create a schedule for the backups.
The Bottom Line
HostiServer is a reliable managed hosting provider that has always delivered quality to its clients. The powerful servers with 24×7 Technical Support is recommended by most of its clients.