One of the major issue now a days is our online privacy. We don't know who all are tracking us while browsing websites. In addition to privacy certain countries block a number of websites and social media network. So don't you think it's against your internet freedom?
If yes you may need to use virtual private network or popularly known as VPN to bypass all the network and geo restrictions. In addition to above VPN encrypt your send and received data.
But some countries are very advanced and they block use of VPN. So how can you access the content you wish?
Founded in 2010 SunVPN helps you browse any website without any restrictions.
SunVPN review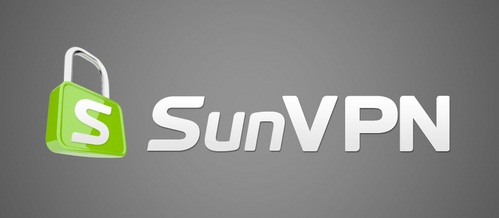 The unique feature of this provider is that it offers unique protocol named as StealthVPN. By creating an additional SSL channel over your OpenVPN connection it makes hard for any tool for detection. In addition to these protocols sun also offers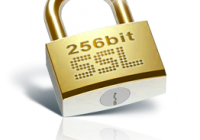 Encryptions
Speed and bandwidth
Since your data is encrypted you will find a small reduction in speed and during our test on 10Mbps it was found to be
Download : 8.2Mbps
Upload : 750Kbps
Since they offer unlimited bandwidth you can enjoy every thing seamlessly
Server country list
By choosing the servers nearer to your country you can get a decent speed while watching videos or a TV
USA ( 3 servers)
Canada
United Kingdom
France
Germany
Romania
Singapore
Hong Kong
Plans
Currently they offer 3 plans and its shown in the below picture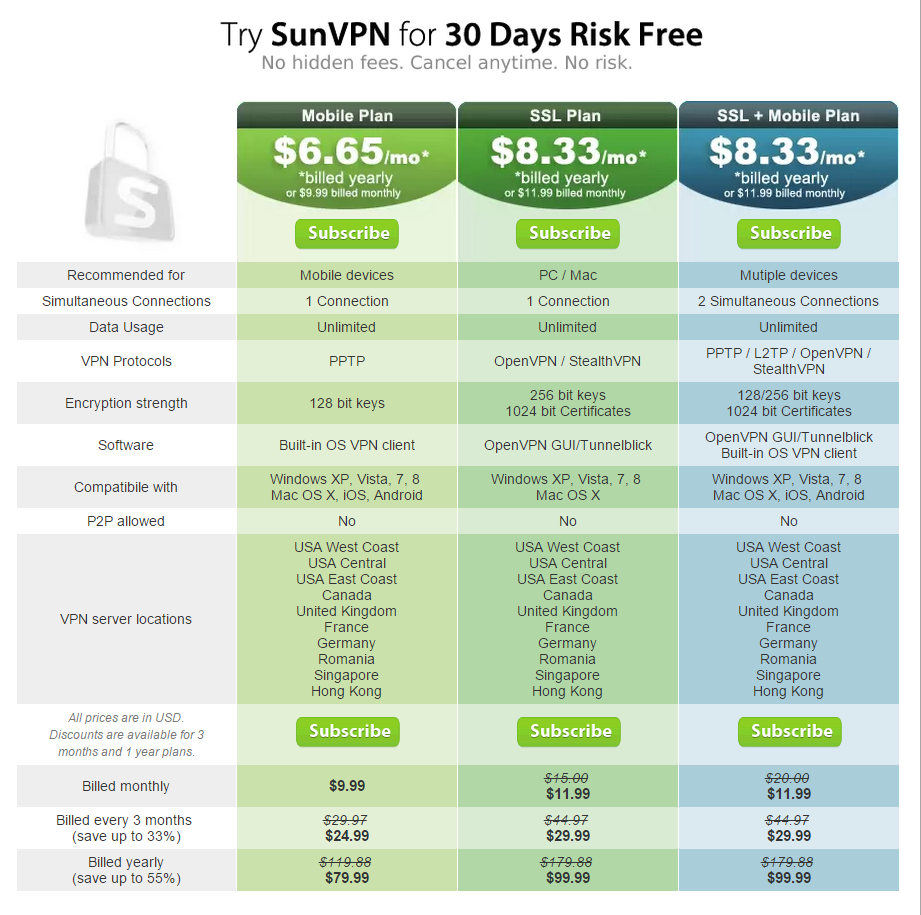 Money back guarantee
If you are not satisfied within 30 days of your initial payment they offer you with full refund. We think this another way of giving free trial.
Support
They offer support via email. In most cases they have a turn around time of two hours.
Simultaneous connection
It depends on the plan you choose. At most they offer you only 2 simultaneous connection which we think is bit less as most of us at-least 3 devices.
Torrent or P2P
No, they don't offer support for it in any of the servers
Reputation
They have been in the service for more than 4 years and seems to be quite knowledgeable in what ever they do
Logging
They seem to keep a log for 90 days. This is not a big problem for many of us as P2P is already not available.
Process
Choose the plan that best suits for you and after filling up necessary details make the payment (via advantage supports American Express, Credit Card, Diners Club International, Discover, JCB, Master Card, Paypal, Visa) . Wait for their mail regarding your account activation
Download the client as per your OS
In our test the client worked flawlessly on our system running Windows 8.1 Pro
Sun website don't seem to have a SSL certificate and the website is also non mobile friendly
No Bitcoin mode of payment
Seems bit pricey compared to the other competitors
Final thought
If you are from a country where VPN is blocked then StealthVPN from SunVPN is your only hope to surf the world wide web seamlessly.