VPN (Virtual Private Network) is the way through which your device connects with the Internet securely without leaving a trace behind for hackers and let you use Internet without any harm. VPN's can also be used to remove country restrictions it means you can visit websites and watch live streams of contents of different country without the worry. TunnelBear is one of the best VPN's in the market, its also very famous because of its security and features. It is also legless that means it will not store any kind of data that is transferred from the device to the Internet server which means it provide total anonymous connection.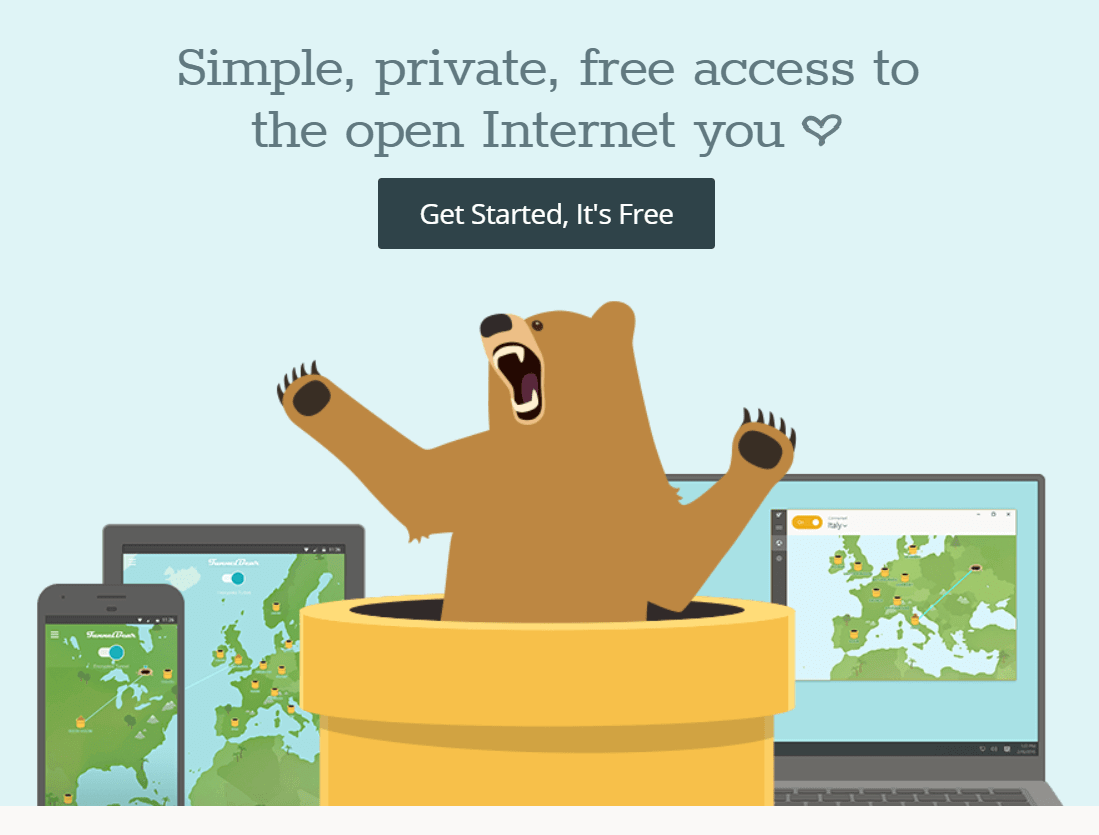 Features:-
TunnelBear offers 500MB of free monthly data usage. It is also available on number of platforms that is Android, IOS, MacOs, Windows. TunnelBear is certified with logless VPN tag that meas it doesn't store any kind of data going through the device to the internet server but it store last four digits of the credit and debit card if your are directly paying using the card for transaction process and also the Name on the card to protect you against the fraud. All of the features are in free version only the data limit is there so to remove data limit users need to take subscription for the TunnelBear services. There are 3 types of the subscriptions: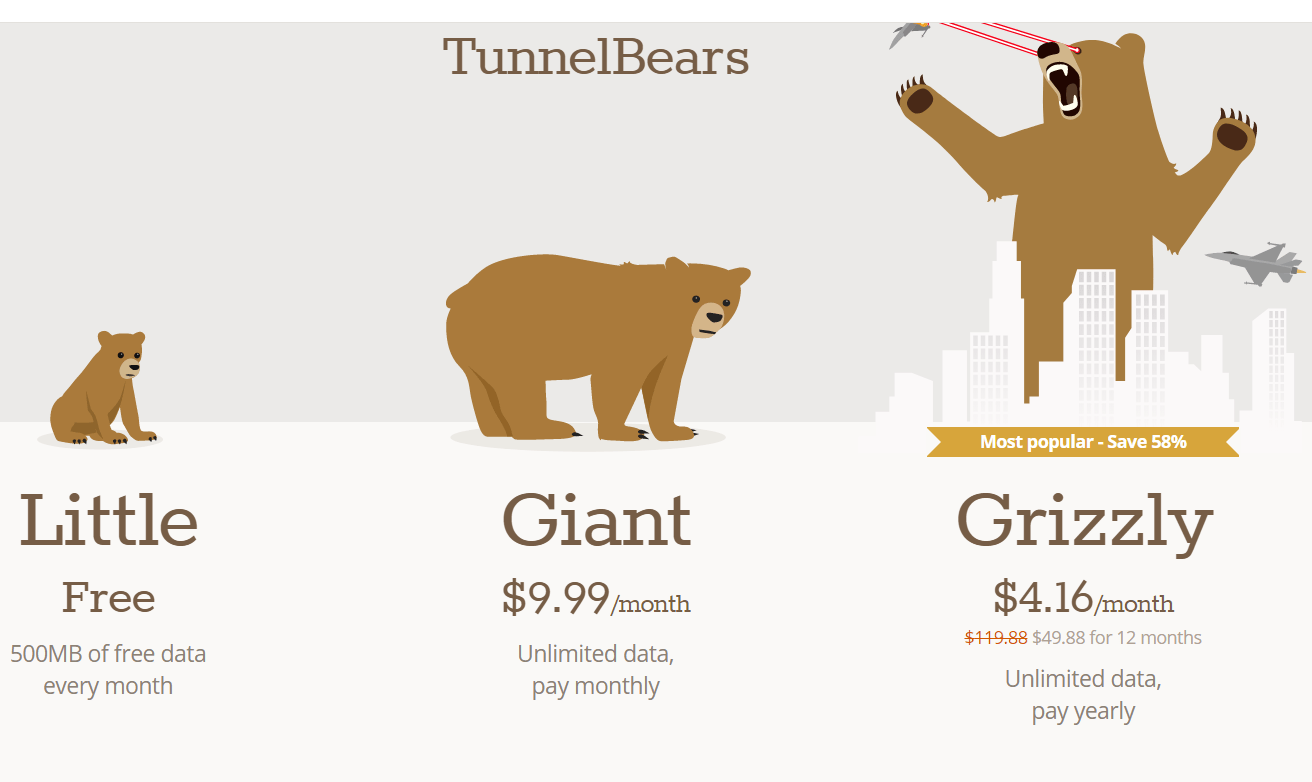 First is small pack that is the free version with 500MB of the monthly data usage limit and then comes Second subscription that is Giant pack it will provide unlimited data usage for a month with the cost of $9.99 and Grizzle pack of $49.88 it will provide unlimited annual usage of data. To know more about TunnelBear go here : https://www.tunnelbear.com/ .
To use any kind of TunnelBear Service you need an account that can be made by going here: https://www.tunnelbear.com/account#/signup .
VPN for browser:-
Tunnel Bear extensions are made to be only work in the browser and provide you the best VPN service so that you will be fully secured while browsing the Internet.
Features of extension:
The extensions are designed and developed to be as small in the size only for browsers with easy to setup. With the extension it will encrypt your web browsers data. All these things with a simple Easy To Use design that is only a ON/OFF switch that will do all the work for you just enable it and you are good to go.
Following tutorial or step by step is also applicable irrespective of Windows 11, 10, MacOS or Linux OS
How to use TunnelBear In Chrome on Windows 11, 10, Mac OS:-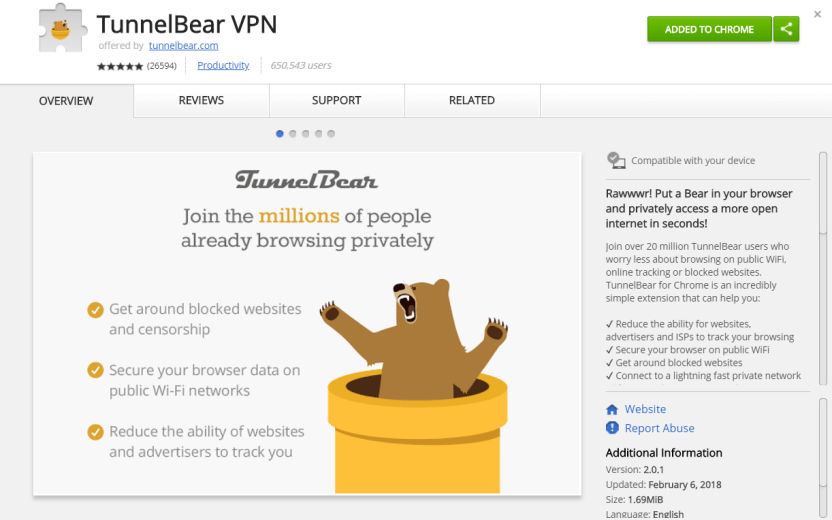 TunnelBear is available as the application for the Windows, Android and IOS platforms through which you can easily connect to VPN with a simple click but to use only in chrome there is a also an extension available that can connect to VPN on Chrome Browser with a simple steps:-
Steps:-
Download the Chrome extension by going here.
Click "+Add to Chrome" to download and install the extension.
After downloading just click Tunnel icon on the top-right corner.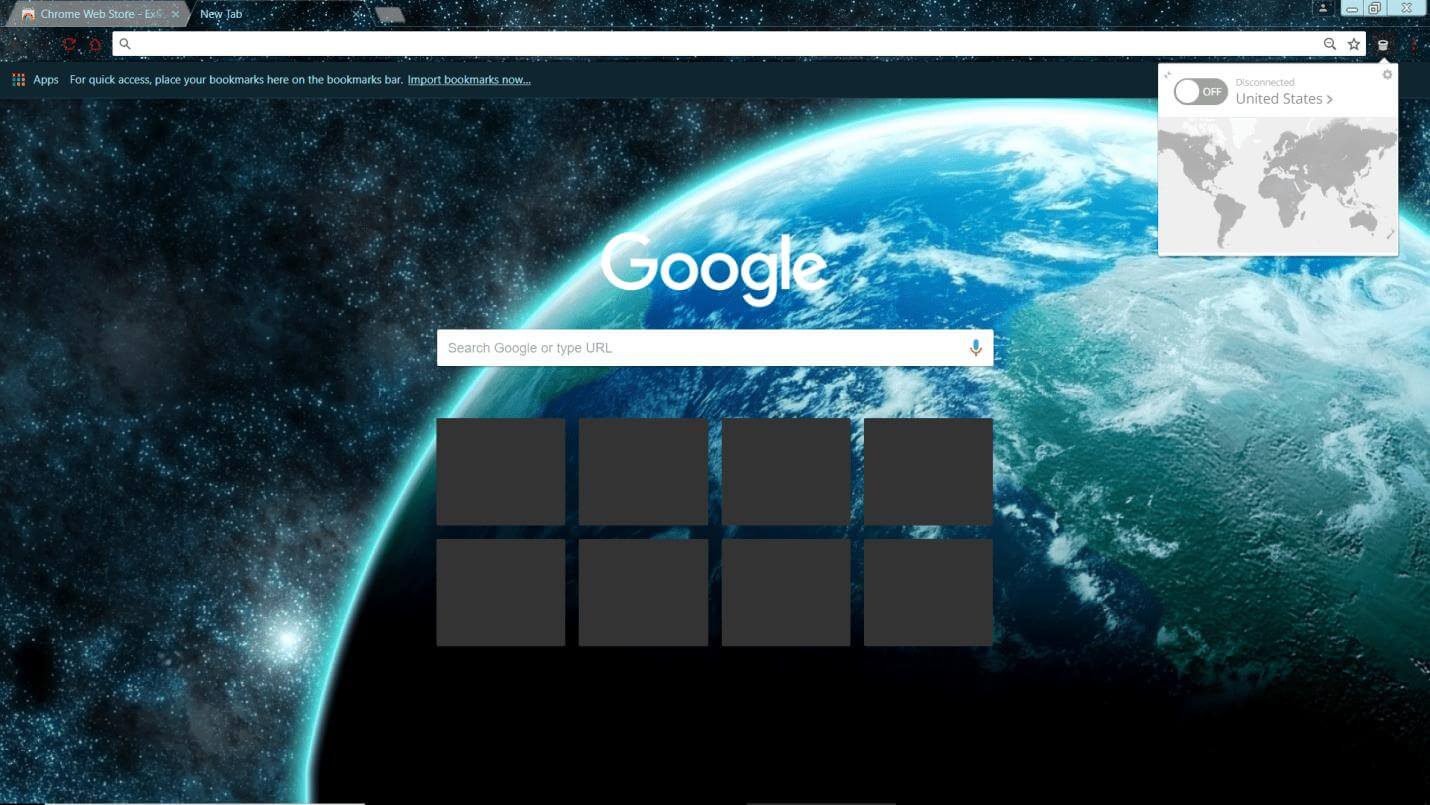 Then click the ON/OFF switch to connect with the VPN.
It will redirect you to the Sign in/Signup page just enter your credentials and done you will be connected to the VPN.
How to use TunnelBear In Firefox for Windows 11, 10, MacOS :-
TunnelBear is also having its extension for the Firefox browser to connect the user with the VPN at a click.
Download the Firefox extension by going here.

Click "+Add to Firefox" to download and install the extension.
After downloading click the Tunnel Bear option.
Same as Chrome click ON/OFF switch and login into your account.
You will be connected to the VPN.
It is also considered as Best VPN of 2017.
Wrapping up:- Most of the peoples wants to surf Internet full anonymously and securely here TunnelBear takes a lead. TunnelBear provides AES 256-bit encryption to protect your only internet activities. Although TunnelBear is free to use services but with the data limit but it worth money because it provides 900 servers worldwide with support on multiple devices and it is also Log-less so no data is going to be stored in VPN server. So if you are looking for a good VPN at small price and easy to setup than TunnelBear is for you.