Managing medical staff is not an easy task. The reduction of medical errors represents a benefit to both doctor and patient. Healthcare providers who aspire to offer a modern standard of care to their patients, not to mention avoiding government penalties, have no option but to implement a cloud-based physical therapy software.
What is Apollo Practice Management?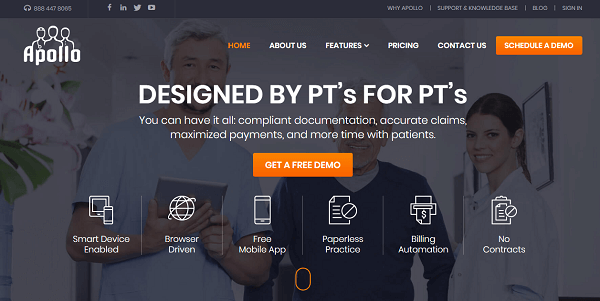 A group of developers and practitioners came together to build a web software management tool for multiple devices to increase efficiency and decrease the burden of medical clinics. Apollo Practice Management (Apollo) developed a practice management tool, which comes in handy to organize tasks and improve productivity. Unlike other similar management programs, it provides all the essentials that a physical therapy practice needs.
You no longer have to run multiple programs to complete or organize a task.
Apollo Features:
Here we are going to mention important features to cover a specific number of requirements of a PT practice.
Cross-Platform Access:
I consider cross-platform as an important factor. Smartphones, Desktops, and Laptops usage have increased, and we need support for it. How about looking for patient information when you are not available in your clinic? A smartphone can come in handy in such situations. With Apollo, you can install a free mobile application and access information via the browser.
Overall, it is a browser driven web application, but it is accessible via a smartphone app too.
Quick Patient Search:

In the dashboard, you can find the search button wherein you can enter a name and search for a patient. Do not forget that you can search the patient details on the smartphone app as well. The interface is designed for newbies and non-technical users, so you don't have to worry about the application interface.
Therapist's appointments list: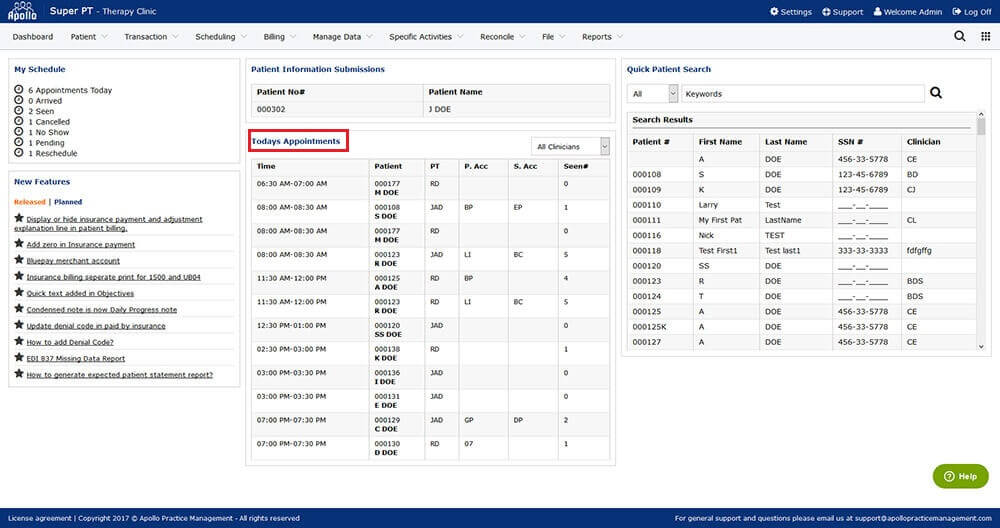 The medical staff does not have to spend their precious time finding the details about the next patients. On the dashboard, you can find information about all your appointments. By launching the web application using correct credentials, you can directly find all the required information on the dashboard.
My Schedule: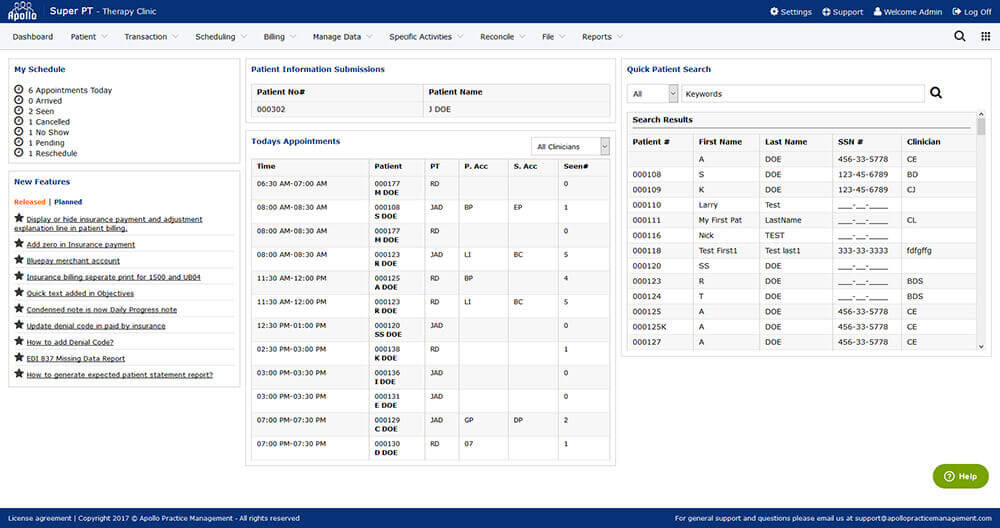 For Doctors on the floor, they can log in to their accounts and start looking at the number of patients seen. The appointments display status such as Arrived, Seen, Number of appointments, Cancelled, No show, Rescheduled, and more. The Doctors do not have to spend time on enquiring about the status of their patients from time-to-time because they can quickly check from their smartphone. The professional approach helps to decrease stress and confusion among the medical staff.
Flexibility:
Managing medical management software is a complicated process.
In this case, you don't have to worry about Hardware, Software, and Servers. Make a payment, Set-up the account, add the number of users and start using it from day one.
The pricing starts from $99 for 1 Practitioner, and it can go all the way to $990 for a team of 25 Practitioners. Of course, there are more packages available in-between, and you can take a quick look at it.
Security of Web Servers
I have mentioned that Apollo is a cloud-based web software for medical staff.
Over the years, the number of privacy invaders has increased, and they are targeting data servers to gain information. However, the Apollo added Bank-level encryption to keep hackers, privacy invaders, and anonymous phishing out of the system.
There is a dedicated managed server for storing full back-up, which ensures data protection and accessible via cloud-based data centers.
Overall, the medical facility and clinics do not have to worry about data invasion and losing data. Fortunately, you don't have to maintain a backup drive and a local HDD. The cloud-based solutions eliminate paperwork, and it is an effective solution.
Bottom Line
Apollo Practice Management offers free updates, and they are working on adding new functions to the web application. The smartphone app integrated with a web application, so you don't have to worry about updating it. Let us know what you think about Apollo Practice Management in the comment section below.