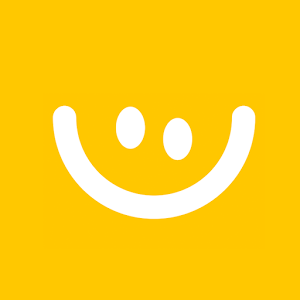 Today we are looking at an absolutely new app in the market called as Messenger by My Happy. This is an absolutely free app available for both Android and iOS devices as well in many countries including the first world countries such as USA, UK as well as some #rd world countries like India, Nepal as well as Pakistan. The app is really unique as it is not solely a messaging app but also allows you to create unique and well designed inspirational posters and quotes as well which are called Happies for short. The overall process is really pretty simple and involves some minor taps. You are required to choose from a gallery of pre-made motivational quotes and templates of them or you can create your own unique artwork or quote by using your well produced photos and text for sharing with friends using the inbuilt messenger which makes sharing your creation a lot more easy. When you are done with creating the inspirational content, you can simply send off your Happies to all your friends or family members.
FEATURES OF THE MESSENGER BY MY HAPPY
The app has all the features that you would expect from a messaging client other than that too it has the features of all a social interaction app. The app not only allows you to connect with your people by simply sending them text messages but instead it does by making you help create motivational texts and graphics so that you can help to make your friends or family member's day way more better with such images.
But this is not only it so let's have a look at all the features in detail –
SIMPLE INTERFACE
The app is designed to target the users from all kinds of genres hence in order to make it feasible to be used by all types of users it has a very simple yet intriguing interface which makes it not only unique as a messenger but way ahead of its time and this has a positive effect on its use as the application has already received positive support from all around the globe irrespective of the fact that it has some tough competition in the market from other messaging apps like the traditional Facebook messenger as the rapidly developing KiK application which is wildly popular in countries like USA as well as in UK.
VARIETY OF FILTERS AND FONTS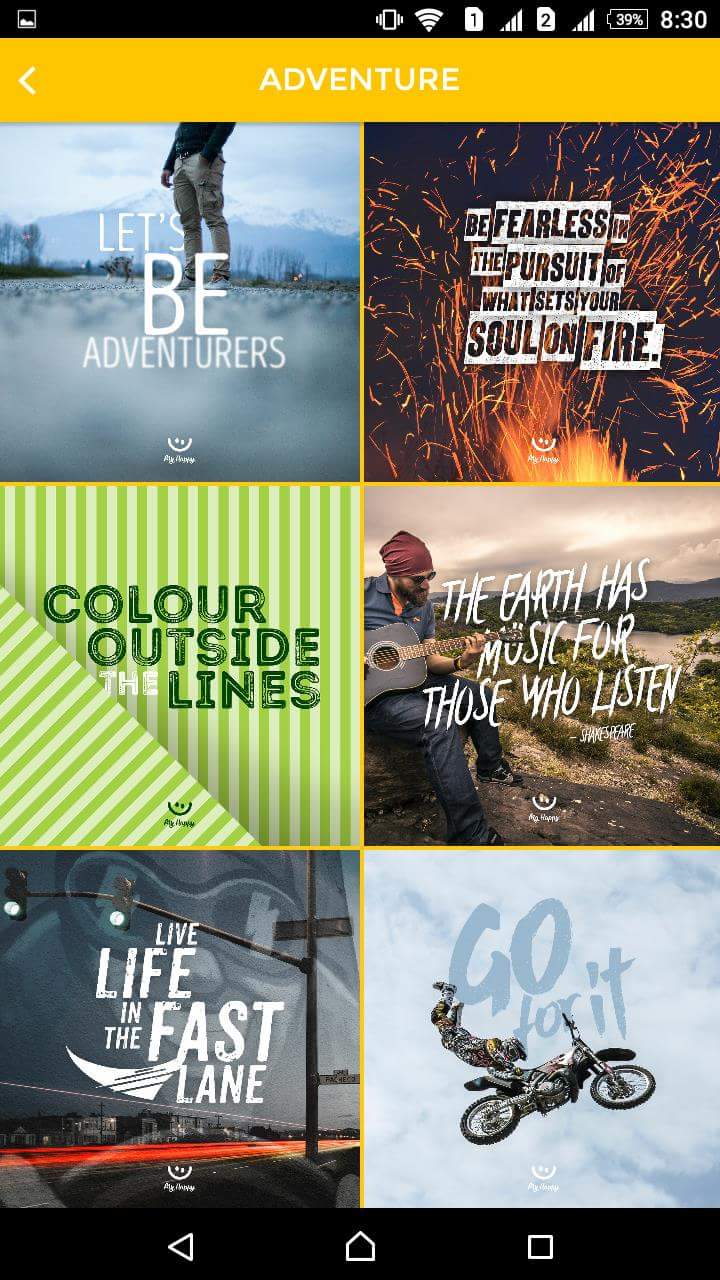 The messenger by my happy not only has a wide range of pre-built filters for all the images that you upload in order to create a custom template but also provides you with a list of varying fonts which will help you to create a more motivational and appealing graphic image which you wish to send out to all your friends or maybe your colleagues at work or fellow classmates maybe! Whatever maybe the case this app has got your back as the filters that this app provides are extremely well designed making the user feel satisfied with his creation of a unique masterpiece in itself. The fonts too are separately designed for use by the people who use the app on a regular basis.
WIDE RANGE OF TEMPLATES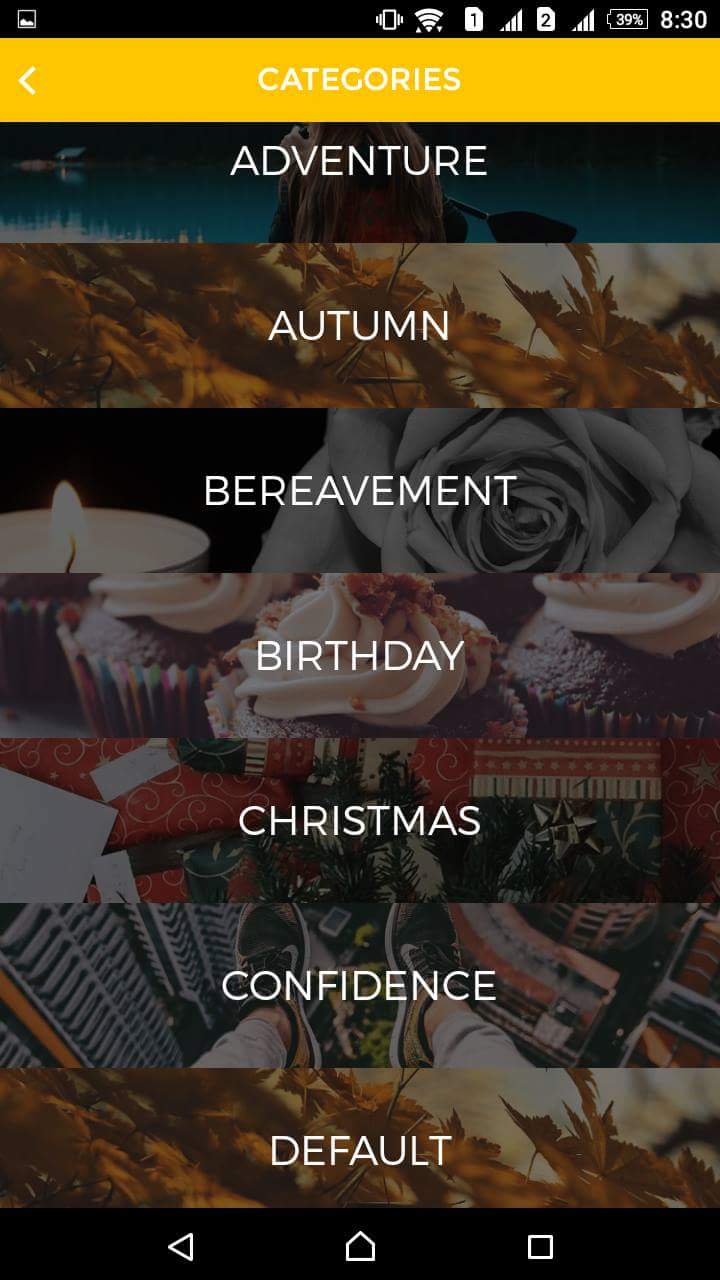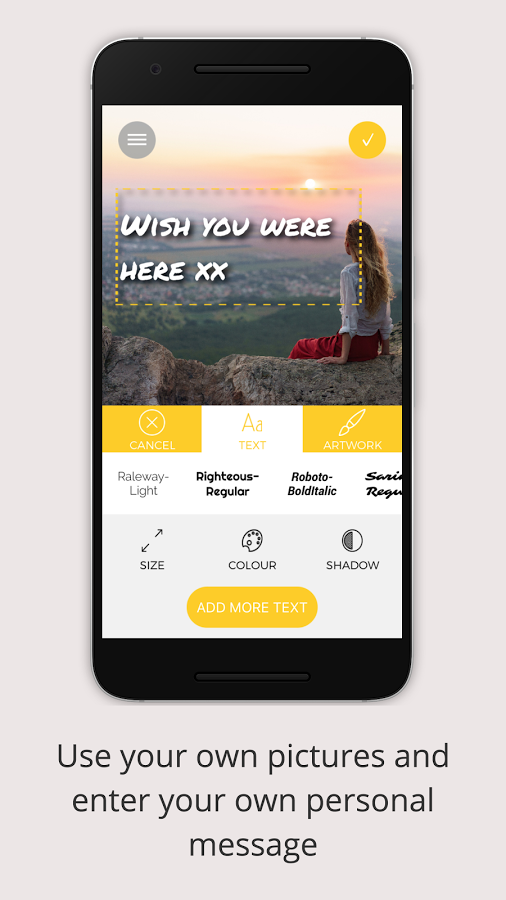 If you don't have a good picture that you can add onto your quote or motivational text then you don't need to worry at all because once again the messenger app has your back and has a wide range of prebuilt art styles and templates from various genre's which are both common and region specific as well such as I could find a template which was related to DIWALI a festival which is widely celebrated throughout India and also on EID which is celebrated by all the Muslim's round the globe.
CONS
1. The only one we found is that this app won't work with WiFi or VPN connection you will have use the mobile data connection for registering for the first time.
FINAL THOUGHTS
Overall the Messenger by My Happy
is really very easy to use and should be very intuitive and engaging for most users as this is a really new and interesting concept which can be used to encourage the people to download this app and give it a go as both a messaging as well as an inspirational content creation app.