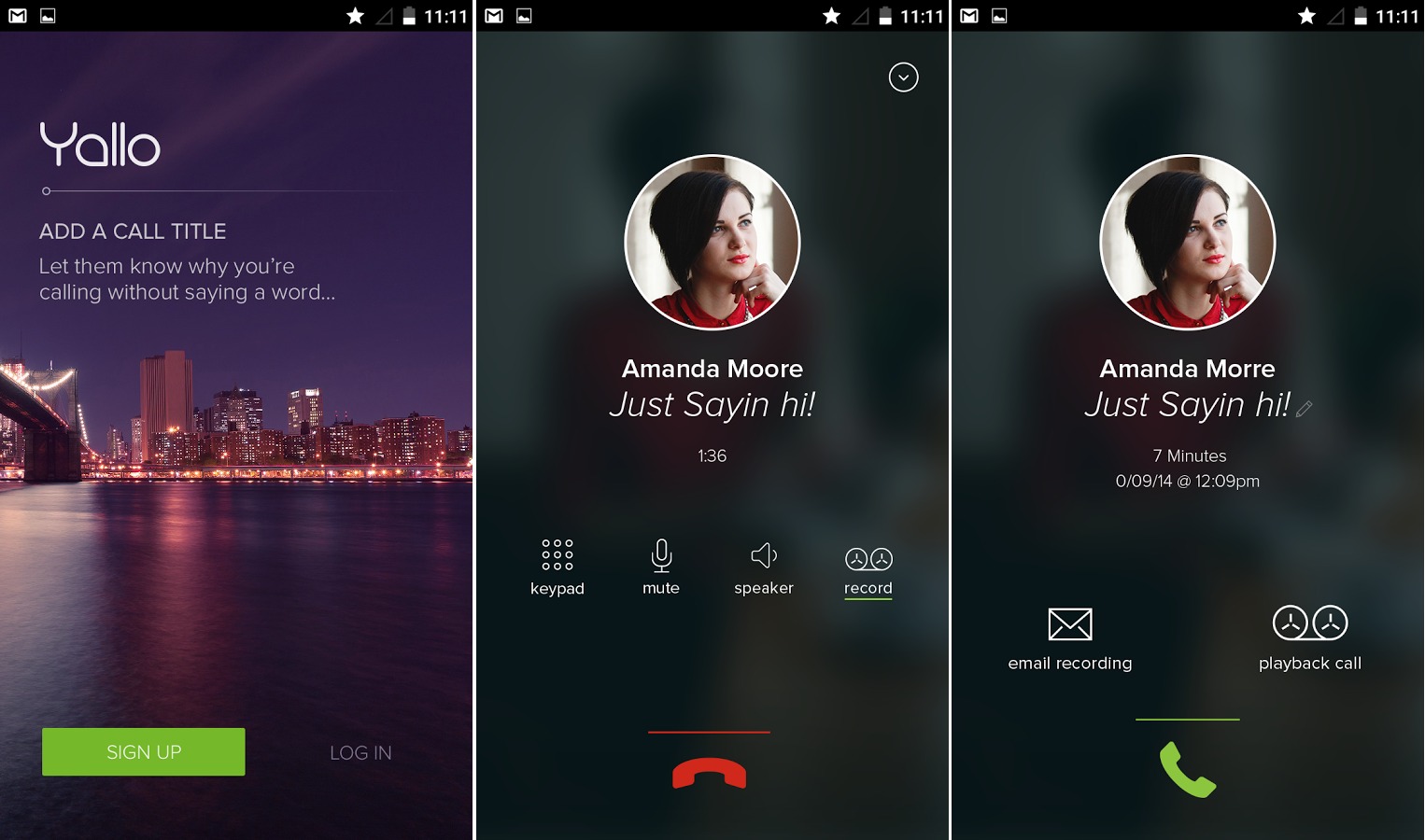 Want to have more advanced features with your android voice calling app or VoIP app rather than placing simple calls. Yallo comes with a different approach for guys and gals out there with power packed options like no other. Read more about it in our review
Yallo android app review
Like all the ones in this category this also allows you to place calls to anyone having Yallo installed on their mobile phone for free. This doesn't mean that others are chargeable, after downloading and sign-up you all will be given more than 399 minutes of free talk time credit that you can use as you wish. For the time being service is limited to US, Canada, Singapore and Israel.
Interested in changing the look and feel of your device then have a look on Flow Home Launcher and what it can do it for you.
Recorder
This one have an inbuilt audio recording feature with which you can save sounds during the talk and laterm use or share it with anyone. You can even search for the phrases and words.
Less dropping
Many of us get irritated when the call drop because of less network coverage, to avoid this issue Yallo holds the connection to solve the problem.
Flexibility
Started your talk on mobile and your phone battery is about to die?
Don't worry you can effortlessly move the chat to desktop, laptop or tablet.
Are you in a wifi rich area?
If yes, you can save your mobile data by using near wifi to make long conversations.
Caption option
Want to tell a short summary, don't worry your receiver will be shown a message to specify if the matter is urgent or not.
Low cost
After the freebies you can top up your account for continuing the service for making cheap international calls.
Other feature
No need of having other phone number to use the service, if you like to get new ones this can provide extra few for using with different people.
We will do in depth review of this app covering voice quality when its available in our country.
Apk version : 0.9.14
Apk size : 15MB
Require : Android 2.3.3