WordPress is one of the ultimate CMSs available on the web that has helped the entire internet community in some or the other way. It is a fully functional platform that supports thousands of plugins and themes. You can create a website, start a blog, launch an e-Commerce store, or start a micro-niche website using WordPress as a CMS.
Give a thought to start a social networking website on WordPress. Can you do it? Yes, you can definitely! And the PeepSo Ultimate Bundle can make it easy for you. It is the complete suite of plugins, extensions and add-ons that can help you turn a WordPress website into a social network. Let's explore it in details.
For Back End Login Use these Credentials Username: demo / Password: demo

What exactly is PeepSo?
https://youtu.be/2N7Y3kWj7A4
PeepSo is a free, super-light, social network plugin available for the WordPress users. It allows them to add an online community or a social network similar to Facebook inside your WordPress website. No need to hire a developer when you have PeepSo with you. You will require the free core to run other plugins offered by PeepSo. The profile pages and activity stream will enable you to build your community.
PeepSo Ultimate Bundle – What's Inside the Pack?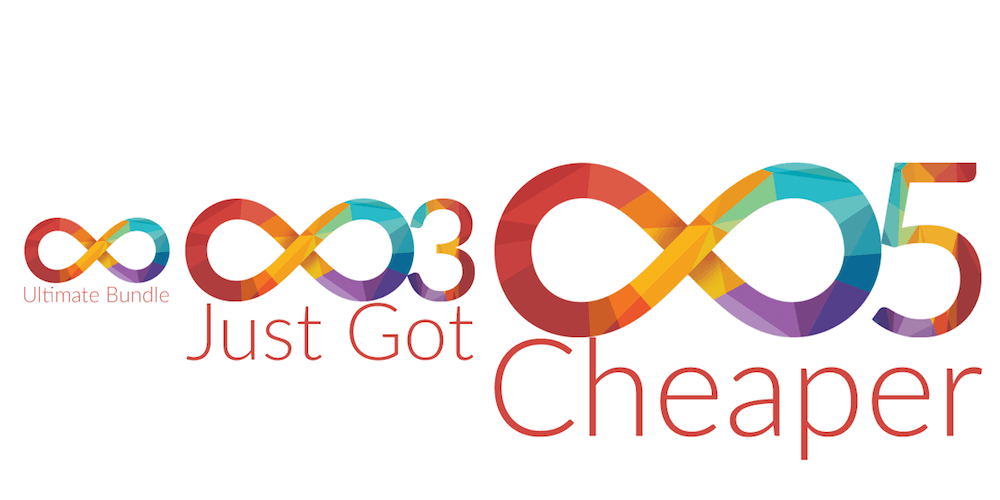 PeepSo has 25+ plugins in its tally. It might be expensive for you to buy each of them individually. The PeepSo Ultimate bundle gives you access to all the plugins available on PeepSo. The PeepSo Ultimate bundle will have all the foundation, core, extras, integrations, and monetization plugins. If you purchase all the plugins separately, it will cost you around $797, but the PeepSo Ultimate bundle will cost you just $399. You can save up to $398 on your purchase of this bundle.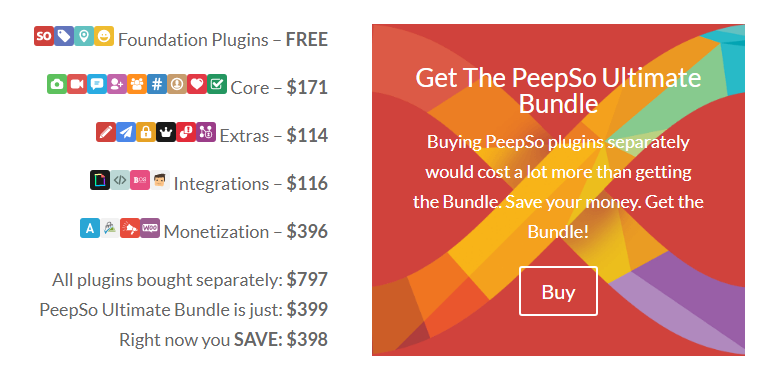 This bundle not only saves you a lot of money, it even ensures that you need not spend any extra amount on the purchase of new plugin that has been added to PeepSo. The ultimate bundle comes with 3-5 site support as well. Yes, the cost will be little higher, but still, a lot of money will be saved if you choose to go with multiple installations.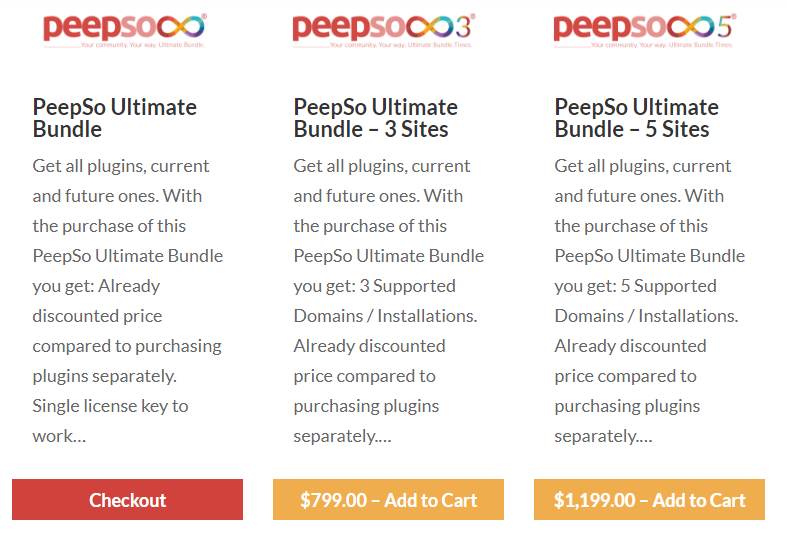 PeepSo Core Plugins – The Backbone of your Social Networking Site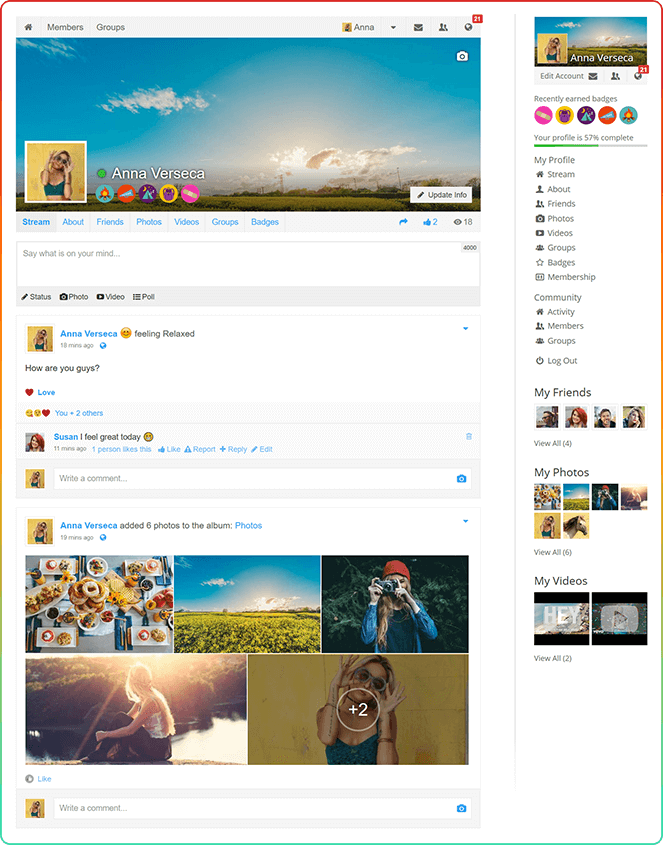 The core plugins are really essential for you to build a social networking website. You will need different plugins to share photos, videos, sending the messages via chat, Extended profile fields, groups, Friend Connections, reactions on posts, and getting Polls form the members of your community. The core plugins gives you strength to convert a simple WordPress website into a fully-fledged social network. The major core plugins are:
Friends: It allows the members to accept/decline friend requests, set profile privacy, and add friends.
Photos: Your members can upload photos and create the albums in groups and profiles. The photos will be opened in a modal window letting the members to comment, like, or show them to the friends.
Videos: The members can add the video links to stream, show wide display for easy viewing, allow sharing, and do a lot more. The other members can like, share, and comment on those videos generating interactions.
Chat: The real time chat and private messages can be sent to other members. The people can also chat in groups.
Groups: The users can create open and closed groups revolving around specific topics and share a lot of stuff within these groups.
Extended Profiles: It allows the administrators to add extra files on the user profile for creating richer and meaningful profile pages.
Reactions: This plugin extends the normal Likes to emotions like laugh, Wink, Love, and much more.
Polls: Allow you members to ask a question and get polls from other members on their posts. You can put the user limits on the polls.
Hashtags: Give the community members a power to use the hashtags in their posts and see the magic.
There is much more than this. You will require the core plugins to create a social network. Make use of other plugins as well to ensure that your social network lacks nothing.
Pros
A super quality product
Turn your site into a social network.
PeepSo Ultimate bundle is cheap.
Foundation plugins are free and they offer support too 🙂
Cons
Too Many plugins can make the site heavy, we think you may need an Enterprise Shared Hosting or VPS.
The Bottom Line
PeepSo is growing its user base with each passing day. Its Ultimate Bundle is cheaper than most of its competitors offerings. Going with the PeepSo Ultimate bundle and saving nearly $400 can be a good choice to make. Moreover, the new plugins will be added to the bundle free of cost on their launch, just like the WooCommerce plugin launched few days back. Go for it now!