With the growing demand for IoT services, the Internet and its related services are also getting high in demand, especially in the proxy market. You might have used proxies to explore restricted or blocked websites. They also come with great security for your system. Today, we are going to review the most popular proxy server provider, Webshare Proxy.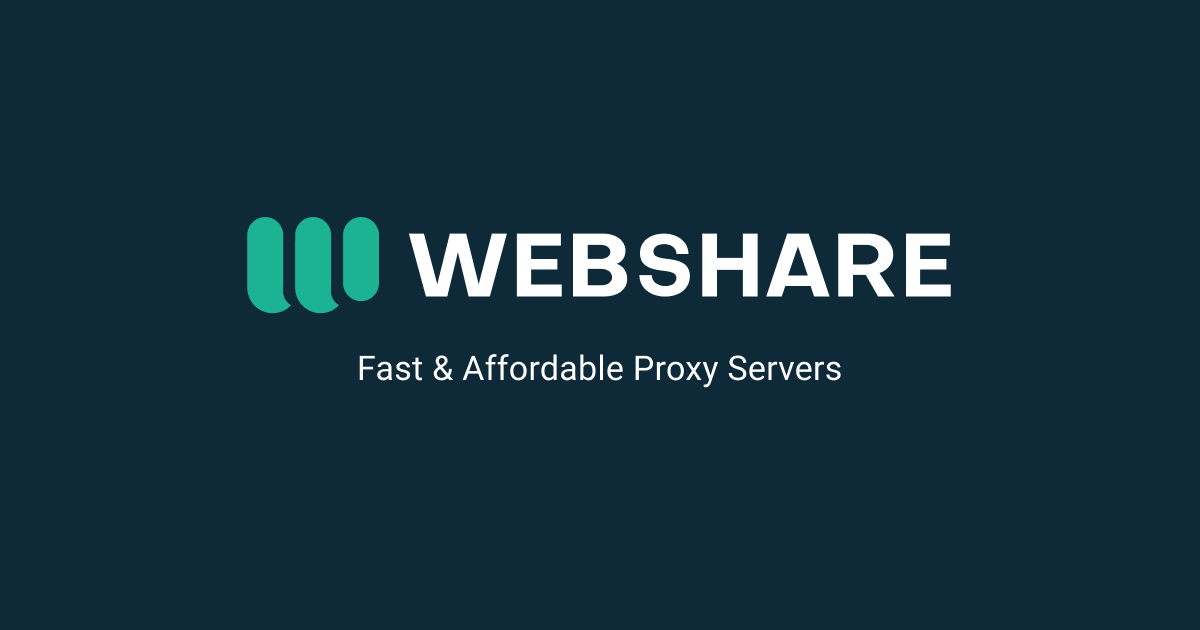 Webshare.io is relatively a new player in the Proxy world; however, it has gained massive popularity across the web world with its reliable service and features. Unlike other proxy providers, Webshare is a data center proxy provider that offers free shared proxies, dedicated proxies, rotating proxies, and cloud proxies.
You can choose the best proxy from the given lists as per your needs. Webshare.io is a legit proxy provider service and not a scam as others might think. It is a 100% legit platform that you can use to try out different types of proxies for your internet needs!
The only reason why Webshare Proxy has become the priority proxy platform for web users is it is an all-in-one proxy provider that lets you use different types of proxies under one roof. Yes, you can get three different types of proxy lists here. Let's find out more about the types of proxies that Webshare.io provides!
1. Cloud Proxy
Cloud Proxies are part of data center proxies which are available at affordable prices. You can buy Cloud Proxies in bulk from this platform. You can buy from 500 to 15,000 proxies from Webshare.io through a simple monthly subscription to the selected plan.
Just explore the given plans, choose the one that fits well to your needs, and buy the subscription. It is that easy! The best part about Cloud Proxy here is you can customize it as per your needs. You can even select the countries to filter it out.
2. Rotating Proxy
The rotating proxy at Webshare has two different plans, rotates 100% proxies and rotates 20% proxies. Out of these two plans, the second one i.e. rotates 20% proxies is more reliable as only 20% of the given proxies rotates per each cycle which gives you more flexibility on using the proxies as per your usage.
You can customize the rotation frequency and other features of this plan through its Dashboard easily. You'll get more details about the Rotating Proxy and its plans when you visit the section.
3. Dedicated Proxy
Dedicated Proxies are completely different from the above-listed proxies. Dedicated Proxies are exclusively available for you, you can't share them with others. You can use the dedicated proxies from Webshare.io as long as you have an active subscription plan. Once your subscription plan is over, you are no longer able to use these proxies.
With this plan, you can choose from 5 to 1000 proxies. You can customize your plan as per your requirements while subscribing. Here, you will get 5,000 GB of bandwidth.
Before you subscribe to the dedicated proxies, make sure to test out how it works through its free trial version.
Webshare.io is super-easy to use where anyone can easily register on the portal and start using its service. The best part about this service is you can use it for free for trial purposes.
Go to Webshare.io's official website by clicking on the given link.
The portal will ask you to register first. You can register on the portal by using your email id, Facebook, or Google login credentials. The free trial of this platform will give you 10 proxies for free.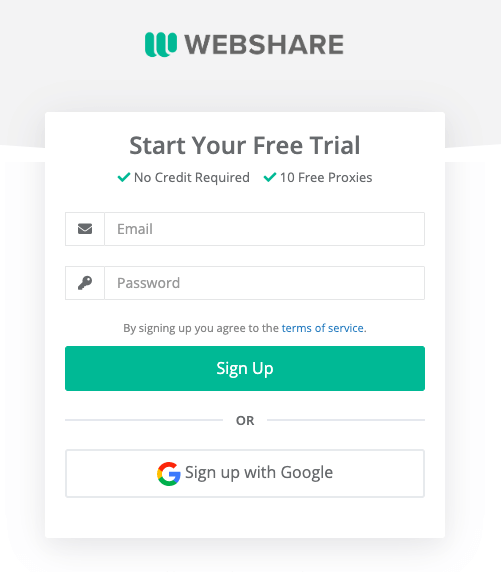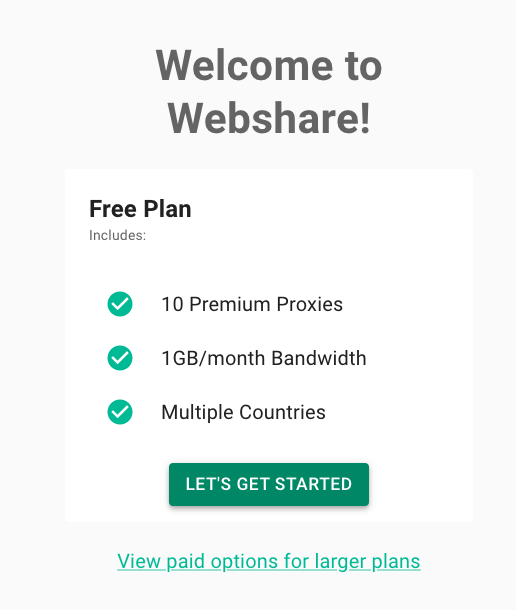 Once you are logged in, you will be presented with a super clean Dashboard of the platform. The Dashboard has two sections, the to-do section to select your plan, the proxy list, etc, and the main window from where you can choose your proxies.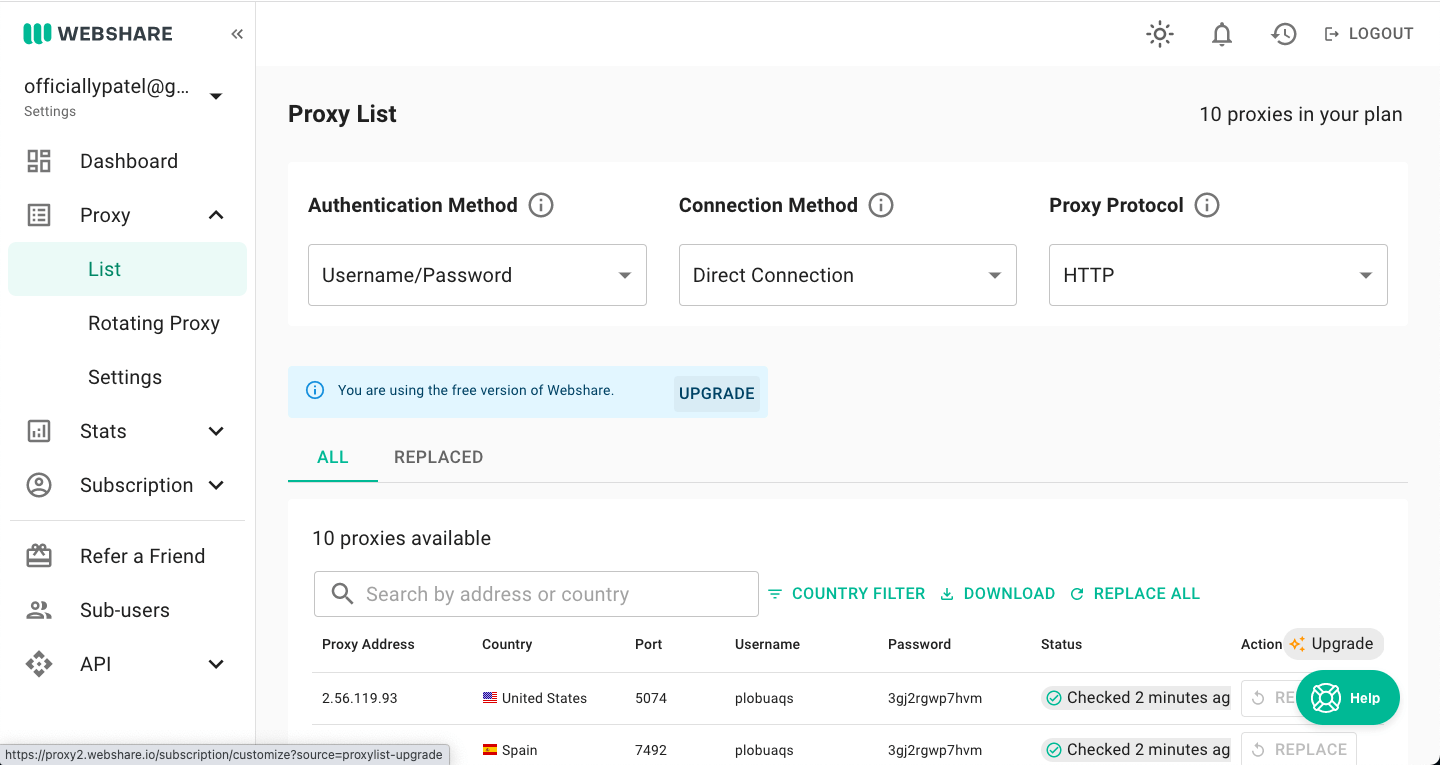 You can customize the proxies by selecting the Proxy option from the left sidebar. The given list of proxies will show you the proxy's URL, country, and other details. You can select the proxy to use and customize it as per your requirements right from this page.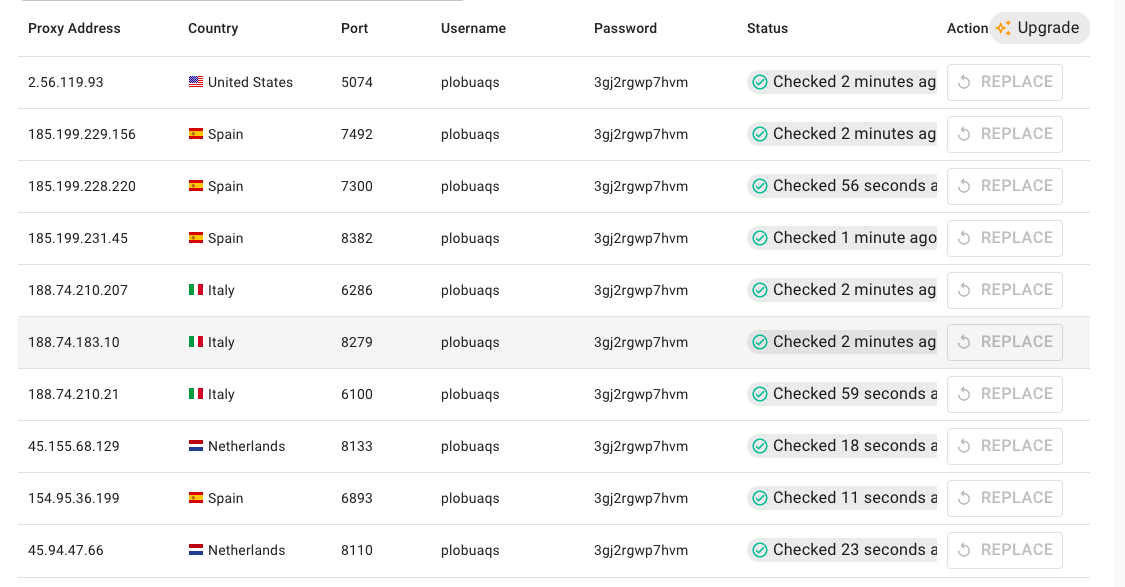 For any queries or quick help, you can ask the Chatbot. Click the Help button from the lower right corner, this will open up a pop-up that shows you frequently asked questions, select the question and get the appropriate answer of it.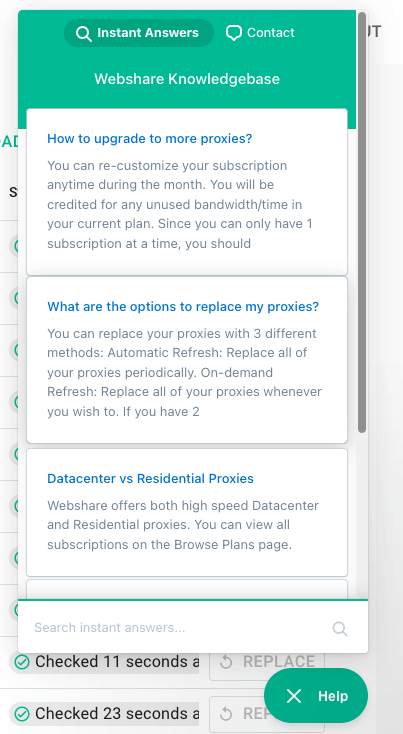 Webshare.io offers a variety of plans to choose from. You can choose as per the required proxies from the list. For more information, head over to their proxy server page and explore the available pricing plan for the required list of proxies. You can subscribe from 10 to 100,000 proxies.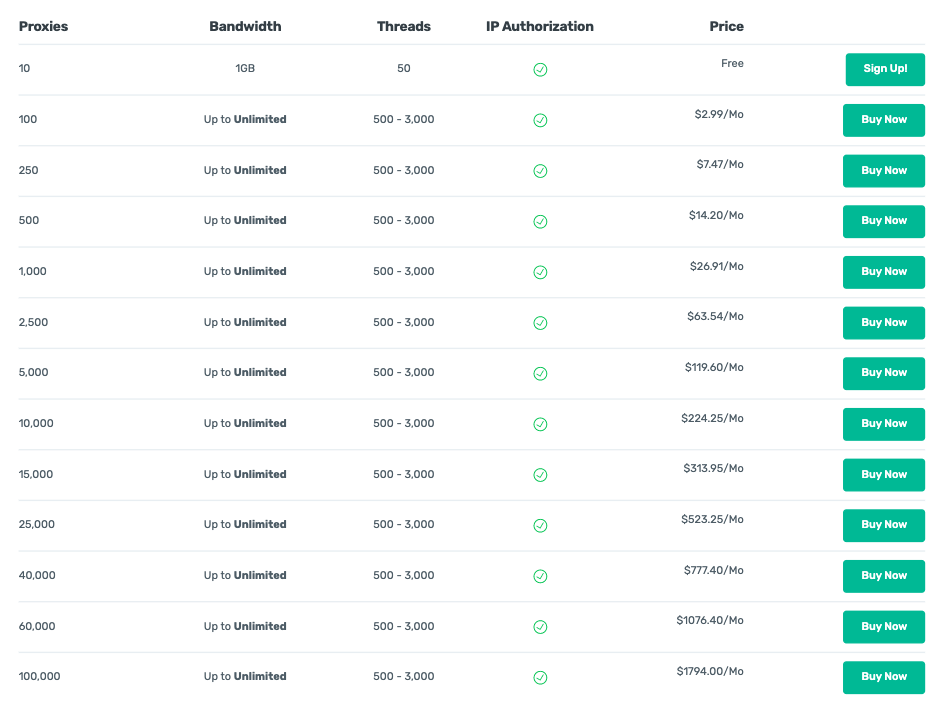 Pros:
Simple-to-use Dashboard
Free trial with 10 proxies
Cheap proxies
IP and username authentication
Each package of proxies is fully customizable
Free shared proxies
Customizable proxy plans for each type of user
Rotating proxies are at reasonable rates
Cons:
Only one we found is that there is no 24*7 live chat support
Conclusion:
Webshare Proxy is the most affordable proxy provider on the market. The service is available for all types of web users as users can buy from 10 to 100,000 proxy a subscription fee. You can subscribe for monthly use of proxies from Cloud Proxy, Rotating Proxy, and Dedicated Proxy.
Within five years of Webshare.io Proxy launch, the service has gained massive popularity among web users. In the coming years, the service will be made available to more regions with more servers, and locations. Webshare Proxy is a highly recommended proxy provider for all types of web users.