Disc Burners are really dated pieces of software. Well, until you see the new DVDFab 11. It boasts a sleek and stylish interface and promises to be the fastest, smoothest and simplest of all DVD burners in the market. Here is a detailed review of its features.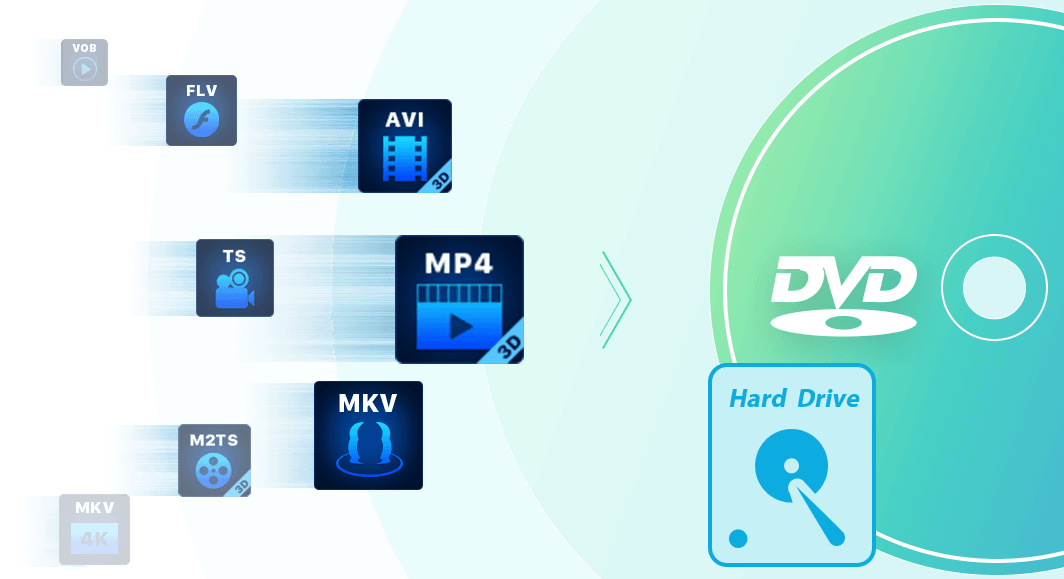 Features of DVDFab
DVDFab is almost omnipotent in burning all sorts of videos into every type of DVD or iso file/folder. This DVD maker can burn images, downloaded and camcorder videos as well as music onto discs. Support is available for the following video formats: MKV, MP4, AVI, M2TS, TS, MOV, WMV, WMA, 3GP, FLV, M4V, VOB, etc.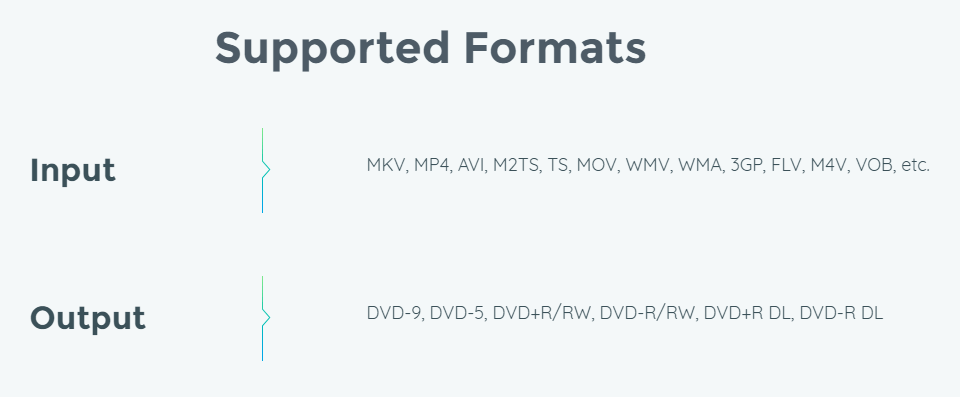 It is also flexible enough with its target. It can burn to DVD-9, DVD-5, DVD+R/RW, DVD-R/RW, DVD+R, Dl as well as DVD-R DL.
Its USP is that it allows users to add a menu to their DVD from a vast range of available built-in templates. It adds a customized and personal touch to your DVDs. The built-in templates are updated periodically and is adaptable to the skill of the user. You get the freedom of choosing the color of the pop-up buttons and text font, size, color, background, play and pause button choices, playback player choice and a lot more. You could save your new settings to make it your default template too.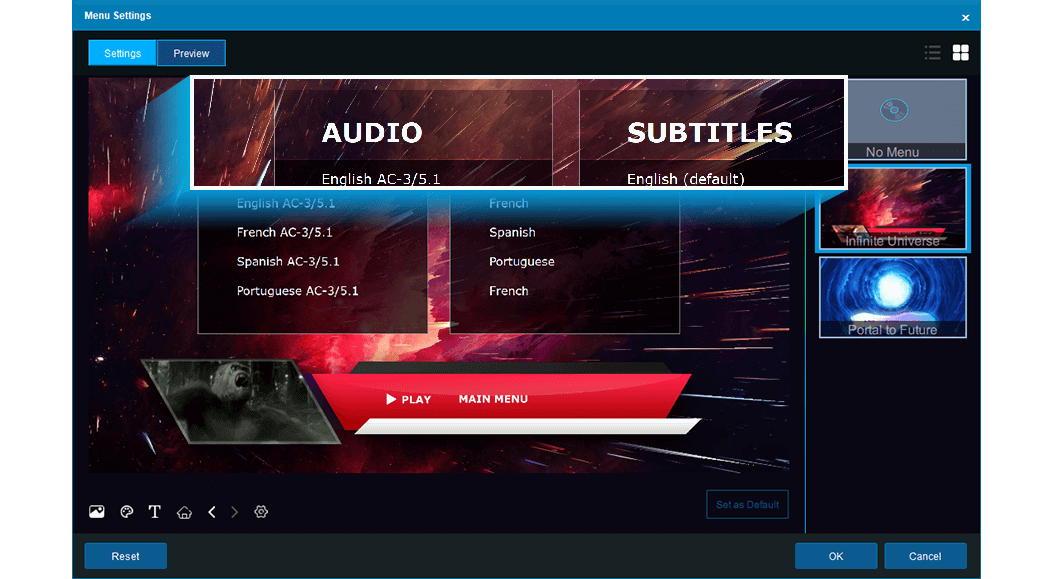 The disc burner is blisteringly fast. It lets you order your videos according to the sequence of playback. What's more, you could preview the playback in real time too.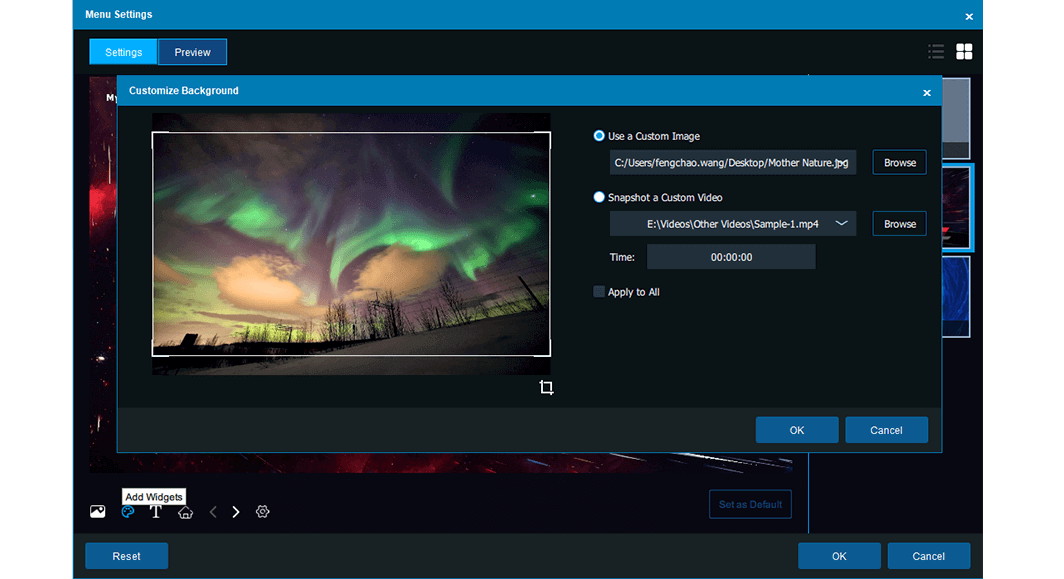 Since multi-threading and multi-core CPU's are in, it takes advantages of the hardware capabilities and is ergonomically designed to provide ample hardware acceleration.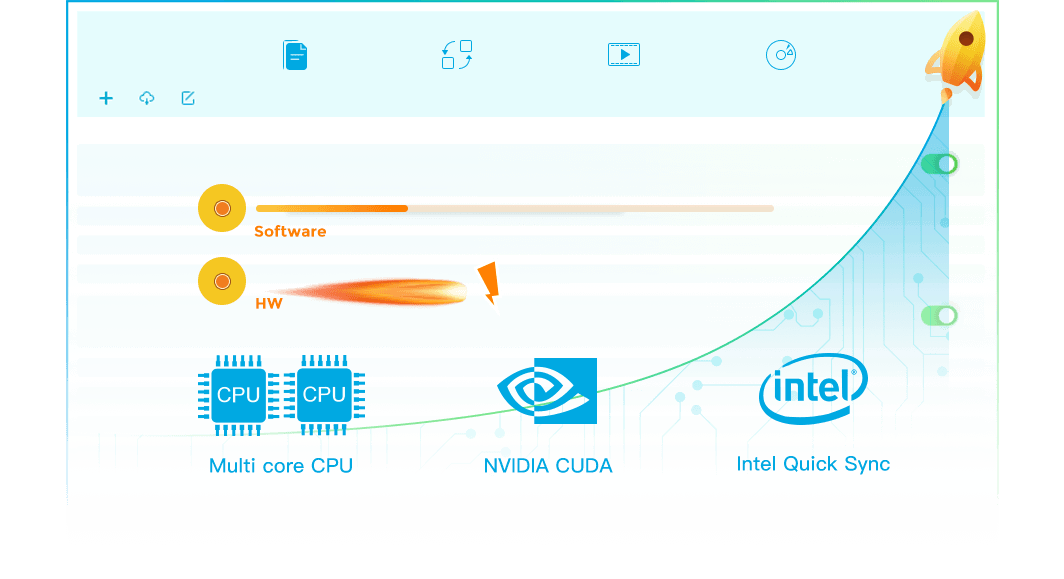 DVDFab also delivers quality-wise. The burning doesn't deteriorate the quality of the media despite the speed.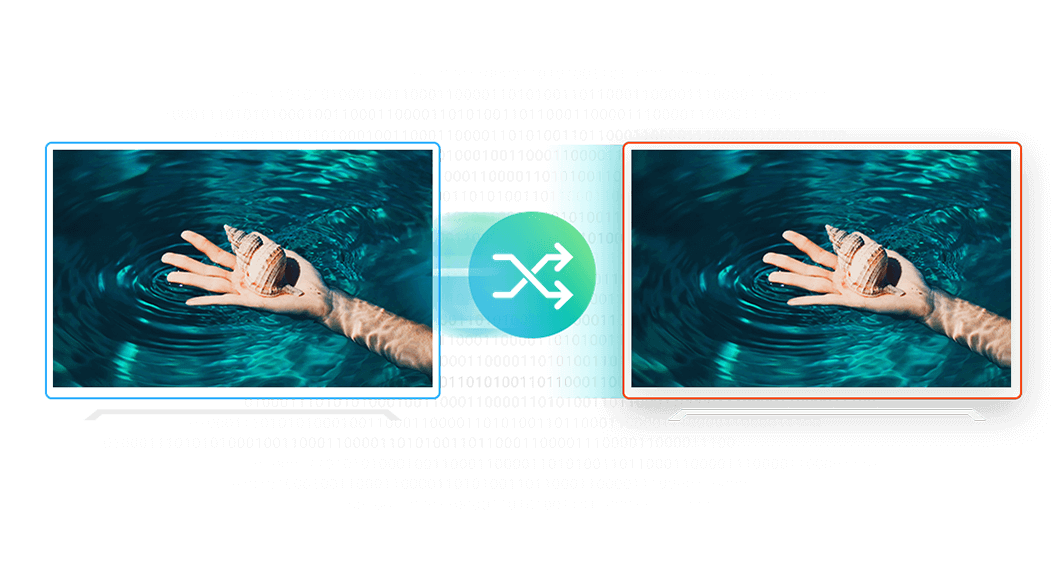 How to Use DVDFab?
The usability and interface of the software is deceptively simple:
Launch DVDFab by double clicking on the icon from your Desktop. Choose the Creator option and when it runs, click on the creator mode switcher to choose DVD Creator.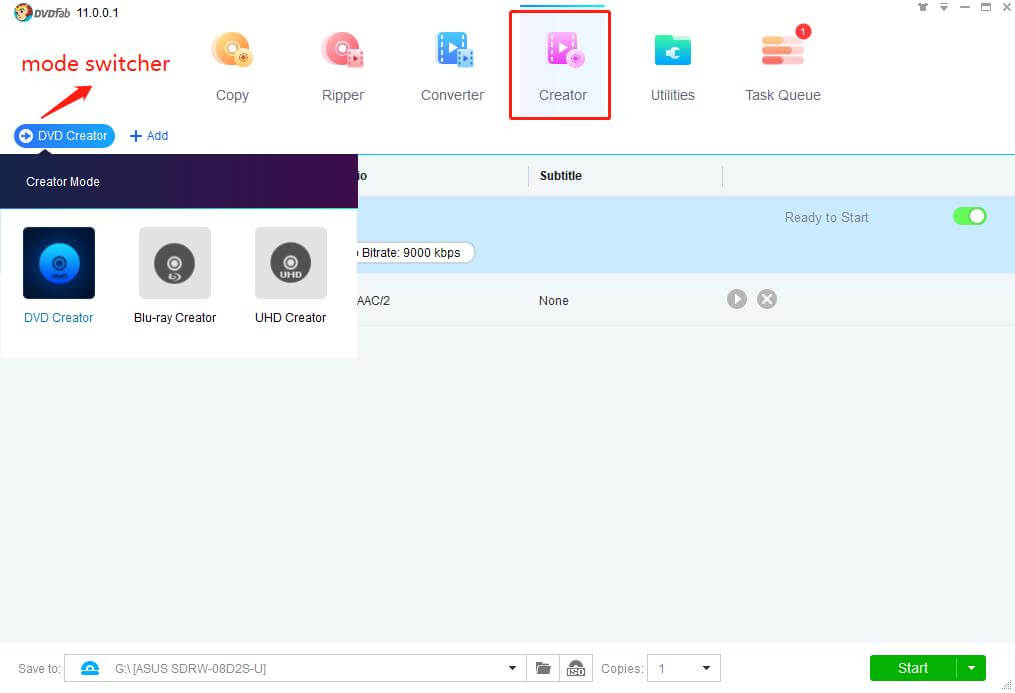 2. Load the videos, images or music files you want to burn by clicking on the Add buttons on the main UI, or alternatively, you could just drag-and-drop them into the same.
3. Decide on the appropriate output size and quality depending on the size of the DVD. Go on to click on the Wrench icon to choose the decided value.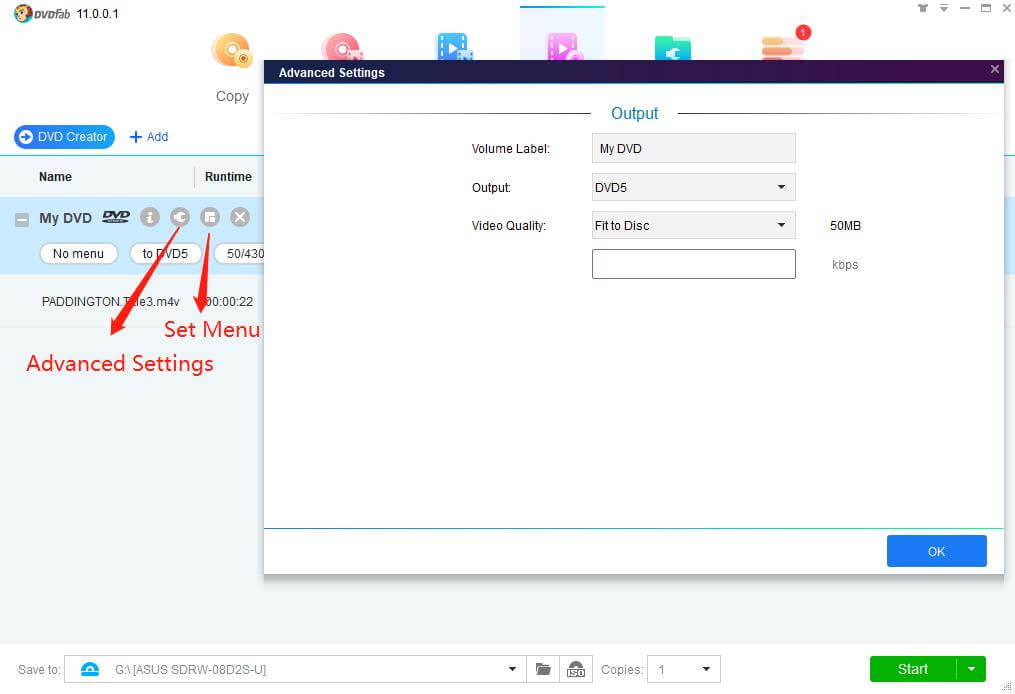 4. You could then customize your playback menu from the Set Menu option.
5. Select the output directory from the Save to part. Click the Start button to start creating DVDs from videos. You could find the progress from a detailed progress bar until the process is complete.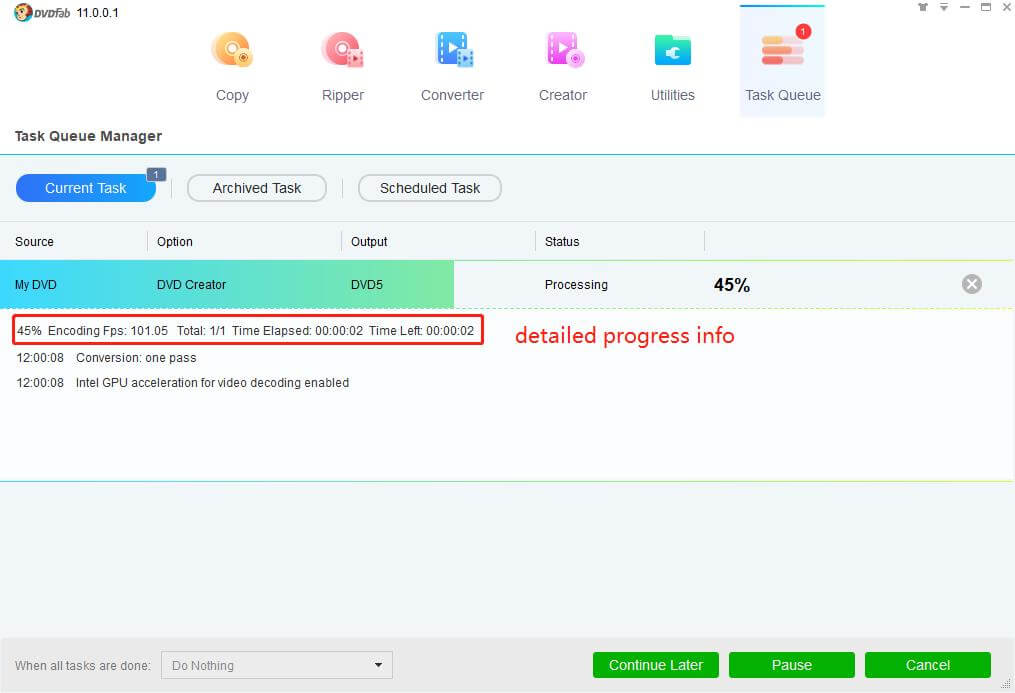 That's it! To ensure that the process has been completed without glitches, it is best if you preview the disc by playing it back in the DVDFab native media player.
System Requirements:
Windows OS 10/8.1/8/7 (32/64 bit), macOS 10.10 – 10.14, (Linux users can run the Windows version using Wine although it is not natively supported).
Processor: Pentium II 500 or higher
RAM: 2GB or above
Hard disk: 20GB or more free space required
A DVD drive
Internet connection for registration of DVDFab (one time only)
Pricing
The software suite is quite reasonably priced at $42.9 going by the features it offers. However, it is a big investment for many and hence I recommend using the trial version for free. If you find it suitable for your needs you can go ahead and make the purchase. Also you get additional discounts if you buy the Blu-Ray maker along with it as a bundle and you could save around $19. This is a very attractive deal as Blu-rays are really common nowadays and the only optical disks which offer full HD capabilities.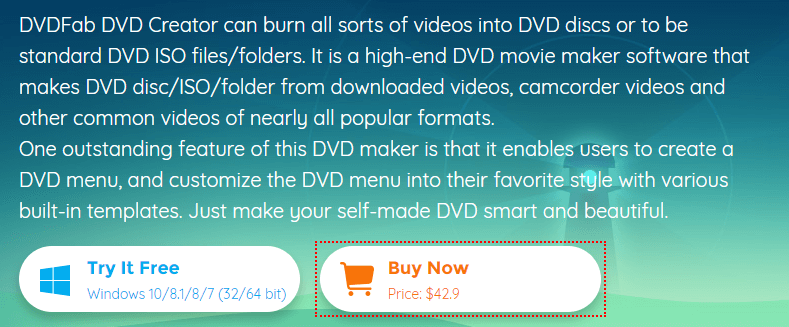 You could make the payment through the DVDFab official website. You will be directed to a payment portal which offers all kinds of payment options including PayPal and Credit and Debit Card payment facilities. Once you make the payment, you would be sent an e-mail with your registration key. Enter the registration key when the trial period of the software ends to continue uninterrupted service.
Purchasing the software gives you lifetime access to it and provides you with customer support and warranty.
Christmas 2018 offer
They are giving many products with 60% off with some cool freebies to win
Gift 1: $99.99 Amazon Echo 2nd Gen – Black (50 by Random)
Gift 2: 5-Computer License
Gift 3: $30 Amazon Gift Card
Play Quiz to Win Lifetime All-In-One
Answer questions, 1 per level, to win rewards!
A reward is set for each level, and each reward is bigger than the previous level,
with Lifetime All-In-One or 1-Year UHD Copy (random selected) for the final level.
Final Verdict
If you are a regular user of DVDs, you definitely need this to make your life a lot smoother. However, very few of us fall in the above category. Seriously, all kinds of discs went out of fad last decade, (except perhaps the jockey). So, for the rest, even if you are an occasional user, this would be a big and perhaps a little mindless splurge.