Yes, you heard it right, Making Your Product Reviews does bring $$$ and even more $$$$$. But How with SchemaNinja? I will explain you everything in the post below.
Friends, you may be having thorough knowledge about the concept of SEO, content writing or all the off-page and on-page techniques to establish your blog online. But a little extra effort is always needed to create miraculous influence of your blog on the internet users. This is what all bloggers want nowadays. And there is nothing wrong in that too, as you are here to earn money and more money by making your blog stand out in search engine rankings. So, why not do a little more by exploring about schema plugins.
The Schema is the next big and significant ranking factor for blogs as it gives your blog all that it wants in the very first impression. The search engines like Yahoo, Google, Bing, will display precise and informative data of your blog through images, rankings, star ratings, price, author, etc. This data helps through CTR by making it interactive along with a higher ranking of the blog in search engines. The schema structured markup data allows proper sharing and displaying of information on social platforms too.
About SchemaNinja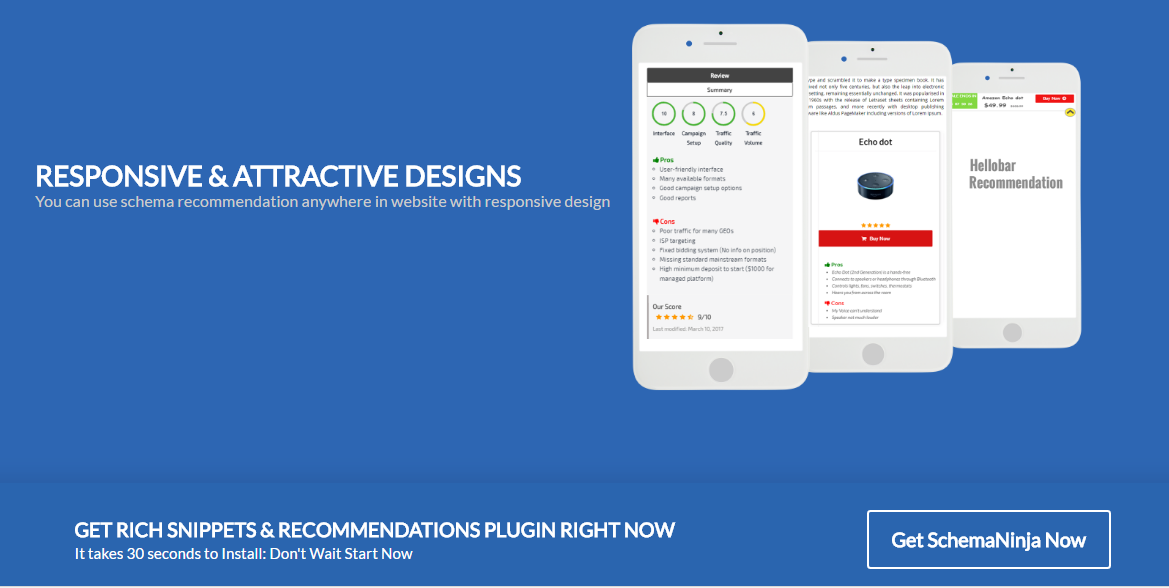 SchemaNinja is a highly perspicacious WP plugin that integrates schem.org text markup on your blog or website. It makes your product reviews and recommendations displayed on the search engine in a very efficient way. It is a free plugin which ca be downloaded easily from wordpress.org. It can be directly incorporated without any need of prior coding knowledge. Making Your Product Reviews bring $$$ with SchemaNinja is as easy as one can imagine.
The SchemaNinja software helps any website to rank well and make new conversions by helping in sale boost for every web page of your site. When you have already marked your pages, search engines start showing complete info in search results. But SchemaNinja rich plugin helps to reflect only particular queries with best attributes and will rise your CTR steeply. This will bring in $$$$$, if you use it smartly on your target audiences and send it to affiliate products, your offers or products, CPA, or on any niche you want.
Why spend dollars when you get everything for free by just installing a single rich SchemaNina plugin. It will be easy for you to break the paradigm and get the most engaging and interactive rich snippet plugin, which is the latest SEO trend. It is the most powerful conversion centered review and endorsement plugin for better engagements. Let's check out its features, and all the solutions provided free of cost.
Multifunctional features for:
• Star Review Generation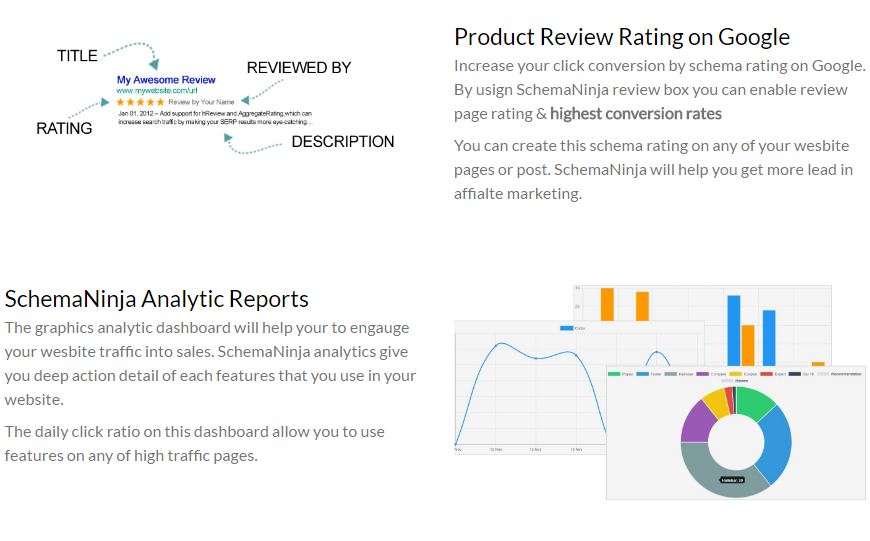 Correctly marked pages will display rich snippet detailed info in SERP. Star ratings will help to display results more prominently in search engines
• Content Recommendations
Create explicit recommendations for any content type on your blog and get high engagement
• Pop-up Recommendations
Make use of influential pop up animations to highlight your popular offers to grab audience's attention
• Footer Recommendations
Display 3 best product recommendations on the footer of you any blog post and convert it into sales
• Hellobar Recommendations
Welcome your visitors as soon as they land on your page with the help of Hellobar recommendation
• Sidebar Recommendations
Display the products and services on the sidebar of your webpage ad grab attention of users by using call-to-action buttons
• Top 10 Recommendations
Display top 10 products to the visitors, presenting the advance or basic features with suggestions
• Compare Recommendations
Create comparison tables for any product from any niche with the use of call-to –actions buttons
• Coupon Recommendations
Display best coupon suggestion anyplace on the website to create conversions.
• Expert Recommendations
You can create expert boxes of any number of products with their pros, cons, prices, and features
• Offer Recommendations
By using a shortcode, you can place offers anywhere on your web page to attract customers
• Analytical Dashboard
Provides reliable analytic report of every activity
For making your product reviews bring $$$ with SchemaNinja, SchemaNinja will itself help you to learn the following things:
How a beginner can turn its blog profitable with no online recognition?
How to gain more audiences for the newly or long established blogs?
How to earn money from a website with targeted traffic?
How to make more income with current affiliate offers on your blog?
How different themes work together to get more conversions?
The responsive and attractive designs works for every device and for everyone like you, me and …..
Bloggers
CPA and Affiliate Marketers
eCom Vendors
Product Vendors
Social Marketers
Freelancers
What users say after using it ?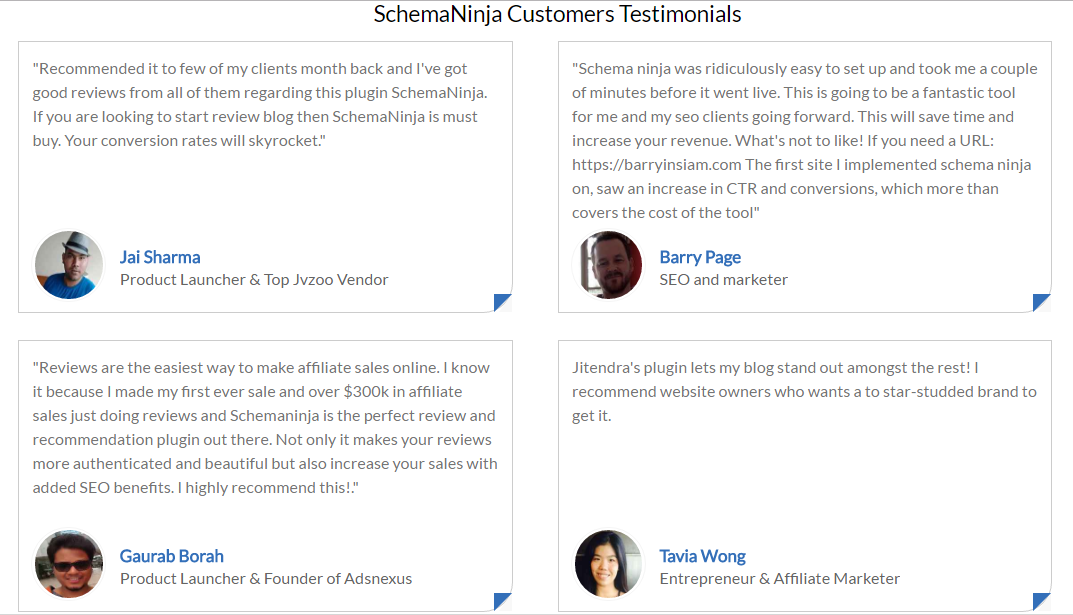 Overall if we see, then SchemaNinja is not only a plugin but an all-in-one power-packed productive solution to take you blog or website to the next level of perfection.
This free plugin is the ultimate solution for you blog which needs instant boost.
Hence, it proves that making your product reviews bring $$$ with SchemaNinja
About the Author
Vashishtha Kapoor @vashishthakk
Vashishtha Kapoor is a content marketer and a young active blogger from India who blogs at vashishthakapoor.com. With both eyes focused in contributing the web with interesting and helpful feeds, he contributes to many good blogs like Bloggingtips, BloggersIdeas.com & lot others.