WooCommerce is a highly flexible platform. You can even mold it according to your business requirements. Custom coding or several plugins can help you do so. However, you might have to compromise your website speed with tons of plugins installed on your website. For companies looking to digitize their B2B and B2C sales process, B2BKing is an awesome solution.
The plugin is known for its reliability and the capabilities it offers to the users. It can flexibly handle the job of tens of plugins single-handedly. Let's evaluate the capability of B2BKing plugin and see if it can be a great fit to your WooCommerce website.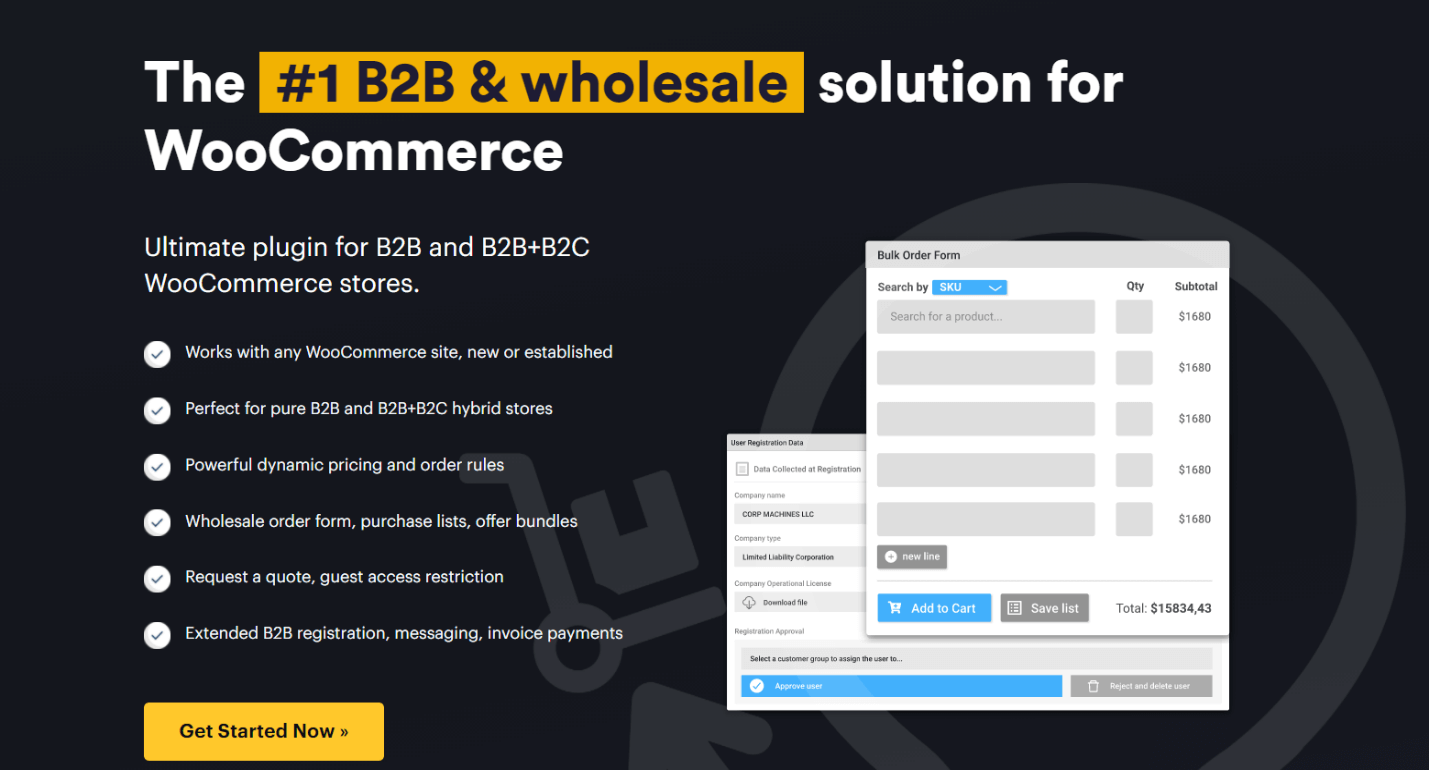 About B2BKing
B2BKing is a powerful, flexible, WooCommerce plugin powered with more than 130 features. It is an extension of your WooCommerce store. It can empower online business with B2C and B2B capabilities from mid-sized business and enterprises to entrepreneurs.
The abilities like offers, conversions, dynamic rules, groups, customers etc. allow B2B sellers to efficiently handle requests, serve partners/resellers/customers, and run their business. It comes integrated with WPML, making your store multi-lingual. It now handles 3000+ clients in 100+ nations.
So, is it worth installing or not for the WooCommerce store owners? Let's have a look.
Conversations
You can communicate with the resellers or allow them to send inquires, helping them communicate faster. By posting the messages/inquiries via conversations, your B2B users or administrators can easily broadcast their requirements.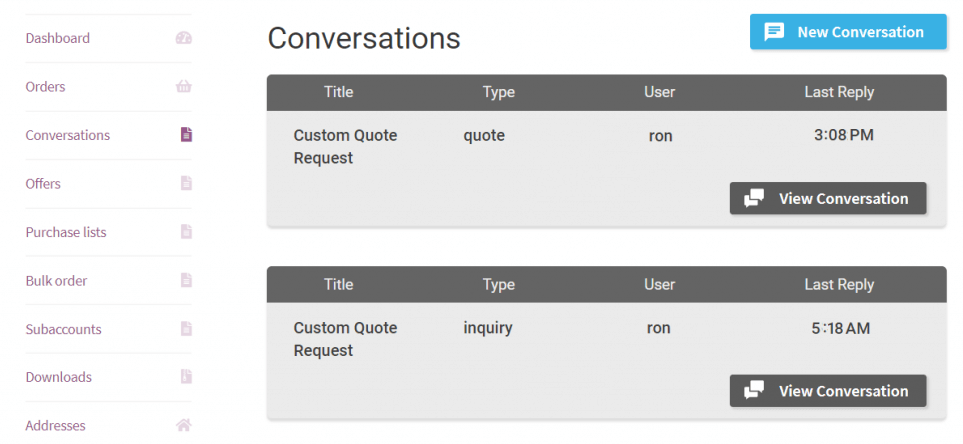 Others can also see the conversations and respond to them, improving B2B relationships. The negotiations, discussions, and fulfillment of urgent requests become easy this way.
Groups
As an administrator, you can control the visibility for various B2B and non B2B users in various ways using group creation functionality. You can categorize your store users in three different ways:

You can create business groups using 'Business Groups' section.
Go to 'B2C' section and create groups for 'B2C' users who are not added to any business group.
Similarly, you can create groups for logged-out users (guest users basically) from 'B2C' section. These users are the ones who have not signed in to your store.

So, the users can be assigned to each of these groups and given shipping, payment, and dynamic rights through rule creation.
Offers
This feature allows you to offer special discounts, deals, offer for a few business groups/users. For example: You can enable different pricing for a specific product or product bundle for a specific set of users. Isn't it awesome?
There are times when business want to specify different prices for specific users/groups or sell product bundles to some users/groups. This can be done through 'Offers'.
Bulk Order
Businesses have multiple resellers. A bulk ordering facility is critical for such e-Commerce Store. With this plugin, you can enable this feature in your online store. Your customers will be able to fill the bulk order form and specify products with their names and quantity. It will assist in faster order fulfillment.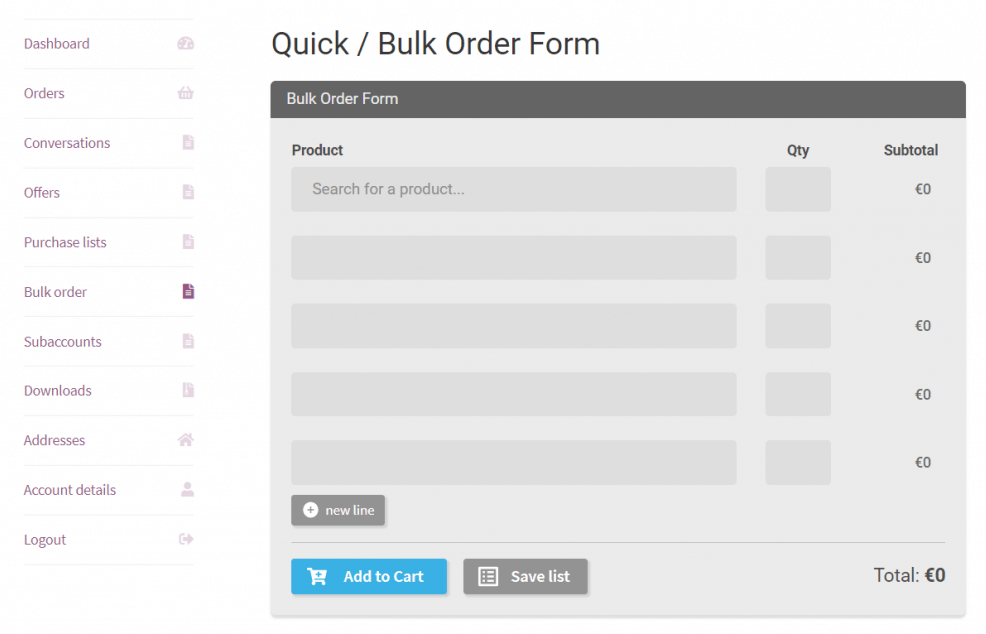 Set Dynamic Rules
Dynamic Rules is amongst one of the most powerful features of this plugin. Free shipping, discounting, tax rules, order amount limit, minimum order quantity, tax exemption, order quantity limit, and other capabilities can be added using dynamic rules. You can utilize these rules for conversations, groups, offers and other such features.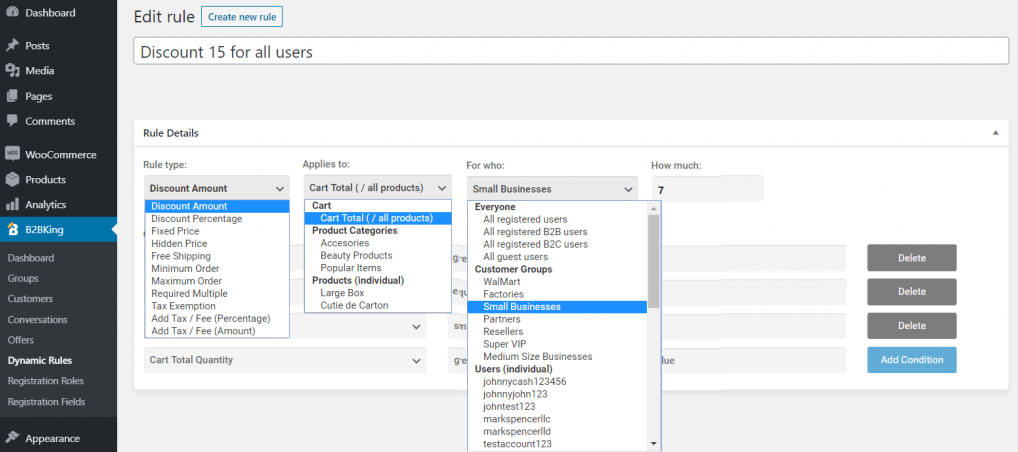 Access Restriction
Access Restriction is another interesting feature of this plugin. Administrators can easily restrict/control the visibility of their shop for different guests. You can hide the pricing of your products, force login, enable login, or add a 'get a quote' form instead of showing a price. It's up to you. This feature come handy in improving the prospect subscription rate. Without affecting your store's SEO ranking.

Over to You
B2BKing plugin is priced at $139. With 130+ features and such a dashboard complexity, paying $139 is a great deal. Yes, the dashboard is a bit complex, but a regular WooCommerce user will understand the complexities with ease and apply them on the WooCommerce store.
B2BKing is a wholesale solution for business. By just enabling a single plugin, store owners can access hundreds of features and expand their business. It comes with WPML integration giving you an ability to own an international store. Try it now!