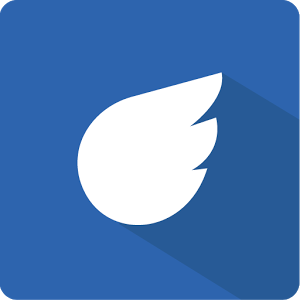 Yooii Studios brings up Photos sharing and Chatting Social media app named Swish. It has a unique Sharing and Chatting feature with Random users from any part of the globe. Swish supports Android Lollipop or higher versions.
It is different from Snapchat in which user can send Disappearing texts, Disappearing Photos, Disappearing videos .It allows you to upload your photos which are available to everyone using it. If a person ''Like'' your photo you can start chatting with that person. For each photo you send you will get a photo in return if you like that photo you can start chatting with person. Now let us explore the Swish.
Exploring Swish a Social Media App | Review
Whenever Swish is open for the first time it will give some information about the features like: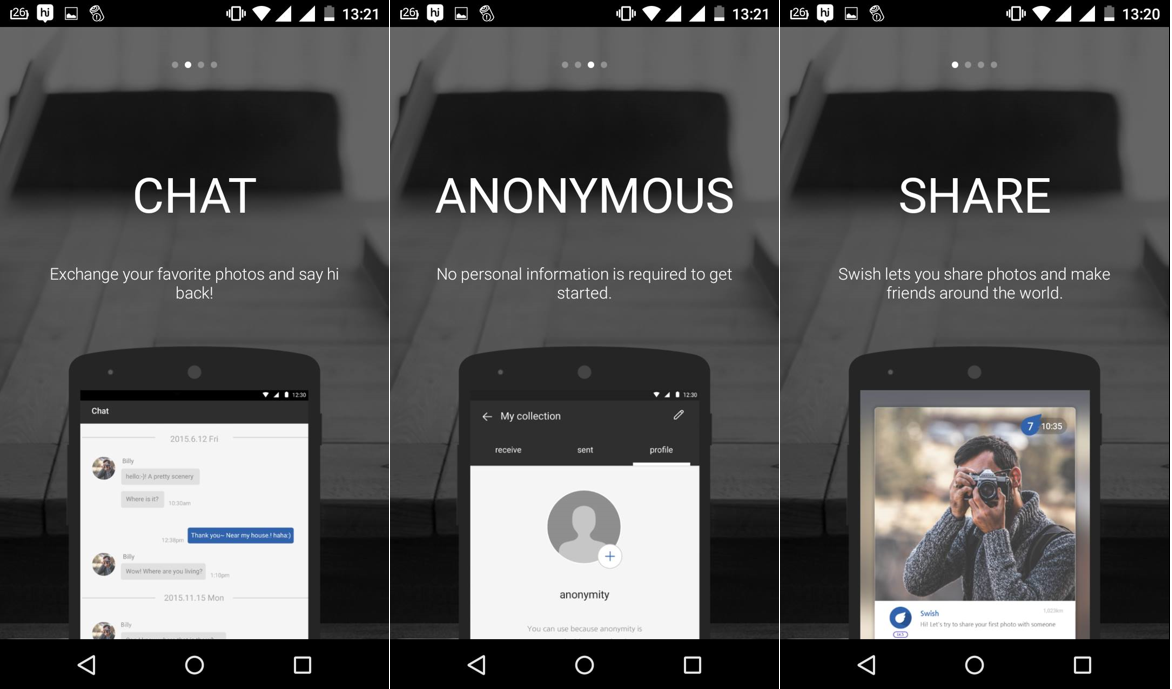 Like any other messaging application you have to create your profile with a unique Nick name (more than 2 letters) for you. Your profile is visible to a person who receives your photo.
After creating an account, you will see three options at bottom of the screen: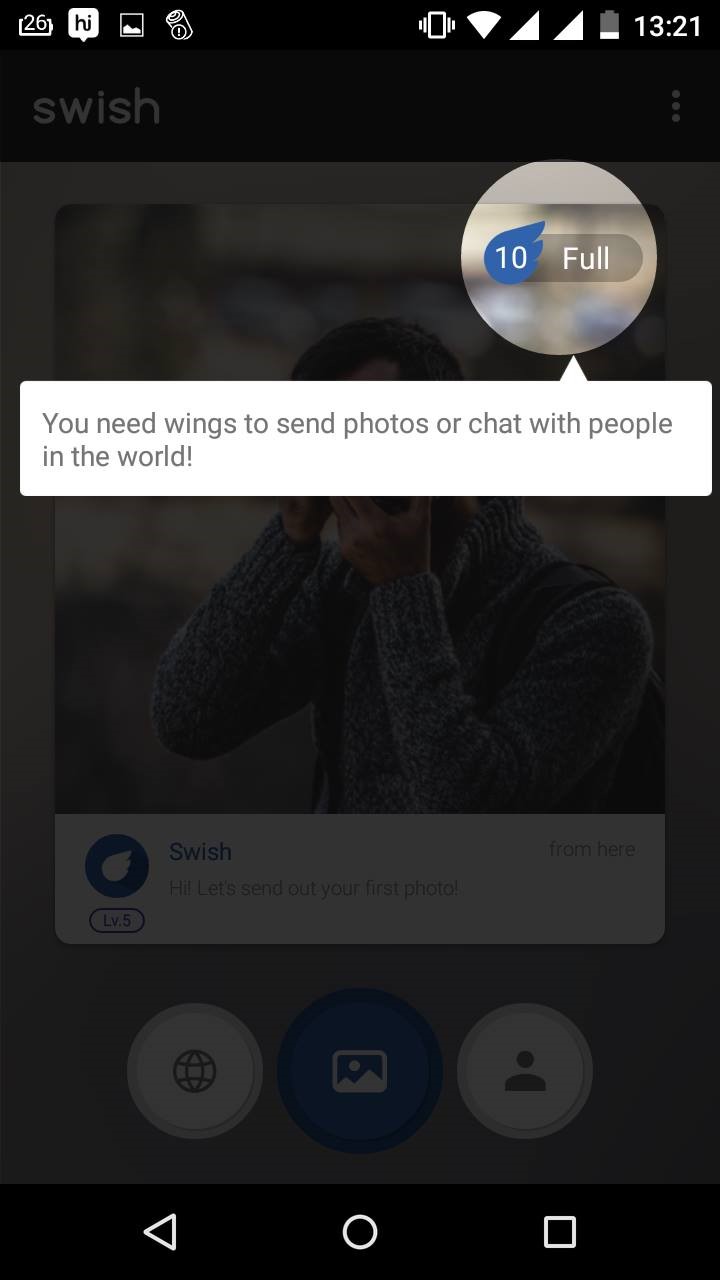 First one is Globe on clicking on that option it will open a page showing some clicks of user of Republic Korea.
The Second option is of uploading pictures (in middle) .On clicking that option your photo gallery will get opens you can select multiple picture at a time .After selecting the pictures you can add some message to that picture you can also add some cool effects to them like you can do some drawing on them, you can add some filters like a breeze , bubbly ,dawn ,fair etc. , you can also add some really funny Stickers. Available stickers are very good but if you wish more you can buy from in app purchase option starting from affordable price. Each time you upload pictures you will receive photos from other user, you can either like them or not. If You like them you can start chatting with that user but on the cost of 1 wing or buy watching free ads. You can also visit their profile.
The third option (last one) is of My page in which you can check your Received and Sent Photos. Swish automatically organized both incoming and sent photos and keep a track of the location of every incoming photos .Unlike Snapchat photos sends and received will be always there in your account. You also have your profile option there. You can edit your profile in settings option you can upload your profile pic and you can write something about yourself in about option. The interface is neat and clean not so much messy and not so complicated maintaining privacy.
Features
Swish is a Different type of Photo sharing and chatting application which allow user to chat with random users from different parts of the world. Swish automatically organizes both incoming and sent photos and keep a track of the location of every incoming photo hence it will be very easy for us to keep track of each photo sent and received. We can also easily find out senders of different photos. It automatically alert if someone like your photos so you can instantly start chatting with that user. On a whole, this app is a gift for photographers. Swish provides a platform for different photographers to meet different photographers from all over the world and sharing their photos it gives these photographers to improve and to learn. Swish also allows you to share your photos to social media with one click which is pretty cool feature.
In App purchases
Swish is a free Social media app you can download it without paying a penny but you need to spend money for some in app purchase to unlock some cool features and stickers.
Final Verdict
Pluses
1)Swish is a Social Media App like Rando, Date, Random Chat, Pen pal etc. Swish is looking far better than its competitors.
2) Its is a very neat and clean app with pretty cool and attractive user interface, there is no report of lagging or crashes of the app and it works fine on my phone.
3) Uploading and editing of photos are fast with some cool editing features.
4) Feature of tracking incoming photos on world map is very impressive.
Minuses
1)It does not support direct click from camera.
2)Concept of wings for chatting is quite annoying because once you run out of it you have to pay.
If you are a photo loving guy who loves to click and explore photos, this app is for you, you should download this app to explore the world of photos.
For whom this android application is better suited?
Swish is highly recommended for photographer. Don't think just go for it.
Other products of Yooii Studios
Mouse kit, Morning kit, Sketch kit etc.