Playster is an all-in-one entertainment app that lets users enjoy music, movies, books, audiobooks and games, all in one place. Playster is not a free service, but the various plans they offer are all very affordable. Plus, all new members can enjoy a free 30-day trial and, perhaps best of all, Playster is accessible on virtually all devices via custom iOS and Android apps.
Playster Features
What will you get if you sign up for Playster?
1. Unlimited access to music, audiobooks, books, movies and games.
2. Millions of albums, books, movies and games, ranging from classics to hot new releases.
3. An offline mode that lets you enjoy all of Playster's content without an Internet connection.
Playster Interface
Here's a preview of what the Playster app looks like and some of its coolest features.
1. Here is a snap of the app's welcome screen.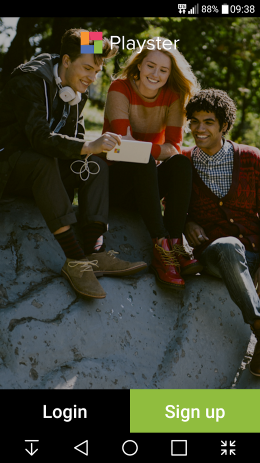 2. After the welcome screen, users have to register to enjoy Playster. Easy signup options are available. Users can register through Facebook and other social media platforms.
3. Once users have signed up, they will see this home screen, which displays all of Playster's various media types.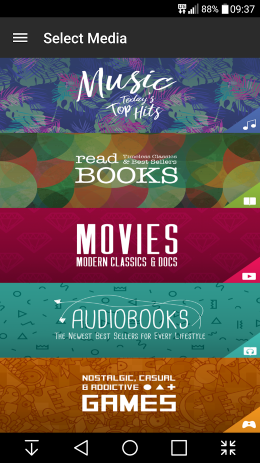 4. Users can listen to music and audiobooks, read books, watch movies and play games by simply clicking on the media they're interested in on the home screen.
5. I clicked on music and was presented with all kinds of genres and playlists, like upbeat and peaceful. Users can also browse by artist, song or album title.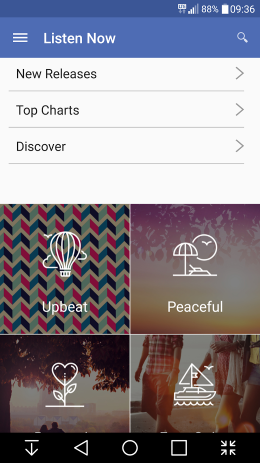 6. In addition to carefully curated playlists, users can also make their own playlists and save content to enjoy later, even without an Internet connection.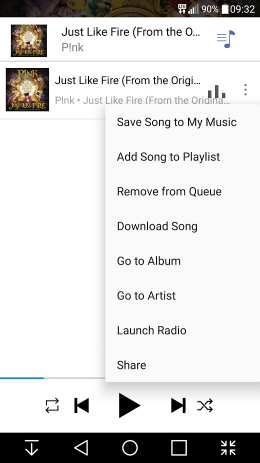 7. All of the same features are offered for books, audiobooks, games and movies!
8. Visiting the settings page, users will see many options, like offline mode, Wi-Fi mode, saved data options and more.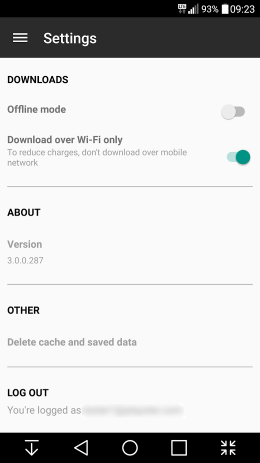 Playster Plans
Below is a list of the different monthly subscription plans offered by Playster. Single media types (music and books/audiobooks) cost $9.95 per month while an all-inclusive membership is $24.95 per month. What's more, signing up for 12 months of the all-inclusive plan gets users a free Combo Box, which comes complete with an Android tablet and headphones. If you pick this option, you will only be charged $24.95 each month and will not have to pay any upfront fees!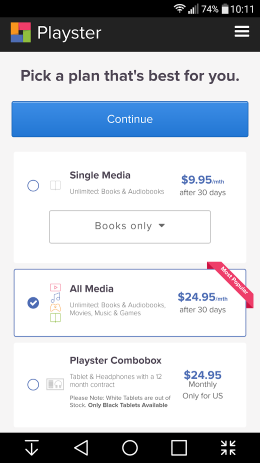 Final Words
Before you decide on a monthly subscription, Playster will let you try out the service in full for free for 30 days. To help you even more in making your decision, here are some pros and cons we noticed while playing around with the app.
Pros
1. You can start with a free 30-day trial that lets you access Playster's full catalog.
2. It is an ad-free service. Even the free version does not have ads.
3. The collection of songs, movies, books and games is really huge.
4. The UI of the app is very easy to understand and master.
Cons
1. Sometimes the app lags while streaming movies.
2. Some users have reported technical problems with older versions of the app (but these can be easily fixed by updating the app/installing the newest version).
Personally, I enjoyed my experience and would recommend the Playster app to anyone who loves having entertainment at their fingertips. Give it a try and be sure to share your thoughts with us by commenting below!