People have different aims and they want to pursue their own aim with perfection and commitment. Athletics is not a simple sport and it requires a lot of hard work, commitment and practice to be the best athlete and to get a chance to perform in the actual sports arena. Every year lot of enthusiast athletes try to reach their goals with their hard work and confidence. But, many of these athletes would face the problem when it comes to the financial part of the training.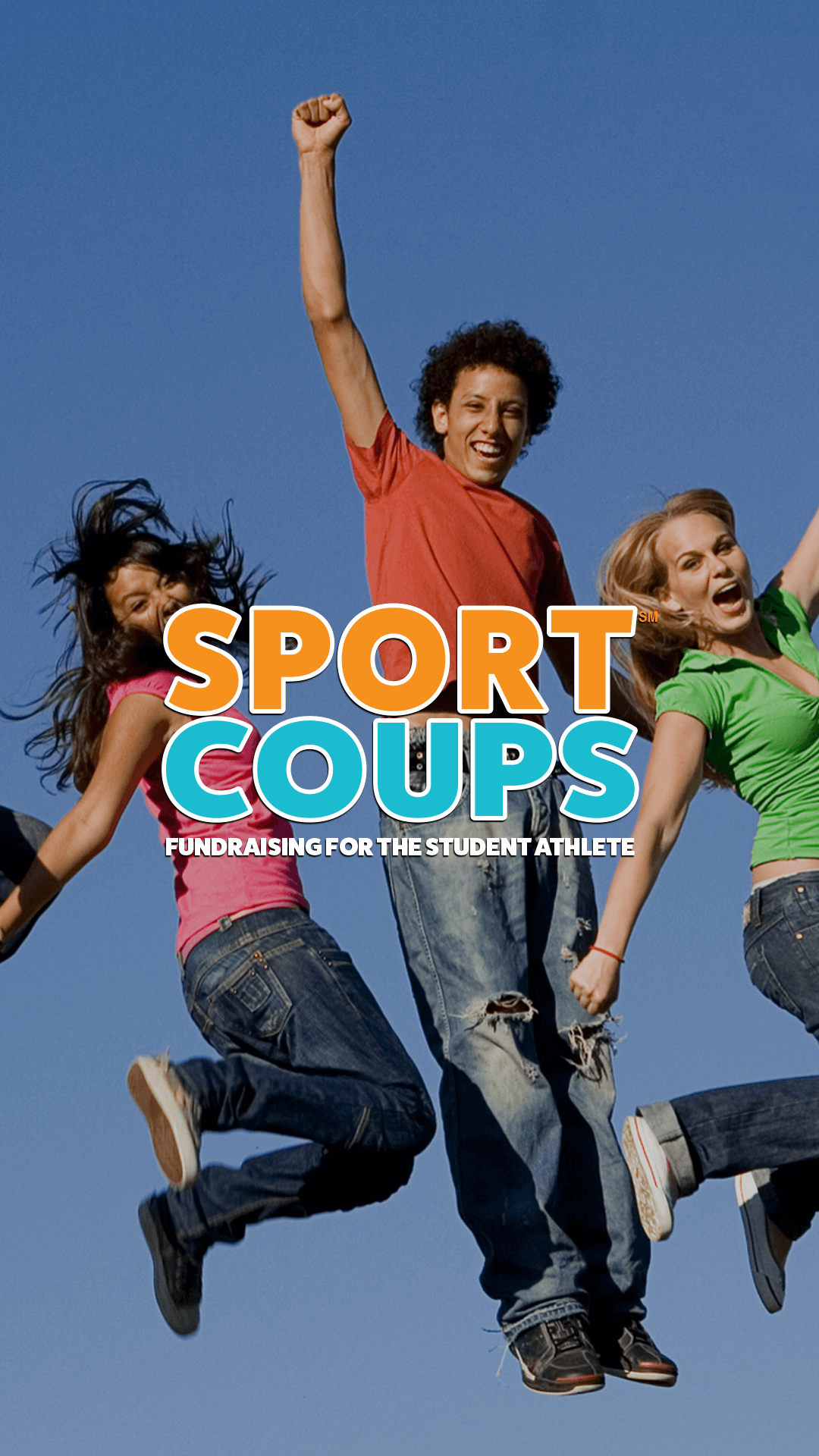 Athletics requires a lot of specialized merchandise in order to give the best in the competition and to train well for the arena. Athletes need to pay their training fees, buy the equipment, uniforms and traveling for tournaments etc. which gives financial burden to the athletes. In order to help these athletes, SportCoups is a mobile application which helps them to raise funds to their needs.
On usual days, athletes has to do lot of hard work such as visiting door to door for funds, standing in front of the supermarkets to ask the customers to help them to raise the funds for their athletics equipment or fees or seeking family members support to get their funds and sometimes, athletes also work on restaurants or supermarkets as a part-time employee to raise funds to their fees or other needs.
SportCoups was indeed created to solve these problems of athletes which give extra hard work to their daily routine to reach their goal. They came up with an idea to launch a mobile application to raise funds for athletes directly for the mobile without any hard work. This resulted in the launching of SportCoups mobile application which helps the athletes to raise the funds for things like training fee, to buy equipment, uniforms, travel expenses for the tournaments and camps etc. It is a free dedicated application to help the youth and student-athletes to raise money to their sport related requirements. They can raise money through donors called as fans in the app who can, in turn, get access to many coupons from the application.
Key Features of Sportcoups
The features of SportCoups are mainly targeted at the athletes and their donors to raise funds and donate funds along with getting mutual benefits to each other. Here are some of the features available for Athletes and Donors in the mobile application.
1). Features for Athletes
As the application is indeed targeted at athletes there are quite interesting features which are aimed at providing the best services to the athletes. Before accessing the app features for athletes one need to register as athletes in the app with the appropriate details. Once the registration is complete, it leads to the interface for athletes where they can create fundraising events. This is the attractive feature as athletes can start individual fundraising events to attract his donors to donate money. It helps them to raise money immediately to the sports-related requirements. All the athletes can start or close their fundraiser whenever they want and access the money and coupons.
Another interesting feature of this app is to, share the fundraising event is the option to share the event with other applications and through social media. Athletes can share their funds all over the social media and campaign there to raise funds for their needs. They can also the event with family and friends through text and email. Athletes will get the alert or notification every time someone makes any donation to the fundraiser event. Another unique feature of this app is, it allows the athletes to view the previous fundraising events and also provides statistics related to the fundraising events.
2). Donor features
Though this application is targeted at athletes for fundraising, this application some of the great return to the donors as a donation is the special ability and it definitely needs appreciation. Whenever donor makes any donation to their favourite athlete, they can get access to the coupons that can be used to buy other materials to their needs. They get access to hundreds of coupons that can be searched by categories and also they can be sorted based location of their wish. All these coupons can be accessed directly from the mobile in-app without any difficulty.
How does it Work?
1). The working of this application is as simple as using a social media application. The athletes have to initially register in the application with proper credentials. I've tried the app myself to raise fund for buying shoes for my upcoming soccer match. Let me show you how I did it step by step for you guys to understand.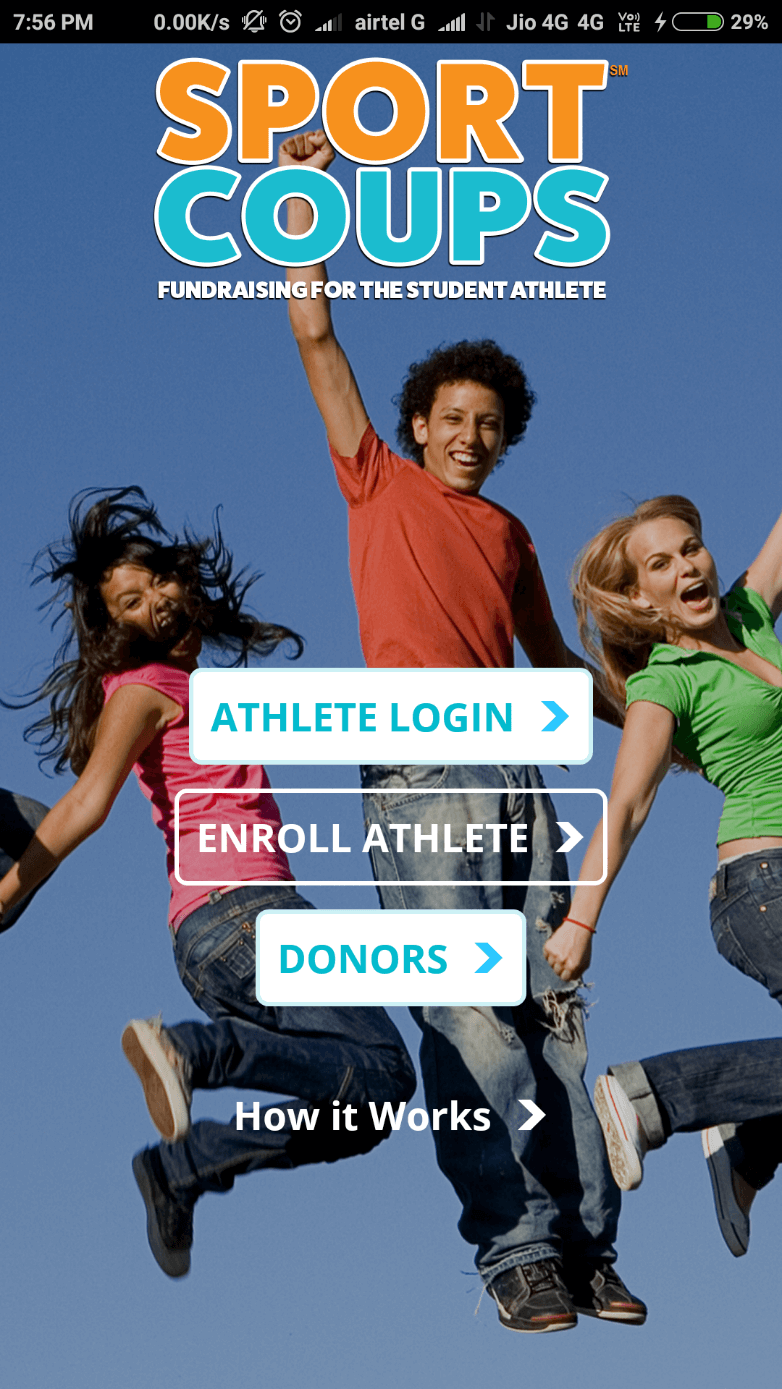 Before logging in, first you should enroll as an athelete which you can do easily by clicking the ENROLL ATHLETE button.
2). You should enter all your details like name, email, phone number etc as shown in the below screen: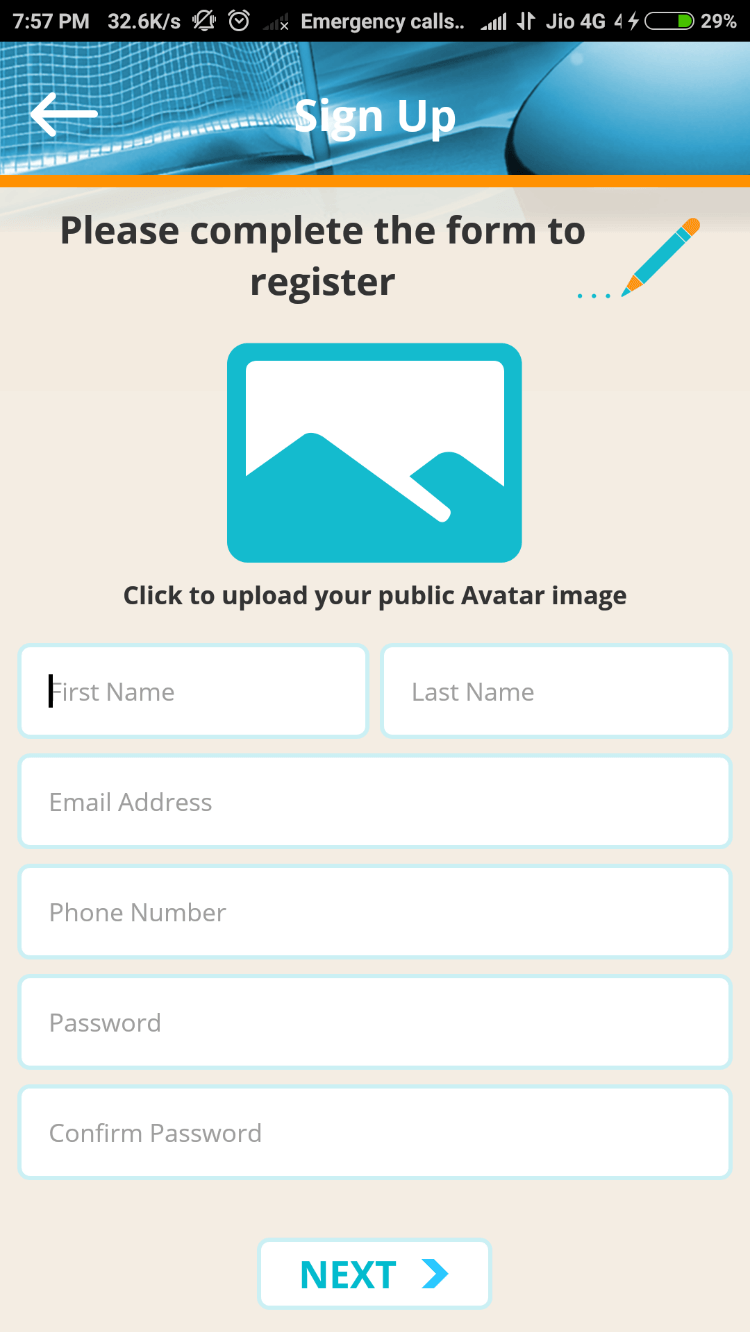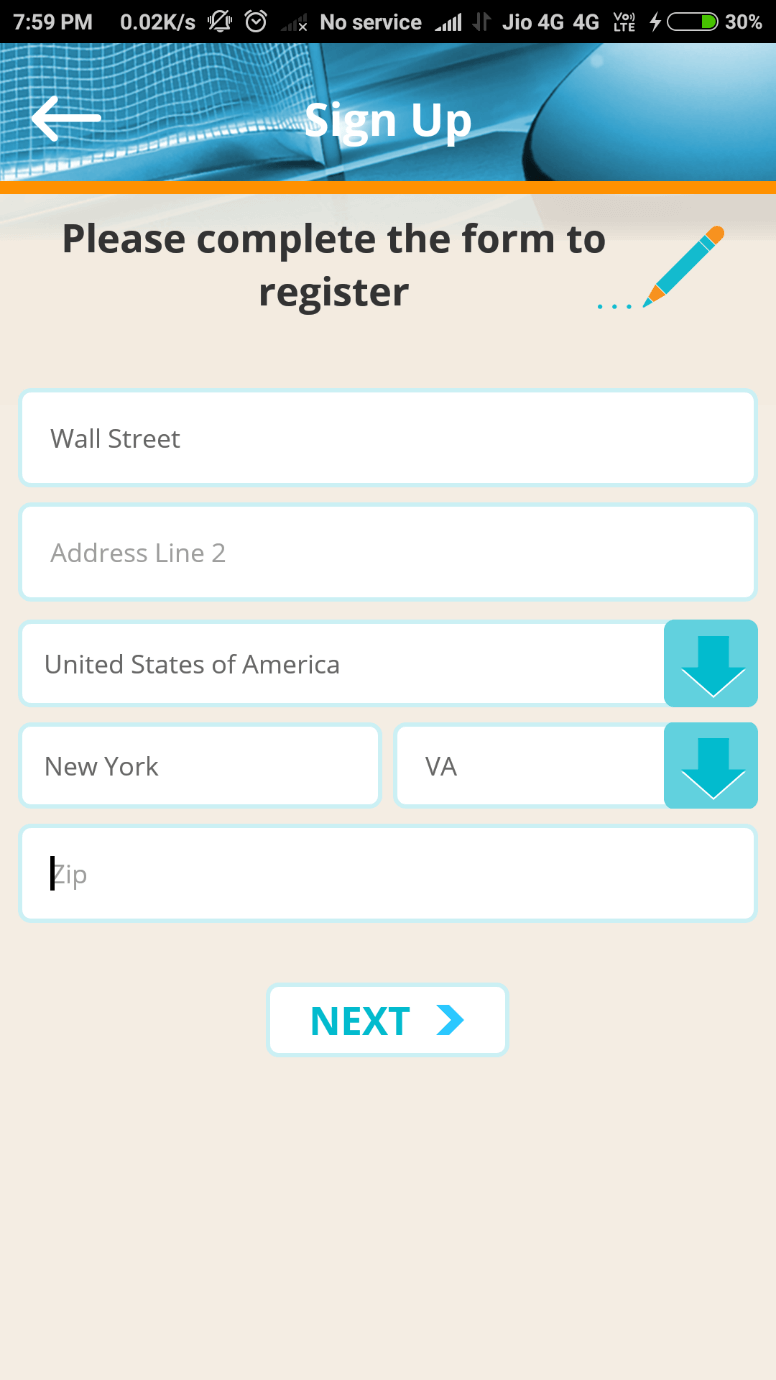 3). Once after filling, you will be prompted with their terms and conditions page which you can read through and accept it.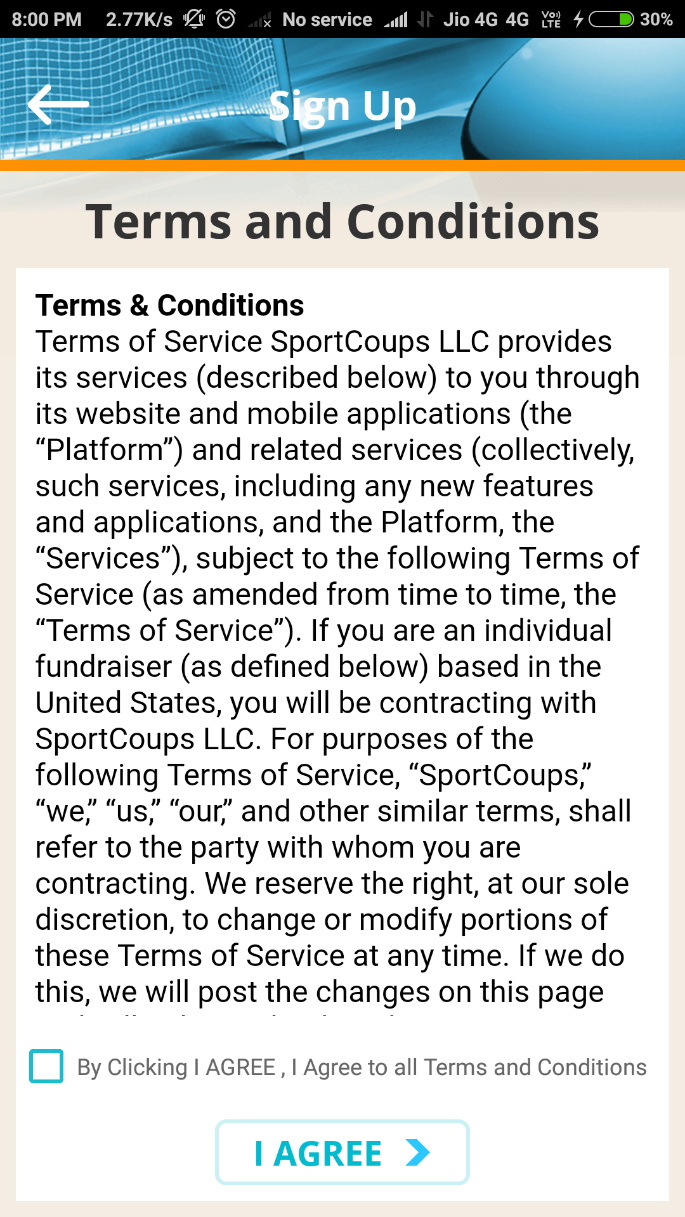 4). After signing up, you can sign in using the credentials through the login screen.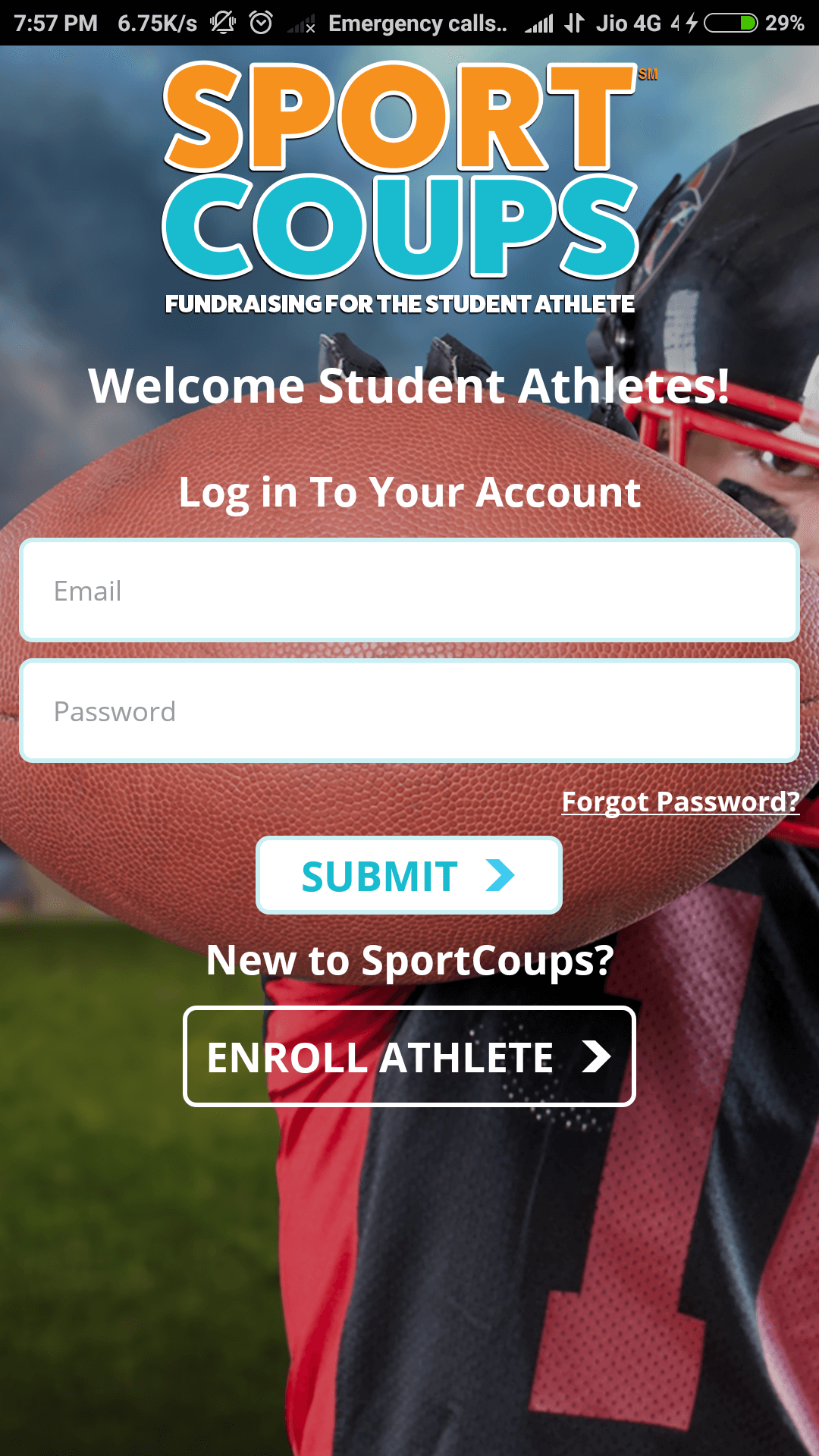 5). This application got these many options from creating a fundraiser till managing it as shown in the below screen.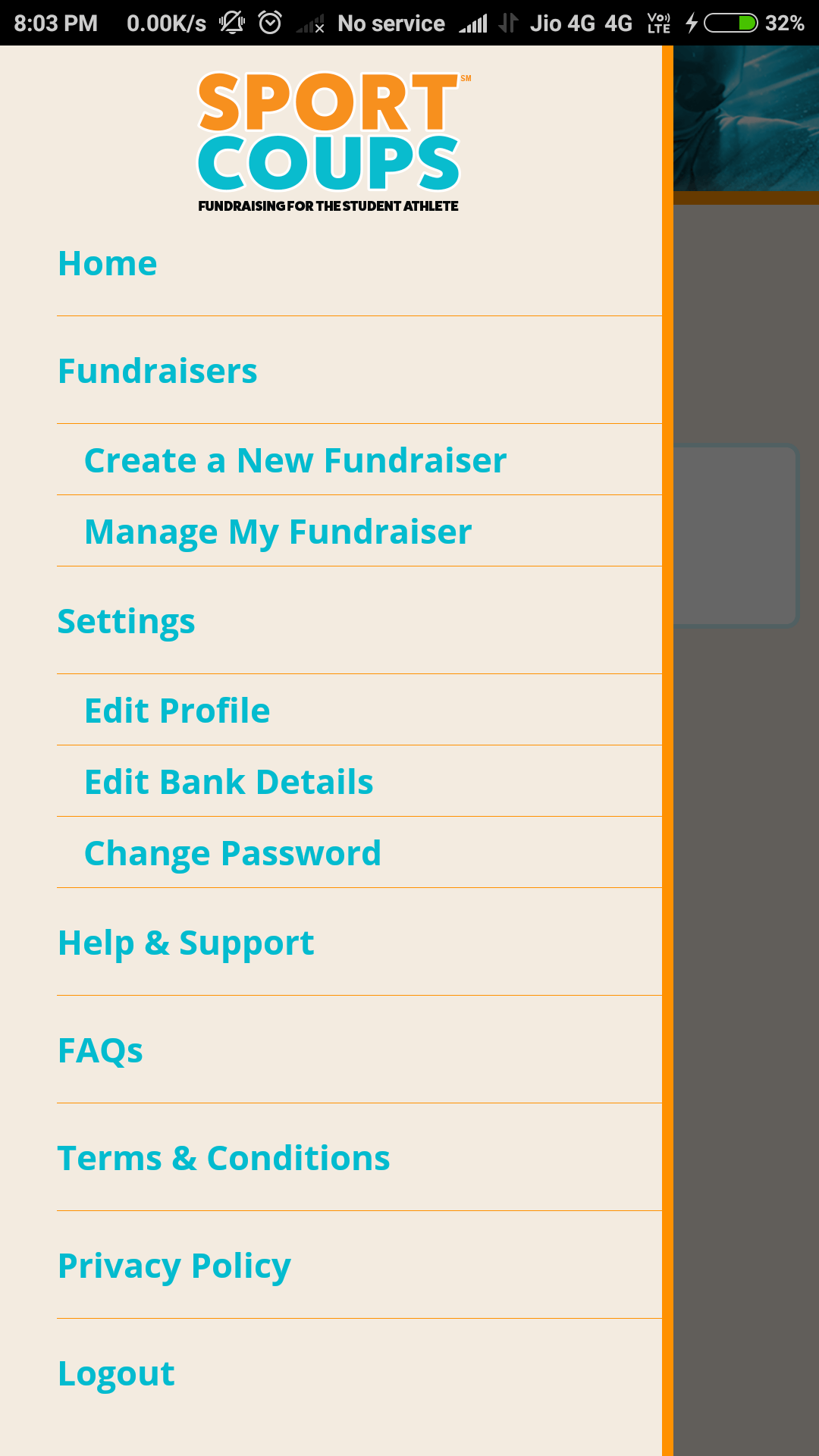 You can edit anything by going to this menu.
6). You can start creating your fundraiser by clicking the "Create a New Fundraiser" option in the menu. You will be shown with the below screen: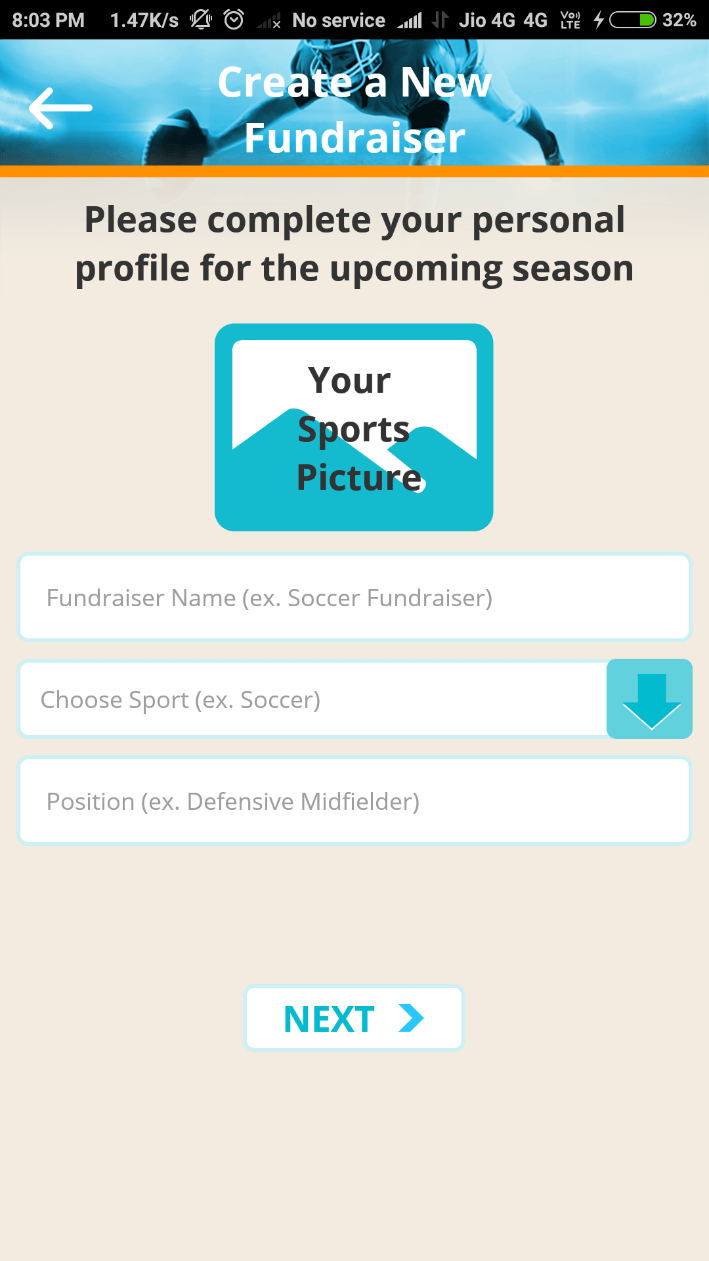 You can give some proper name for this fundraiser, choose the sport and the other fields appropriately.
7). Once after filling, you can click Next to go to the next screen where you will be asked to fill the school details as shown below: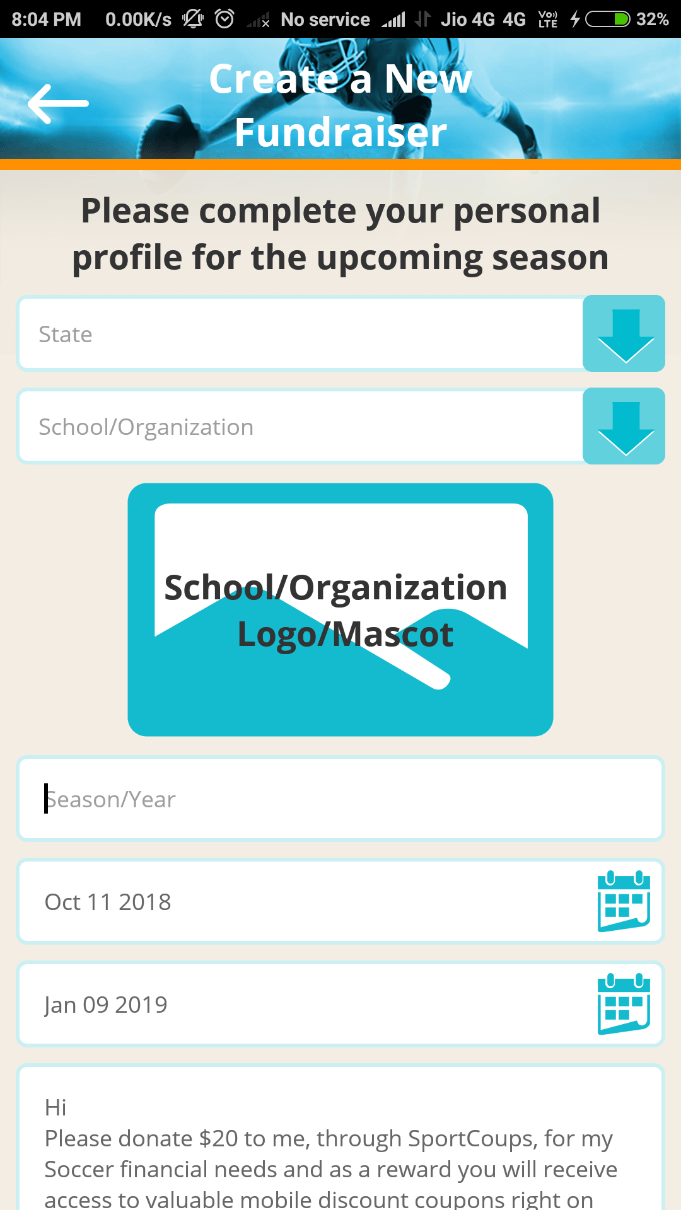 8). That's it! You can created your Fundraiser successfully!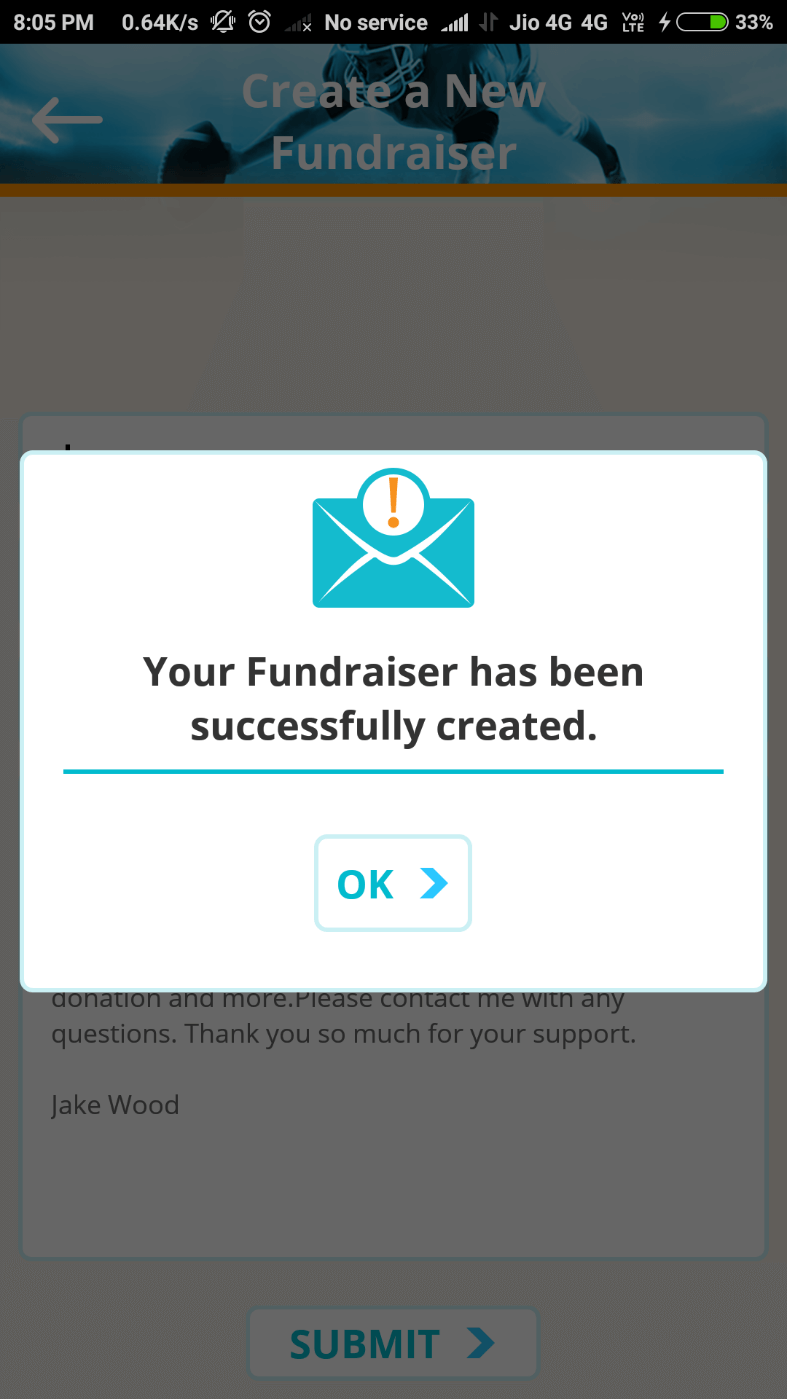 9). You can view the fundraiser details in a single image as shown below: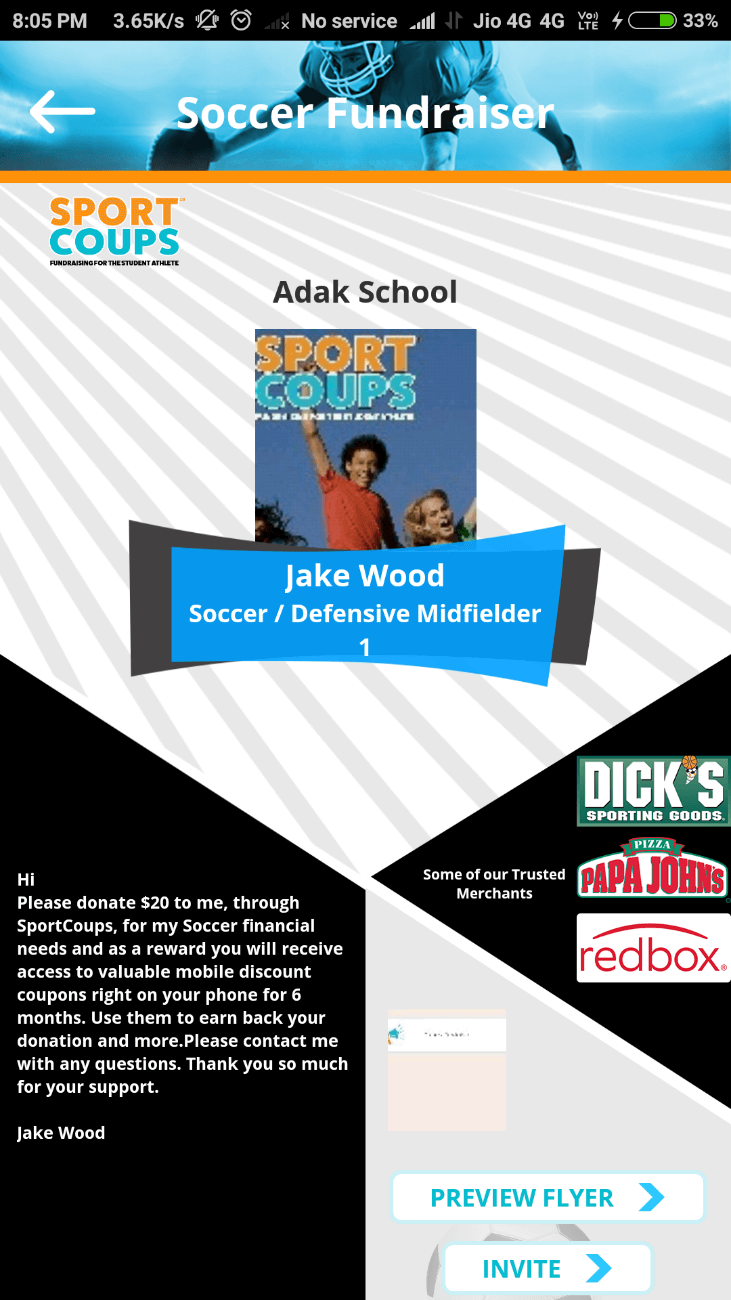 You can see all the details of the fundraiser which you have created.
10). The next thing is to invite your fans for donating for you. But before that you need to add your bank details to the app so that you can get your funds directly into your bank.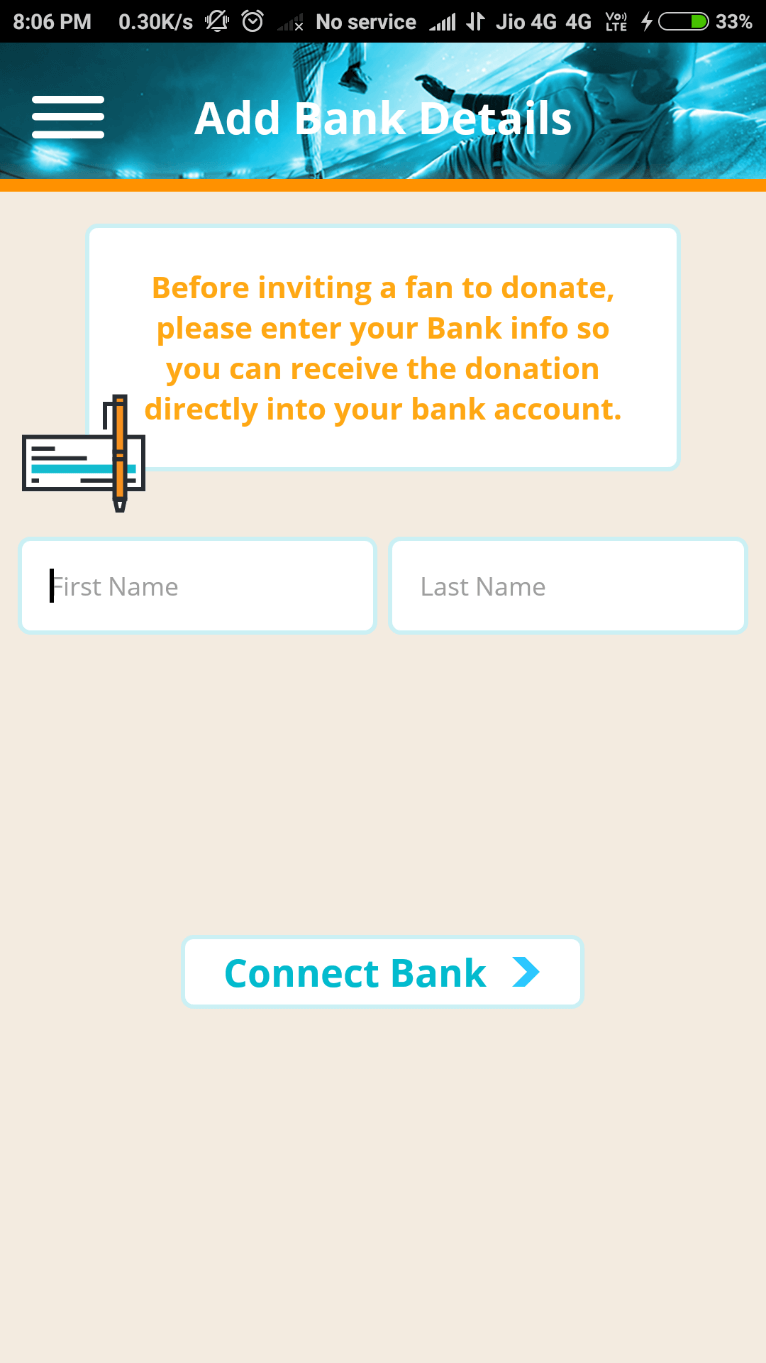 Just enter your first and last names and Click "Connect Bank" button to go to next screen.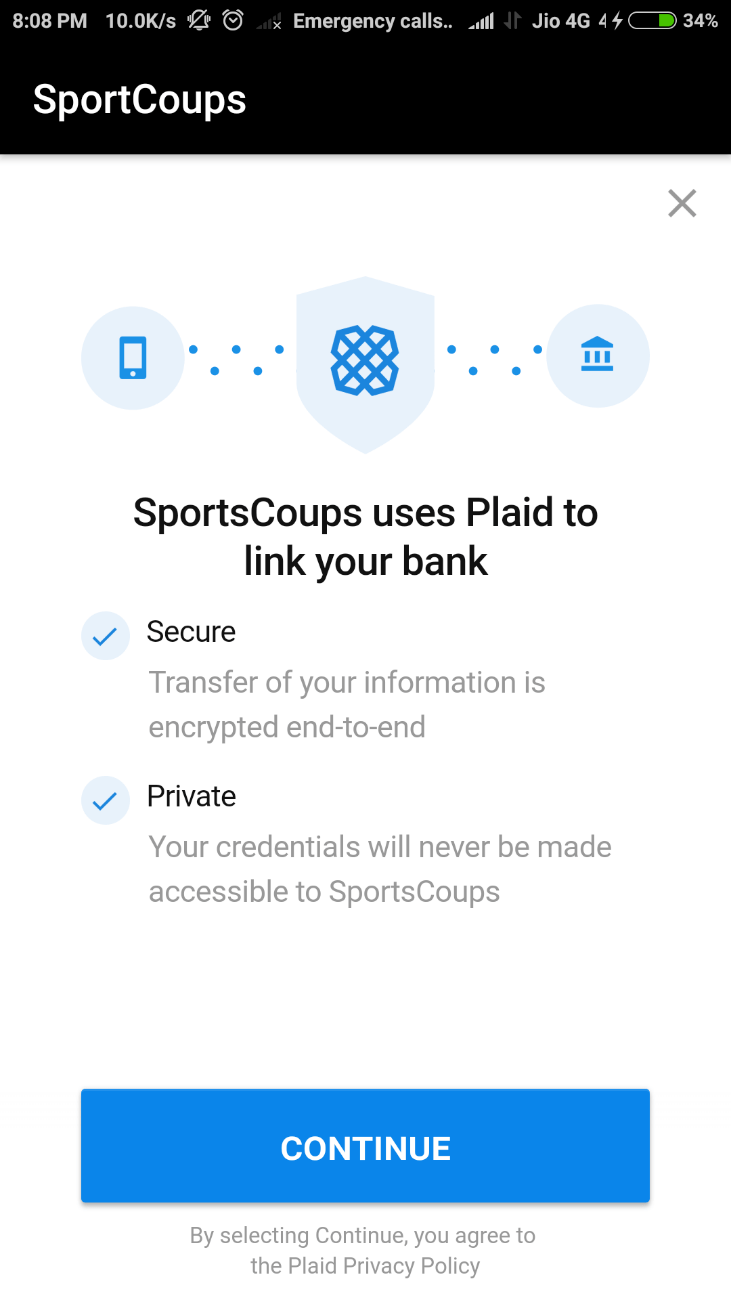 11). You can invite all your fans by clicking the INVITE DONORS button.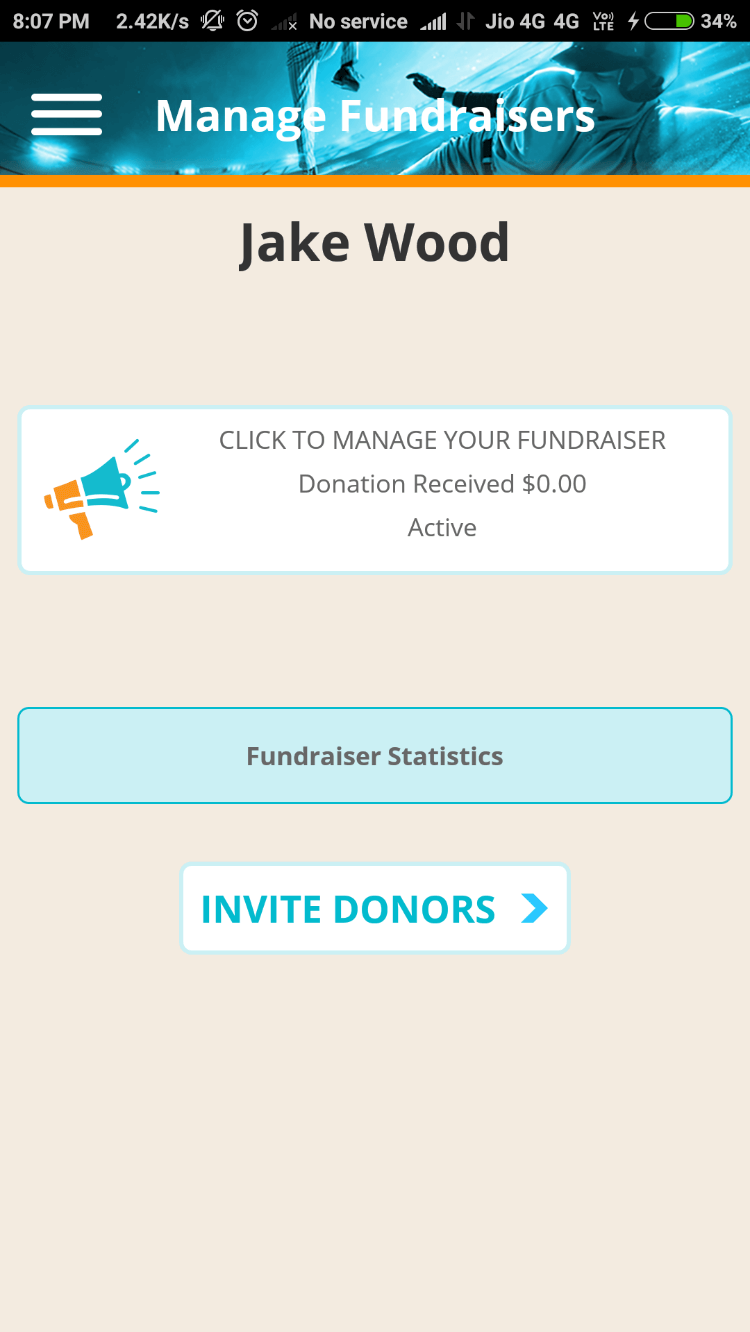 12). You can invite the donors or fans through platforms such as text, email or even through social media websites. You can start or close fundraiser whenever they want.
Donors have to be invited by athletes to donate money to them. They also have to register in the application as donors as all the rewards and coupons can be accessed through the app. Once the registration is successful, the donor can make a donation to their favourite. With each donation, donors get coupons which can be used right from the mobile. These coupons can be sorted based on the categories and location.
Pros
Easy and instant fundraising events
Notifications for each donation
Easy to share and publish over social media
Coupons to donors with a wide range of categories
Easy usage of coupons directly from the app
Cons
Very simple user interface
Still in the initial stage
Final Verdict
Ignoring the simple interface as many looks at the grand interface for applications as the application is still new to the market, all other features provided are great. The easy access to athletes to raise funds and providing coupons in various categories to the donors is really great which benefits both athletes and their donors. Finally, though the application is new, it gives a lot of features to athletes and helps them to raise money to their needs.