How can we miss out on Spotify when we talk about music streaming service? Spotify is one of the largest music streaming service providers, with over 406 million monthly active users, including 180 million paying subscribers, as of December 2021. With its fantastic collection of more than 82 million songs and podcasts available in different plans, you can enjoy music anytime, anywhere. With Spotify, you can listen to music and play millions of songs and podcasts for free. Moreover, the availability of offline music in the Premium plans makes it possible to stream without internet connectivity.
Another great thing about Spotify Music is its extensive device compatibility. You can use Spotify Music on multiple devices like mobile phones, laptops, PCs, etc. However, while it's a great platform, there are always some limitations. For instance, Spotify free users do not have the privilege to download music offline. Moreover, while Spotify Music is compatible with many devices, there are some devices like MP3 players and media players that it does not support.
So, what if you want to stream your Spotify Music on such a device or want to enjoy music offline even with the free plan? You might wonder if there was a way to convert Spotify music songs to MP3!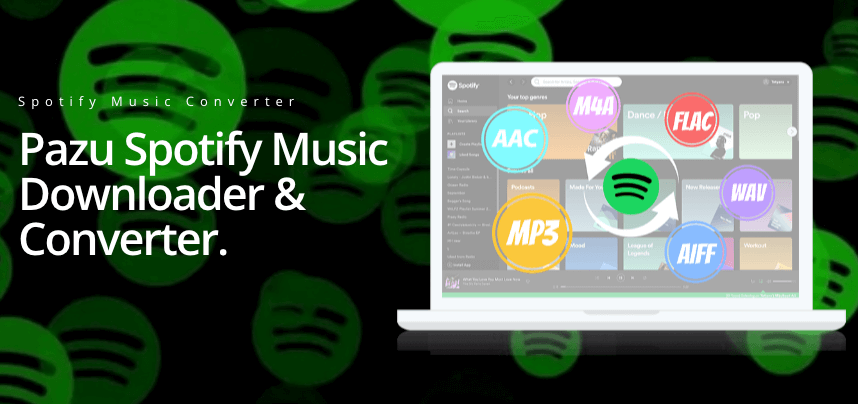 Well, good news! It's possible with Pazu Spotify Music Converter.
What is Pazu Spotify Music Converter?
Pazu Spotify Music Converter is a music conversion tool that allows Spotify free and Premium users to download their Spotify songs in different music file formats like MP3, M4A, AAC, FLAC, WAV and AIFF.
Once you convert the Spotify Music to these formats, you can transfer and play them on any device you like, with or without internet connectivity and subscription. Moreover, once you convert Spotify Music to MP3 or other formats using Pazu Spotify Music Converter, you will not even need the Spotify App for streaming. You can simply access your downloaded file and start enjoying the downloaded music.
Pazu Spotify Music Converter – How to Use?
Now, when you know that you have such a brilliant tool at your hands to stream your Spotify Music without the application or any other hiccups caused by the application, such as the requirement for subscription or being limited to only a specific set of devices, you surely want to know how to it.
Well, there are a few simple steps to convert Spotify Music to MP3 using the Pazu Spotify Music Converter-
Download, Install, and Launch
Download and install the Pazu Spotify Music Converter on your Mac or Windows. Once installed, open the converter. You can decide to purchase the license or go on with the trial version.
Once you've made your choice, log in to your Spotify account on the integrated Spotify web player.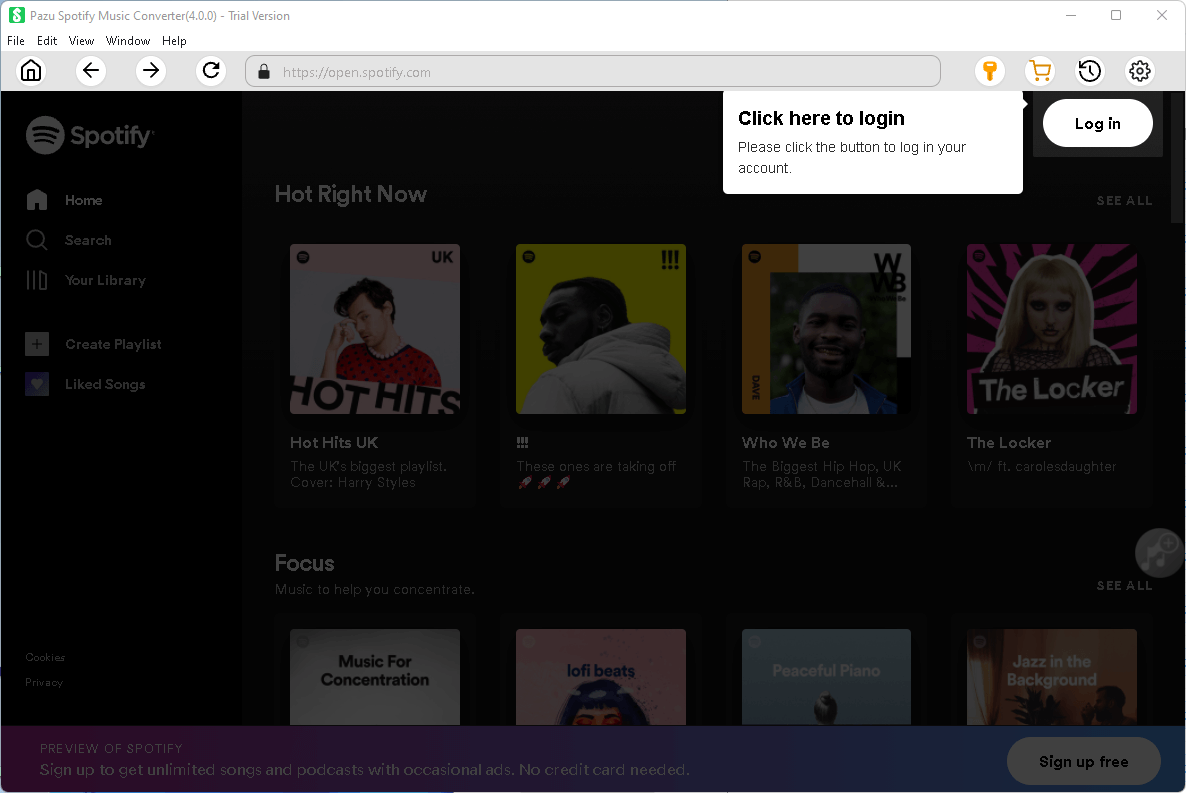 Select Your Preferred Output Format
Once you launch the application, you'll be prompted to choose the output format from different options.
Choose the output format as MP3. You can also select the file locations and file names in this section.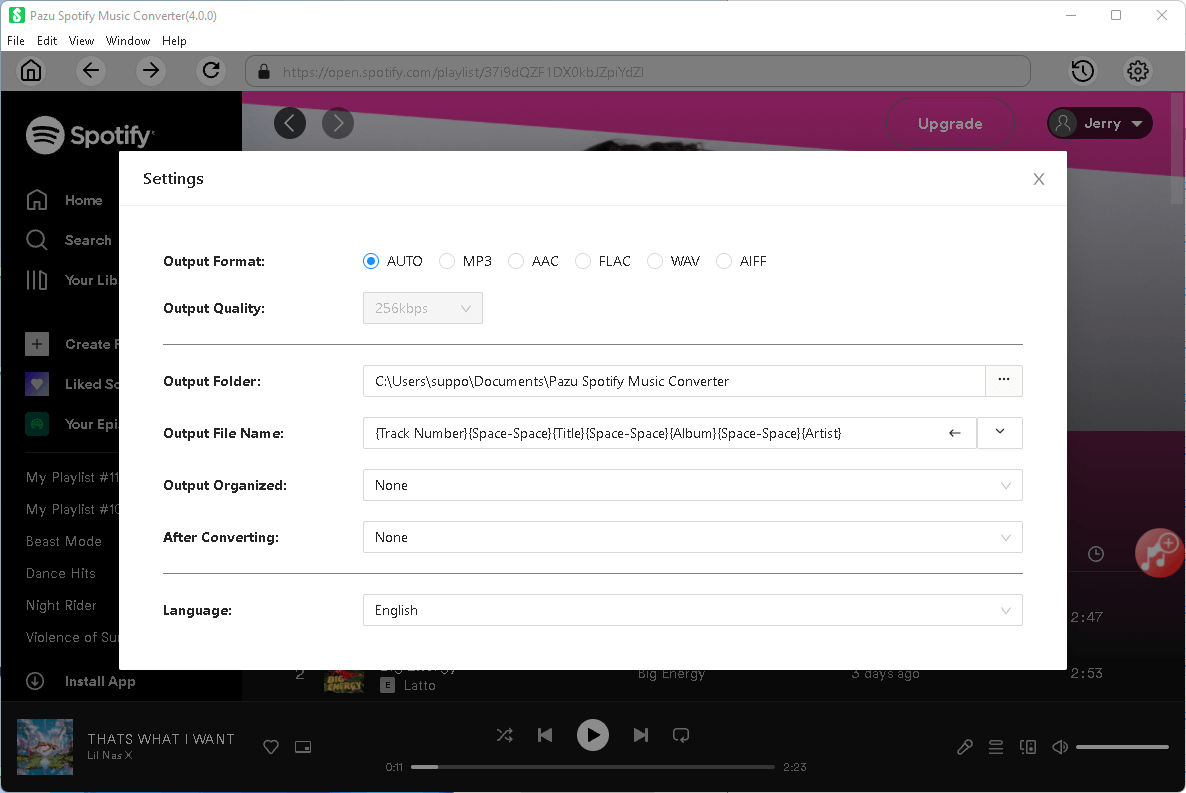 Select Spotify Songs to Convert
Once you've made configurations for the conversion, select the songs and music you want to convert. You can choose individual songs, albums, podcasts or playlists for conversion.
When you select albums or playlists, all the songs in that album or playlist will be automatically added for conversion. You can remove the checkbox beside the songs you don't want to convert.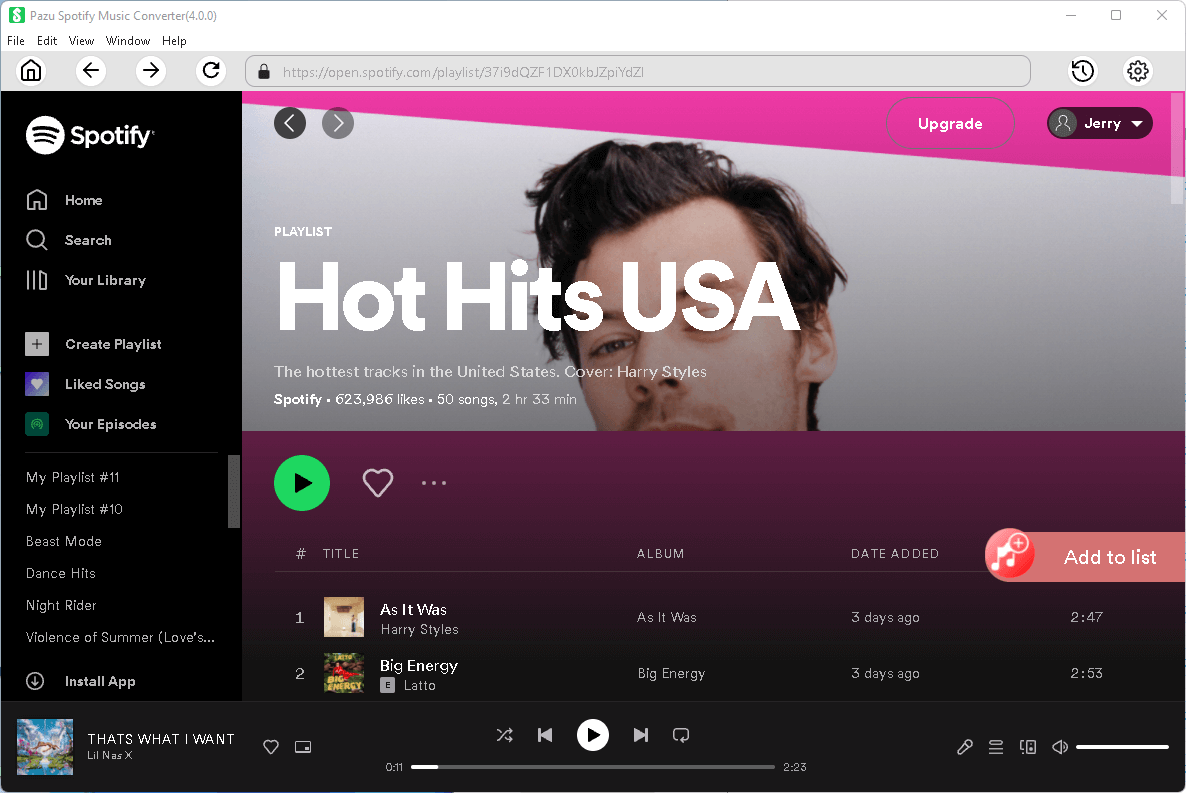 Conversion and Download
Finally, click on the "Convert" button to start the conversion. Pazu Spotify Music Converter will start the conversion and automatically download all the converted files to your selected location under your given file name.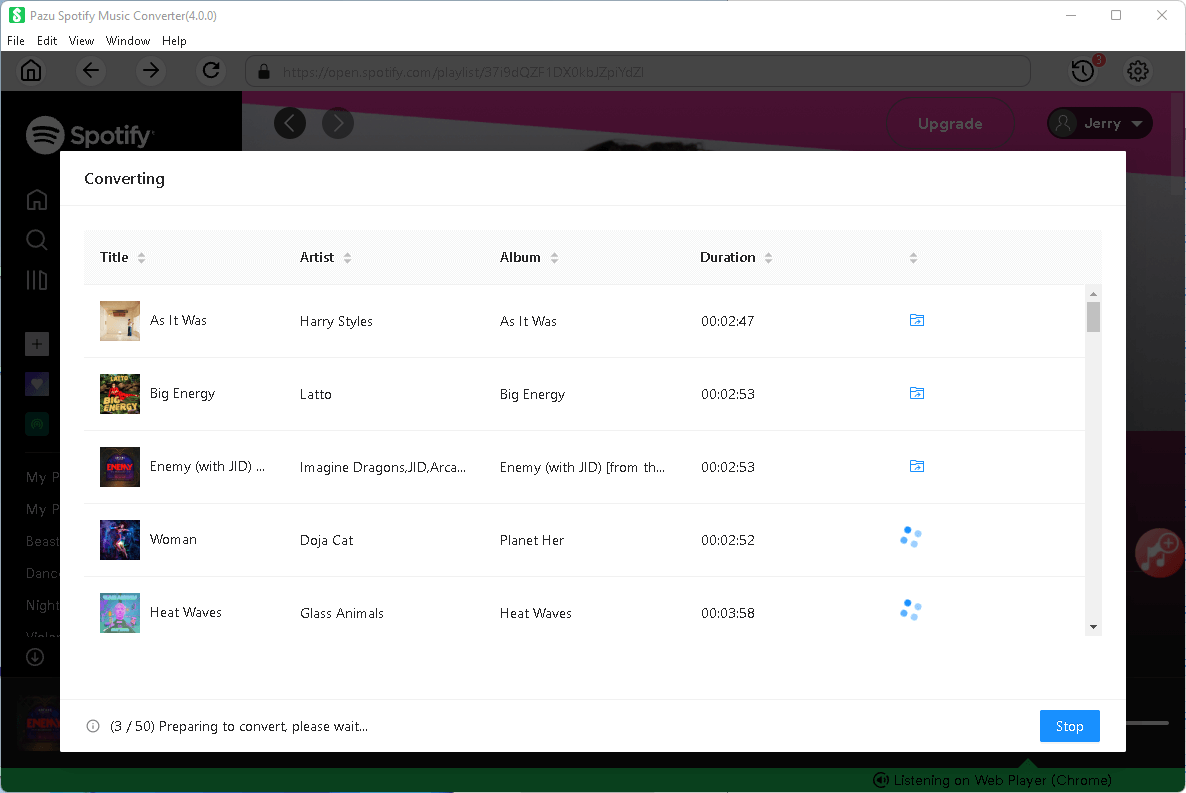 That's all. You can access your downloaded songs in the output folder or even check the download history on the Pazu Spotify Music Converter and enjoy streaming without any interruptions or hassles.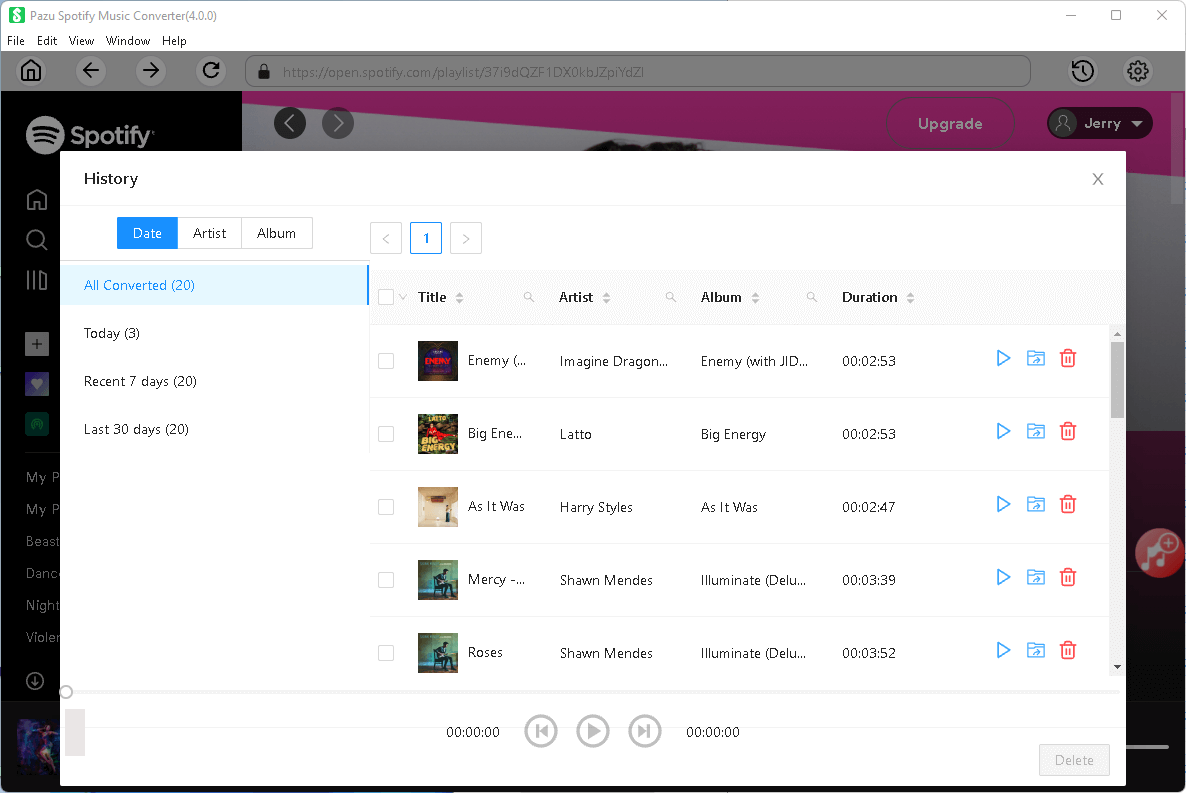 Pazu Spotify Music Converter- Why Use It?
The reasons to use the Pazu Spotify Music Converter are pretty much self-explanatory. However, let's have a quick glance at how this tool benefits you and enhances your music experiences-
Play Spotify Music on Any Device
Pazu Spotify Music Converter allows you to play Spotify music on any device by converting it into different music formats that are compatible with multiple device types. So, whether you have an MP3 player, media player, or any other music streaming device, you have the flexibility to enjoy your Spotify Music on them by simply converting the same.
Brings Spotify Music Offline
You have all your music downloaded to your device. So, even if you're a free member, you need not worry about internet connectivity. With Pazu Spotify Music Converter, you get all your music offline.
Fast Conversion Speed
Unlike other converters, Pazu Spotify Music Converter doesn't tie you up in the wait for the conversion. It converts your music at lightning fast speed, and you can start streaming it in no time at all.
Maintains Quality
Often, the quality of the music gets degraded upon conversion. This will never be the case with Pazu Spotify Music Converter. With this tool, all the conversions will maintain the HD quality of music while keeping the ID3 tags intact.
Final Words
So, that's all about Pazu Spotify Music Converter. It's a great solution to convert Spotify Music to MP3 and other music file formats without any hassles. Moreover, you need not worry about a yearly Spotify subscription when you get this tool. You can have all your Spotify Music on your device without using the Spotify Music App.
What could be a better option than this, especially for hardcore music lovers?
We hope this article was helpful, and you're all set to check out Pazu Spotify Music Converter for better music experiences.