IPhone data transfer is not easy task for its users as it needs special iTunes software for data management works. While working with normal Android phones, you can directly transfer data from Mobile to computer or from computer to mobile through normal USB data transfer cable. That is not case with Apple smartphone users, as they have to perform every media and data related managements by iTunes. But it is not always is to use iTunes as it doesn't support all types of media files and it lacks intuitive user interface.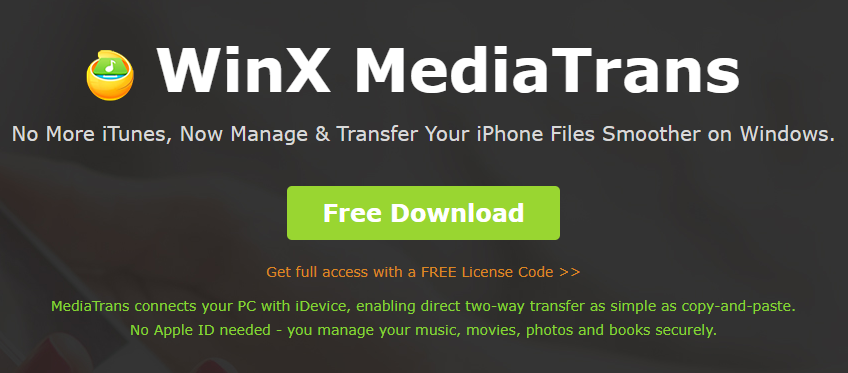 As a perfect replacement or alternative to iTunes, WinX MediaTrans is developed to provide users with entirely new experience in iOS data management. With great user-interface and functionalities WinX MediaTrans is greatly rated as effective alternative to iTunes for PC especially for Windows. So, what makes WinX different from iTunes? We will discuss in detail in the following review.
What is WinX MediaTrans?
WinX MediaTrans was developed by Digiarty Software which is a Windows based file transfer tool which helps to transfer photos, videos, music, eBooks, ringtones and podcasts along with movies and TV shoes between Apple products such as iPhone, iPod, iPad and PC . It also helps to remove DRM from iTunes purchases, encrypting data of iDevices along with managing other data related functions of these Apple products.

It has great user friendly interface which helps users for fast file uploading and has great photo transferring speed. It provides functions such as video auto rotation and video conversion along backing up all media files of your iDevices. It is very to install WinX MediaTrans on windows and you can directly start using it from your device. They are now offering free giveaway of this easy iTunes alternative this month and this is best time to grab this best app for free.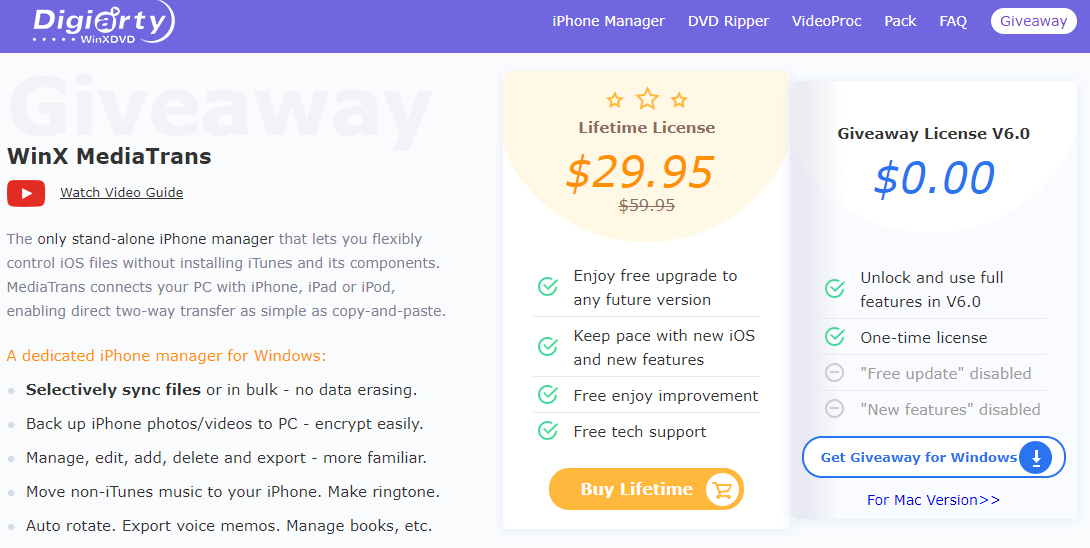 You can watch following video to know more about this software:
Features of WinX MediaTrans
WinX has great features that makes it best software in this domain and easiest for using in Windows. Here are features offered by WinX MediaTrans:
Photo Transfer: This is one of basic feature of any media management tool and WinX enables users to transfer iPhone photos PC and vice versa very easily. It also support HEIC transfer from iPhone to PC and users can keep original HEIC or convert HEIC to JPEG while transferring. While transferring, photos can be password-protected if "Export with Encryption" is checked. Also, it supports other basic functions such as deleting photos and creating or delete photo album on iDevices.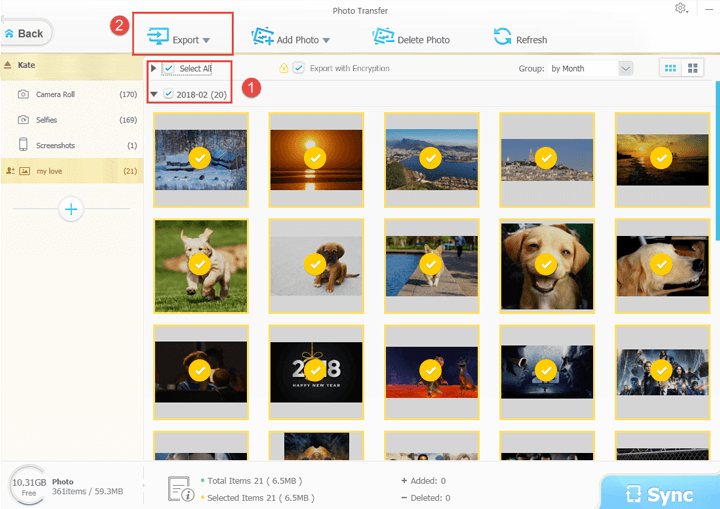 Media Manager: WinX MediaTrans also allows users to transfer music from iPhone to PC and PC to iphone. In additions with transferring, it also provides music editor which allows users to edit information such as title and artist and a music manager which permits creating of playlists and deleting music on iPhone. It also provides music converter which can help to converts music to audio formats such as MP3 or AAC during transferring.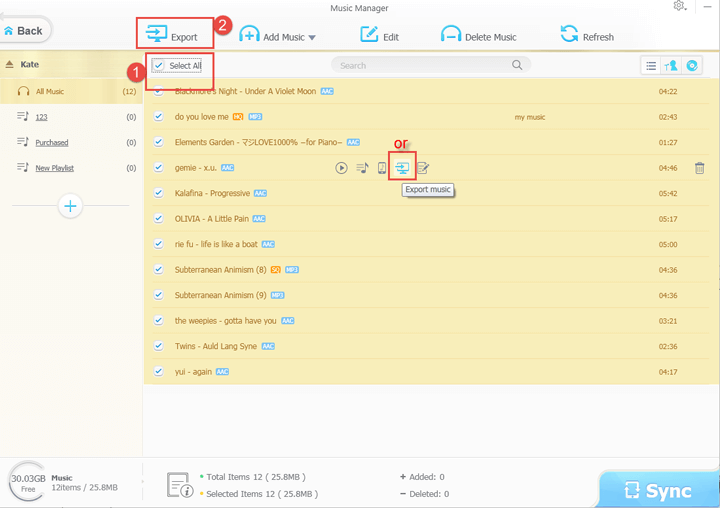 Video manager: As photo and media manager, video manager also allows to transfer video from iDevices to PC and vice versa. Apart from regular operations such as export, add, delete and refresh, WinX also provides features like auto convert, auto rotate and exporting with encryption. With Auto convert, iPhone incompatible formats such as MKV, AVI can be converted to iPhone playable format MP4. Auto rotate feature helps in rotating vertical video to horizontal video for good playback on iPhone screen. Encryption is also allowed for video files.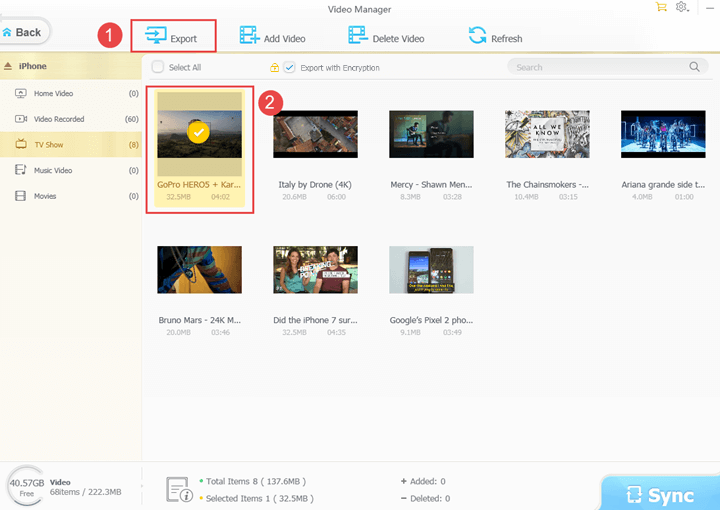 E-Books: WinX also supports transfer of eBooks of format EPUD, PDF and audio books between iOS devices and PC. It also helps to export or convert EPUB book into PDF, TXT and HTML.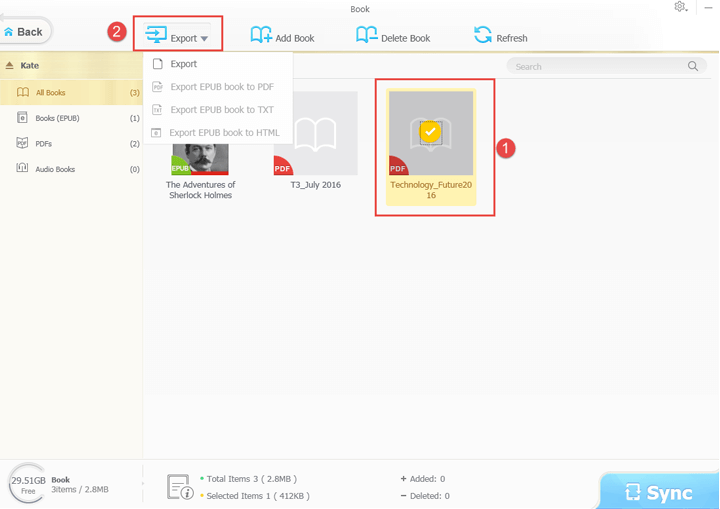 Ringtones and Custom Voice messages: You can custom ringtones to iPhone through WinX MediaTrans just by selecting voice and ringtone option. Users can also transfer Voice memos from iPhone to PC and vice versa. WinX also imports all types of files into iPhone at free of cost.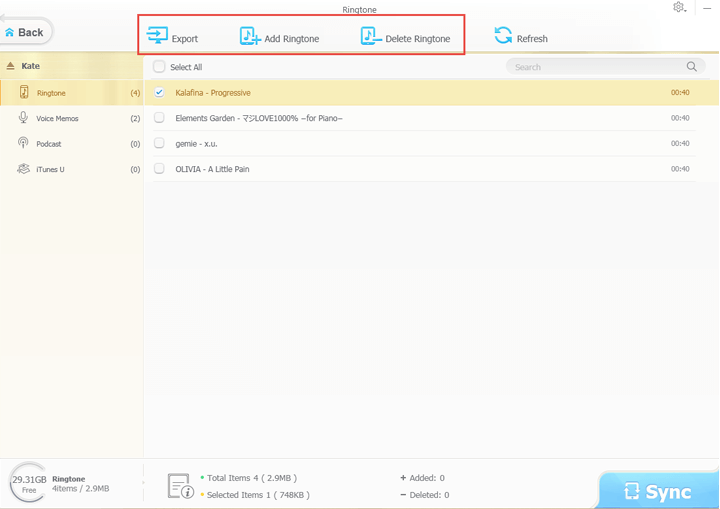 Advantages of WinX MediaTrans over iTunes
WinX MediaTrans is easy to install on Windows OS which has user friendly interface along with great connectivity and files synching unlike iTunes which lacks interactive user interface for Windows users.
ITunes can't recognize non-iTunes songs and also other media files. WinX allows users to transfer any files at ease from iDevices to PC and also in reverse way with much ease.
With WinX MediaTrans you can directly transfer files from iOS devices to PC and reverse way by direct USB transfer which makes it easier way to manage iOS media.
MediaTrans provides unbreakable encryptions for media that is transferred through that keeps hackers or other from accessing these media files. This increases the privacy and protection to photos and videos of users.
Another best feature available with MediaTrans is Auto-Convert and Compression of media files. Auto conversion helps to convert files according to support of devices and compression to be played on device without memory problems.
Non-iTunes music and other media files can be played on your iOS device. Similarly, iTunes purchased media can be played on other devices with this software.
More about iTunes VS WinX MediaTrans
Final Verdict
As to the fame, WinX MediaTrans indeed acts as best alternative media management of iOS devices and good replacement for iTunes which has lot of complications. WinX provides effective alternative with ease in transferring files between iDevices and PC and PC to iDevices with auto-conversion and compression options. With great transfer speed and encryption option to media files, WinX MediaTrans is best effective alternative iTunes for Windows. You can even download a free copy of this software from Digiarty's WinX MediaTrans giveaway page in the provided link to get the real feel of using this software's features.