A Virtual Private Server is an ultimate solution for your business needs. If you are planning to start a new business, you must host your business website on a VPS server that is scalable and affordable too. With a plethora of options available on the internet, you need to be bang on your choice. How to be sure that you have made the right choice? No worries! We have brought forth the best VPS hosting solution to host your business website – LibertyVPS. It is the one-stop solution that you need.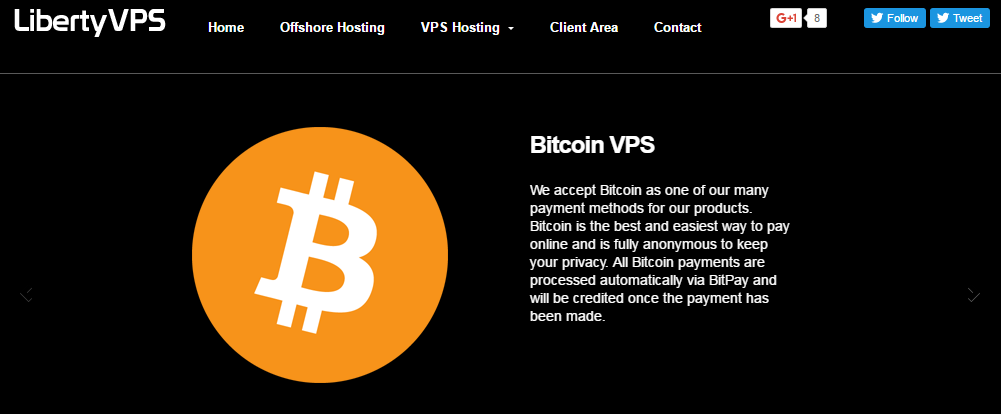 LibertyVPS – A Brief Know how
It is the ideal solution for the small and medium sized businesses. With its servers hosted in Netherlands, the company ensures that the user privacy is maintained and no one can interfere with the data policies. It is the best offshore VPS hosting solution for people looking stay safe from the censorship issues. Check out some of the most overwhelming features of LibertyVPS.
LibertyVPS – A Close Eye on its Features
Packed with some of the extra-ordinary features, LibertyVPS will surely attract your eyes. Here are some of the top notch features of LibertyVPS.
• No Overselling: It ensures that the server space is not oversold just to make the extra profit sacrificing the server performance. The user interests are preserved well to maximize the efficiency of the servers.
• Reliable & Speed Optimized: You can trust its servers. They are optimized for speed and are capable of delivering a speed up to 1Gigabit. You will hardly witness any downtime from its servers.
• Instant Setup & SolusVM Control Panel: One of the best things about LibertyVPS is that it doesn't make you wait. Once the payments are cleared for your VPS package, the server is installed and the root access details are emailed to you. The SolusVM C-panel makes it really simple for you to handle complex task without any troubles.
• KVM Virtualization: The KVM virtualization technology ensures that multiple operating systems can run on a single hardware without putting too much strain on the external resources. Kernel-based Virtual Machine (KVM) is the renowned technology in the world used to segregate space on a server.
• Privacy & Security: It has tailored privacy policies to safeguard the personal information of the users even from the government interference. You need not worry about the security. The most advanced level of encryption is used to protect the data during transmission.
• Bitcoin Accepted: LibertyVPS makes the anonymity in payments too. Though there are different modes of payments, but if you want to keep your identity anonymous, you can make the payments for your purchase using Bitcoins.
• Support: You will be overwhelmed by the professional support staff that is available 24X7 for you. You can get most of your queries solved within few hours through its support staff. You can even check out its knowledgebase to get answer to your queries.
Pricing
LibertyVPS offers two different offshore hosting solutions to its users – Shared & VPS. Each of them has their own benefits. The user can choose from them depending on the requirements.
• Offshore Shared Hosting: The basic 'Starter' plan is priced at a minimal price of $4.99/month. A user gets 10GB storage space, 25GB bandwidth, instant setup, and other features in this plan. The plan can be expanded depending on customer's needs.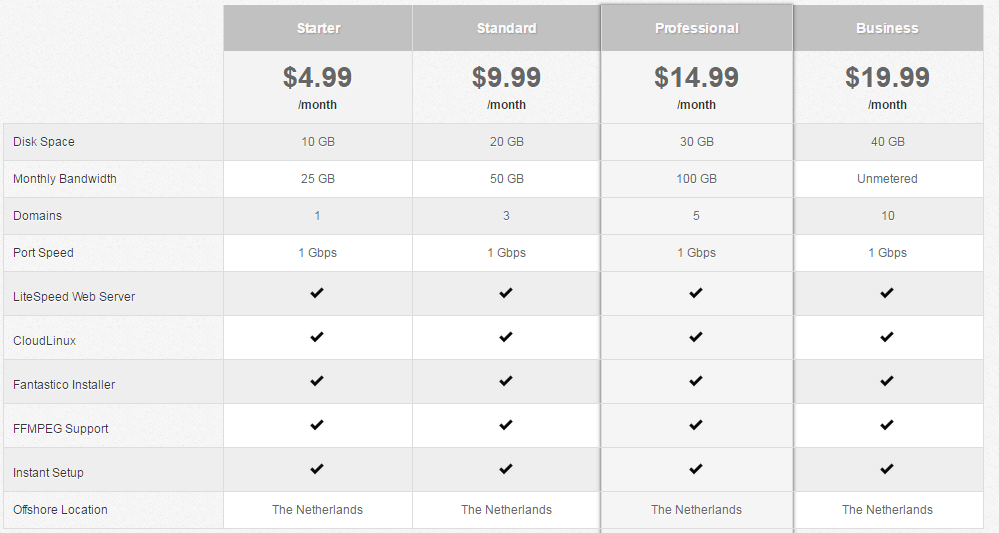 • Offshore Linux VPS Hosting: The basic 'Bronze' plan is priced at $19.99/month. You get instant setup, SolusVM control panel, 1-Core CPU, 1GB RAM, 25GB disk space, and few other specs at this price. However, you can choose among 4 different packages depending on your needs.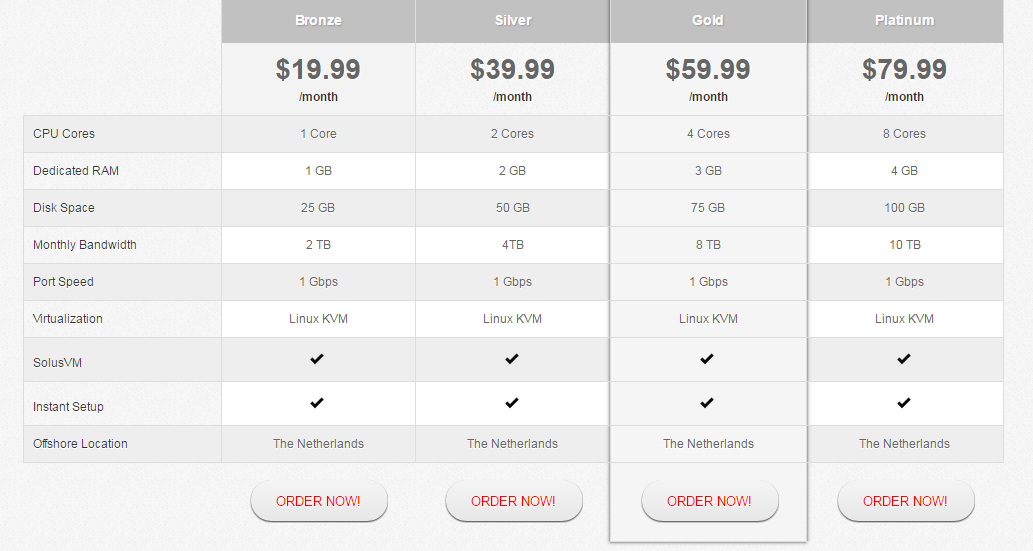 • Offshore Windows VPS Hosting: The basic 'Bronze' plan is priced at $24.99/month. You get instant setup, SolusVM control panel, 1-Core CPU, 1GB RAM, 2TB bandwidth, 25GB disk space, and few other specs at this price. There are 4 different packages to choose from.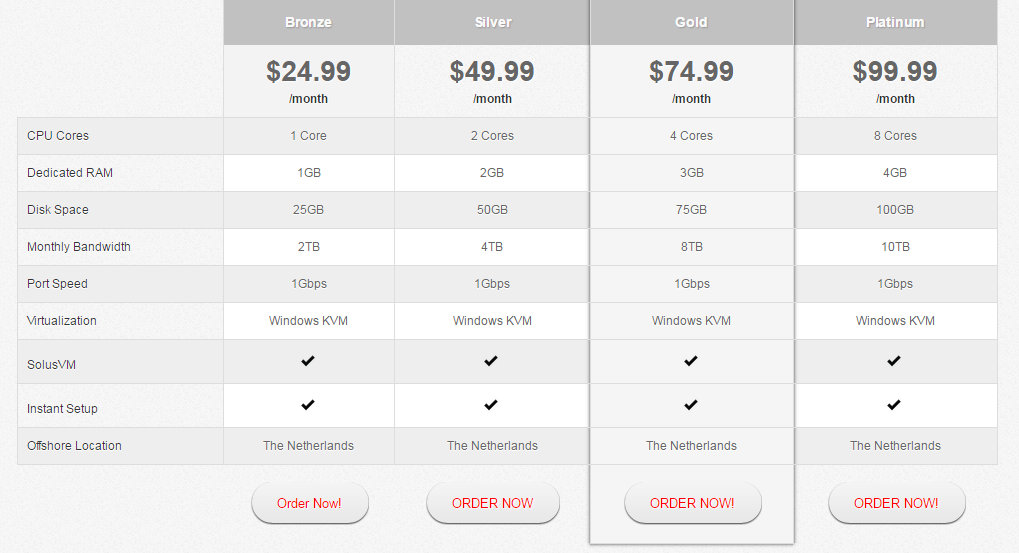 Pros
• Bitcoin Payments maintains complete anonymity of the user.
• The offshore location ensures that no censorship issues arise.
• The server speed can go up to 1 Gigabit.
• KVM Virtualization technology for the servers.
Cons
• Offshore location brings risk to more hacking attempts on sites.
• No package to host unlimited sites in shared hosting plan.
The Bottom Line
LibertyVPS has gained too much popularity in no time. It is one of the most affordable offshore VPS hosting solutions that can be trusted for user privacy. The phenomenal hosting plans can take your breath away. It is an ideal web hosting solution to invest your money on.