Welcome, all to our new post in this post we are going to discuss teamwork management service called Taskworld. Taskworld comes loaded with features like interactive Visual Board, Messaging, File management, etc. which makes it users to communicate with their teams effectively. If we talk about the price, Taskworld comes with 15days trail period (no strings attached) after that users have to pay money to continue using the service. Taskworld can be used directly from the website or users can also go with mobile apps ( Androidand iOSversions). Now let us explore more about it in below section.
Exploring Taskworld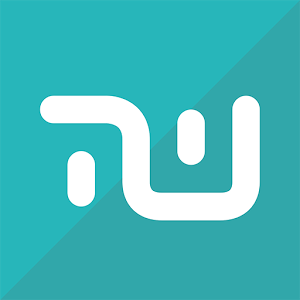 Taskworld is a team task management service which can be used by anyone whether a small company is having ten members or a big company 1000 members. It is currently trusted by 1000 of teams all over the world, and it is also featured in some of the very popular sites like Huffington Post, TechCrunch, etc. Now let us find out why Taskworld is widely trusted, by reading some of its features have a look.
Features of Taskworld
1. Task Management: Various efforts has been made by the developers to make task management easy as Taskworld comes with different features like:
It provides shared workspace for team working.
In Taskworld users can create task and can assign it to their group members. Moreover, it also allows its users to add tags and labels to each task for effective sorting of tasks.
The task can be broken into checklists, and each checklist can be assigned to a member separately.
Other features like Activity log, seen by, Task points, are also there please refer to this link to get more information.
2. Project Planning: Project planning is a very easy task with Taskworld as it comes with some options like:
Project Goal: Users can group all related projects into one unit and can hence all projects members can work for a common goal
Project Templates: The Taskworld team provides some inbuilt templates for the easy and efficient management of project work.
Other Tools: Privacy settings, calendar sync, and timelines these features takes project planning up to the next level.
3. Task Communication: It is very important to have good communication for efficient working of a team and this free android app comes with following options:
Chat: Taskworld cut down the communication gap and comes with direct chat, project chat, features.
Email Integration: Users can directly send and receive emails through this features.
Other options like a text editor, task comments, chat heads, etc. are also there.
4. Analytics: Taskworld comes some amazing analytics tools like an interactive dashboard, advanced filters, burn up and burn down charts, etc. which help in the proper analysis of each and every task and hence help in getting good results.
Exploring Interface
It is impossible for us to cover all the features and working of the app in one post but we do our level best to explain its working for more information please refer to the official site.
1) Here is the snap of the welcome screen.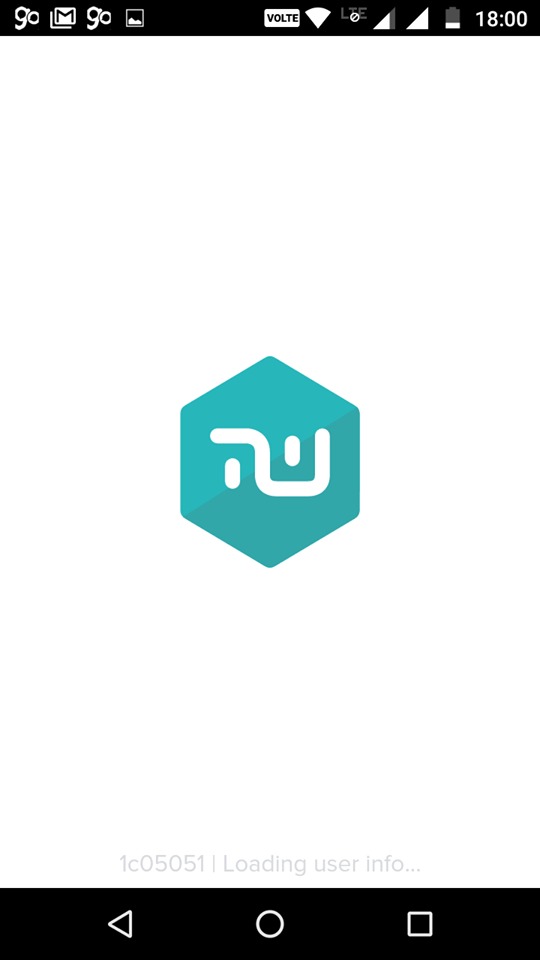 2) After creating an account, you will have to create a workspace for all your team projects and team members and after that add project.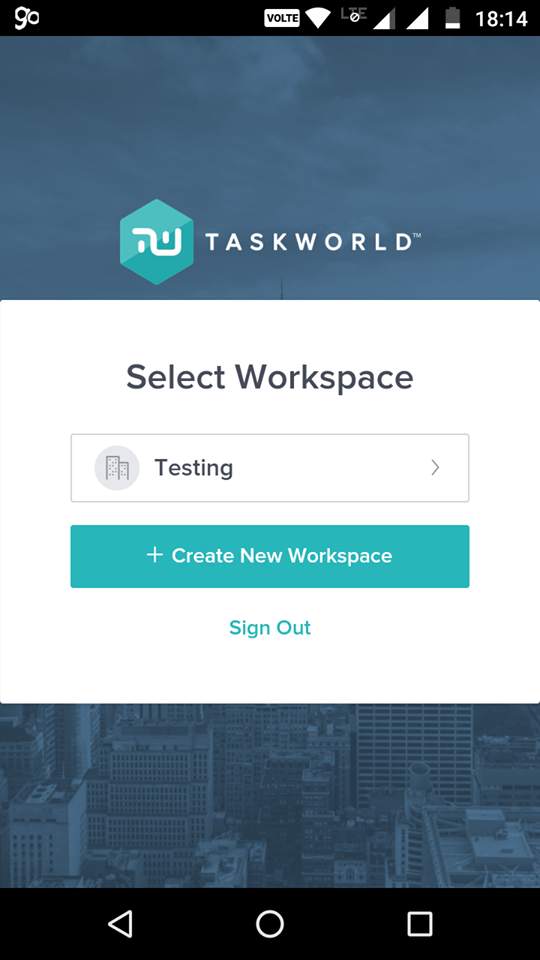 3) You will get the following screen while adding a new project.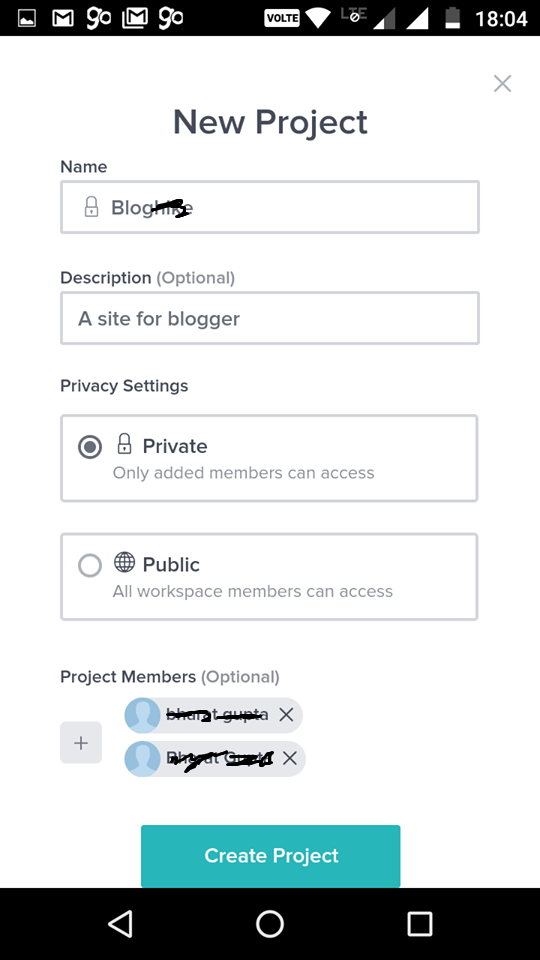 4) For each project, you can add tasks for each day. You can also add attachments, etc. from your device.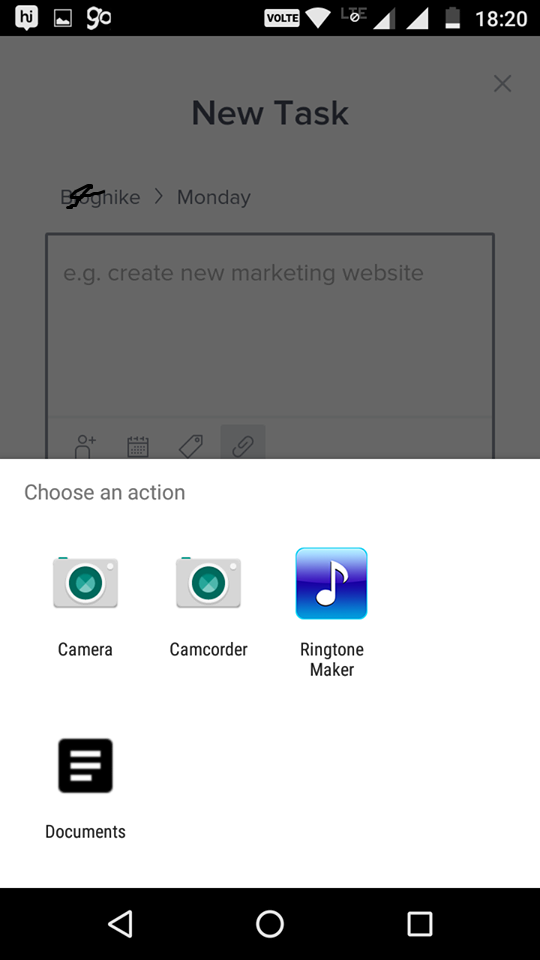 5) Chat option is also available for each project here is a snap of it. As you can see 'seen by' option is also here.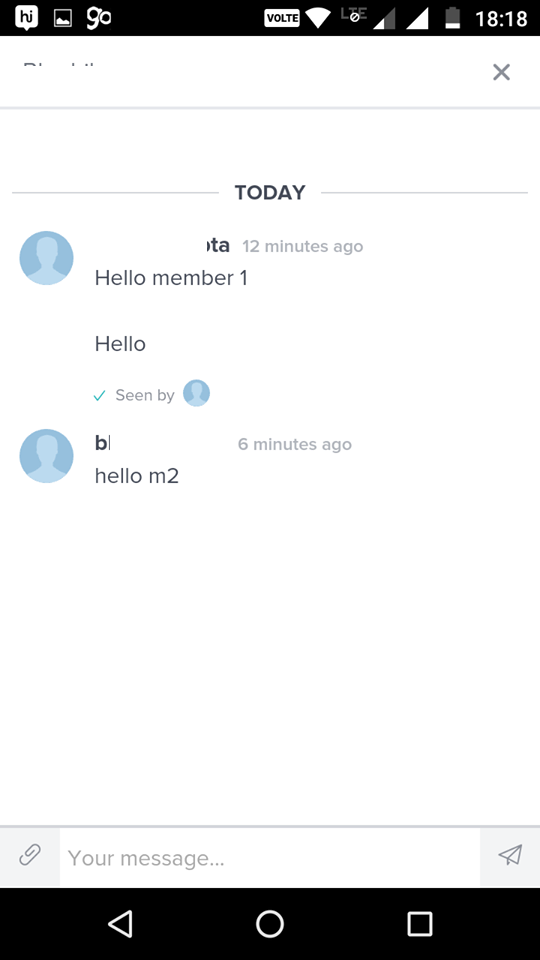 Price
We as discussed above only 15days trial period is available after that users have to go paid version have a look at below snap for more idea about the pricing.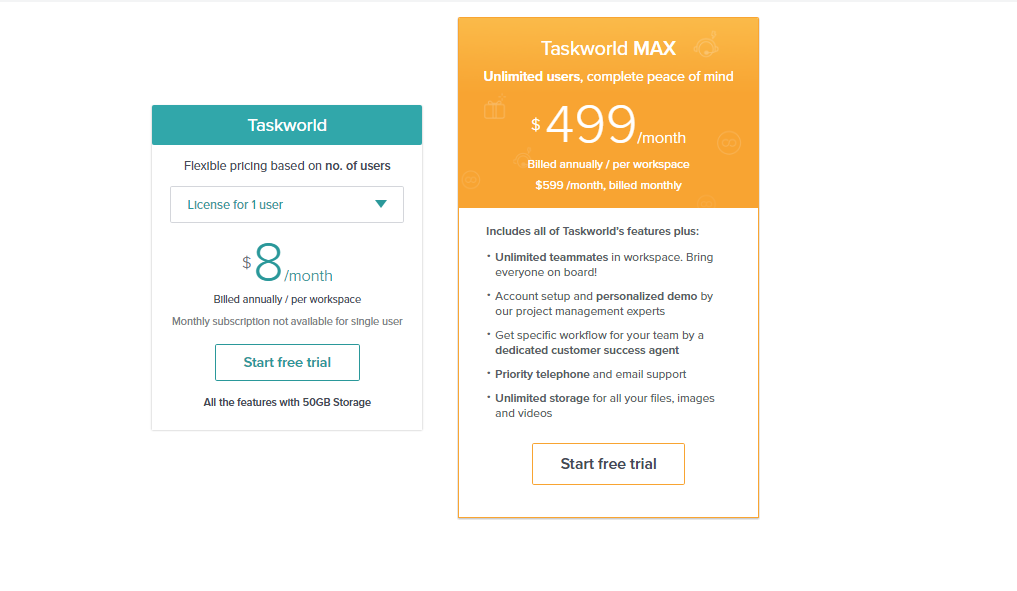 Final Words
Well now we can hope you all know about the working of the Taskworld Android app and before wrapping up the post let us discuss some of its pros and cons with our readers.
Pros
1) The price of the Taskworld is really low if we compare it with other services of the same type.
2) The interface of the app is very smooth and responsive.
3) Tools like a progress bar, project chat, etc. are unique and yes very helpful also.
Cons
1) Only one, no guest account ie you need to verify the email address to start using it, rest everything is perfect with its Android version.
Taskworld is very famous among some companies like Amazon, Accenture, etc. and from our side also Taskworld is highly recommended to our readers. Guys try it once and share your experience with us thank you all.