Summer is approaching and its time to prep up your AC. The main concern for Air Conditioner users is the soaring power consumption that these appliances take during the working period.
An easy way to bring down the power consumption is by switching to Inverter AC from the traditional ON/OFF ac.
******UPDATE : Daikin launched new 1 Ton AC with 6.2 ISEER ******* price around 43,000 INR
My old or still used ON/OFF AC : IFB 1 Ton 5 Star, EER 3.51
Conditions to check before purchasing Inverter models
Your budget
How many hours you plan to keep the A/C running per day
How humid is external climate in your area ( depending on which you can go with copper/aluminum )
What's the power charge per unit or per 1KW (1000W) in your area
What's the heat load of your room during the peak time (11:30pm-8:00pm)
What's the humidity level that you are comfortable with, I mean relative humidity (RH)
How big is your room and how many people stay in that room during the running time of the Air Conditioner
Whats the highest ISEER available in market now ?
How to find highest latest ISEER model for Air Conditioner
NOTE : https://beestarlabel.com/SearchCompare/ is having a new website design so browse accordingly
This you can check by going to this website https://beestarlabel.com/home/searchcompare or https://beestarlabel.com/SearchCompare/, scroll down till you see "VARIABLE CAPACITY AIR CONDITIONERS (Inverter AC) Schedule 19 "
If you are an android or iOS user then are specific apps for you

From next page select "Indian Seasonal Energy Efficiency Ratio (ISEER) " scroll down and choose the highest value or see the picture added below

Right now its 6.15 (out of 100, not 10) , the company that produce is Godrej ( model : Godrej GIC 12 BAH 8 GGQG 1 Ton NXW Inverter AC ) and their page to the product is https://shop.godrejappliances.com/godrej-gic-12-bah-8-ggqg-1-ton-nxw.html
What I like for Godrej GIC 12 BAH 8 GGQG 1 Ton NXW Inverter AC
6.15 ISEER, highest value
5 year condenser warranty
R290 new refrigerant gas
Cooling capacity of 3600 Watts
So why didn't I choose it ?
Main reason, they never mentioned whether the condenser coils are Copper (CU) or Aluminum. My area is too humid and RH varies from 65%-81% in summers. This kind of humidity can really put a hole in Aluminum condensers and so I think its better to go with CU ones.
Next one is the price, its 8.5K more than Hitachi model and that too just for 0.05 change in SEER value.
Power consumption for Godrej as per their site mentioned above is 766 Watts, don't know if it's a mistake or not from Godrej team. Hitachi power consumption is only 740 Watts.
Coming back to Hitachi model RSB512HBEAP 6.1 ISEER 1 Ton 5 Star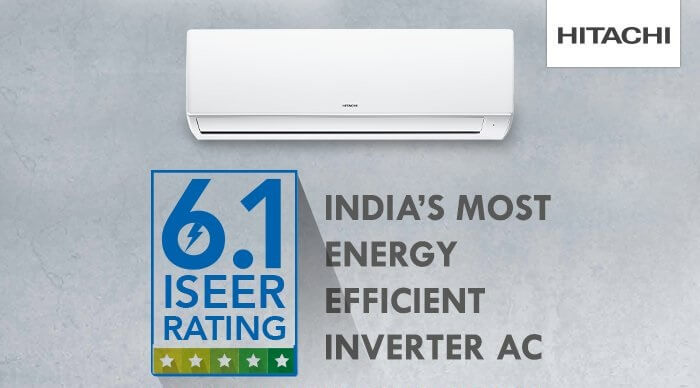 Here is the full spec PDF file of all the products directly from JCI-Hitachi https://www.jci-hitachi.in/images/products/specifications/Cassette-AC-catalogue_1517298783.pdf or here https://www.hitachiaircon.in/ranges/inverter-split-acs/Kashikoi-5100X+
What are my room condition ?
How big is my room ?
Its definitely more than 150sq feet or I think its around 200sq feet
Now many you will be thinking, am I mad to use 1 Ton product in such a big room ?
Not really, I use my IFB in Kitchen, yes KITCHEN its more than 200sq feet, and there is too much humidity and heat load ( max in temp degree Celsius 33). Every one said not to place there it will cause serious issues to your product after a month, believe me its more than a year and ODU was half flooded with water during the last year flood. And its still working without any issues in Kitchen. Here are my IFB running temp, 28 degree Celsius with ECO mode turned off.
FACT : Many A/Cs are designed to work max outside temperature of 52 degree Celsius and during this operation compressor will run max time it can or the time set limit given by the engineers.
Number of person in room ?
Max temperature of the room ?
Its 31 degree Celsius with RH 80%
Is this room directly under sun ?
Is it concrete only with no false ceiling ?
So when you search online or visit local shops in search of these kind of Air Conditioner, mostly you will end up with 3 star Inverter models, this was my experience. Many of these sellers/salesman are only interested in selling these kind of AC from all companies.
If you ask them 5 Star 6.1/6.15 model, they will simply tell you its not launched or out of stock or its just waste of money or these companies services is very bad.
Price that I bought this model from a local shop : 39,500 INR, and the product was there not at the shop they need to make a lot of calls to many people where they can get the product from.
Installation : Done by company technicians from the JCI Hitachi and for this model they said its free, else they charge 500INR for installation. IFB (my old one) guys installation charge was 2,000 INR, it includes white cementing, that's the only difference in installation of IFB and Hitachi.
Lets talk about the design of the IDU and ODU first
IDU
IDU looks too bulky compared to the IFB one, bad design. But who really cares for the design after two months or so, it's the performance that matters.
ODU
Its kind of smaller with a grill on one side and during its working noise produced is very less or sometimes you won't hear a thing, this also depends on installation perfection.
No of free services
3, make sure you call the service guys in time, even though they will be just washing the filter, if something happens there is a warranty clause.
Condenser fins
Its too thin, means it can be bent by applying a very low pressure and the product I received had some bents and there was no bent, depression or any problem with packing and I just straighten it with a small knife. Hitachi says 43 quality tests in the page I just gave above, they need to watch these bents.
Material used
Gas used
Does the compressor works throughout its operation ?
NO, once the set temperature is achieved the compressor turns OFF, it again turns ON once there is a difference of 0.2 degree Celsius or if the room humidity increases to RH 77%
Here is a real working example of this Hitachi RSB512HBEAP 6.1 ISEER 1 Ton 5 Star
Test items used , real time power showing energy meter and HTC temperature and Relative Humidity Sensors
Outside temperature and RH : 32.1, RH 75%
Turned ON the device and I set 31 Celsius in the remote, note the room temperature was 30.5, but the entire unit turned ON (including compressor) and within 5-6 minutes the temperature reached 29.1 and the compressor was turned OFF.
Once the room temperature reached 29.4 the compressor again started and made the temperature to fall to 29.1.
Another case, room temperature was 29.1 and RH rose to 77% and then again also compressor turned ON and made RH below 70% as a result temperature was dropped to 28.8.
So what was the power consumption in Watts during these operation?
Tested in 170SQFEET room, with concrete roof and sun directly above with no shades on the roof. Color of the roof is white.
The above test was conducted at 12:00PM with AC temperature set to 29 C, power consumption was 480 Watts, the same test was conducted at 7:00PM and power consumption was 450 Watts. Outside temperature was 31 C and humidity was 87%. After 10 minutes inside temperature became 29C, after 17 minutes inside temp was 28.4 C and RH was 72%.
Do note if you set AC at 25 C for the above conditions then AC will expand its tonnage to 1.25 Ton and power consumption will also increase to 750 Watts, 29 C will be reached in 7 minutes and after 17 minutes inside temp will be around 26.8 C and RH 65%. Most probably you will stop the AC cooling by increasing the temp as its kind of cold and some what dry.
Running AC in higher temperature(means 28C-32C) will always help you to save more electricity and money without compromising your comfort.
Whats the power consumption if you use fan mode ?
Its only 18 Watts for the highest speed and power consumption will be lower if you use 2nd or first slow speed mode.
What's the temperature fluctuations ?
Its only +/-0.2 Celsius, means you will more comfortable that ON/OFF A/C
Whats the air delivery CFM or m3/hr of this model ?
Its 484 if you want the m3/hr its 822m3/hr and this value is almost close to my old IFB 835m3/hr
Disclaimer : This is a guest article submitted by an Indian user.