Daikin India launched highest ISEER 6.2 1 Ton Air Conditioner (AC) for selling price : 43,490.00 INR [ MRP : ₹ 67,200 INR ]. Previously highest ISEER was given to Hitachi with 6.1 ISEER . But this model is missing from BEE Star Label website as per website 6.1 is still the highest one. And price for Hitachi 1 Ton with 6.1 ISEER is 37,000 INR or with bank discount its available for 33,000 INR and this one is more economical than going for 6.2 ISEER if you are considering the cost and return on investment.
The series is FTKF35 and  is Model name
Indoor unit (IDU) FTKF35UV16U
Outdoor unit (ODU) RKF35UV16U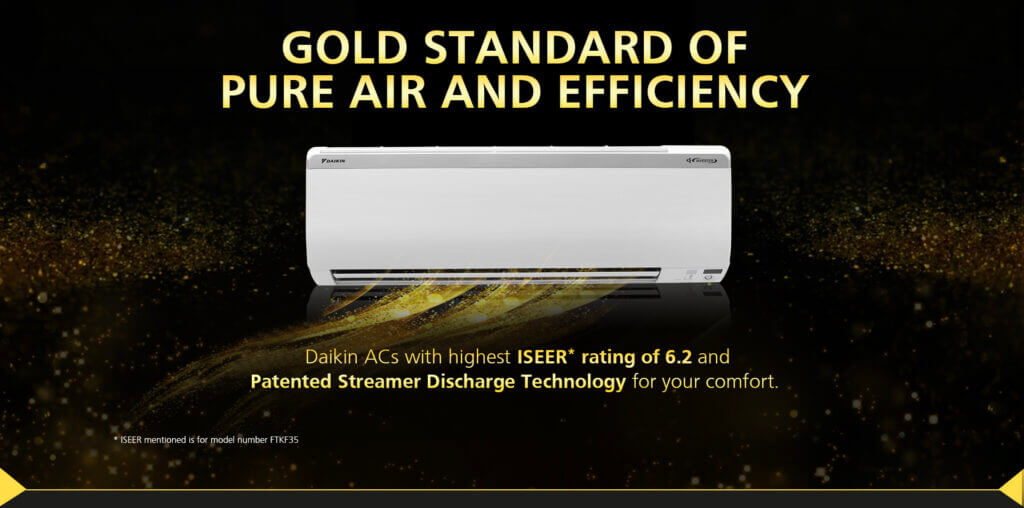 Other specs of are
Rated Power Supply Phase/Frequency/Voltage 1Ø/50Hz/230V
Rated Cooling Capacity Full/Half (min.–max.) kW 3.35/1.67 (1.2-4.5)
Cooling Capacity @ 43 Deg °C 100%
Rated Power Consumption Full/Half (min.-max.) 683/252(190-1230)W
Rated Annual Power Consumption 418.52kWh
Rated ISEER  6.2Wh/Wh
Voltage Range (Stabilizer Inside) 130-285 V
Operating Current  3.16A
Indoor unit (IOU)

Panel Colour White
IDU Dimension (HxWxD) 298x885x229mm
Package Dimension (HxWxD) 375x980x325mm
IDU Net Weight (Gross Weight) 10.5 (13.5)kg
Airflow Rate Feet3/min  512(cfm) or 14.5 m3/min (cmm)
Moisture Removal I/hr 1(Litres/Hour)
Operation Sound H/MH/M/ML/L/SL  44/41/39/36/33/30dBA

Outdoor unit (ODU)

ODU Dimension (HxWxD) 595x845x300mm
Package Dimension (HxWxD) 680x1035x410 mm
ODU Net Weight (Gross Weight) 31.5 (38.5) kg
Compressor Type: Swing Compressor
Refrigerant R-32
Breaker size 15
Piping length

Charge-Less 10
Max. Length 15m
Max. Height 12

Piping Connection Gas / Liquid mm (Inch) Ø9.5/Ø6.4 (3/8″/1/4″)
Operating Ambient Temperature Range Cooling (MinMax) 20-56 °C

Other Convenience Features: Power airflow dual flaps ; 3D Air flow ; Wide-Angle Louvers ; Vertical auto-swing (up & down) ; New Coanda Airflow ; Power Chill Operation ; Econo Mode ; Smell proof operation ; Auto-Restart after Power Failure, Dew Clean
Is this AC having highest efficiency in India?
Yes as of March 14th 2022 its the highest one with best power savings
From where can we buy this model?
Its available Online and Offline channels. So make sure you ask the price of this model before making an online purchase.
Cooling capacity is based on: indoor temp. 27°C DB, 19°C WB; outdoor temp. 35°C DB, piping length 5 m.
Sound levels are based on temperature conditions 1. above with 5m piping length. These are anechoic conversion values. These values are normally somewhat higher during actual operation as a result of ambient conditions.
Cooling and heating capacities above are rounded off to first decimal. 1TR (Ton of Refrigeration) = ~3.517 kilowatt.