In the era that we live in, almost everyone is up to date with everything happening around them. Be it political or business news, life hacks, what's new in the market, etc. And the youngsters of this era are infatuated with iconic gifs, memes, and making eye-catching meme videos. Ever since these amazing things came into existence, people have been on their toes trying to make as many memes as possible. And in some places, they even have a competition to make them. But everything needs a commencement. And the best way to start off making memes is through this excellent and simple to use online software called Filmora Meme Generator.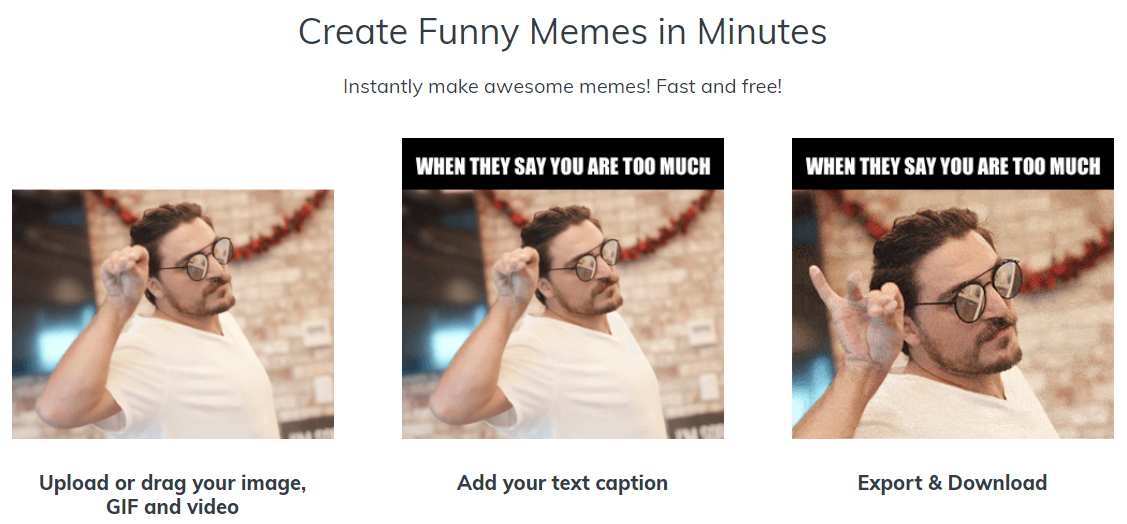 The application Filmora is a free meme maker tool that is used online, often by many people. It is a free meme maker tool online that any of the meme lovers and creators can use. You can make fresh, iconic memes and gifs as well as meme videos in a simple and hassle free manner.
Features of Filmora Meme Maker
This software has certain characteristics that make it stand out from the other meme making applications there is, such as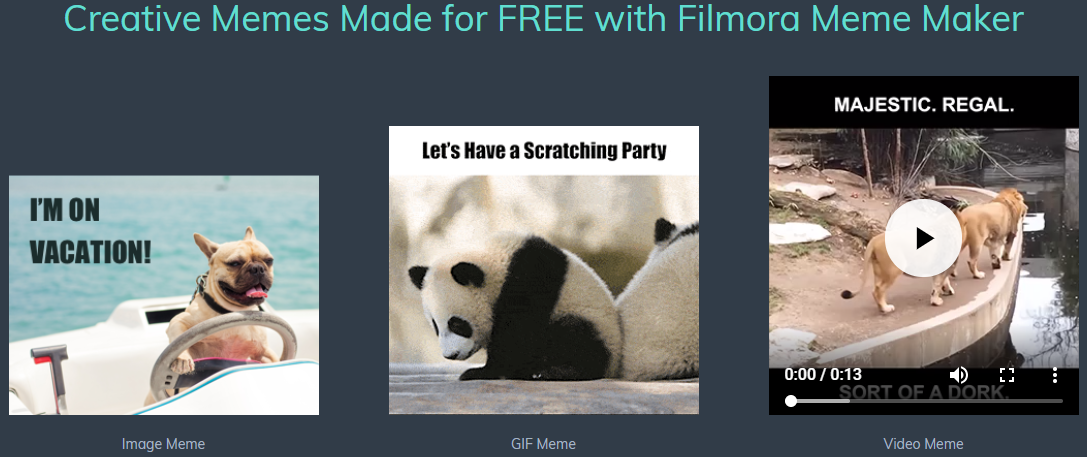 Cost: You can create any type of meme or gif or even meme videos that the user wants, online for free at zero cost.
Tutorial: There are a variety of tutorials that can be followed step by step in the making the desired meme, video or gif.
Editing: There are a variety of editing options such as trimming, adding fonts, changing alignments, adding overlays etc.
Text: The user can add text either inside or outside the image/video, depending upon the preference.
Format: one can select any format that they want to save the edited file in such as gif, png or jpg.
Saving: A person can download the meme that they have created and save it in their file or hard drives.
How it Works?
One may think that making memes is difficult and time consuming. But this application proves otherwise for anyone who is interested in making memes.
If a person is interested in making image memes, it is quite simple all they have to do is drag and drop the file that they want to make a meme of. Resizing the picture can be done, if the user requires it. After that the person can add borders, text, align the text, add overlays and enter the format they want to save the file in. And click the done button.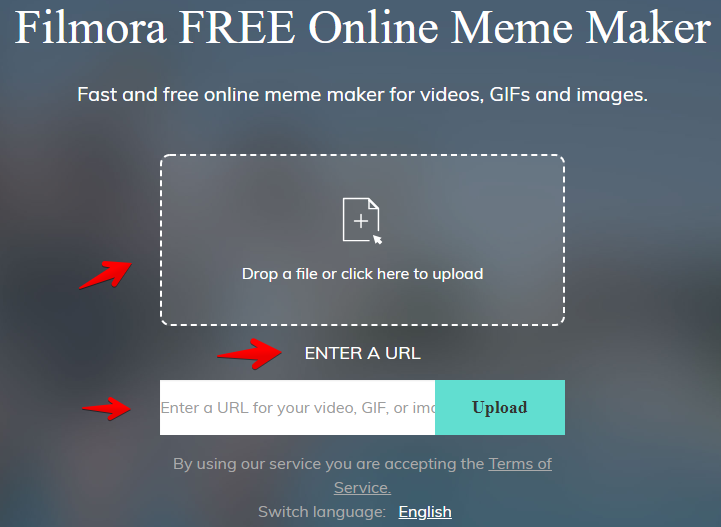 Memes can be made into gifs as well as videos. For example, if a person wants to make a meme from a video, all they need is to drag and drop the file in the desired location. In the case of a gif they can simply trim the video to the desired number of seconds and add text to it if they want. The same thing can be done if a person wants to make meme videos. They can add texts anywhere they want to. Either inside the meme or outside of it. After all of this is done, the person just needs to save it in their files or in the hard disk.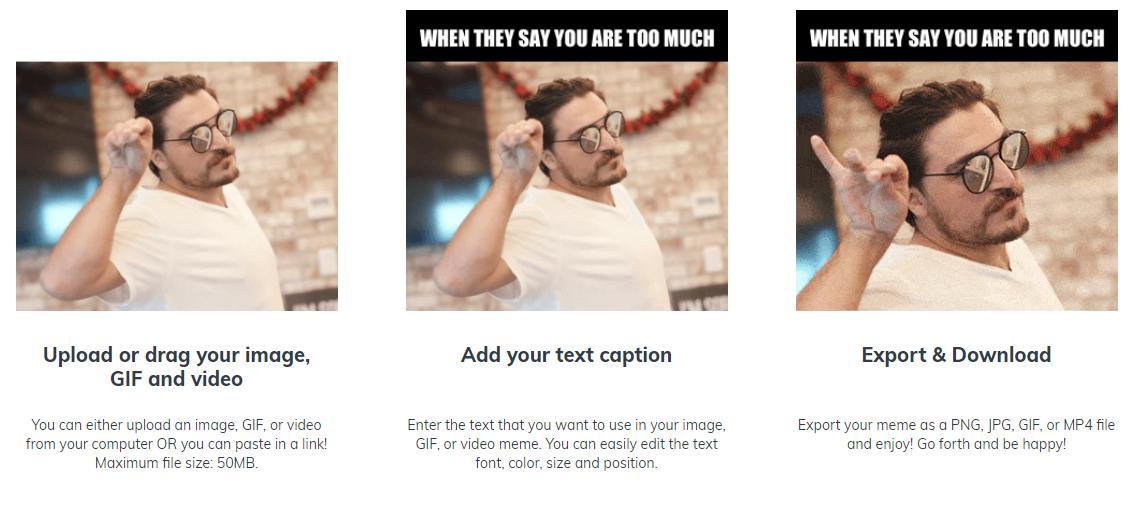 The Meme Maker once after importing the image into the application looks as shown below: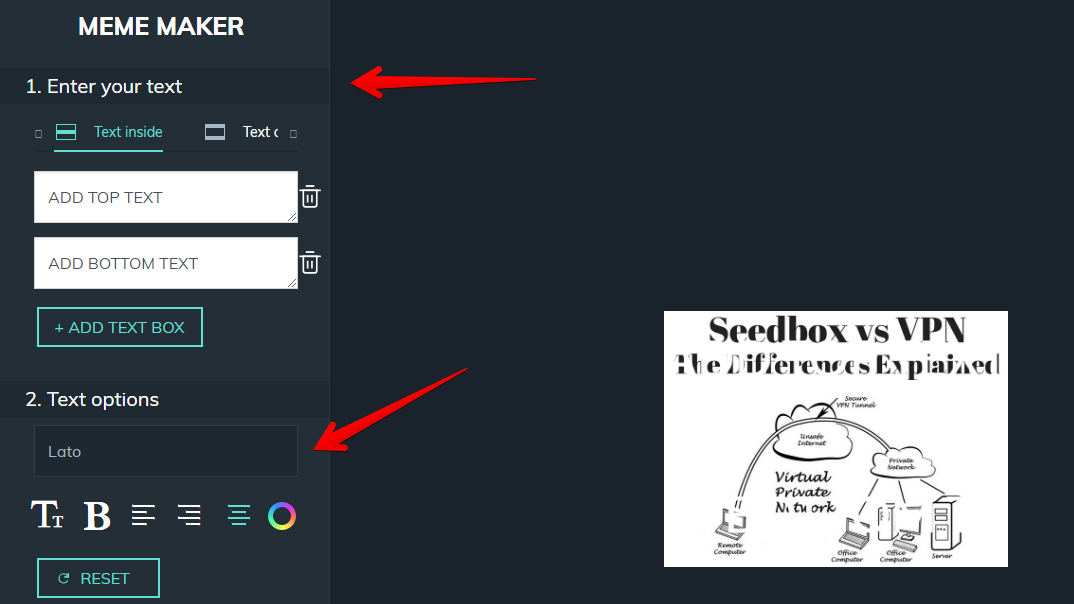 Once after creating your Meme, you can export it in the form or PNG or any other format available by clicking on the CREATE button as shown in the below image: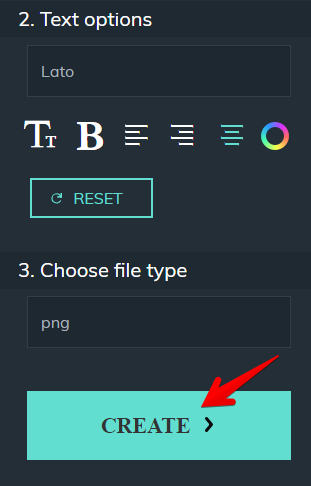 That's it! Your image is ready for download: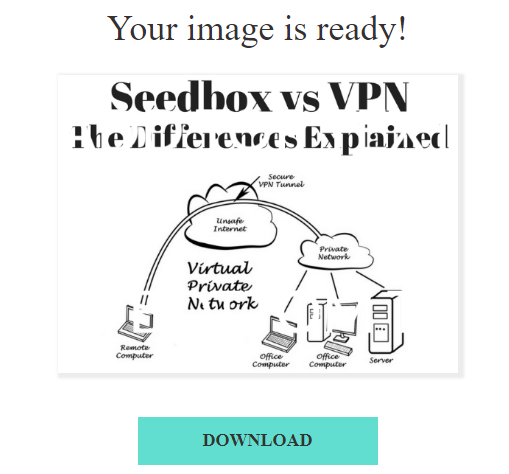 Pros and Cons
When it comes to using this application, there are no cons that you will face. If you love creating memes of any kind this is one of the best applications that you can use and create the memes that you desire without any hassle. It can be any type of meme such as for comedy, for serious office events, for schools, etc.
If a person has difficulty in making memes of any sort, they can always refer to the tutorial that the website has and a get a step by step guidance in making the best memes.
Pricing
If you are in the need to make a quick meme to be made for free, then this is definitely the software that you need to use. There is no need for anyone to pay extra money whatsoever when they want to use this application.
Final Verdict
All in all, if a person wants to make good memes, gifs, as well as meme videos then Filmora is the ideal application that should be used. It is perfect kind of tool for all kinds of users, ranging from beginners to those of the expert level.