There are many third-party marketplaces present on the video gaming market, naturally, some of them are better than others. These marketplaces offer great discounts on various things including premium games.
Eneba is a relatively new marketplace for gamers. In a short period, the platform has attracted many users and for some, has already become the best one-stop shop to go for games. This detailed Eneba review will give you more information about the marketplace and why you should put it on your radar.
What is Eneba?
Eneba is a digital store for gamers who want to buy their favorite games and in-game purchase items at discounted rates. The platform is there to give you flat discounts on the game keys that you may want for your games.
Like other notable marketplaces, Eneba offers a huge selection of game codes and keys, which is one of the reasons why it is getting noticed as a go-to place for gamers. Since the platform offers a huge variety of game key options, gamers can easily find their favorite games and in-game purchase items at a significantly lower price.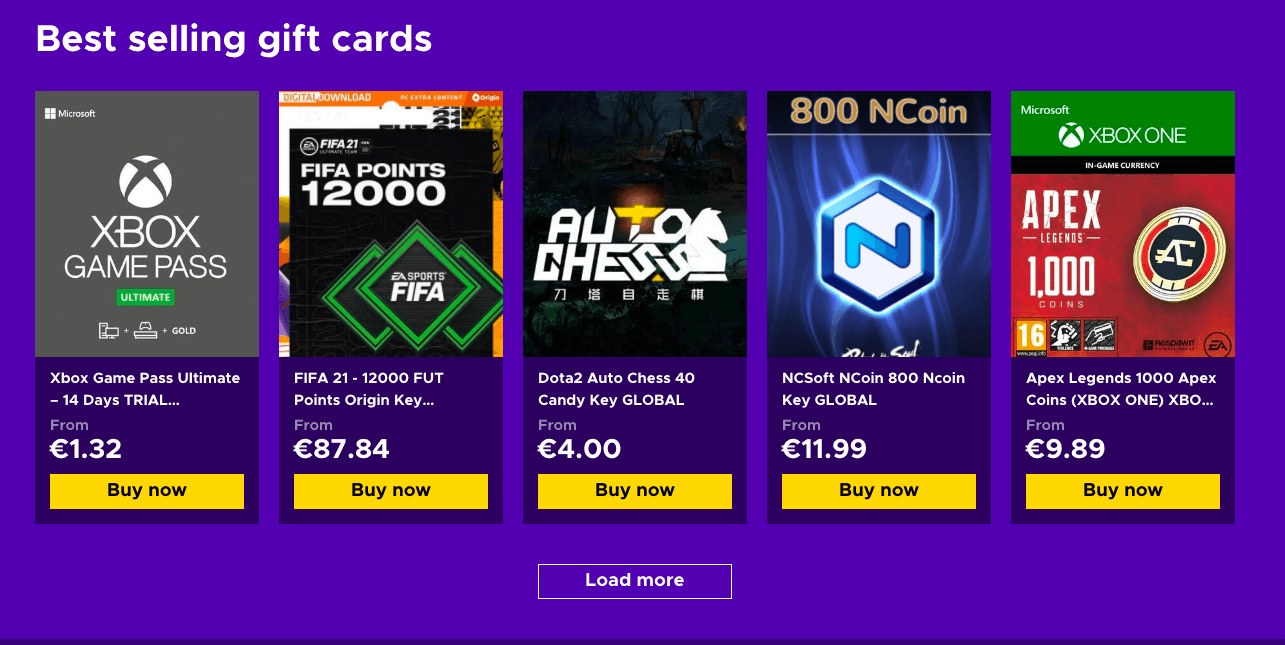 Many gamers have one question in common i.e. Is Eneba Legit? Here's your answer.
Is Eneba Legit and Safe?
Eneba is a 100% safe-to-use platform as it does not ask you to enter your personal information to make a successful purchase. You can purchase any item or game from this platform without registering first. Yes, it does not ask you to register your account. Just select the items and move to checkout.
What is more interesting here is that it offers you to explore different categories of games and items. When you open their website, you will be presented with a multitude of different categories and filters. You can explore the suitable category of games and their related items within a few clicks from entering.
While comparing the marketplace with its competitors on price comparison websites, Eneba is often offering the cheapest deals in town. The game keys that one purchase from this platform is already on a great discount compared to the games initial price, however, they manage to squeeze it even further.
Moreover, when you select something from the store, you will be given plenty of options to choose from – numerous sellers and payment options. This means that a list of sellers will be presented to you from which you can purchase the selected item. And once the item is selected, a selection of various payment services allows you to seal the deal in the most simple way.
What Items are Available for Purchase on Eneba?
Enaba offers a huge variety of things for professional gamers. From here, you can buy Games, Gift Cards, Game Points, Software, and more. The different categories are available on their website, so you should explore these categories to get the best discounts available.
How do I get started with it?
You can purchase and activate the digital game from different platforms. The game that you purchase from Eneba can be activated in no time. Anyone can purchase the game from this platform in just a couple of minutes. Let's see how you can purchase something from Eneba.
Go to the official website or we can say digital store of Eneba. Search for the game that you want to purchase for your PC or console. Make sure you double-check your selected game's platform and other important details, like region – these are essential to activate the key in the right environment. If the game has some restrictions, it will also show you on the platform.

Now, you must select the seller from whom you want to purchase the selected game. Make sure you choose the seller that has received good ratings from the previous customers. You can see the ratings of each seller there. Most often these sellers are not official game retailers so rating really helps, however, Eneba tries to scrupulously filter out all the suspicious behavior at a moment's glance. In other words, only trustworthy sellers can sell here.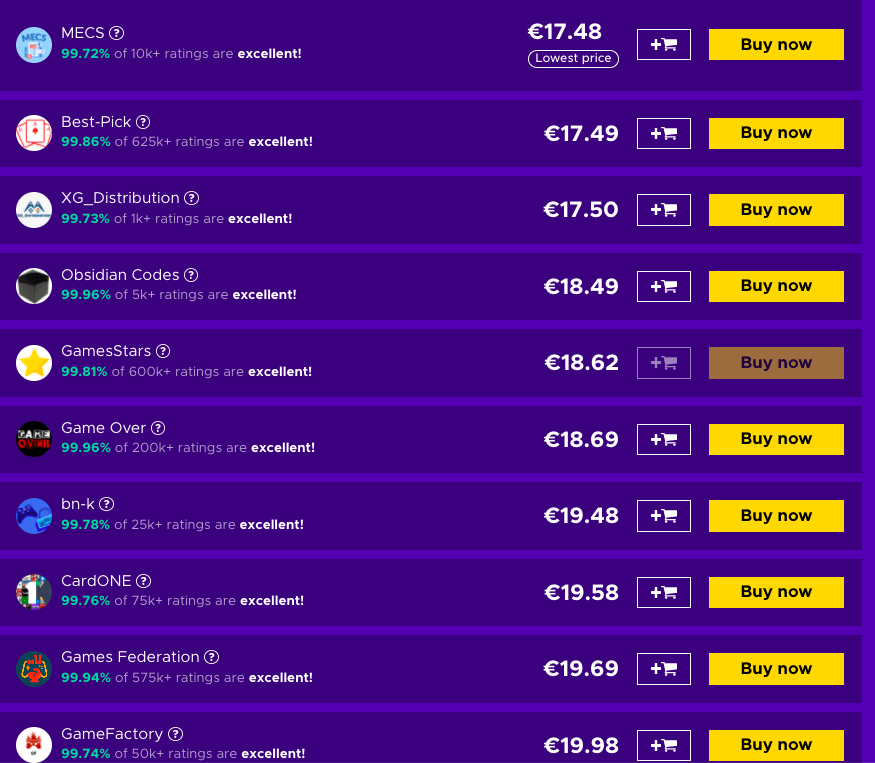 Once done, click Add to Cart button to add the selected item to your cart for purchase. You can purchase multiple items at the same time. Just add those items to your card one by one.
Eneba Pricing and Payment Modes
At last, click the Checkout button to proceed further with the transaction. You can add a promotional code while checking out from here to get an additional discount.
The platform supports a variety of payment methods. You can purchase things using your preferred payment method from the Checkout page.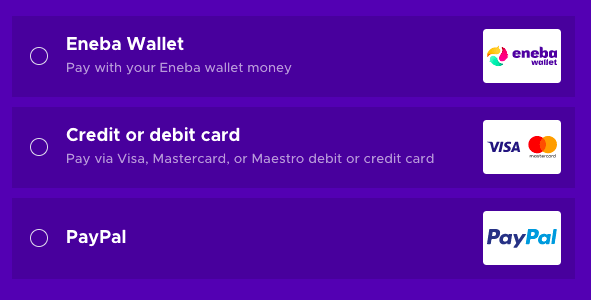 During the final transaction, you will be charged an operational handling fee. This fee will be added at the final step when you are going to make the payment. Once the payment is done, you will receive a CD-Key for activating the game that you have purchased.
What makes this digital store more popular than other stores is that it does not ask you to buy subscriptions – in no way or form. Every buyer on Eneba is treated with the exact same care and attention. So, just explore the different categories of games from here, select the game and make the transaction. You're done!
Eneba Giveaways
Eneba offers daily giveaways to regular customers. You can take part in the giveaway program by visiting the Eneba Giveaways section. You will be presented with items that are listed for the winners. Just click the Enter to Win button to take part in the giveaways. Results are declared once the giveaway time ends and if you'd win, you would be given the selected items free of cost.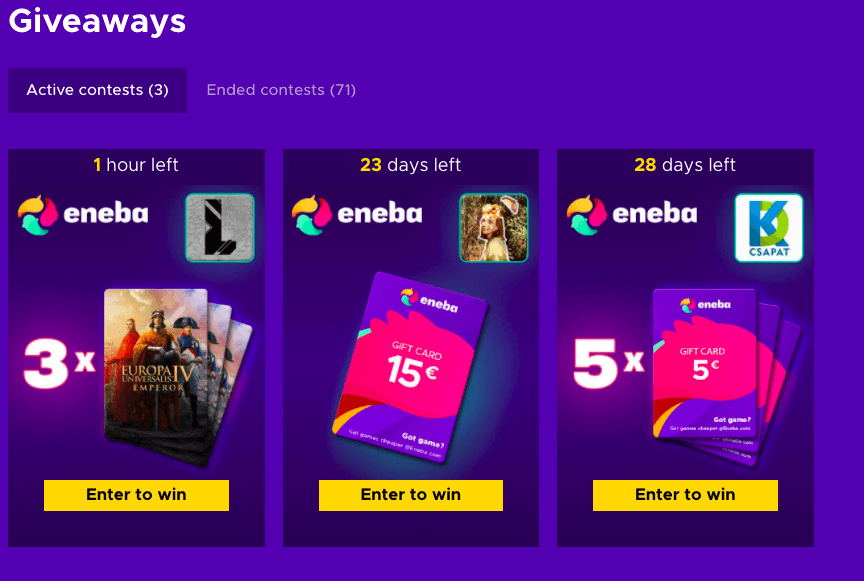 Conclusion:
Eneba is undoubtedly among the best one-stop shops for gamers, as it offers a huge number of games with attractive discounts. The easy-to-use interface and genuine sellers make this platform more familiar. Multiple payment options and no subscription requirements are also a nice touch. If you are a pro gamer, then you should go consider Eneba and save extra bucks from the purchases made. It is a free-to-use store and doesn't even ask you to register.