Is your website lacking one of the most important SEO factors these days – SPEED? Worried about poor performance of your servers, downtime or slow page loading speed? It's time to say goodbye to all your worries. It's time for BitLaunch. You can now create your servers with BitLaunch, Digital Ocean, Vultr and Linode and get your website load faster to provide a better user experience and rank higher on search engines. Let's learn more about it.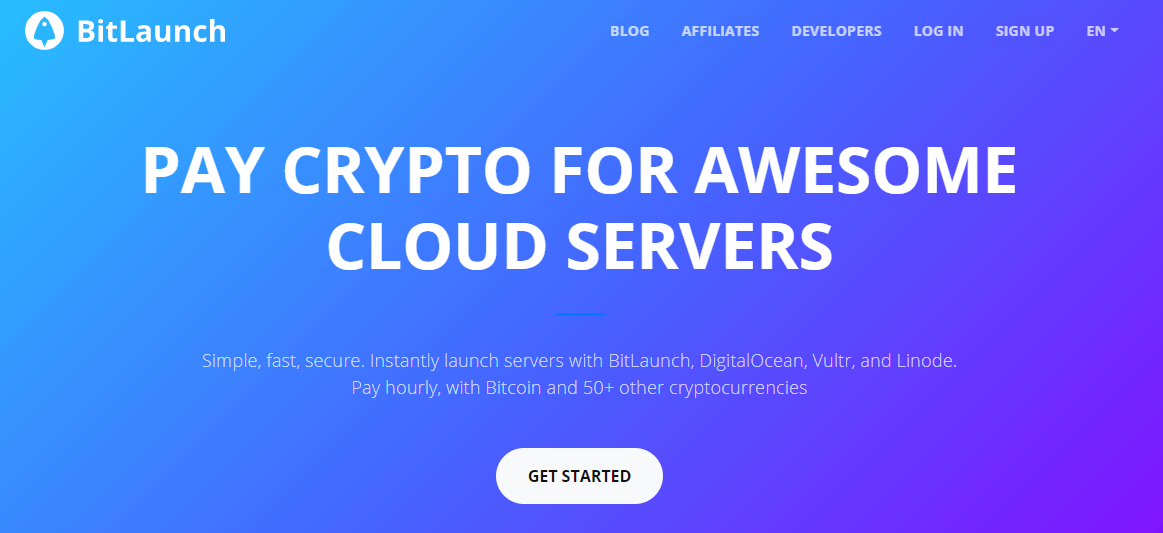 About BitLaunch
BitLaunch is a Panama-based company that has been established to provide fast and reliable VPS hosting solutions to the users. It provides anonymous VPS services from the top industry brands such as Digital Ocean, Vultr and Linode. It is unique in its interface and the range of features it offers to the users. The best thing about it is that you can make payments through 50+ cryptocurrencies including Bitcoin.
It offers high speed cloud servers from tops cloud hosting providers. You can launch instantly and pay hourly. It also has its own cloud VPS hosting solutions.
Features
One-Click Privacy: You can setup your website instantly and automatically. One-click apps for privacy including OpenVPN, Shadowsocks R, WireGuard, as well as LAMP/LEMP, WordPress and many more.
Linux and Windows OS: It offers an exclusive range of Operating Systems ranging from Linux to Windows desktop and server. You can launch anything from the latest Ubuntu to a Bitcoin Windows RDP.
Human-Friendly: Its experienced and dedicated support team is ready to help you in case you get stuck somewhere. Whether you need help configuring your server or need help with choosing the right size, they are here for you.
Developer Ready: You can use its Developer API to create and manage servers for your project. Create and even pay for crypto transactions programatically. It also provides a simple Command-line Tool to get you started.
Setting Up a Server with BitLaunch
To get started, all you have to do is signup with BitLaunch. Once you are done, you are directed to following screen.
Click on 'Create a Server' button. You now have to choose one of the hosts as well as select the operating system for the server.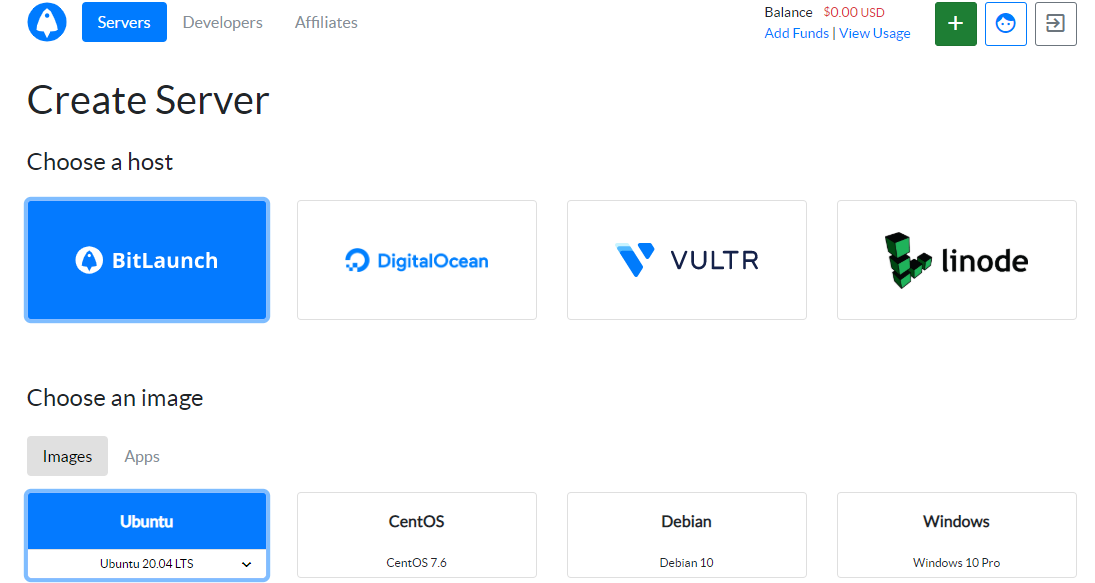 Here, I have selected 'BitLaunch' as host and 'Ubuntu' as server. Then you need to select the datacenter location which is 'London' in my case.

Now, choose the plan you want to opt for depending upon your usage. You are charged hourly for resource utilization.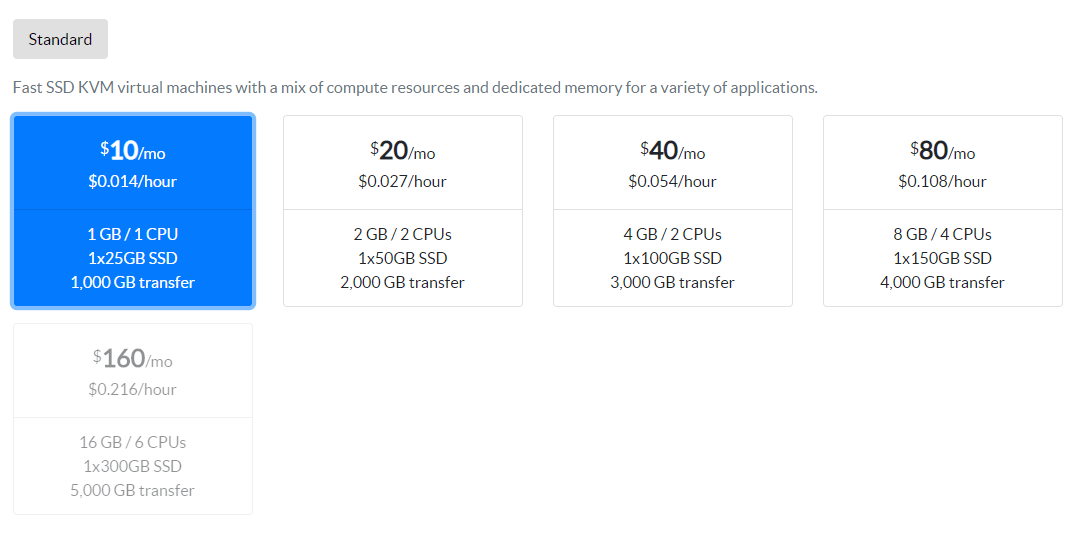 Now, you have to set access method to your server. You can either use password or SSH keys or both. It is totally up to you what method you select access your server. Then you have to decide the hostname. It can be descriptive too.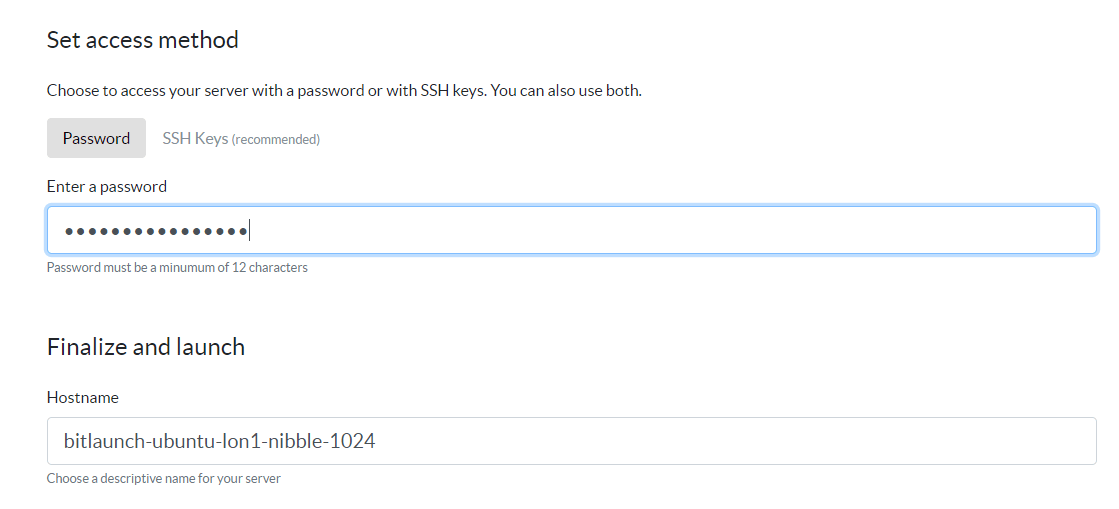 Ensure that you have added the funds to your account. If funds are not sufficient, you must add the funds by going to 'account billing area'. After you have added the funds, click on 'Launch Server' button to launch your server and host your website on it.
Adding Funds to BitLaunch Account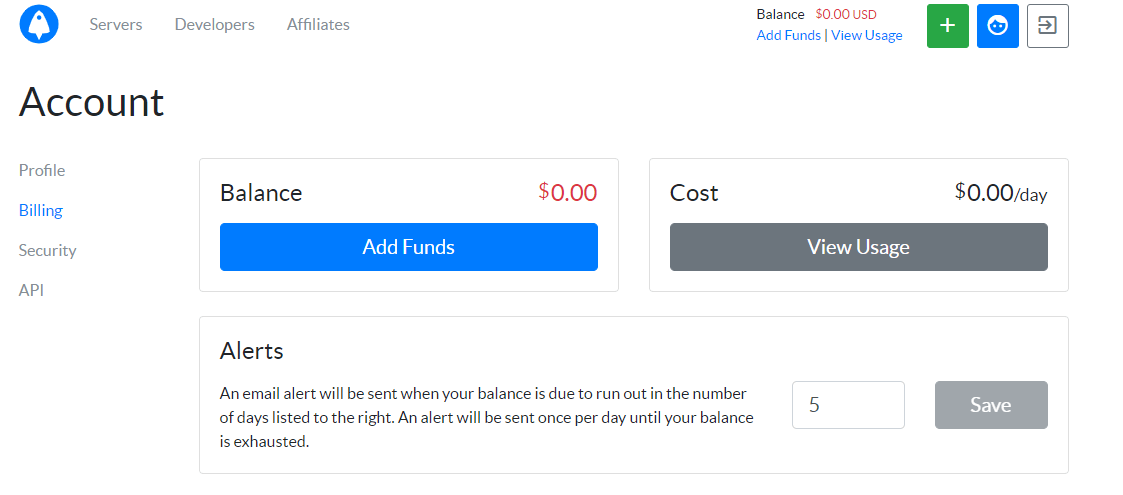 Click on 'Add Funds' button. Enter the amount you want to add. The minimum amount that must be $20.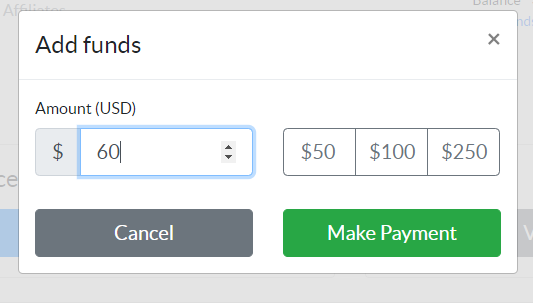 Once done, you have to click on 'Make Payment' button. You will be redirected to a new payment page.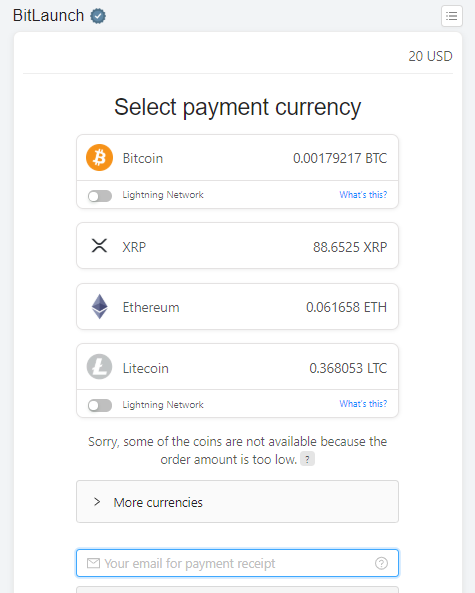 You have to select the payment currency in order to make the payments and enter your email address to get the payment receipt delivered to that address.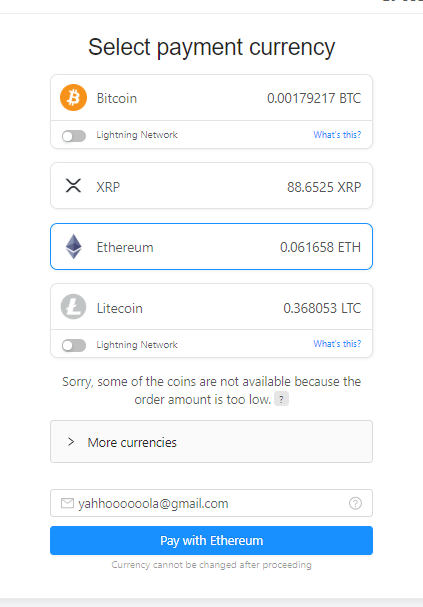 Once the payment currency has been selected, click on 'Pay' button. Get the payments done to get started with BitLaunch.
The Bottom Line
BitLaunch is a fast-emerging Cloud VPS hosting provider that not only provides reliable cloud VPS hosting solutions but also helps people get these solutions from trusted and secure cloud hosts such as Digital Ocean, Vultr, Linode and BitLaunch itself. If you are looking for a safe and secure reliable cloud VPS hosting provider, BitLaunch is the host you must give a try to. Pay using cryptocurrency anonymously and get billed hourly. Try it now!