Whether you live in North America and call them 'candy' or the UK, New Zealand, South Africa or Australia and call them 'sweets,' people everywhere love these delicious sugary treats that come in different shapes, sizes, types and flavours that can be bad for your teeth and girth if you eat too many.
That said, one super sweet treat that's bad for neither is Candy Burst, a bright, colourful and bold online slot from innovative and dynamic virtual casino software firm Mutuel Play for the Leander LeGa RGS platform, that will have you drooling over its top quality and engaging graphics and sounds, and its multitude of high-paying features.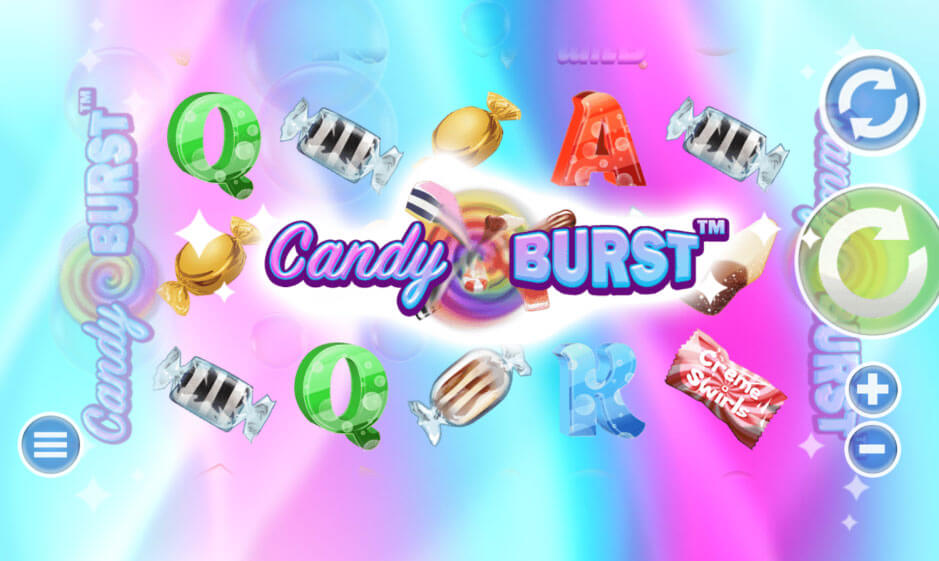 Candy Burst slot was developed by Mutuel Gaming for the Leander LeGa RGS platform.
Although this 5 reel, 3 row and 25 pay line slots extravaganza was only released in May 2019, it's already become a player favourite in Leander-powered online casinos across the globe and for a multitude of reasons such as:
It's very easy on the eyes and the ears
it's jam-packed with loads of features
It's unique 'clearing symbol feature'
It's various bet sizes will suit all budgets
It's available in many currencies and languages
This Slot is Certified in Multiple Countries
Candy Burst is also certified in multiple countries including Malta, Denmark, Spain, the UK, Alderney, Gibraltar, Sweden and Italy so ideally placed to players in Europe and well beyond, particularly considering the universal appeal of its candy theme.
In fact, if there is any doubt about the global appeal of candy or sweet-themed games, look no further than the highly popular video game Candy Crush. Released in April 2012, this multi-level candy-themed video game (and its many off shoots) generates billions of dollars in revenues each year globally.
That kind of success is testament to both the quality of Candy Crush as a game and its sweet theme and attractive design in general, a theme that Mutuel Play put its own take on in Candy Burst with nothing less than sumptuous results.
Candy Burst Has Loads of Sweet Symbols
As you would expect from a sweet-themed video slots, Candy Burst feature a ton of different candies – eight to be precise:
Crème Swirl
Humbug
Bon Bon
Everton Mint
Gobstopper
Liquorice Allsort
Toffee
Cola Gum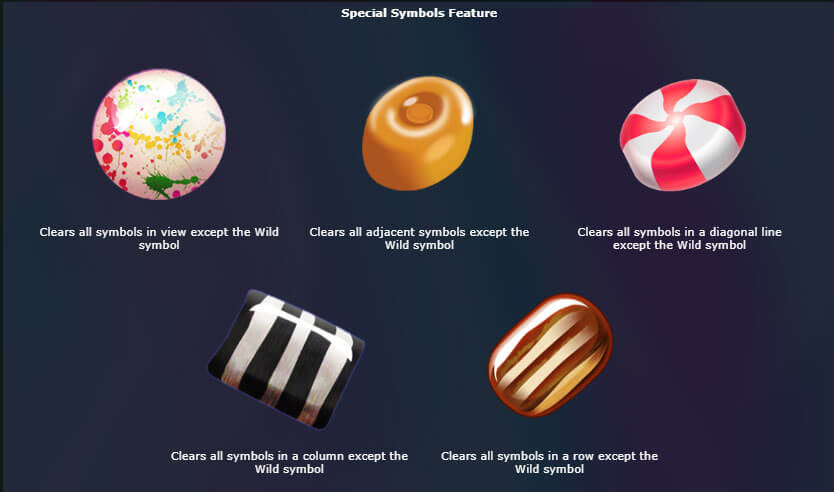 The five candy symbols in Candy Burst slot with special powers.
The great thing about these candies is that instead of just being regular symbols, five of them have a 'special powers' that can impact all other symbols except the Wild (which is the multi-coloured lollipop). These powers are only activated when the sweets – which are usually wrapped – land on your reels unwrapped.
Clearance Symbols are Unique to Candy Burst
These unwrapped sweets are known as Clearance Symbols which is a novel feature not found in many slots. The reason for this is the Clearance Symbol feature is a trademark of Mutuel Play, and to date can only be found in one other equally popular slot in its portfolio – Splatter Cake.
The way it works is that an unwrapped Gobstopper clears all symbols in view, a Toffee clears all symbols surrounding it, a Crème Swirl clears all symbols in a diagonal line from it, an Everton Mint (the sweet that looks like a zebra) clears all symbols in its column and a Humbug clears all symbols in its row.
You Can Unlock Free Spins Galore
The wild substitutes for all other symbols except the Free Spins feature, which is none other than Professor Candy himself. Land three or more of him and you'll trigger at least eight Free Spins with a 2x wins Multiplier. This means you can sit back and watch the video slot spin and (hopefully) win on your behalf without using a single credit.
As great as eight Free Spins is (you should never look a gift candy in the wrapper), 12 Free Spins with a 3x wins Multiplier is even better which you'll be awarded if you land four Professors. Land 5 Professor Candy symbols and you'll trigger a whopping 16 Free Spins with a 4x wins multiplier so you can watch your winnings skyrocket.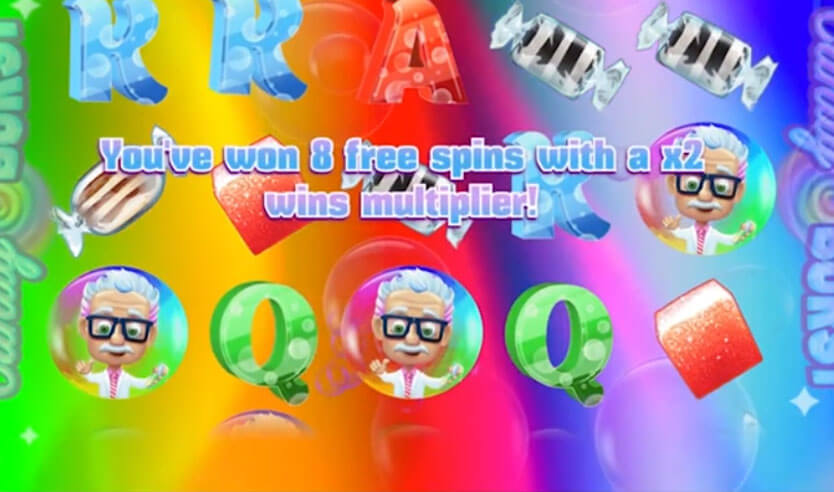 Professor Candy awarding eight free spins.
Free Spins Can Be Retriggered
If you can't get enough of free spins, Candy Burst has a surprise in store – it's free spins can be retriggered indefinitely. In other words there's no limit to the number of times you can land three or more Professor Candy symbols on your reels during free spins.
Racking up your free spins means you can watch the reels spin for free for longer which will increase your winning potential. During regular and free spins play, your winnings will be subject to a multiplier as per your stake or bet, so the more you wager per spin, the more you'll stand to win.
That said the great thing about online casinos is that the majority of them allow you to play demo versions of their games free of charge. These games are great to practice on and learn their features until you're ready to switch to their equivalents for real money.
You Can Even Play Candy Burst in Demo Mode
In fact, we highly recommend you play Candy Burst slot in demo mode. Even playing with no chance of winning anything is a satisfying experience. That is how good it is. By playing in practice play mode you can watch the Clearance Symbols in action and even experience Free Spins if you're fortunate to land enough Professor symbols.
Of course, this virtual slot machine is so moreish that it will only be a matter of time before you switch to real money and hold thumbs for the game's special features to arrive in their droves to pump up your winnings – regardless of what your budget is.
Candy Burst Accepts Different Coin Sizes
Candy Burst is designed to appeal to all level of players from those with a few dollars to high rollers with the deepest of pockets. This is made possible by the fact you can play this online slot game from as little as $0.25 up to a maximum of $250 per spin.
This means that 'budgetary constraints' can never be a reason not to play Candy Burst, a game with a growing number of sweet-toothed fans all over the world.