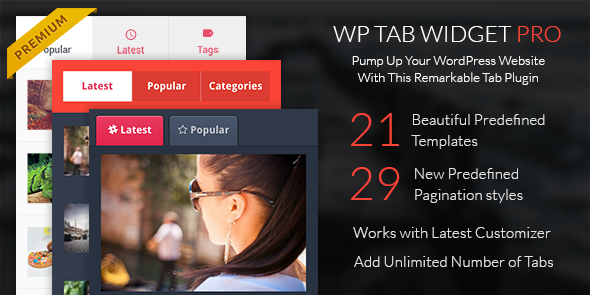 WP Tab Pro Widget is a wonderful WordPress plugin from MyThemeShop. It adds a beautiful tabbed widget into your blog. Also you can increase your blog's engagement furthermore with more pageviews and helps to give you an edge against your competitors. Since you must provide the best for your readers. Let's get inside and find more about this WordPress plugin. If you are ready to scroll then, here we begin.
WP Tab Widget Pro WordPress Plugin features
WP Tab Widget Pro comes with various features to enhance your blog's visibility. You can insert related posts, popular posts, recent comments, tags, Woo Commerce products, custom code and categories into your blog's sidebar with ease.
You'll obtain 21 beautiful predefined templates and almost 29 stylish pagination options along with it. Isn't it cool? It blends with WordPress comfortably. Also, you have unlimited color options, drag and drop tabs and custom thumbnail size options. It has an inbuilt catching system to maintain your blog's speed same as before without any hassle.
Theme compatibility: It is useless if your theme doesn't comparable/mix with the plugin. No need to worry because this one works absolutely fine with all themes. Just install and activate and you are good to go.
Increase engagement: It shows most popular and recent contents from your blog in a stylish manner. It is certainly very helpful to engage your readers for a little longer. Isn't it? Also, it results less bounce rate and more conversions possibly.
Insert unlimited tags: You can put in unlimited tags if you need. It is quite useful for large, multi-niche, news, sports blogs etc.
Predefined templates, paginations and AJAX loaders: I've told you already that it has 21(predefined) professional looking templates to use instantly. So, pick your desired templates according to your blog and start using right away.
Also, you can customize its look based on your requirements. Am I forgetting something? Oh! Yes. It has 29 pagination styles and 6 unique AJAX loaders to improve your blog's performance.
Built-in Catching system: No need to think about site's loading speed. the wp plugin has an in-built cache system to load your blog quickly even after installing the widget.
Preview area: You've selected a particular widget style. But are you are going to apply without previewing? Nope! Customize as long as you want till you're happy and then, preview and save.
Other features
I forgot to mention that you can exploit "unlimited colors" to match your current theme
To add tags simply with drag and drop feature. You can rename tabs along with small or large thumbnails to stir your contents a bit.
Enhanced interface: WP Tab Pro Widget is continuously improving to make it better than before. Current interface has the best look from any other tab widgets.
Lightweight: You have to pick your plugin very carefully when you're installing several plugins it will a leave a negative impact on the loading speed. But you already know that it has in-built catching system so there is no need to bother at all.
Popular Post customization: You've many options to play with when it comes to customization. Let me break it down for you so that you can go through it quickly.
• Add as many or less contents you prefer within your widget
• Display/hide date, comments or featured pictures
• Insert or remove pagination from each tab
• Show latest posts, most popular posts, categories, tags, comments, custom content, products, popular posts (by views, comments, all-time and month)
Responsiveness: This one is absolutely 100% responsive. It adjusts in any device for responsive layout design. What is this retina display? It sustains high quality resolution
SEO Ready: It will take care of the most important aspect – SEO and audience. Also, it has very smooth navigation style to make your visitors life comfortable.
400+ ICONs and Shortcodes: No kidding. It has 400+ set of icons to inject emotion into your contents. Isn't it amazing? You have shortcodes for dropping widget anywhere you require. You can make it more astonishing by adding icons to the tabs. It's a nice strategy to attract the first time visitors. Just give it a try.
Unlimited license, support and usage: You'll acquire "unlimited license" with it. So, you can install it on as many blogs as you want. But if you have got into any problem then, just contact support team for solution.
You'll be impressed with customer support. There is no need to think about customer support because they're best when it comes to help their customers without any doubt. You can test customer support before your purchase WP Tab Pro widget to clear your doubts (if you have any).