It takes a lot of time and efforts to produce a good video tutorial for your target users. You have to think of the ideas, scripts, design, animations and so on. That's why you should take every possible action to protect your original videos from downloads.
There are many websites that offer online tutorials to its users either for free or on subscription basis. Most of the times, these video tutorials from such websites get stolen and re-distributed by others for many different purposes. This is critical and leads to a huge loss in both original content, sales and also revenue as well. These video courses need to be protected using some plugin and extension that can be integrated well with any WordPress sites.
For example, you're selling online courses to the students in form of video tutorials. Anyone can register at your website and get access to all the tutorials after paying some membership fee. Now, the concern is that, these tutorials can be downloaded, shared and distributed on multiple channels with others. As a result, lesser people would visit your website, let alone purchase your membership, as these videos are now available all over the Internet such as Youtube and Facebook.
Those who have a copy of your tutorials could even use them to their advantage, i.e. make money out of your talent, time and efforts. They can even sell them at cheaper prices resulting in a great revenue loss for you. Together with the revenue loss, you will also have to deal with the fact that your original ideas and content get stolen and shared without your permission, which is a terrible blow to any video producers and product owner.
What to do in such cases? How to protect these tutorials or videos from getting copied by others. The answer to all these problems is Protect WordPress Videos Extension. Let's learn more about this awesome WordPress plugin and see how it protects the website owners from significant loss in content, sales and revenue.
Protect WordPress Videos Extension  Protect WordPress Videos is a powerful WordPress extension that is built on Video.js HTML5 video player library. It offers an easy, swift and secure way to protect and embed your WP videos. The extension lets you disable the right click, expire the video links, and encrypt the video connection. Even the IDM downloader cannot grab the link to your video. This is the reason why Protect WordPress Videos extension is recommended by many users.
Why you need Protect WordPress Videos  Extension?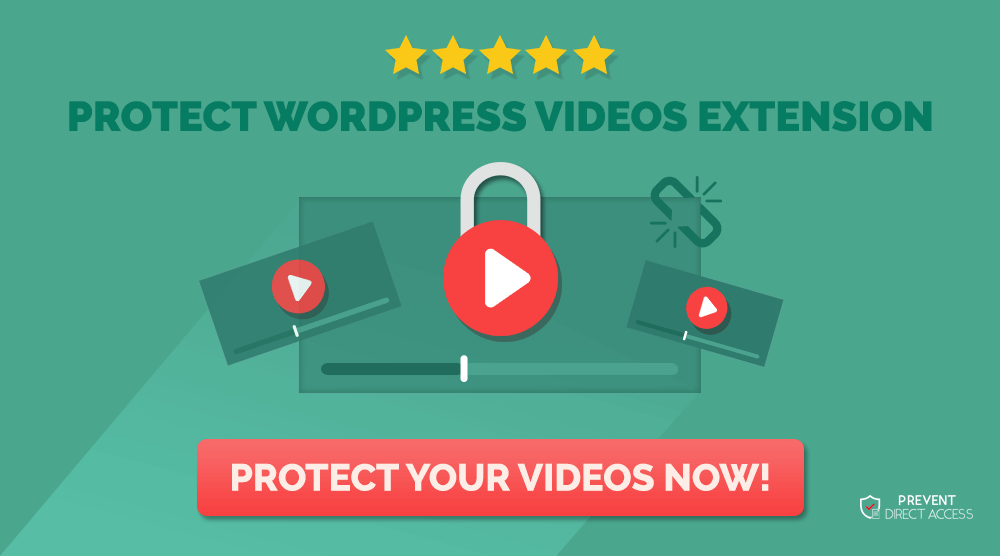 ● Built-in HTML5 Video Player : The video.js library is one of the most popular HTML5 video players maintained by Brightcove. This ensures that your videos will work on most of the of the professional use cases.
● Embed Protected Videos directly on content : One can easily embed the private videos on any page, posts and content widget using the friendly shortcode provided by the extension. Your videos will be protected automatically once it is embedded.
● Compatible with multiple devices and platforms : All your videos are compatible with popular devices and operating systems. You don't require installing anything else on your site to make them functional.
● Fully Responsive : The video player offered along the extension is totally responsive and can adjust to different screen sizes and browsers.
Ultimate Features
It takes a lot of effort to create original and extraordinary content and you can't afford to get your content stolen by someone else. 'Protect WordPress Videos' extension ensure that your video content isn't being freely shared with people who don't pay for it. Some of the greatest features offered by this extension are as follow:
● Disable the Right-Click : You can easily stop people from viewing or inspecting the video source codes and this will help you protect the videos on your site.
● Expire your Videos' Links : Your videos will be playing on viewers screen with auto-generated private links of the extension. These links can be made to expire in few seconds. This will keep the video running smoothly and will stop the people from downloading it.
● Encrypt the video Connection : The videos' connection can be encrypted preventing any video downloader software or tool from grabbing the video content and files.
The Bottom Line
Protect WordPress Videos extension is a powerful tool to protect your videos from getting downloaded and copied by unwanted people. Try installing the plugin on your website and see how it saves you a lot of time and efforts, otherwise wasted, by all the software pirates. Download it now and save yourself from a big loss.