Have you started a new website/blog on WordPress that still needs a lot of designing? If yes then displaying the incomplete pages of your website to the users might not be a feasible way out. You will surely not want to disappoint the user. Displaying a page that notifies the users that your website is still under construction can turn out to be the best option. It can bring more engagement to your WP site in future. This can be very easily done with the help of Under Construction Page WP plugin. Let's explore about the plugin in details ahead.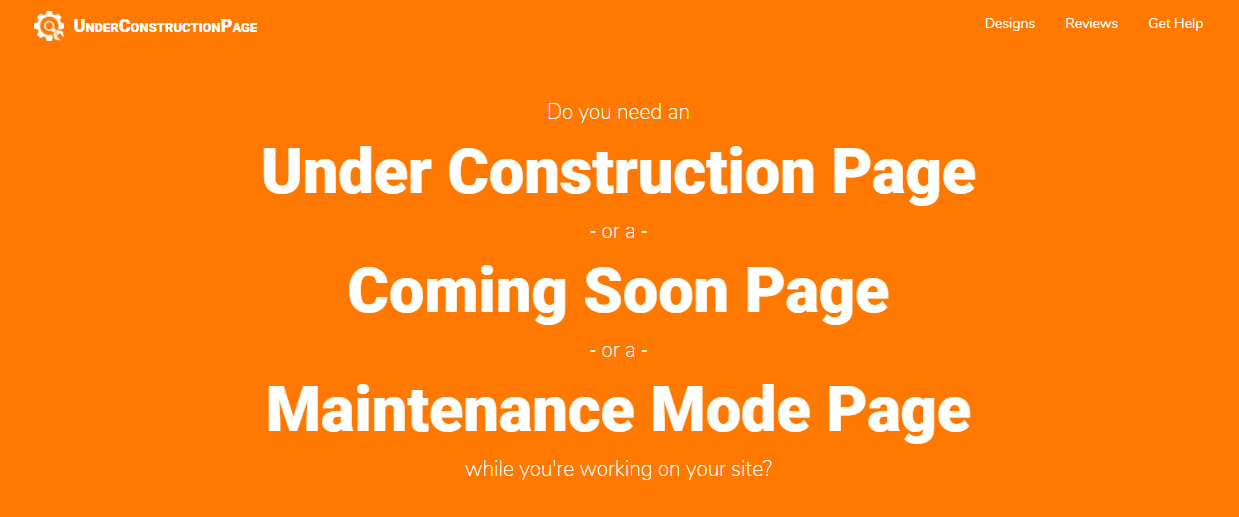 Under Construction Plugin – A Know How
It is one of the finest free plugins to display the under construction or maintenance page on a WordPress site while you are working on its designing or development or improving its features. It is developed by Web Factory Limited, a US based company. It is highly compatible with all the WordPress themes and other plugins as well. Moreover, the plugin doesn't slow down your website. Your site gets back its original look, once you have disabled this plugin from the WP dashboard.
Useful Functions of Under Construction Page Plugin
This free plugin comes with a quality of range of features that enables the maintenance page to function in a way you want. Some of the best functions of this plugin are as follows:
• Turn on/off the under construction mode
• You can set up the 'End Date & Time' for automatically disabling the maintenance mode.
• You can add your Google Analytics Id to track the number of visits on the page.
• It has the 'Title' and 'Description' page for better SEO.
• A new theme is added to it with each update.
• You can use the Custom CSS for adjusting any page to fit your need.
• You can display the headline/title, text/images, add login form, or the WP login page link.
• You can choose to show the social media buttons from Twitter, Facebook, LinkedIn, Google+, Pinterest, Tumblr, and other social media networks.
The Setup
Setting up this plugin and using it to the best is really simple. You must install it on your WordPress website and activate it or click on this link to get the ZIP package. After this, follow this guide given and become a perfectionist to use Under Construction plugin in WordPress.
• Firstly, go to 'Settings' and click on 'Under Constructions'.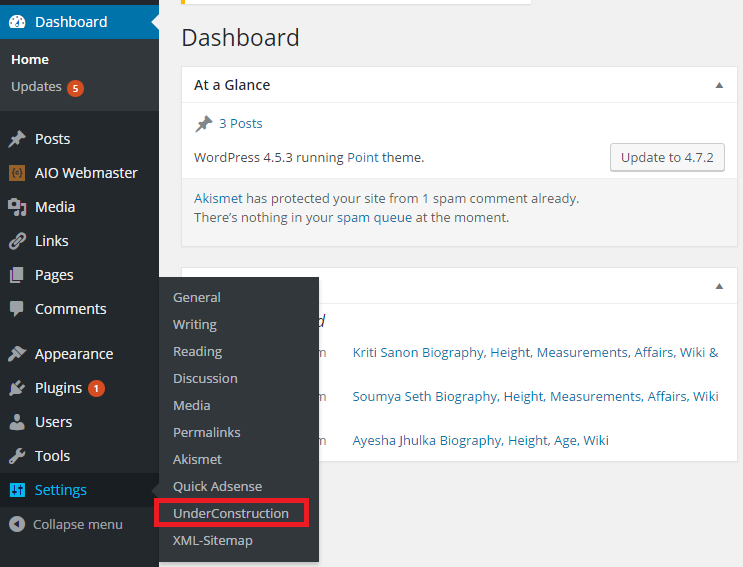 • A page will open up. Now go to 'Main' option.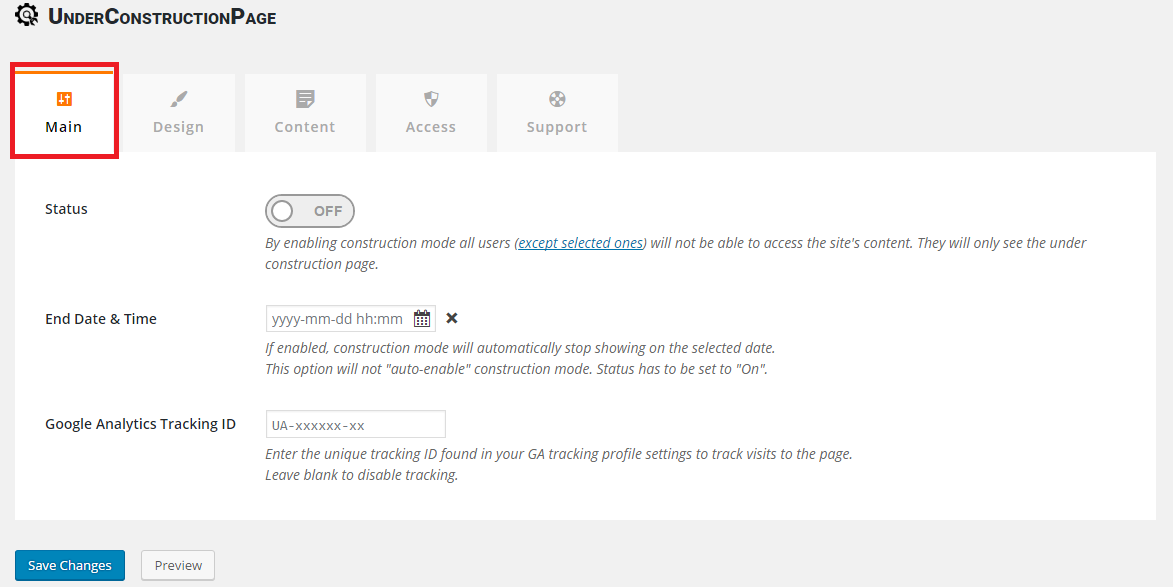 • To turn on the maintenance mode, you must turn the 'Status' option to 'On'. Moreover, you can select the date and time at which you want to disable the maintenance mode by going to 'End Date & Time' option. Further, the Google Analytics Id can be added to know how many people have visited your page. You can add it to 'Google Analytics Tracking ID' option.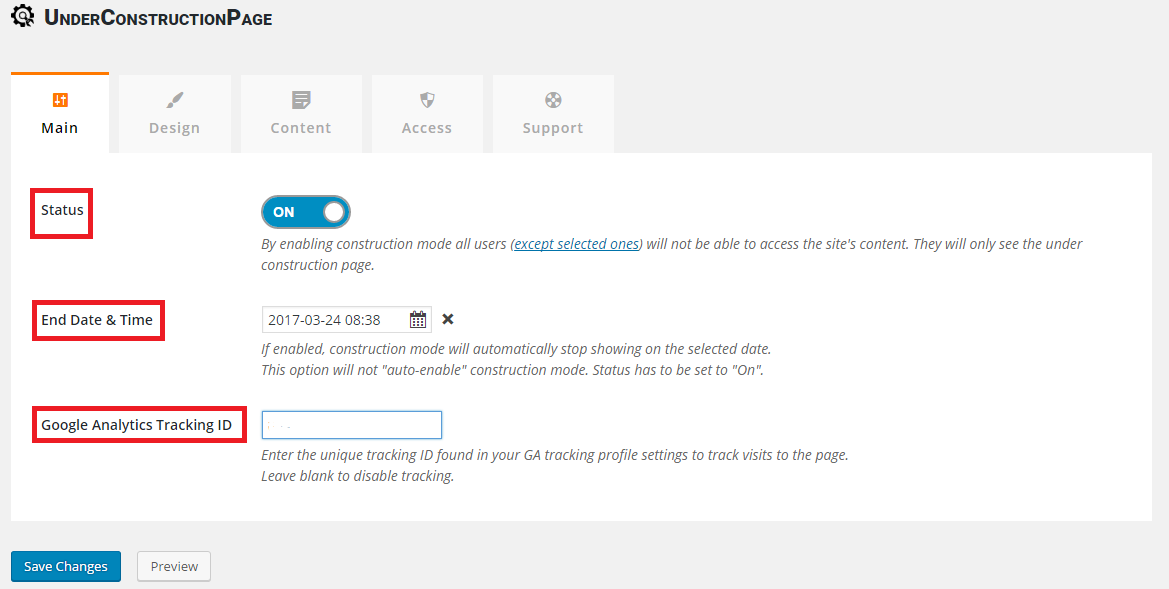 • Once everything is done, click on 'Save' button.
• You can now move to 'Design' option from where you can select the theme for your maintenance page.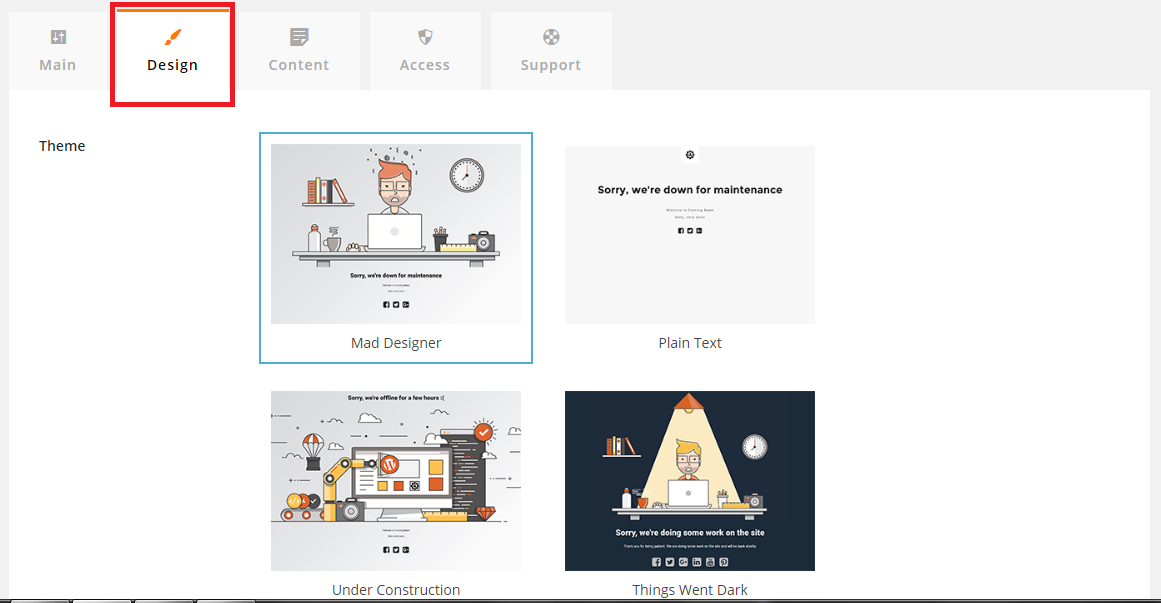 • You can even add the Custom CSS code to display the elements accordingly. Do not forget to click save once everything is done.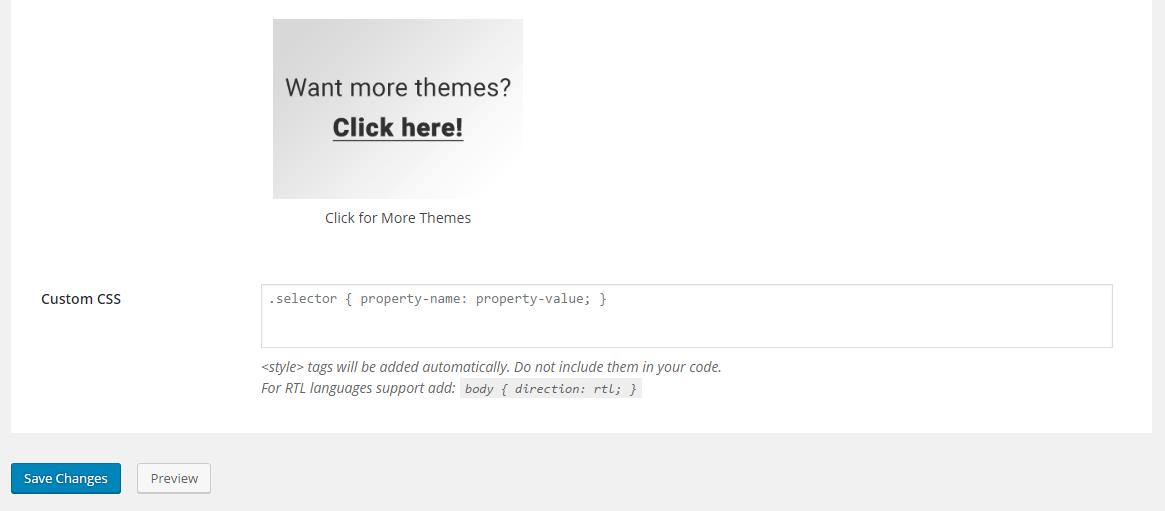 • The content option lets you add the 'title', 'description', 'headline', and other 'content' for the under construction page for better SEO.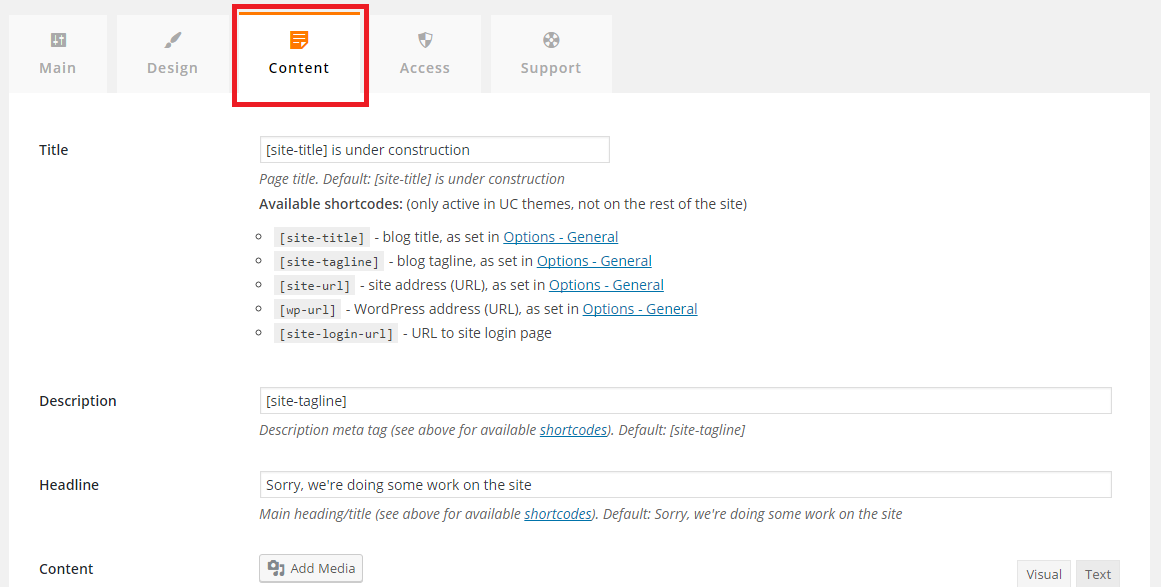 • You can also enable the 'Login Form' option by turning it 'ON' and can even add the social media pages to the under construction page. After doing it, you must press 'Save' button.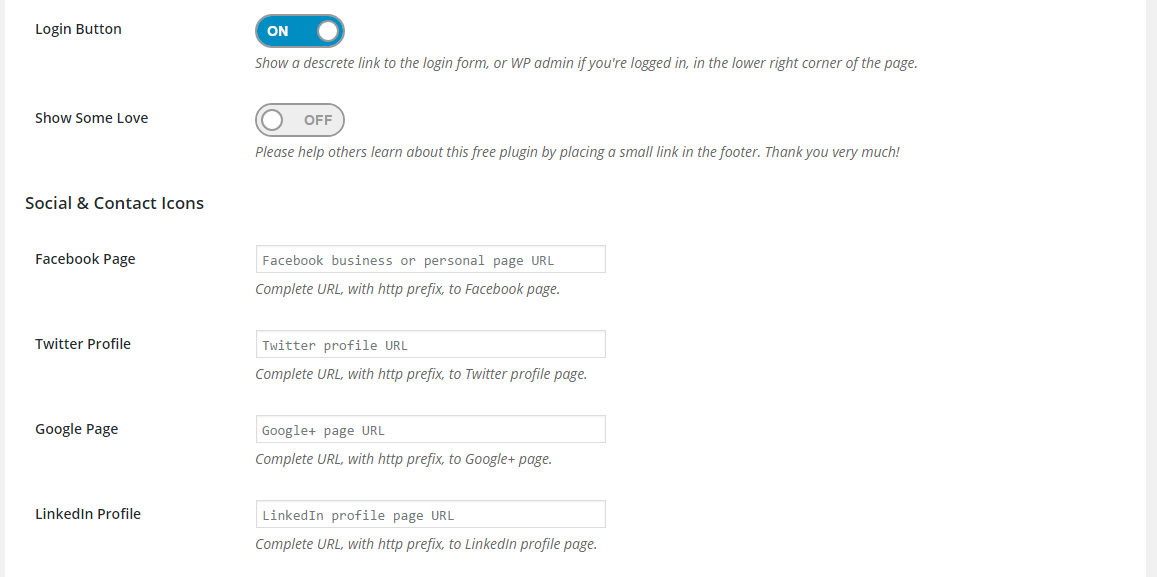 • Move to 'Access' option to give access rights to different types of users. You can even add few users to the 'White List' for giving them the access. Save the changes after that.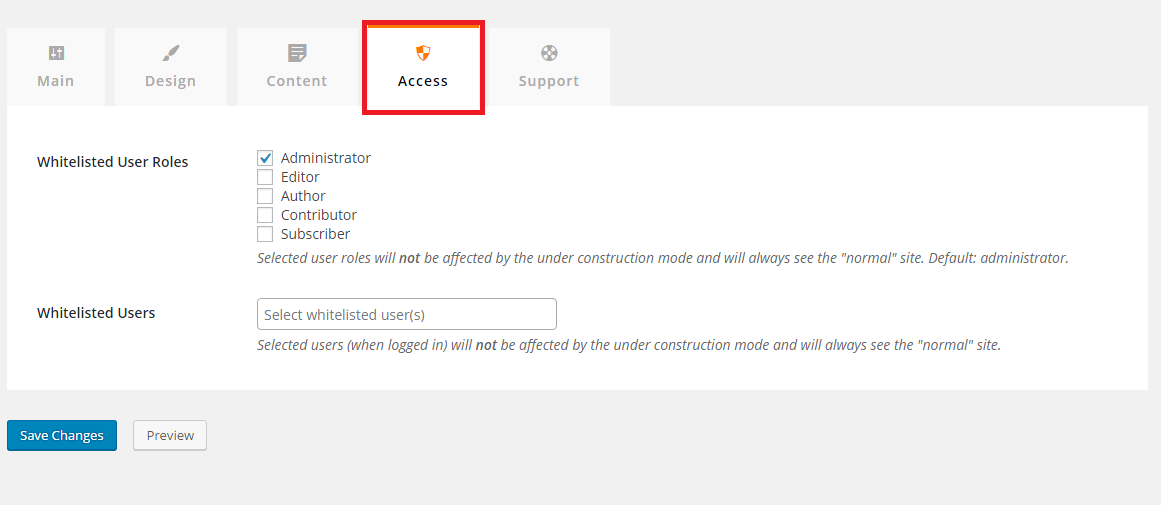 • The 'Support' option takes you towards the FAQs. You can get your query solved through this section.
This is how you can potentially utilize every aspect of the plugin to perfection. It can turn out to be really handy for you if you love to work in silence and surprise your users at a flash.
Pros
• Display the maintenance/under construction page in a unique way.
• Lets you add your social media pages to allow your users link to you.
• Available for free and free support with one business day turn around.
Cons
• Limited number of themes.
The Final Say
This plugin is a stunning plugin in the WP Repository that can be really handy in displaying the maintenance page of any website with a stylish look. If you are in search of a plugin of this type then Under Construction Page will definitely fit to your job.