When the pandemic first hit in early 2020, millions of people were forced to work from home for the first time ever. Some were opposed to the idea but realized they had no other choice. Others were enthusiastic about the opportunity to have a more flexible working arrangement. 
Within just a week or so, social media was abuzz with people who admitted they were falling in love with remote working. Even those who originally opposed the idea were coming around. But as the weeks turned into months, another interesting shift occurred. While most people still enjoyed being able to work in their pajamas and avoid the rush hour commute, another problem emerged.
Most new work-from-home professionals have come to the conclusion that working and living in the same physical place completely erodes some of the work-life balance that's necessary to be a happy and productive individual. There's no longer a buffer between going into the office and coming home. The line between workweek and weekend is a lot less clear. 
On top of all that, working from home is noisy. Two spouses working out of the same room, kids running around and screaming at each other, TVs and video games blaring from the other room – it can feel like absolute chaos. Forget trying to quiet the family so that you can have a Zoom meeting – you need them quiet just so you can maintain your sanity!
And herein lies the friction of this new work-from-home setup (which will be the norm for millions of people, even after the pandemic ends). While working from home has many perks, being forced to work in the same place that you cook, play, sleep, relax, etc. can make for a chaotic work and life experience.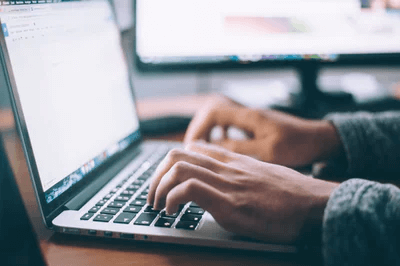 But what if we told you there's a way to enjoy the benefits of working from home without actually having to deal with all of the friction we just mentioned? It's called a backyard office – and it's amazing.
How to Design Your Own Backyard Office
Every homeowner faces different circumstances. From property type and lot size to HOA restrictions and budget, you'll have to work through all of the nuances of your own situation. Keeping this in mind, here are a few tips:
There are a multitude of ways to approach building a backyard office. But it's easiest to filter them into three categories.

There's the do-it-yourself approach, where you actually build your very own shed or building from the ground up. This requires the most time and experience. But if you have both of these, it can be the least expensive option of the three.
The second approach is what's known as the done-with-you approach. This is where you work with a company that sells prefab sheds made for home office use. They typically send you pre-built panels that are made in their factory. All you have to do is assemble them like puzzle pieces.
The third approach is a done-for-you approach. This is where you have a company actually deliver and/or build your office onsite. While you get a professionally constructed building, this is the most expensive option.
Everyone immediately wants to jump into the design and looks of a backyard office. And while this is certainly an important element, you have to begin by thinking about the more practical parts. For example:

Internet and electricity.

Don't assume that your Wi-Fi router will automatically reach your backyard office. And it's probably not a great idea to run an extension cord out to the shed to power your devices. You may need to speak with a professional to figure out how to power your office with everything you need.
Temperature control.

While most backyard office sheds do have insulation and provide protection from the elements, you still have to think about temperature control (particularly during the winter and summer months).

An electric heater

is perfect for keeping a small space toasty during cold weather.

A window AC unit

works well for heatwaves.
Lighting.

This is a big one. Think about both natural and artificial lighting and how you can develop a healthy and productive office that fits your needs.
Keep it Natural You don't want your backyard office to stick out like a sore thumb. It should blend in with the property as much as possible and, if possible, have a similar aesthetic to your house. Think about what materials and paint colors you can use, as well as proper placement. Planting behind/around shrubs and trees can be a great way to help conceal the shed if you're worried about neighbors complaining.
Work From Home…Without the Chaos
If you're looking for a way to enjoy the benefits of working from home without having to worry about noisy kids, distractions, or the erosion of work-life balance, a backyard office could be exactly what you need to thrive in this new world. Take your time and plan something that works for you and your specific needs.