The Salesforce Nonprofit-Cloud-Consultant Certification is reliable to successfully design and implement Nonprofit Cloud solutions that meet customer business requirements. Also, maintaining and scaling, and contributing to long-term customer success.
A salesforce Nonprofit-Cloud-Consultant designs and deploys solutions that assist customer business processes.
Also they help in requirements using salesforce applications. All of these consultants have expertise in designing solutions utilizing the Nonprofit Cloud Functionality.
Furthermore, this leads to the implementation of these solutions within a customer organization. Also, the consultant has both practices working with nonprofit organizations and expertise in Salesforce applications, including the knowledge needed to implement multiple applications in common customer scenarios.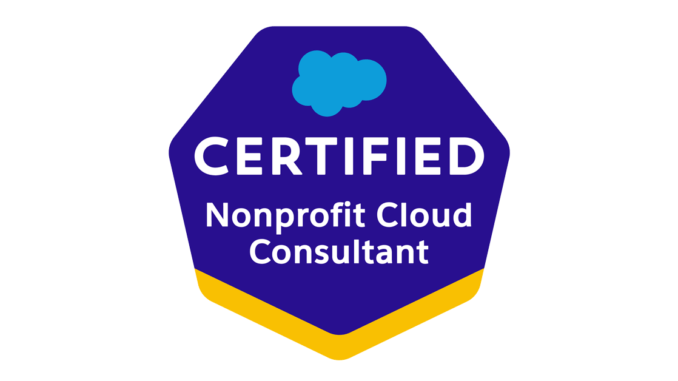 Learning Objectives Of Nonprofit-Cloud-Consultant:
Here I will enlist some of the main learning objectives of Nonprofit-Cloud-Consultant:
Designing and implementing successful solutions.
Meeting and managing customer expectations.
Anticipating and mitigating risk.
Increasing customer confidence.
Setting up change management.
Building solutions that are scalable and maintainable.
Managing solutions delivery and other issues that arise.
Troubleshooting and resolving issues.
Prioritizing and escalating customer issues.
Training the customer on new business processes in the solutions.
Consistently delivering effective business results.
All of these are important learning objectives that candidates must know about Nonprofit-Cloud-Consultant exam certification.
Basic Details Of Nonprofit-Cloud-Consultant Exam Certification:
You should know about the basic details of exam certification, so you should prepare for exams accordingly:
When you are familiar with the exam structure and basic details, it helps you perform better on exam day.
The Salesforce Non-profit cloud consultant exam questions are in multiple-choice format. Candidates have 105 minutes to complete the exam. Candidates have to score 63% and above to qualify for exam certification. If I talk about the exam fee, you have to pay almost 200$ plus other applicable taxes, and fees can vary from one country to another. In addition, the non-profit cloud consultant exam is proctored.
Exam Outline:
Finally, I will let you know the most important thing related to exam certification. Here I will discuss the syllabus of Salesforce Nonprofit-Cloud-Consultant exam Dumps. All the questions on the exam paper will incorporate this exam outline. So without any further delay, let's focus on this topic.
There are six main topics included in the Non-Profit Cloud Consultant Exam Certification.
Domain Expertise: 20%.
Identify the appropriate Salesforce solution for fundraising and donor management.
Identify the appropriate Salesforce solutions for the program and volunteer management.
Distinguish the purpose for resource sites like the Power of Us Hub, trailhead, and Appexchange.
NonProfit Cloud Product Configuration: 22%.
It gives a set of requirements, configures fundraising features, payments, allocations, gift entry, and batch process handling.
Given a set of requirements, modify NPSP settings for people management, affiliations, and documentation.
Install Non-Profit Cloud applications and solutions.
Configure the Nonprofit cloud application security model to meet customer requirements.
Solution Design: 20%.
Determine the appropriate security features to use the following Salesforce best practice.
Identify the appropriate Salesforce Solutions to meet customer requirements.
Analyze customer requirements to determine appropriate solution design considering capabilities, limitations, and design trade-offs.
Implementation Strategies And Best Practice: 18%.
Given a scenario, facilitate successful Non-Profit Cloud consulting engagements.
Gather requirements, create user stories, and turn business processes into solution designs.
Integration And Data management: 15%.
Identify which duplicate management tools to use for a Salesforce implementation.
Given customer requirements, articulate and implement data migration and integration strategies for a Non-Profit Cloud Implementation.
Analytics: 5%.
Given a scenario, determine the appropriate analytics solution in Nonprofit Cloud.
You need to obtain a proper understanding of these six domains for proper qualification of Non-Profit Cloud Consultant exam certification.
Who are Eligible Candidates for Nonprofit-Cloud-Consultants?
Now when you are somehow aware of a non-profit cloud consultant, you should also know about who can be able to qualify for Nonprofit-Cloud-Consultant exam certification:
Firstly, the consultants who are experts in implementing Salesforce Nonprofit-Cloud-Consultant in a customer-facing role are eligible.
Secondly, the proposed candidates must have demonstrated experience installing and configuring Salesforce Nonprofit-Cloud-Consultants to be eligible for this exam certification.
Skills Candidates Needed For Nonprofit-Cloud-Consultant:
A candidate must have prior experience, skills, and knowledge in the following areas:
Two to five years of experience as a senior business analyst.
Implement multiple applications in common customer scenarios.
Candidates should have the expertise of cloud computing implementation consultants specializing in nonprofits.
Candidates should have Strong Analytical and problem-solving skills.
A solid understanding of internet technologies and cloud computing.
Candidates should be familiar with the Software Development life cycle.
They should be experts in non profit domains.
Experience managing implementation projects.
They should have a working knowledge of the Salesforce product line.
Preparation Guide: 
Salesforce Non-Profit Cloud Consultant:
Here I will let you know the basic preparation guide for Non-Profit Cloud Consultant to follow this guide for your exam certification.
For this, you have to follow these basic steps:
Review The Exam Objectives.
At first, you can start with the official website of Salesforce, or you can also visit the Myexamcollection.com website for your exam preparations.
Download the Exam outline.
After that, you have to download the full exam outline with a detailed study guide. You can also download pdf files, exam dumps, online lectures, and others.
You can use Trailhead for your preparations, Online documentation, Tipsheets, User guides, and topics listed in the exam outline.
Get started with a Training Course.
Training courses are also important to have hands-on experience and to practice properly.
The Trailblazer community is also important to have answers to all of your problems, such as you can exchange ideas, ask questions, and join groups.
Perfection with Online Courses:
You can also start online courses for proper preparations. Different websites introduced free trial base courses, so you can join that for basic knowledge, such as Myexamcollection.com, Salesforce, and other websites that provide different online courses.
Free Download VCE Questions and Answers:
https://www.myexamcollection.com/Nonprofit-Cloud-Consultant-vce-questions.htm
Conclusion:
This article discusses all the basic details related to Nonprofit-Cloud-Consultants so that you can take it as a proper exam guide.