As a YouTuber, you can call out and anonymously report users whose content violates YouTube guidelines in just a few short steps. In this article, we'll be showing you how to report a channel on YouTube, as well as other options for reporting that are available to you. So, if you've found a user or channel has been violating YouTube community guidelines on multiple occasions, here's how to report them effectively. Gaming YouTubers make the most money in the industry and also get the most reports since it mostly used by young ages. Read on to learn how to report a channel.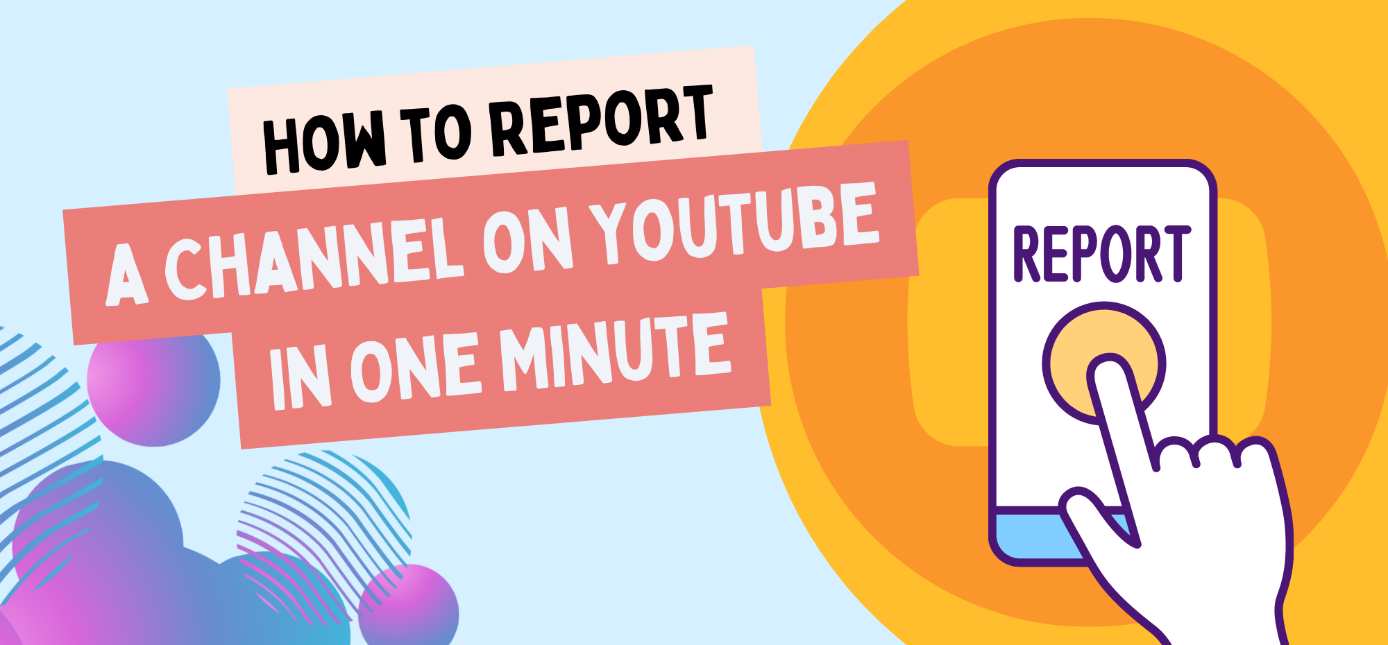 How to Report a Channel on YouTube
Depending on the device you use, the steps to reporting a channel on YouTube can be slightly different. They are similar for Android and iOS devices. However, the steps for your computer are unique. Follow along and find out how to report a channel anonymously on any device.
How to Report a YouTube Channel on Android & iOS Devices
Reporting channels on YouTube is anonymous. Here's how to do it:
Go to the YouTube app and log into your account.
Open the channel page that you want to report
You'll find three dots at the top right corner of the page. Click it.
Tap Report user which is beside the flag icon.
If you like, you can select the specific YouTube video or videos that are in violation of YouTube's policies and guidelines.
Tap next to move the reported content to the next stage.
A new page will open up asking you to provide other details about the video that you find inappropriate. If you like, you may share these details.
Finally, click Submit to send the violating channel to the review team. You're all done.
How to Report a YouTube Channel on Computer
On your computer, you have more detailed options to share in your report instead of just reporting the channel alone. You can report users, inappropriate content, background images, and so much more. Here's what you need to do:
Go to the YouTube site and sign in.
Navigate to the channel you want to report and open it.
Click About at the top of the webpage, then select Report User beside the flag icon.
Choose the most specific reason on the drop-down menu that describes why you're reporting the channel. Don't be vague if you want your report about sensitive content to be taken seriously.
There are multiple options:

Report channel art
Report profile picture
Report user

Add any details that can give context to why you're reporting the channel art, profile picture, or YouTube account. When you're sure all is in place, tap Submit.
It's important to note that when you report a YouTube channel, YouTube's review team does not check the content of the videos on the channel for violations. Instead, they look out for any specific channel violation that appears on the Channel, including their profile picture, channel art, channel handle, and channel description.
If you want action taken on specific videos on a channel, then take the "report a video" route. Find out how to do this in the section below.
How to Report an Inappropriate YouTube Video Directly
Once a video is uploaded on YouTube, it's subject to review as soon as it's reported by a user. If you want to report a particular video directly on YouTube, it's also an anonymous procedure. Here's how to report YouTube videos on your mobile device or computer:
Go to the YouTube mobile app, make sure you're logged in
Navigate to the YouTube video you want to report then tap the gear icon at the top of the site which signifies Settings
Select Report beside the flag icon
Choose the issue that best describes the violation and then tap Report.
If you're on a computer:
Sign in to the YouTube site as usual on your browser
Search and then open the video you want to report
You'll find three dots beneath the video. Click on it, then click Report
Choose the reason for reporting the video in the form that appears.
Select Next
Include other details about the video that can expedite the process for the review team. You can add a description of what the post violated, or exact timestamps to the part of the content that's in violation of YouTube policies.
Once all is in place, Click Report to submit the form.
How to Report a Short Video on a YouTube Channel
To Report a YouTube Short that you think has violated YouTube's policies, take the following steps on your mobile device:
Go to the YouTube app and open the Shorts video you want to report
Tap the Settings icon on top of the video then press Report
Select the reason you're reporting the video then click Report
The steps are similar on a PC. On the YouTube Shorts player in your browser, go to the Shorts video > In the bottom right corner press the dots > tap Report > Choose your reason for reporting > select Next > Add more details > submit the final report.
Other Reporting Options Available to Users on YouTube
As a YouTuber, you can report almost any content that seems offensive. Reporting is free and anonymous, so go ahead to report channels, videos, and all the below content if they violate YouTube's meticulous guidelines.
Report Spam
You can report a video comment if it appears to be spam. Spam comments are easily distinguishable as they usually have no relationship with the video context. Spam comments are also meaninglessly repetitive, misleading, or threatening. Either way, make sure it is really spam before you press report!
Report Inappropriate Messages
Some cyber trolls simply find joy in posting crude messages in the live chat that support abuse, hate speech, bullying, and all the likes. Be sure to report such a comment quickly so that YouTube can take action.
Report Video Description Links
Some links in the video description of a seemingly harmless channel can lead to dangerous websites or websites that promote sexual content. This can be dangerous, especially for underage children. Reporting such a link is important, and quick too.
Report Ads
Yes, ads too can contain offensive content. The video ads can promote abuse or even contain links that lead YouTubers to scams or sexual sites. Reporting the ad, thus, becomes crucial.
Report a Comment
Any comment that supports or promotes bullying, violence, threats, and other dangerous messages, or shares a link to a harmful site, should be reported.
Does It Work? What Really Happens After You Click "Report User?"
After you've successfully reported a user's channel or a video, what comes next? How does YouTube ensure that the violating channel or content is taken care of?
YouTube's Help Center states that when you report a video or a YouTube user, their channel or the video content is not immediately taken down. Instead, they will review the content based on the following metrics:
Does it violate YouTube's community guidelines?
Is it inappropriate for a younger audience?
If it violates the guidelines, YouTube will take the video down from the website. If it's not appropriate for a younger audience, the team will place an age restriction on the video so that younger members of the platform will now have access to it. If you want to stay abreast with the guidelines for reporting users, videos, and other types of YouTube content, you can subscribe to the YouTube Viewer's Channel.
To find out whether YouTube has taken action on the content or channel you reported, go to Reporting History on your computer to learn more.
What You Should Know About YouTube Community Guidelines
YouTube created guidelines and policies to protect members of its community from sensitive content and deceptive practices. This code of conduct lists the following (and more) as permissible for reporting:
Fake engagement
Channel impersonation
Violent content (Hate speech, any message glorifying abuse, harassment, and bullying)
Selling regulated goods like firearms, drugs, alcohol, etc.
The YouTube Trusted Flagger Program
The YouTube Trusted Flagger program bestows trusted organizations and persons on YouTube with tools and resources that aid the easy identification of violations of YouTube community guidelines. This includes a bulk flagging option, allowing for the reporting of multiple videos at once. To know how to report a channel on YouTube under this program, you can read more about your eligibility on YouTube's support webpage.